Overview
Along with the Covid-outbreak in 2020, marketplaces and e-commerce platforms have experienced a soaring number of buyers and – consequently – sellers. Amazon alone has attracted over 200 million new Prime subscribers and hired over half a million employees to keep up with surging demand.
Standing out in such a crowded, competitive environment has become more and more difficult.
Although this may discourage you, Amazon is a horse that it's worth riding. If you know how to behave as an Amazon seller, the opportunities to grow your online business are massive.
Amazon, along with other marketplaces, is provided with an algorithm that places listings on different page results according to some criteria. To boost your Amazon product ranking, you need to tweak your listings by following the marketplace rules and requirements.
That's why, with the help of advanced Amazon sellers, we collected the following 10 tips for selling on Amazon to help you improve your ranking and your sales on the Amazon marketplace.
Tip 1: Respect the house rules
This is enough to be among the best 10% of sellers
Believe it or not, here is where most people fail. If you're a rookie, there's only one thing you have to bear in mind during your first weeks as an Amazon seller: respect Amazon's rules.
You're a guest on Amazon's marketplace, and you're just one out of a thousand others. You better behave according to the house rules. Otherwise, you'll be shown the door before even getting started.
Not getting banned (or shadow-banned) is the most important thing you need to learn at the beginning of your experience. If you want to build a strong and durable Amazon business, you have to start from the basics. All the other Amazon sales tips can wait, for now.
Read more: Amazon suspension and account reinstatement
Dos and don'ts on Amazon
Start from here: this is a link to Amazon's most basic rules – Selling Policies and Seller Code of Conduct (there's a version for every country).
Our advanced suggestion: always ship on time, using the correct shipping method. Amazon is really sensitive about this.
If for any reason (e.g. the Brexit) you can't comply with shipping times, use the Vacation mode (go to your Seller Central, then Settings > Account info > Vacation settings). This will save your ranking and reputation while you figure out how to deal with unexpected events.
You can use the Vacation mode as a lifeboat every time you're about to break some of the house rules and need more time.
Bonus
You can choose to activate the Vacation mode for all countries at once, or for some of them only.
Tip 2: Don't cheat on reviews
Reviews are the main factor of product ranking
Reviews are a delicate topic that actually belongs among the house rules, but because they're so important we decided to dedicate a whole section to them.
Reviews are the most important product-ranking factor. Therefore, one of your main goals is to get as many positive (and genuine) reviews as possible. But be careful: because they're so important, Amazon is extremely vigilant with reviews.
On the internet, reviews are the main driver of customers' trust and buying decisions. The eCommerce has thrived especially thanks to the reviews system, which should never be manipulated in any way.
How to deal with reviews on Amazon?
On Amazon, you must not ask for reviews. The whole review process is managed by Amazon itself.
This means that you should not, in any way, ask your customers for a review by:
Writing them an email
Placing a review request inside the package
Offering money back
Offering free products or accessories in exchange for a review
We know that everybody is doing it. But it could cost you more than what you think: in June 2021 Amazon cold-blooded banned many major sellers for this very reason. Do it at our own peril.
How can I ask for reviews on Amazon, then?
Reviews are asked by Amazon automatically. Every time we buy something on Amazon, we receive a review request at our email address. This is handled by Amazon, and you don't need to do anything, except for waiting.
However – not many sellers know this – but 5 days after the shipping, a "Request a Review" button will be activated on the top-right corner of your order details. This is your only valid method of soliciting a review.
This button will be available for 30 days.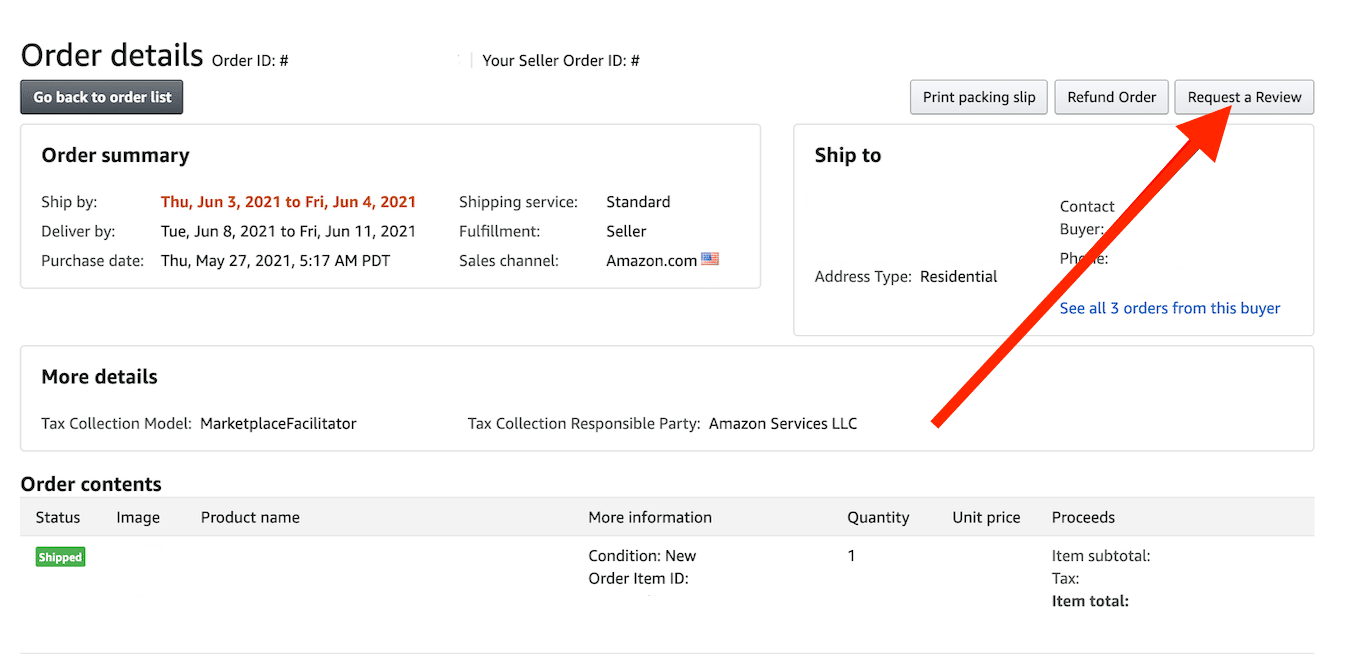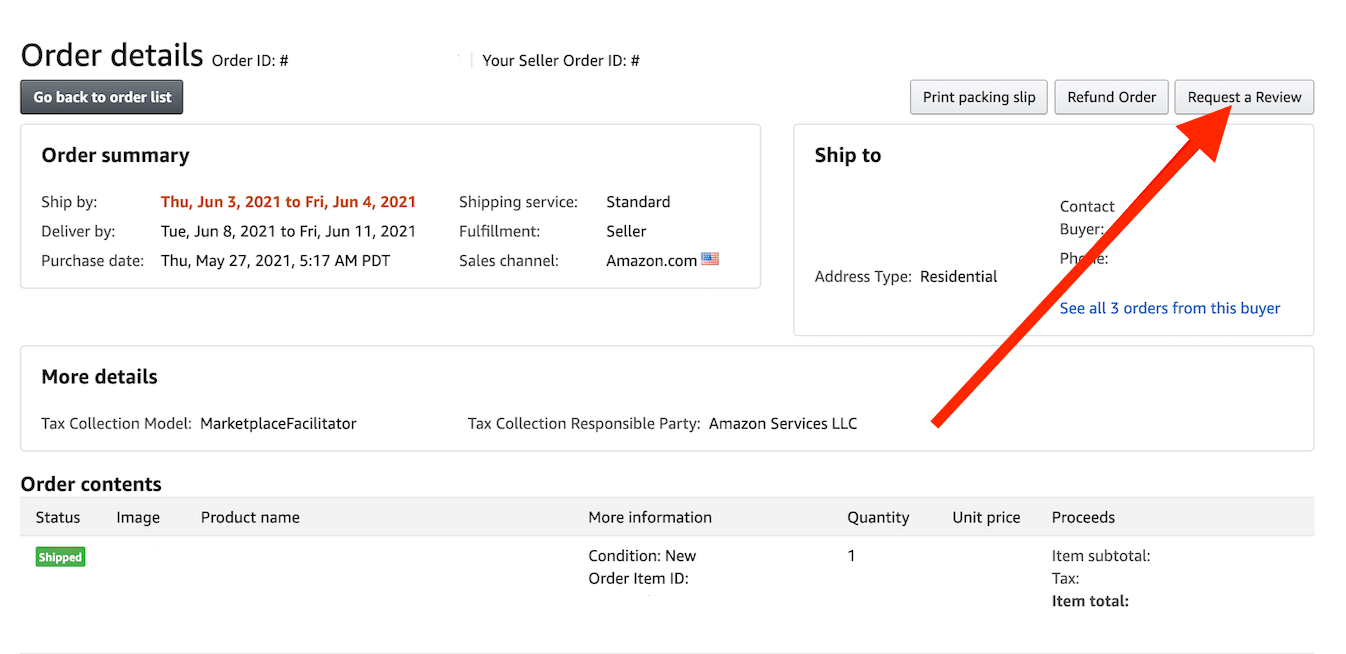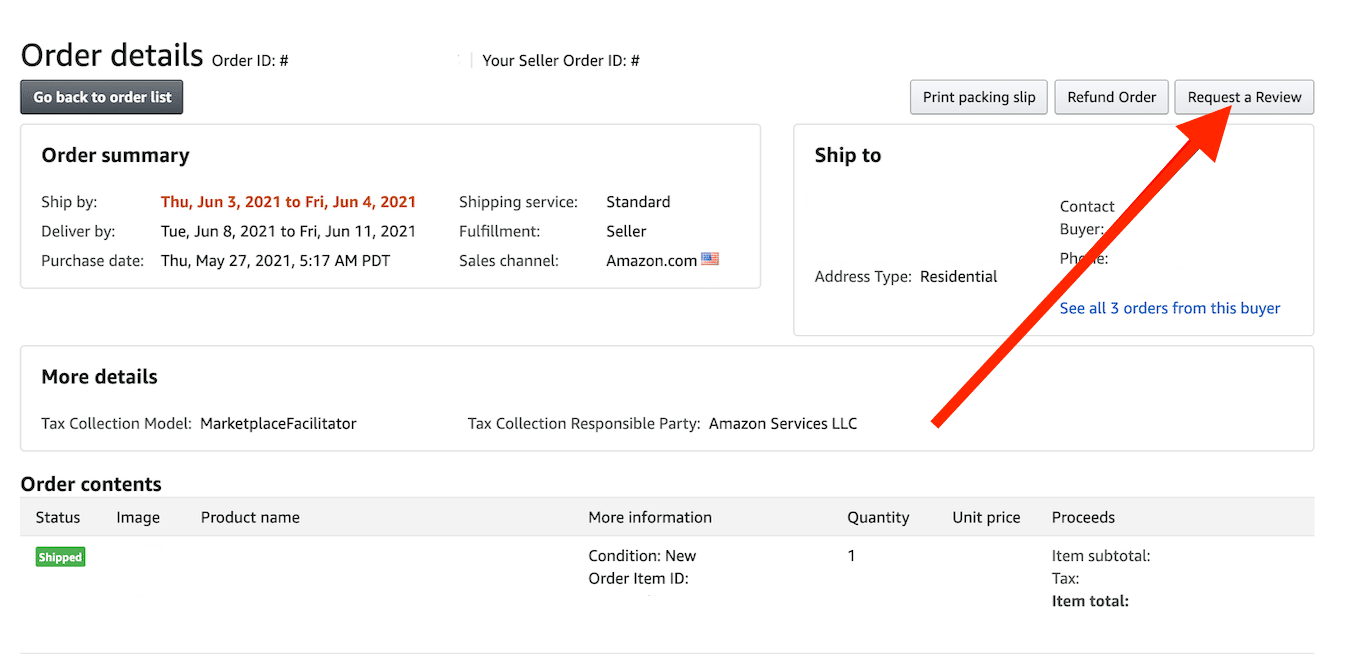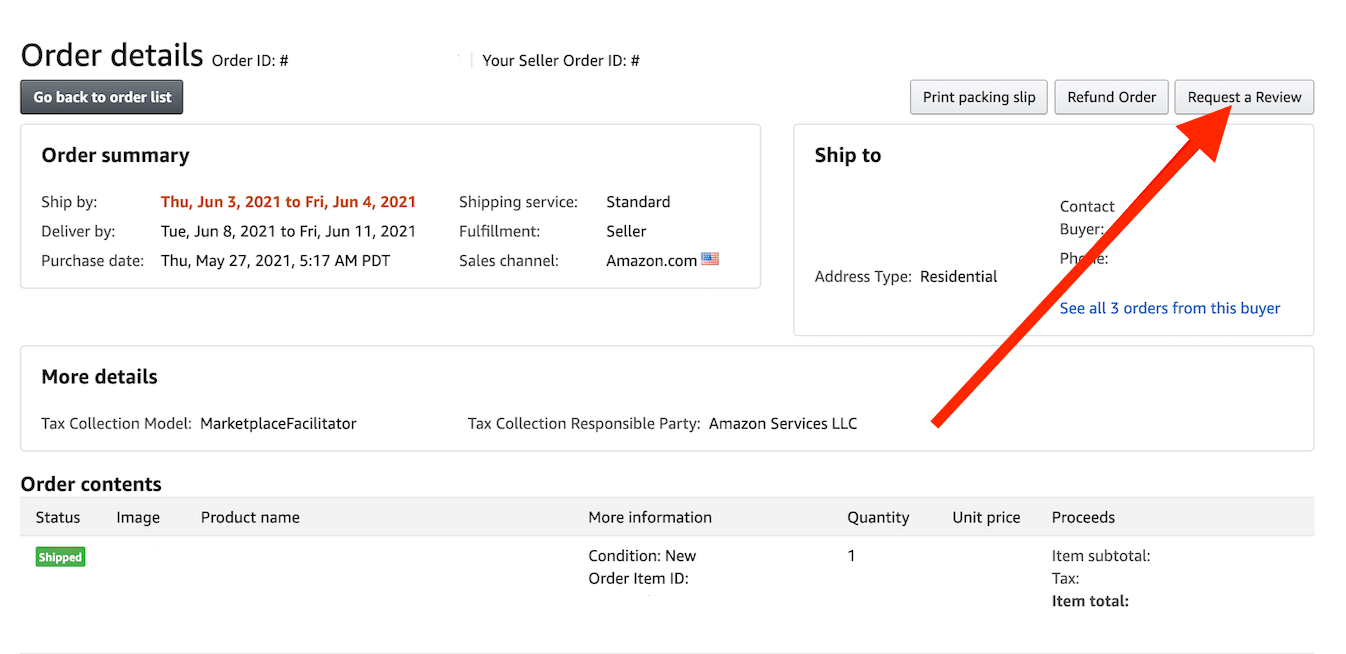 What is the Amazon Vine Program?
There's another option to receive reviews from selected customers: it's called the Vine Program. With this program, certified reviewers will get one of your products and subsequently write an objective and genuine review about it.
This is extremely useful, for example, to gain your customer's trust when selling a new product that has no reviews yet.
Tip 3: Learn how to price your items
Why does Amazon feel like a comfort zone?
Most people think that Amazon is so successful because it has the lowest prices. This is a common mistake. Amazon doesn't have the lowest prices (at least, not anymore): many sellers' websites offer the same products at a lower price.
It's not the prices: Amazon has so many customers because people feel safe when buying on Amazon. This sense of security covers many different areas:
Shipping: the delivery time is short and packages are always on time.
Returns: returns are always accepted by Amazon. This is not limited to damaged or defective products. You can use a phone for two weeks and then return it just because you didn't like it. And Amazon is even sending a courier to your house to pick up the package!
Scamming: you don't get scammed on Amazon. That's common knowledge. And, even if you did, Amazon is going to refund you without asking questions.
Payments: your billing information is secure (thanks to Amazon Pay) and you don't have to share your credit card details with unfamiliar websites.
How to set prices on Amazon
When setting up a pricing strategy, you have to keep the following points in mind:
Aim at winning the Buy Box. Ranking factors to be featured in the Buy Box are: lowest price, free shipping (better if fulfilled by Amazon), low order-defect rate, low pre-fulfillment cancel rate, and low late-shipment rate.
Double-check your prices against your competitors. It's true, a slightly lower price could make the difference when competing for the Buy Box, but a low price could be perceived as lower-quality in inter-product competition.
Amazon's price should always be higher than your website's. You want to sell more through your eCommerce. You make your own rules there and you want to avoid Amazon's selling fees. Hence, boost your own website!
Incorporate the shipping cost in the price and offer free shipping. We're telling you why in the next section.
At the and of all considerations, always set the prices a little bit higher. This way, you can take advantage of promotions and special offers. Don't think to raise a price and immediately set a discount: Amazon is going to keep your offer under review for quite a long time.
Tip 4: Always offer free shipping
Why should I offer free shipping?
There's a ton of scientific literature about the importance of free shipping on consumer behavior. Purchase, repurchase, and customer satisfaction are directly affected by shipping costs. There is a psychological reason behind it: buyers perceive the shipping rate as a second cost to pay.
On the other hand, if you increase the item's price to incorporate the shipping cost, you'll give the impression that your product has a higher value (and that you are giving the shipping for free, which will make you appear kind towards the customer).
It gets even further on Amazon: people are used to Prime and won't even consider buying your items if they have additional shipping costs.
Finally, free shipping makes you look more professional, and it helps with product ranking and winning the Buy Box.
Tip 5: Draw customers to your eCommerce website
Why your eCommerce is better than Amazon
If you have an eCommerce platform (for example, Shopify or WooCommerce) you must get as many customers as possible off Amazon and onto your website.
There are several reasons:
On your website, you make your own rules: reviews, prices, discounts, promotions, shipping times, customer support; it's all up to you.
The profit is all yours: you don't have to share any of your revenues with Amazon. This means no selling fees and no FBA fees.
You can establish a bond with your customers: you can offer direct support, engage with them via email, set up follow-up strategies, and build a strong, long-term relationship.
How can I use Amazon to attract customers to my eCommerce?
There are some well-known strategies, but be creative and find your own ways!
Use the same product titles, but lower prices: if you optimize your Shopify listings for the search engines (i.e. Google), a quick search will allow your customers to find your website, along with more inviting prices.
Include a note in your products where you explain how to find your website. You can tell that the prices are lower there, or offer discounts and other types of promotion.
Read more: Sell your Amazon products on Shopify
How to manage multiple selling channels
Running multiple stores can be tricky and result in additional work. This is why multichannel syncing apps like Nembol are valuable allies:
Tip 6: Enroll in Amazon Brand Registry
Why should I protect my brand?
If you're selling your own branded products, you must get your brand registered. There are two main sets of reasons why you should do so:
1. Grow your brand
A+ Content: you get control over your branded ASINs' product descriptions. This allows you to add a unique brand history, enhanced text layouts and features, comparison charts, and more. Great help for better conversion rates, traffic, and – ultimately – sales.
Sponsored Brands: be featured at the top of Amazon's SERP with ads that feature your logo, a custom headline, and up to three of your products.
Amazon Stores: design a custom section of your local Amazon venue with your products at no additional cost. This is a way to get your own multi-page store at a custom amazon.com address (e.g. amazon.com/nembol). No coding is required.
Amazon Brand Analytics: use powerful analytics about customers, search terms, behavior data to make better strategic decisions.
2. Protect your brand
Proactive brand protection: Amazon will protect your A+ Content from illegitimate use, meaning that no one else will be able to use your product information and ASINs.
Report violations: Brand Registry allows you to report abuses and even have listings and negative reviews removed if they are placed for a product that isn't sold by you.
How does it work?
Enrolling in Amazon Brand Registry requires three steps:
Reviewing eligibility requirements
Signing into Amazon Brand Registry
Enrolling your brand
Further step-by-step information can be found here: Ready to enroll in Amazon Brand Registry?
Tip 7: Always use barcodes
How to get your barcodes for your Amazon store
If you're selling your own products, there are two ways of listing on Amazon: with barcodes, or as barcode-exempted sellers.
Although the second solution usually is considered easier, we recommend using barcodes (EAN, GTIN, ISBN, etc.). It helps a lot when managing and protecting your listings, when selling internationally, and in many other situations.
The best supplier worldwide is GS1. Not many people know that they charge you based on your revenues. If you have a fresh brand with a small turnover, you're almost getting them for free,
It's important to buy genuine codes, from authorized providers only. Getting fake EANs will cause you a plethora of problems, above all the loss of your listings and reviews. Amazon is getting smarted and it started connecting databases across countries, increasing the chances of catching cheaters.
You better follow the rules!
Tip 8: Change prices carefully
You may have thought that increasing your prices and immediately offer a discount is a good strategy. Well, it isn't: Amazon will probably refuse the promotion, or not simply it won't show it.
When can you offer promotions on Amazon?
Promotions can be offered between 20 and 25 days after a price change. This time-spawn is necessary to avoid your listings being put on review. Reviews last at least 10 days, and sometimes even double so much time.
Further suggestions about pricing products on Amazon
We previously said how important it is that your prices are always lower on your own website.
Use Amazon internal advertising to boost your products. The next paragraph tells you more about it.
Tip 9: Use Amazon's advertising
How to boost your Amazon ranking
This is a well-known issue on any platform: organic search results are dead. Especially on Amazon, the algorithm is likely to forget easily sellers and products that are not boosted on a daily bases.
Using Amazon's adv will help you rank better, and faster. Remember it when starting a new account, or launching new products on the marketplace.
How to seasonally manage your ads
Given that a good adv campaign helps you attract traffic to your products, remember that there are some periods when you need to sensibly increase your campaign budget:
Thanksgiving and Black Friday
Christmas
Easter
… and other months, based on your seasonal goods
Should I use Google or Facebook Ads with Amazon?
In our opinion, avoid spending money to attract buyers onto Amazon. There already are enough customers on the marketplace. Your better place your budget on Amazon's advertising directly.
If you really want to run Google and Facebook ads, do it towards your eCommerce website.
Amazon is also bidding on ads. Are you sure you want to compete against Bezos's budget?
Tip 10: Join every program you can
You're not getting a second chance
The most important thing you need to notice is that you're getting only one invitation for an Amazon special program. If you miss it, you won't be able to join that program later.
Amazon programs are crucial to gain a competitive advantage and boost your products. Here is a shortlist of some of them:
A+ Content
Made in Italy
Amazon Vine: gets your products genuine reviews
Amazon Renewed: sell high-quality like-new products (refurbished and pre-owned)
FBA Subscribe and Save: shoppers receive regular deliveries of your items at a discount
Amazon Handmade: sell your handmade products through a custom account
Bonus: Stay up-to-date on changes
Let's close with a little hint from the author.
Amazon is known to be changing rules all the time. Therefore, carefully read every email that you get, even if you think that it doesn't concern you.
First, it helps to be among the first ones trying new programs and enhanced features. Furthermore, you won't risk missing important communication, like changes to house rules and categories.
Another hint is to keep every email in a dedicated folder. This is a rule of common sense that comes in handy when you need to show proof of some type of documentation.
Also, recovering some data is almost impossible. We constantly have to ask our users to show specific information that they are not able to access anymore. And good luck reaching out to Amazon to get a copy of it!
Try Nembol for free: enjoy a 14-day trial
No credit card required