What are Etsy Listing Categories and Shop Sections?
When listing an item, you choose what category it should fall under. Many buyers sort by categories when searching for an item, so categorizing your listings allows you to be found more by your customers.
On Etsy, your goal as a seller is to describe your items as accurately as possible and to be precise when stating the corresponding category. Categories should represent what an item is, more than what it is used for or what it is made of. The more you will be accurate, the more you will optimize your listings, helping them to climb up the searching results.
For example: Jewellery > Rings > Statement rings.
Difference between Etsy Categories and Shop Sections
Note that Etsy has Listing Categories and Shop Sections.
Categories are defined by Etsy across the whole marketplace.
In Etsy, items can belong to only one category. So you can't list the same item under two categories, like you can do on eBay.
Sections are defined by you, for your own Etsy store.
You can find an exhaustive list of all categories in Etsy here: all categories.
Discover exclusive content, insider tips by subscribing to our newsletter. It's quick, easy, and free! Join now and get a 10% discount!
By entering your email address, you accept our Privacy Policy and Terms of Use. Totally free. Unsubscribe at any time.
How to automatically categorize listings on Etsy
You probably have already noticed that, when listing, Etsy wants you to be accurate, and to place your product under the category that describes it at best.
Like Amazon (you can read about it here: Amazon categories and browse node IDs), Etsy categories are A LOT.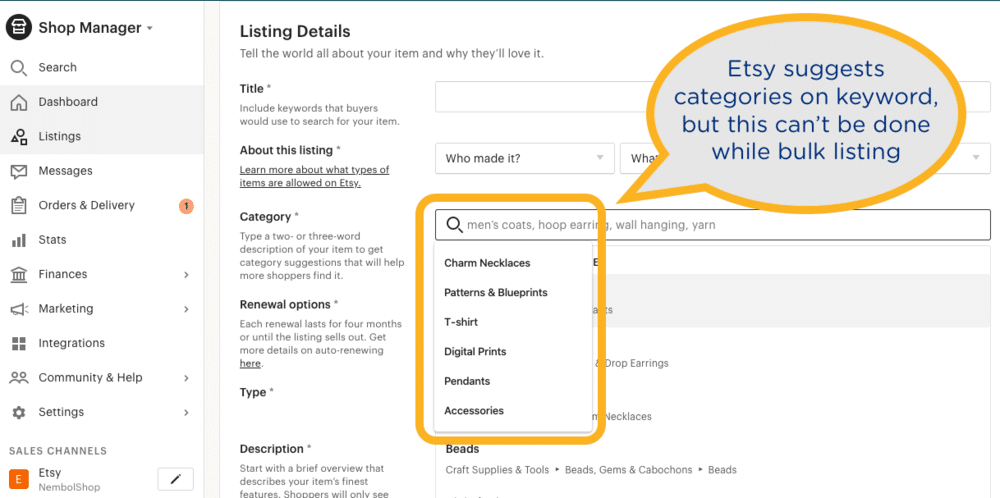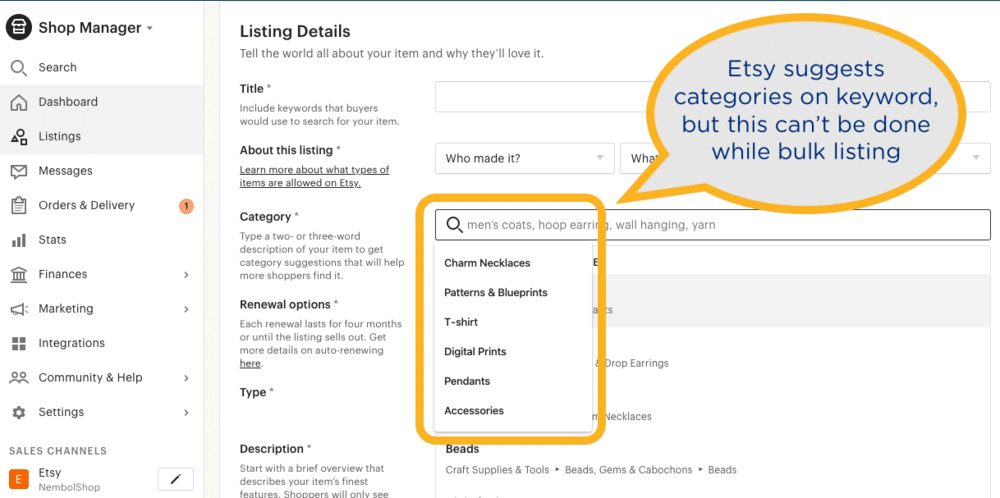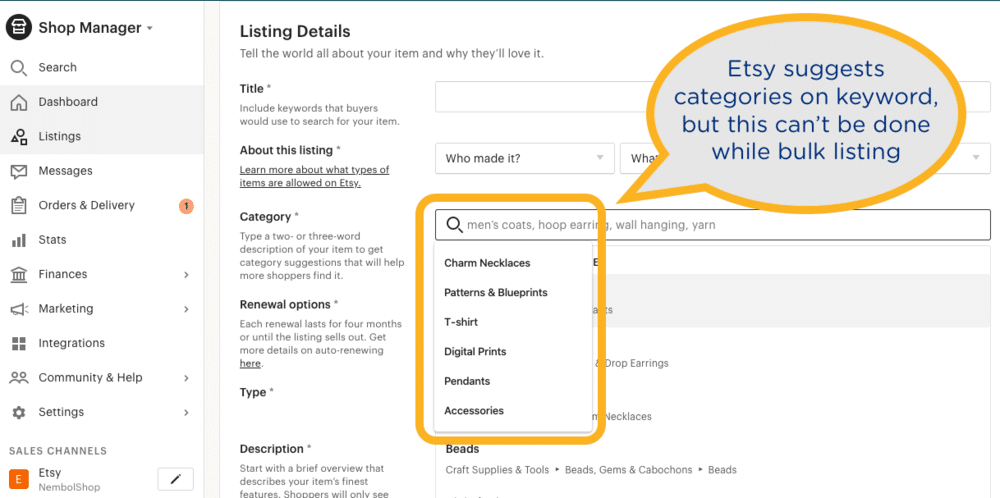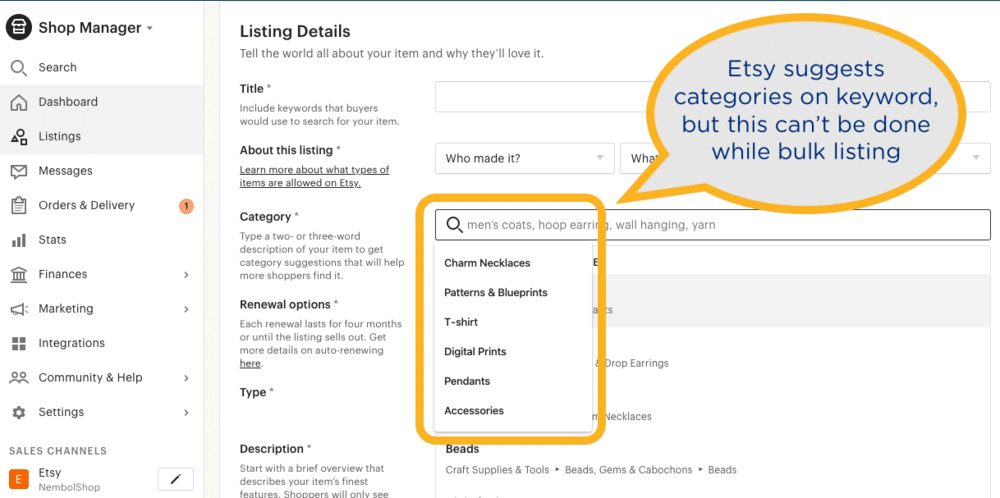 When you list an item in your Etsy store manager (see screenshot below), Etsy offers a way to choose a category starting from some keyword. The problem is, you can do it only one item at a time. Not really practicable when you are bulk-listing products from other channels, like eBay and Shopify.
This is why Nembol represents a great solution to list faster and to list on Etsy directly from other platforms such as eBay or Shopify.
Nembol automatically picks the category for you
When using Nembol to migrate, cross-list, or share products from a different channel (see all of our integrations here) into your Etsy shop, items get assigned automatically to a category by the built-in Artificial Intelligence.
With Nembol, you can maximize your visibility on Etsy by utilizing AI to analyze your listings and place them in the most appropriate categories. With just a single click, you can bulk list hundreds of products across hundreds of different Etsy categories. This optimization ensures that your products are accurately categorized, allowing them to reach the right audience and increase your chances of success on the platform.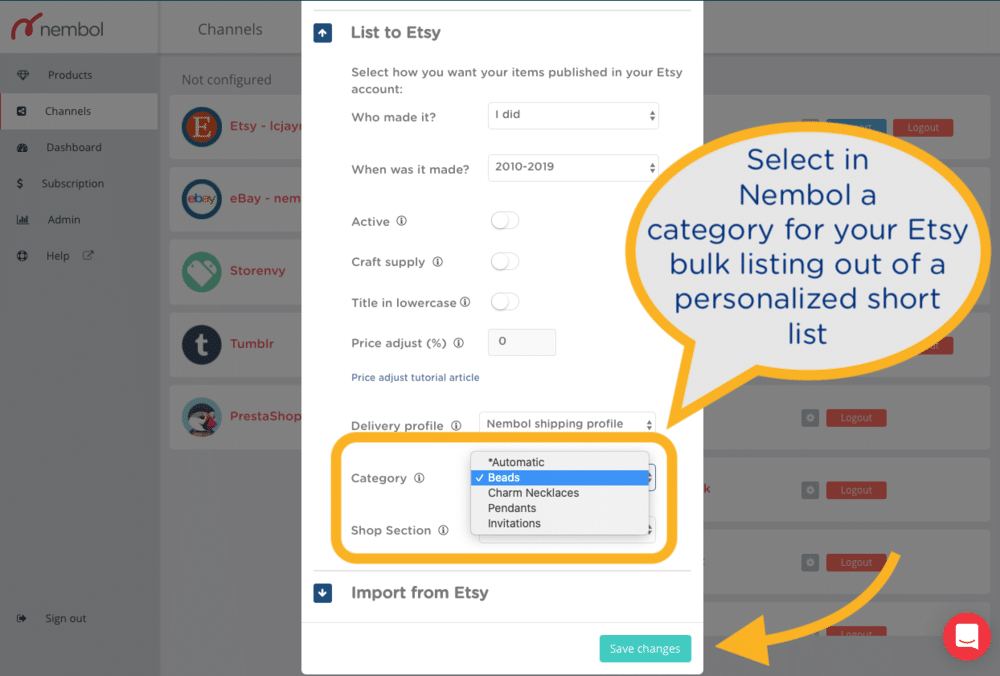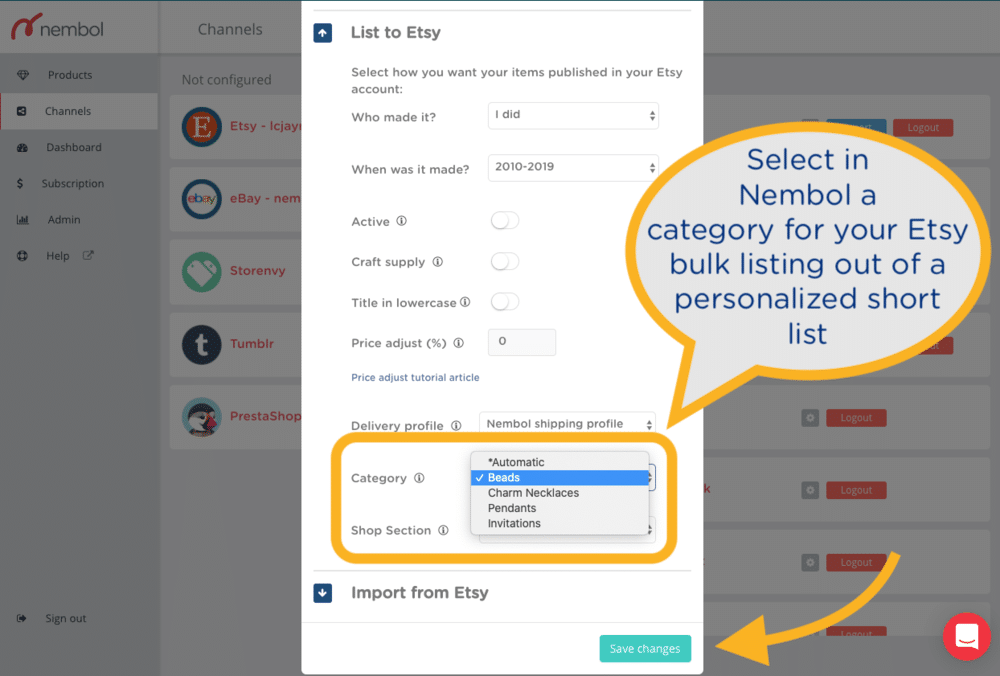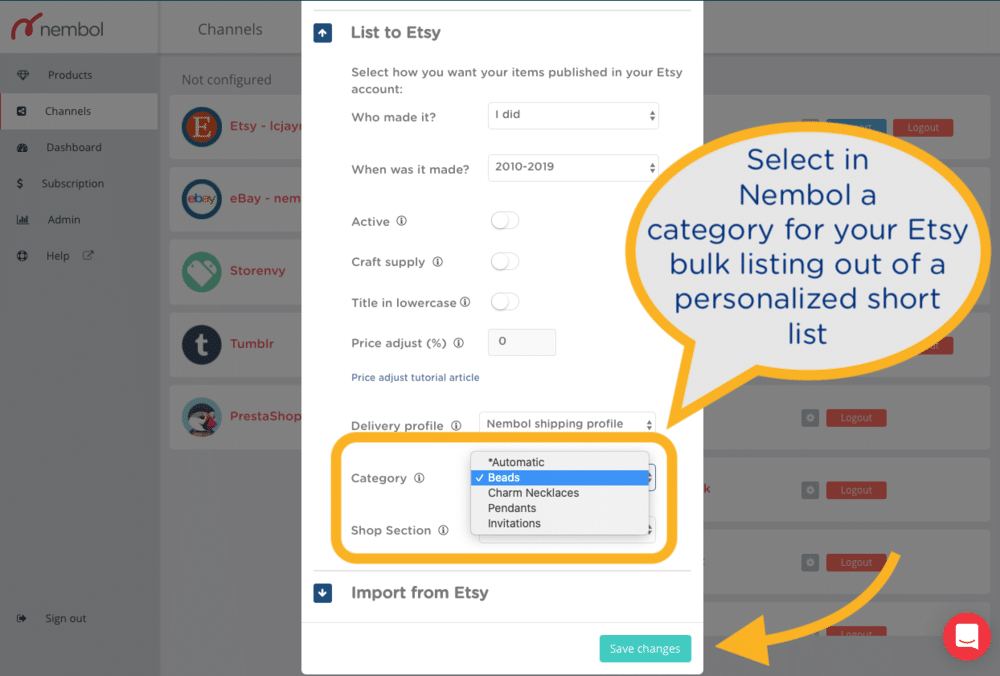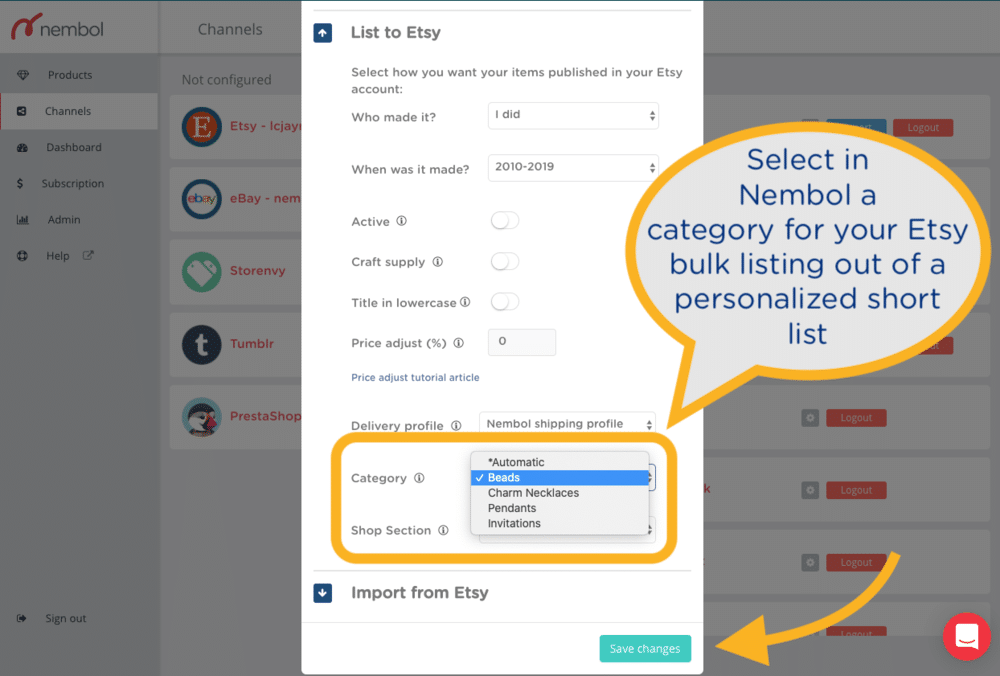 Here is how it works:
Open your "List to Etsy" settings and select the "Automatic" category option to automatize the categorization process while listing.
Save the chosen settings and open the "Product Tab".
Select the products to bulk list.
Click on Actions > Publish > Etsy.
And boom! Nembol AI will analyze your listings' source channel category and listing product title, finding the best-fit category for your listings!
This smart solution allows you to save a large amount of time when publishing your listings in bulk on Etsy from another channel such as eBay, Amazon, Shopify, WooCommerce, or PrestaShop.
Try Nembol for free: enjoy a 14-day trial
No credit card required