Connect your listings across channels with Nembol
Link listings on any channel
The Nembol Link function allows you to connect listing that you already have on eBay, Amazon, Shopify, Etsy, WooCommerce, and PrestaShop. Linked listings will share the same inventory and product edits (made in Nembol or Shopify).
You don't need all or specific channels to link your listings. Nembol can connect items on any of the channels above.
Difference between linking and listing
Before the release of this function, to sync items on additional channels you had to re-list them, after importing from one specific channel only. This isn't longer necessary. The Link function is designed to quickly connect listings you have already optimized for a specific channel: you can keep content differentiated on linked items too.
This is especially useful when:
You don't want to pay twice for listing fees (Etsy and eBay, I'm pointing at you)
We're not the first listing software you have. We're a little disappointed, but we're happy that you made the right choice *blink.
You had a Nembol account, but you opened a new one, and you simply want to connect the listing.
Discover exclusive content, insider tips by subscribing to our newsletter. It's quick, easy, and free! Join now and get a 10% discount!
By entering your email address, you accept our Privacy Policy and Terms of Use. Totally free. Unsubscribe at any time.
How to link listings, in practice
As all we do at Nembol, connecting your listings on different channels is as easy as it can be:
Login and import from your first channel of choice. You'll see your imported products in the Products tab (Screenshot 1 below).
Please note that the first channel you import from will determine the main content. If you switch on "Edit from Nembol" on a linked channel, Nembol will align content over time.
Login and import from your second channel (and then third, fourth, ..), and here's where the magic happens.
Nembol will check each of your thousand products, and each of their dozens of variations, and if it finds a product with the same SKU codes (read our guide on SKU codes for e-commerce and marketplaces) as a product already in your account, Nembol will not import it a second time, but rather it will connect the two listings and keep their inventory in sync, every time you edit in Nembol or in Shopify, or receive an order on any channel.
Yes, this means that, in order to link products, they must have 100% matching SKUs on all channels. If they have not, you can use our bulk editing tools to quickly adjust the SKUs.
At the end of the process, have a look at your Nembol dashboard: in case of errors, you will find an error report file to download.
You will see the "Linked" products in Nembol's Products section with the "Imported" blue badge and with multiple channel icons attached (Screenshot 1). You will also be able to check how many products have been successfully linked in your Dashboard.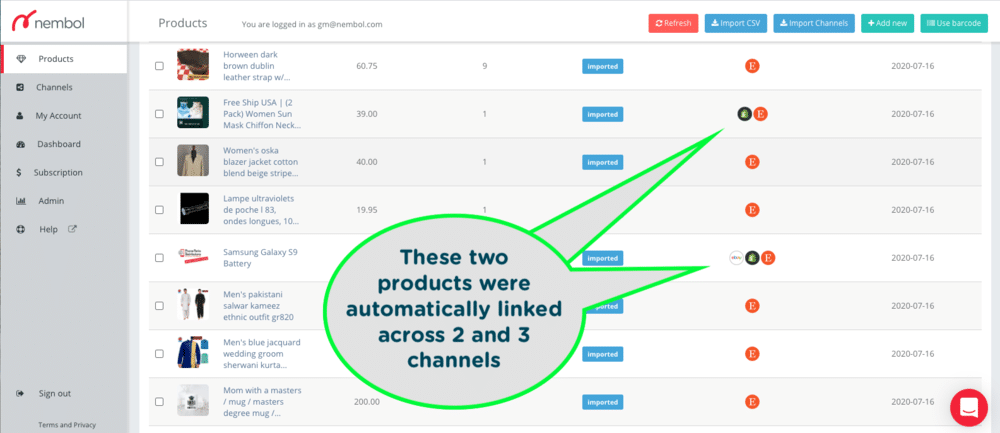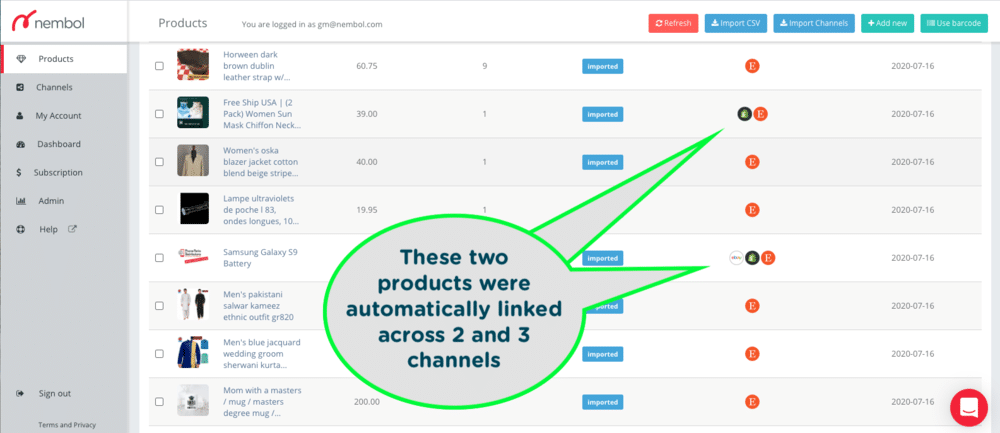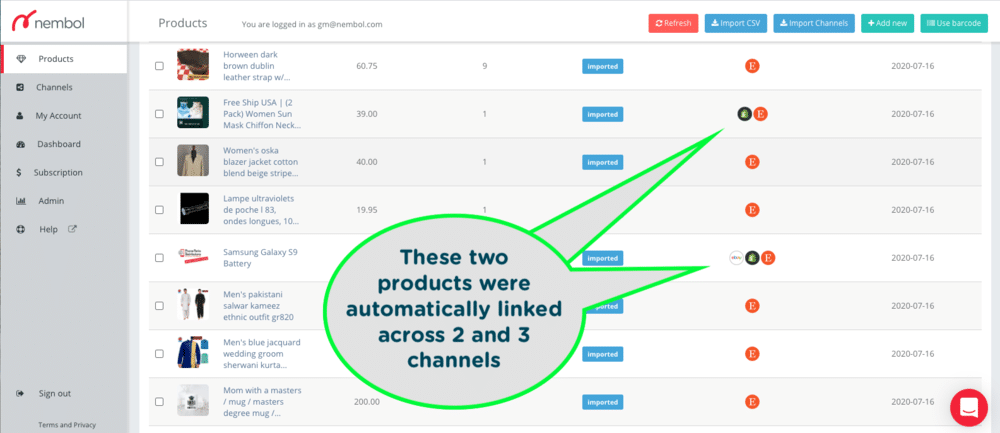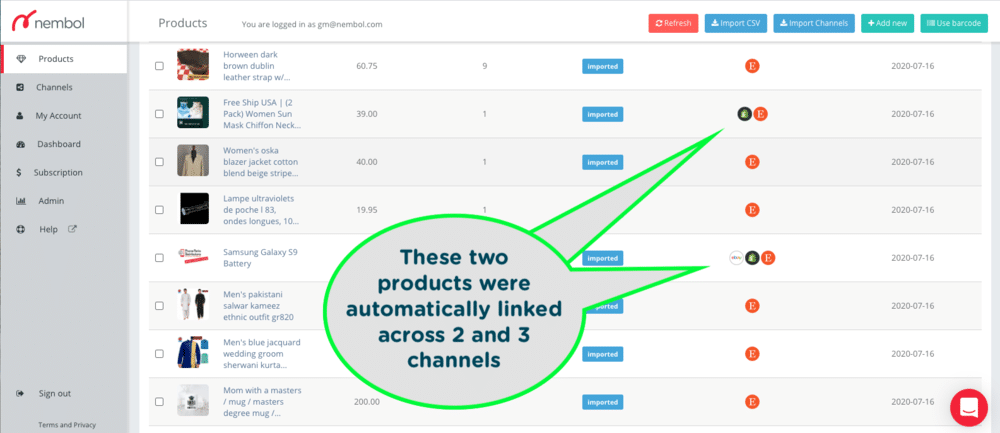 Try Nembol for free: enjoy a 14-day trial
No credit card required
How to sync inventory and keep differentiated content
The advantages for online sellers like you are paramount. Let's see them:
Sellers already having hundreds or thousands of listings on some channel, do not need to relist. This is extremely advantageous on eBay, Amazon, and Etsy, where relisting would mean additional listing fees and losing seller history and product feedback.
Sellers having optimized titles, tags, or descriptions per channel can keep them independent across channels. Just turn "Off" the switch "Edit from Nembol" in each channel's settings (Screenshot 2 below), and the content will stay untouched. Turn it "On" if otherwise, you wish to progressively have all content identical.
Nembol will link only products with exactly the same SKU codes across all variations and will return you a file with all exceptions. The products must have the same number of variations. This, if you like, is a fantastic way to progressively fix SKU code errors you may have accumulated in years.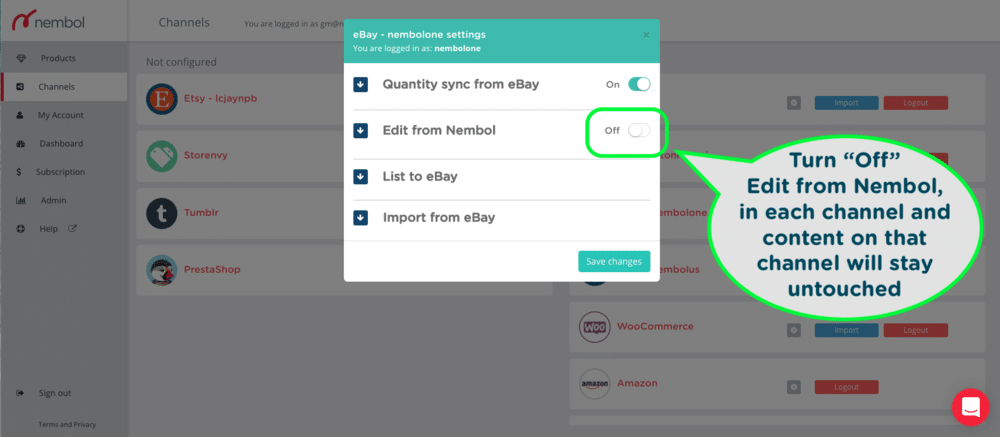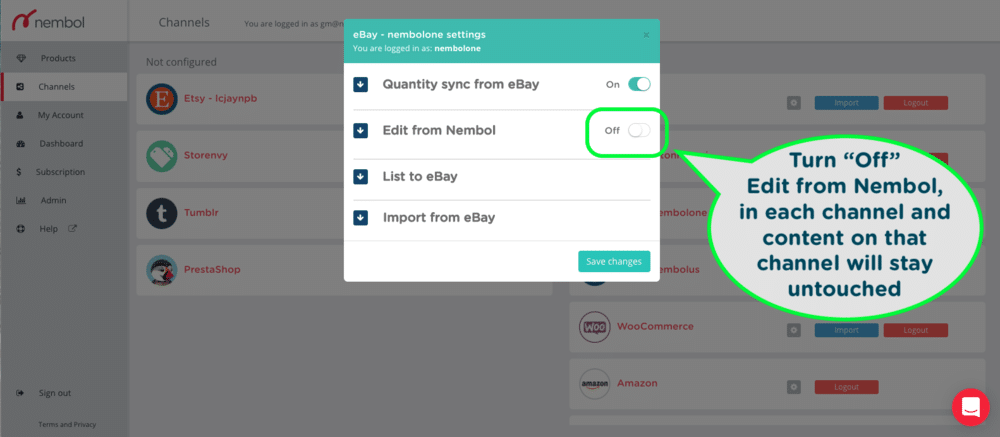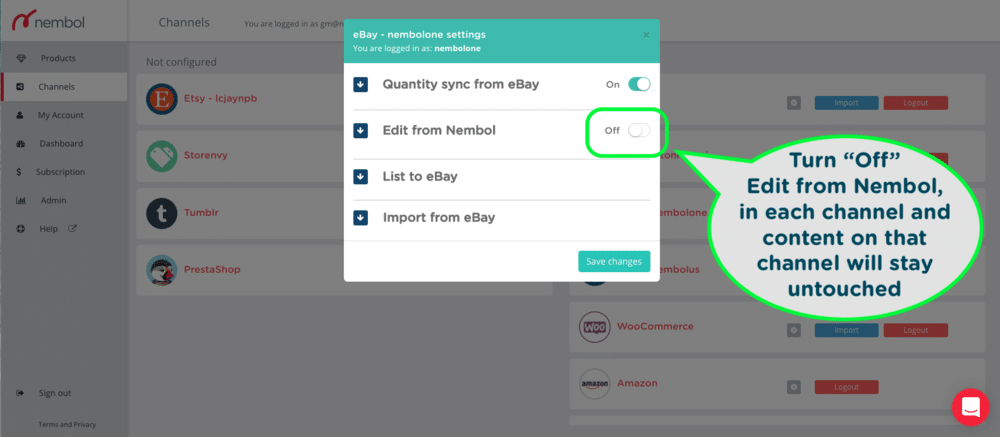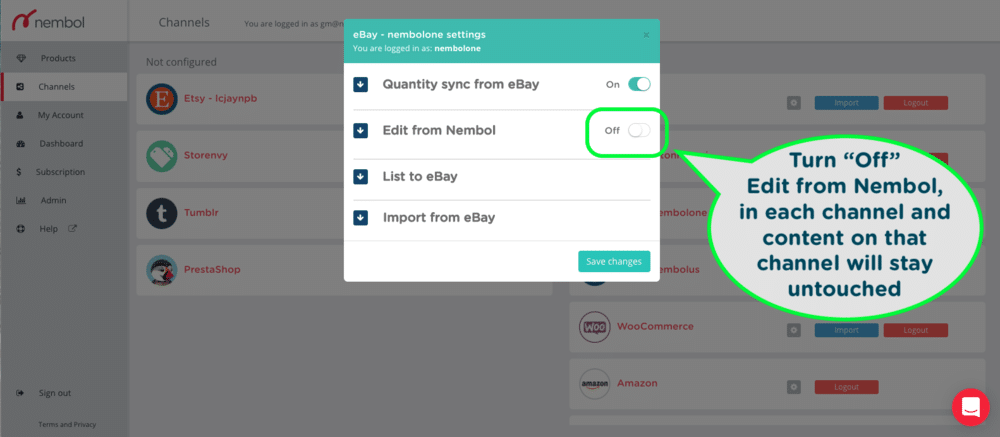 How to connect products on specific channels
Where is the SKU field on eBay?
The main question when linking eBay products is that – unlike other marketplaces or eCommerce channels – eBay has no mandatory SKU field.
There is a field called "Custom Label (SKU)", but it's an optional field. You have to type in the SKUs before importing to be able to link your listings.
How to connect Etsy SKUs with Amazon, eBay, Shopify
Etsy doesn't require sellers to use SKU codes. However, you need them to link products with Nembol. So, how can you easily add them to your Etsy listings?
One way is to manually add the SKUs to your products on Etsy, then import. This is a slow but effective method.
Another solution is to import from Etsy first. Nembol automatically adds random SKUs if you don't have them. Once your products are on Nembol, download them as a CSV and use Excel or Numbers to quickly add the same SKUs you have on other channels. Almost every marketplace and e-commerce let you download a CSV of your products.
In the end, submit the CSV to Nembol to bulk-edit your products. Then import from the other channels.