Overview
Online sellers are often in the need of editing multiple products in bulk. Nembol has various tools that make mass editing easier and faster.
For example:
The latter is explained in detail below, in this very article.
Try Nembol for free: enjoy a 14-day trial
No credit card required
The Quantity Bulk Edit function
In Nembol you can bulk change the inventory count of your products. You can do that:
Before bulk-listing to a channel
and even after you already listed your products!
Bulk edit item quantity on Etsy, Shopify, and eBay
As stated on Etsy's official guide, you can't bulk edit quantity on Etsy directly.
On eBay, you can mass-edit up to 500 live items at the time, but eBay itself suggests relying on third-party developers, here.
Neither of these two solutions allows you to bulk-edit quantities on all your channels at the same time. The only valid alternative is using Shopify: when updating your listings on your Shopify account, Nembol syncs the edits across every other channel (connected to Nembol).
However, bulk editing product quantity on Nembol is waaaay faster.
Change quantities in bulk on multiple products
This is how our tool works:
After you imported your items from any channel into Nembol, you publish them on additional channels. Up to 14 different ones, to be precise.
When the Quantity Sync function is active, your inventory is automatically aligned after every sale. Meaning that the stock count is synced in real-time, based on the number you have in Nembol, and this number is reduced every time you sell something.

With the Quantity Bulk Edit tool (found in the "actions" button), you can quickly change the quantity of a product and all its variations. By selecting more than one product, you can change the stock count of multiple items at the same time.
Let's see an example of bulk editing
Select a bunch of products you want to change the quantity of.
Click on the Actions button in the top-right corner (see screenshot below)
Select Quantity Bulk Edit.
Type in a number of your choice.
Save.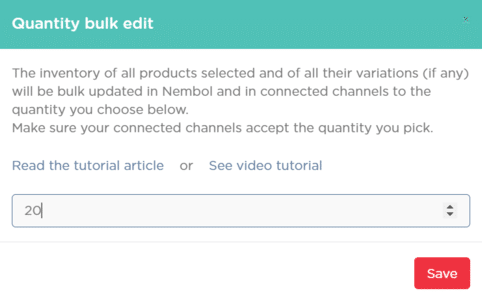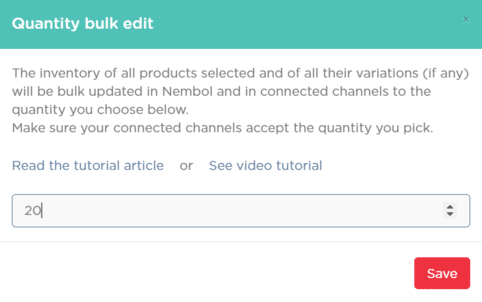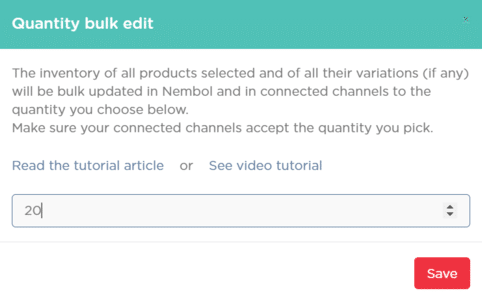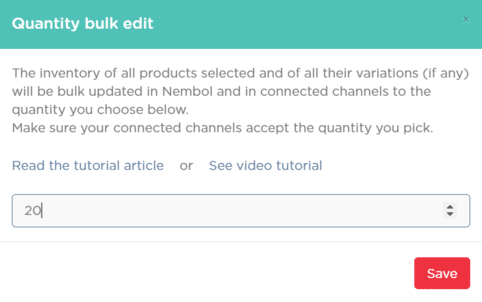 Nembol will change the quantity to the number you've chosen. If the product has variations, Nembol will change each variation.
The new inventory count will be updated on all your channels. This process may take some time, up to a few minutes, depending on how many products you have selected, on the current server traffic, and on the channel (Amazon is usually the slowest).
This function is especially useful when you quickly need to restock items on multiple channels.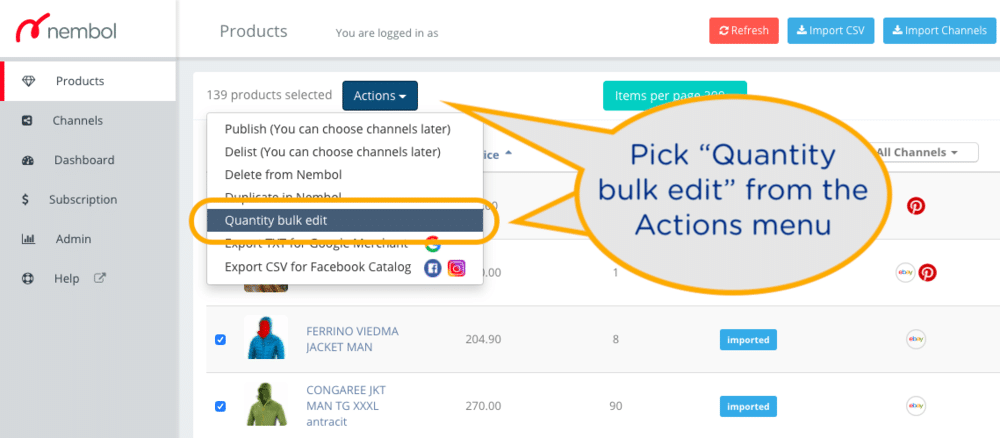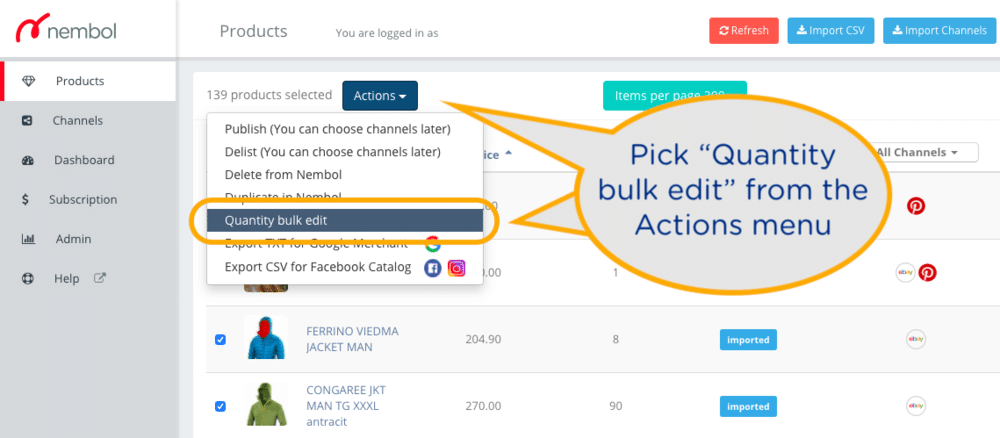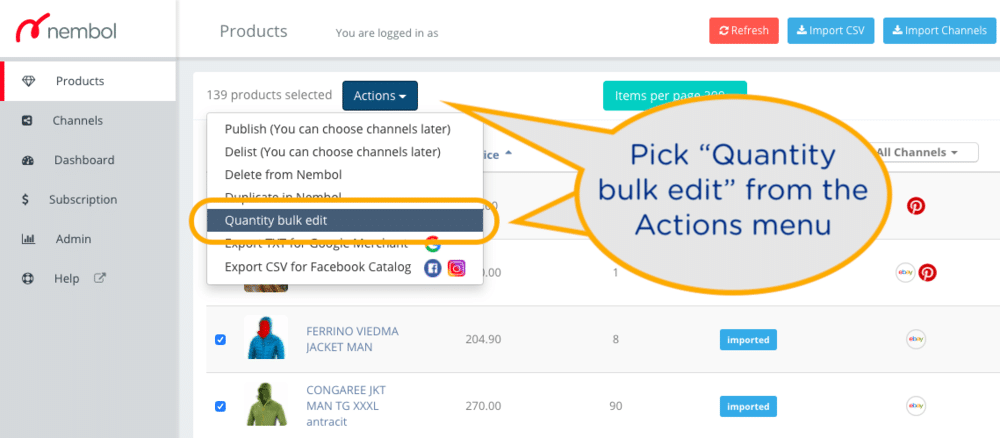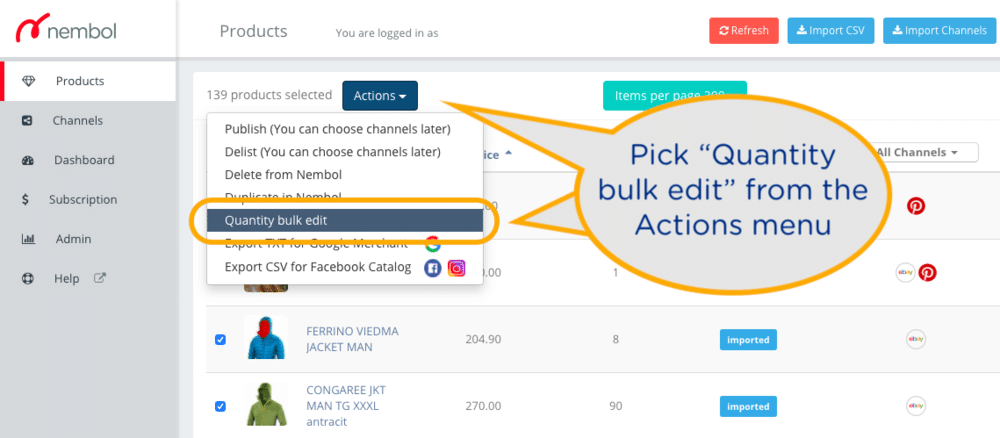 Discover exclusive content, insider tips by subscribing to our newsletter. It's quick, easy, and free! Join now and get a 10% discount!
By entering your email address, you accept our Privacy Policy and Terms of Use. Totally free. Unsubscribe at any time.
CSV Bulk edit
The Quantity Bulk Edit function is really useful if you need to set the same quantity on multiple products (and their variations). Alternatively, you can use our Bulk Edit feature to quickly edit any listing details, on multiple products. Nembol will take care of pushing these edits to all your channels.
Read more about how mass editing works with Nembol.