What is new in Nembol New
On Nov 8th 2023, we will launch a whole new Nembol. New users joining Nembol every day will sign up and start working directly on this shiny new platform. For our existing users, feel free to migrate to Nembol New whenever it suits you: we have a sunset period till the whole of January 2024.
Nembol New represents a comprehensive redesign and rebuild of our platform. This was not a minor effort for our team! Despite the transformation, Nembol's primary objective remains unwavering: to be the most user-friendly online multi-channel manager in the market. Our commitment is to cater to medium-sized e-commerce sellers, typically managing between 100 and 20,000 listings across 2 to 6 online channels.
In the following, we'd like to introduce you to some of the most important new features.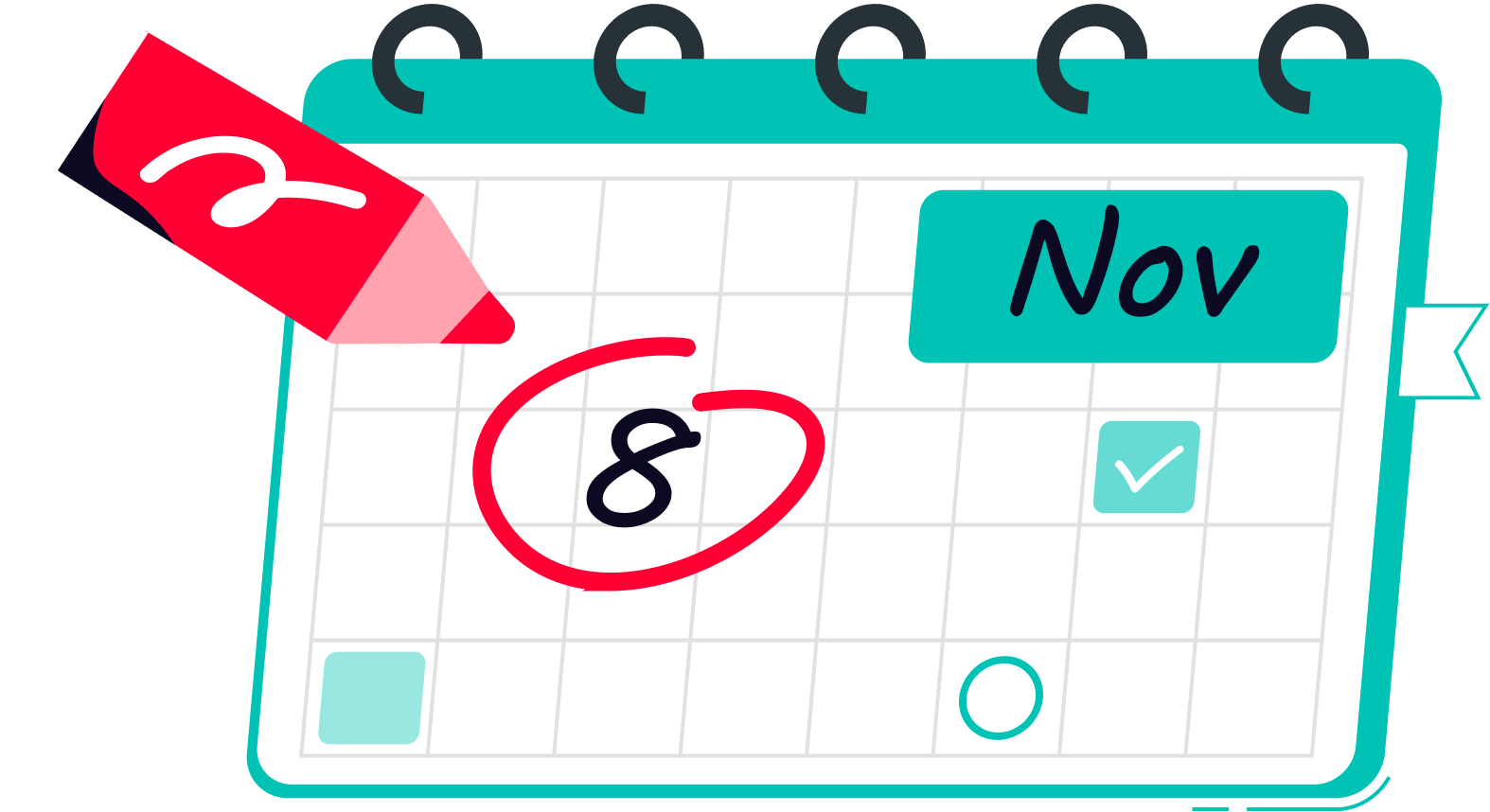 Multi-account integration
Nembol New has introduced a significant enhancement, enabling users to connect up to 10 store accounts from the same channel under a single Nembol account—an impressive increase from the previous limit of 2.
This pivotal expansion is particularly beneficial for the growing community of online sellers managing multiple stores on platforms like eBay, Etsy, or Shopify. It also fulfills a long-standing request from agencies assisting sellers in expanding their online presence to boost business.
With this update, Nembol users gain the flexibility to distinguish customer segments by offering distinct product lines across various stores. This diversification empowers you to tap into multiple market niches, facilitating your business expansion or allowing the maintenance of separate brands and the creation of new ones.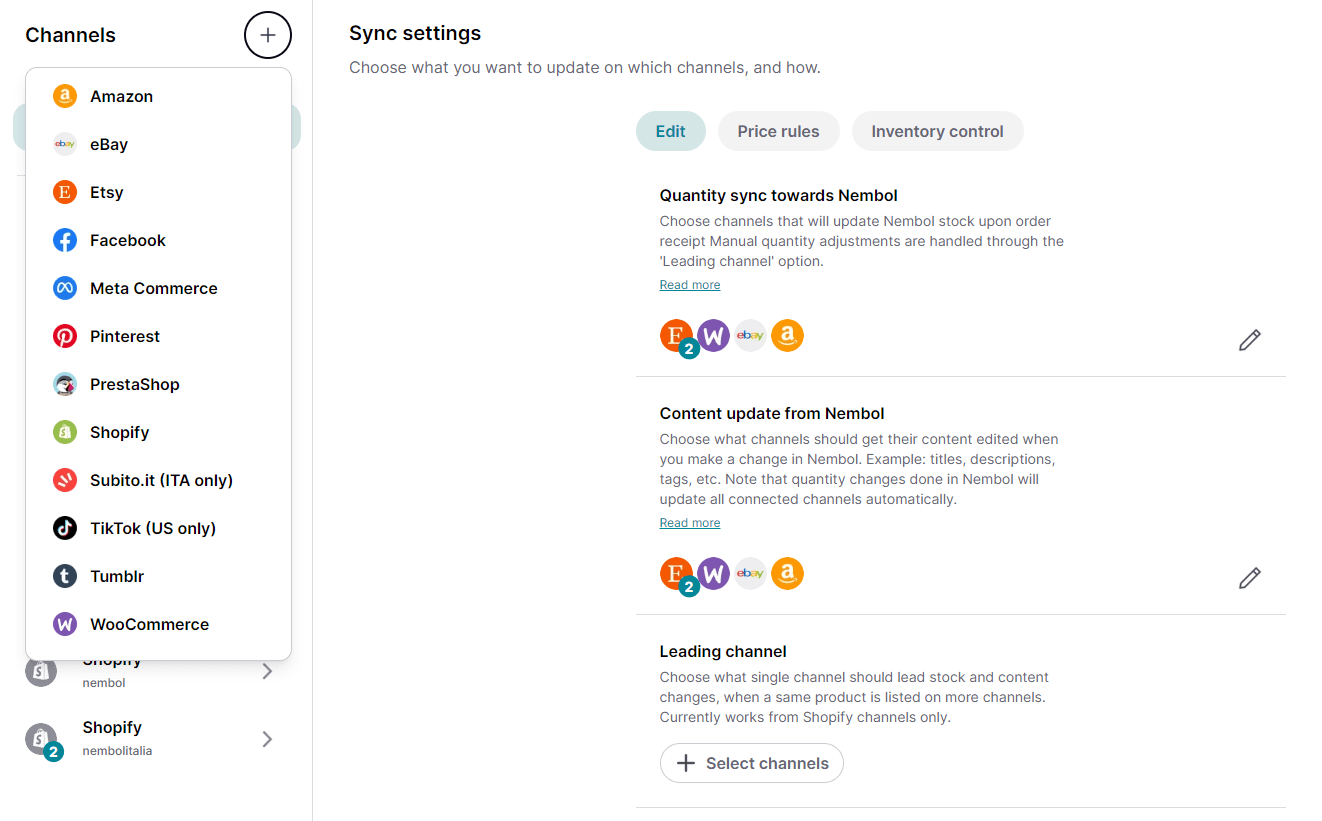 AI Content Generator
In Nembol, Artificial Intelligence has long played a crucial role, particularly in accurately categorizing listings on platforms like eBay and Etsy. With the introduction of Nembol New, we've added the power of Generative AI for crafting compelling product titles and descriptions. The results are nothing short of extraordinary.
Now, leverage our AI generator to effortlessly create attention-grabbing content. Perfect your titles and descriptions to not just stand out but soar above your competition. Our AI can recommend engaging and optimized titles, bullet points, and short or long descriptions based on your preferences.
Take later control of the customization process, if you so desire, to tailor the content and appeal directly to your target audience. Enhance your listings' visibility in search results and make a lasting impression on potential buyers.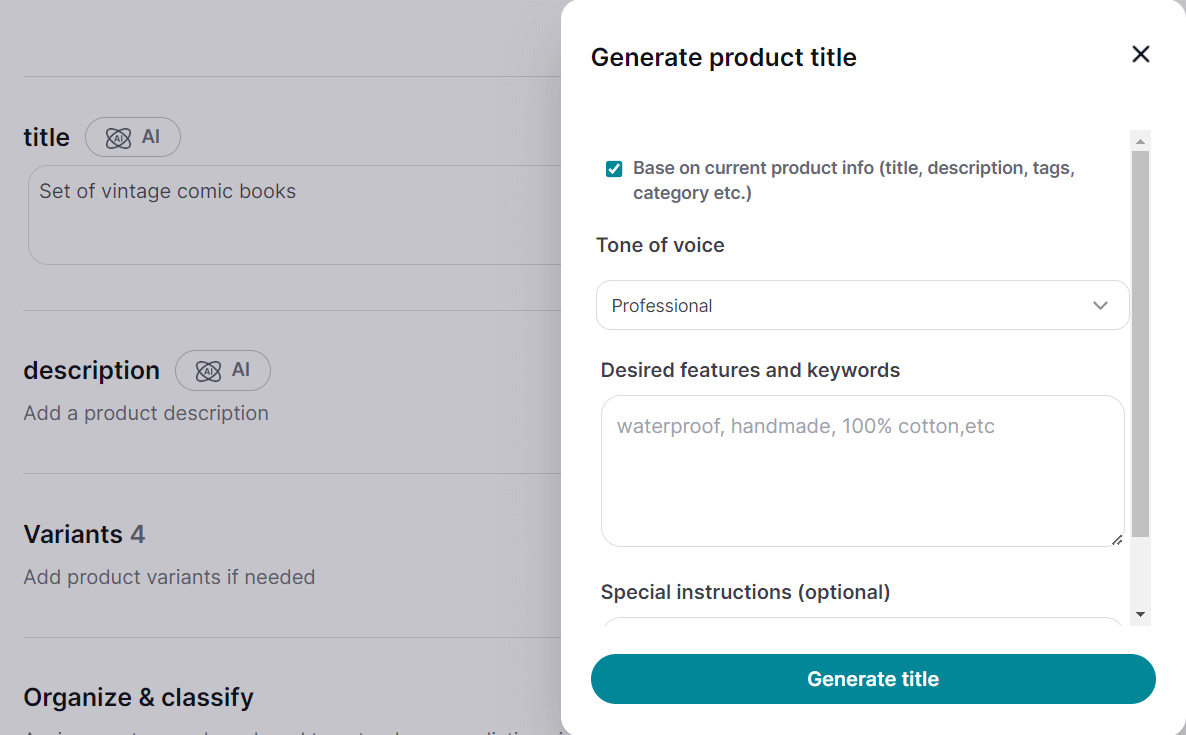 Multi-channel analytics
Nembol New introduces a completely new, revolutionary dashboard giving you a centralized view on your online performances.
Nembol does more than just make multi-channel e-commerce management easy and fast. With the new Analytics section, you can also view your performance and develop business growth strategies. But that's not all! You can also track sales trends for individual products and choose the best channels to sell on, making your business strategy even more effective and efficient.

Leading channel
We are introducing a new concept called 'Leading Channel,' allowing sellers to designate a primary channel for stock and content changes when a product is listed across multiple channels.
Initially, it is available just for Shopify channels, enabling sellers to choose which of their multiple connected Shopify accounts takes the lead when edits are made on a product. In the future, we plan to extend this functionality to eBay channels, responding to high demand for editing capabilities from that channel.
What is just improved
Rest assured, many beloved functions remain nearly unchanged, albeit significantly enhanced.
CSV import-export is there and improved. With a more intuitive approach to upload and download at the same point of the application
The Products tab is still the core of the application, although with improvements such drag-and-drop reordering of pictures
Our Learn Center is there to serve you, and better linked. We will work to improve it further in the next weeks with new videos and new articles and screenshots centered on how Nembol New works and can serve you and your e-commerce growth
Nembol New, so that you can have more listings, on more channels, and grow your online business.
Feel free to let us have your ideas and comments in the in-app chat!
Try Nembol for free: enjoy a 14-day trial
No credit card required