Overview
As a seller, you may frequently have to edit your listings by changing the price, the quantity, and updating the content (titles, description, and more.). Therefore, in this article, we will show you how to use two of the main editing functions on Nembol and simplify your online business management.
What is the edit from channels?
Nembol is designed to ease multichannel retailers' jobs, especially when it comes to syncing inventory and listings.
If you're reading this, you probably already know how burdening and time-consuming it is to keep up with stock levels and listing updates, manually replicating edits for each channel.
This is why Nembol is provided with tools to help you bulk edit products across channels in one move. So far, you can edit listings:
These two tools allow you to modify your listings directly on your favorite channels, pushing the edits to Nembol and (if you want) on some or all of your other channels.
At the moment, the "Edit from" function is available only with Shopify and Etsy. We're currently developing this function for eBay and WooCommerce.
If you want to have this feature on a specific sales channel, don't hesitate to contact us. We'll let you know if we can meet your requests.
How to use edit from Shopify?
To use the edit from Shopify function and bulk edit Shopify products directly on your Shopify backend, all you need to do is:
Access to the Nembol Channel Tab.
Click on settings next to the Shopify icon.
Switch ON the "edit from Shopify" function.
Remember to save.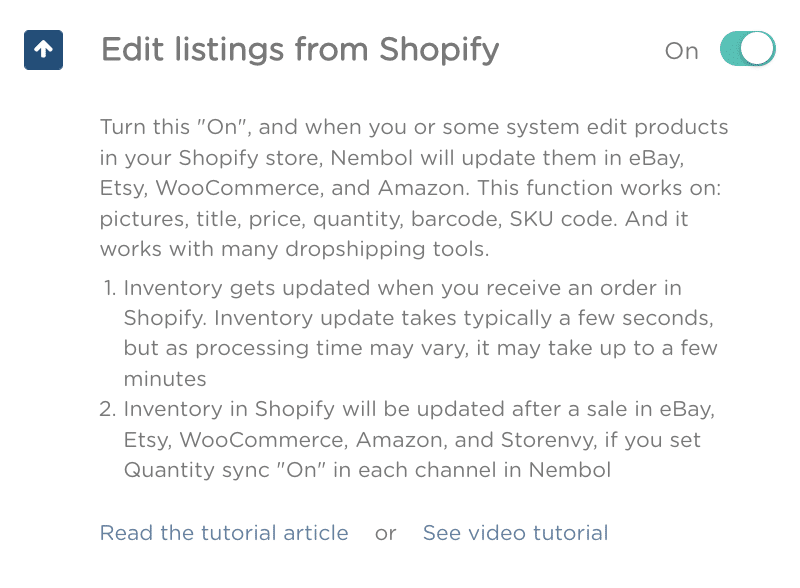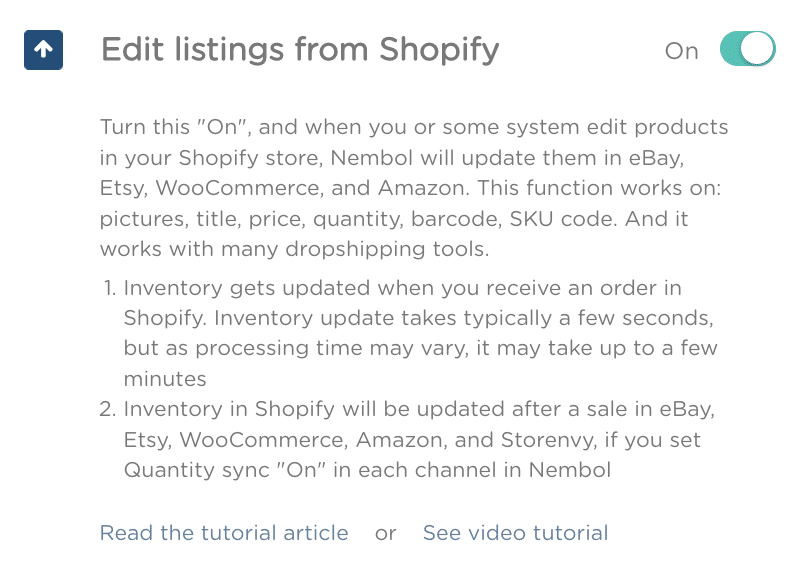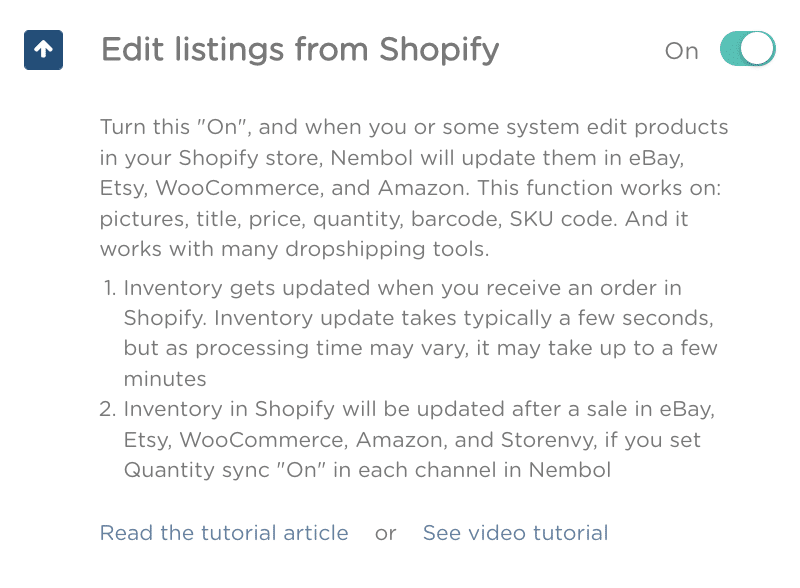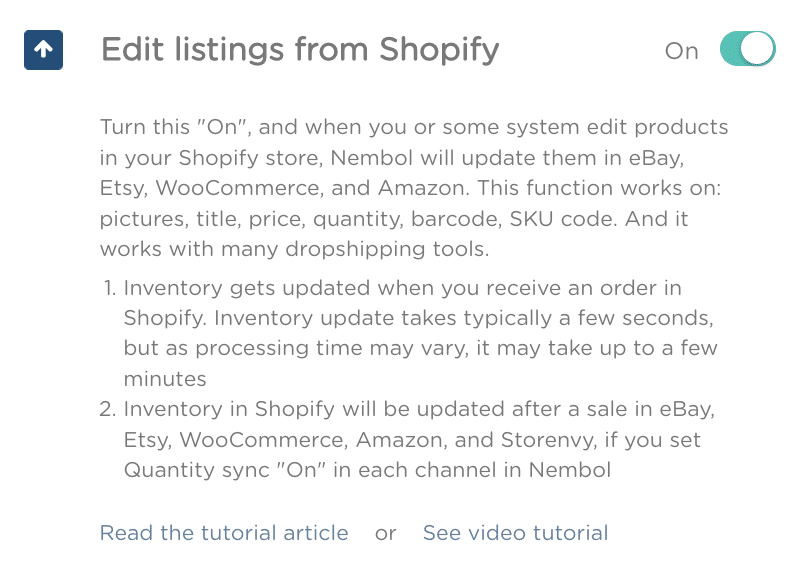 If you want to apply the edits made on Shopify to other channels as well, all you need to do is switch ON the Edit from Nembol function in the settings of the channels you want to update accordingly.
This way, all the changes you make will be automatically implemented and synced across channels.
If you want to keep content independent, leave the "edit from Nembol" switch OFF.
Once you've set your channel(s), you'll be able to update your listings into Shopify and consequently have your edits on Nembol and across the chosen channels.
Do you want to take a further step towards your business centralization? Read more about the Shopify Transfer orders function, and collect your multichannel orders into the Shopify backend.
Watch this video tutorial to know more: How to edit listings from Shopify
Try Nembol for free: enjoy a 14-day trial
No credit card required
Edit listings in Etsy
Can you edit listing on Etsy?
Thanks to Nembol's latest release, you can now edit your products directly from your Etsy Store Manager and bulk update all the listings hosted in Nembol and on your other channels you're currently selling on (this is optional).
Compared to the edit from Shopify setting, there are two main differences to pay attention to:
First, the switcher is placed within the Etsy import settings.
Second, the edits are not applied automatically on listings but have to be imported by clicking on the "Get products" button.
How to use edit from Etsy?
Let's see how to use this edit setting:
Access to the Nembol Channels Tab.
Click on settings next to the Etsy icon.
Open the "import from Etsy" tab.
Switch it ON the "import updates" function (as shown in the nearby image).
Click on Save to use this setting.
Edit your listings on Etsy.
Open the Channels Tab.
Click on the "Get product" button on the hand-right side of the page.
Nembol will update your listings and import new ones.
No worries, this won't import duplicates!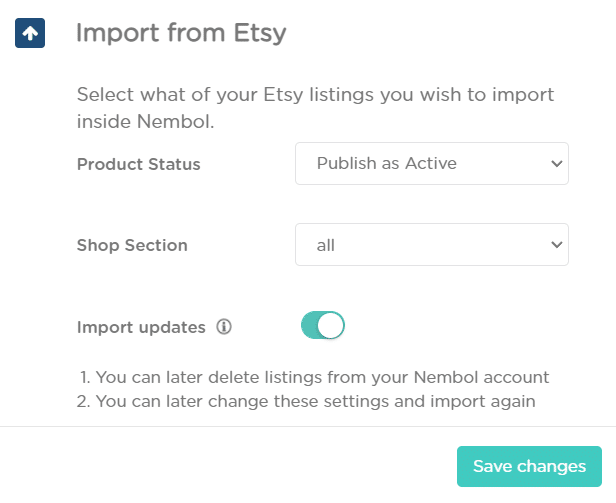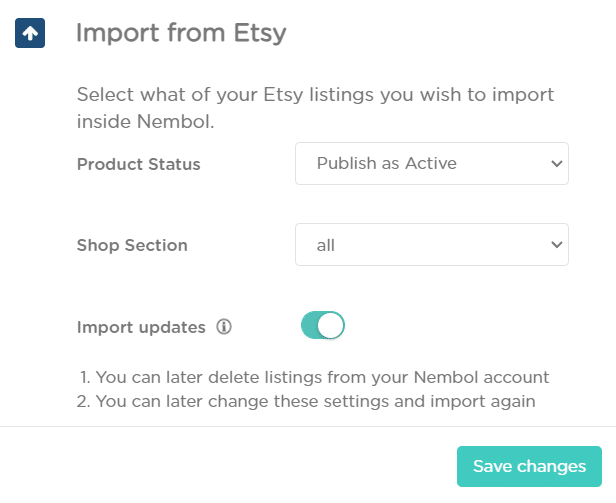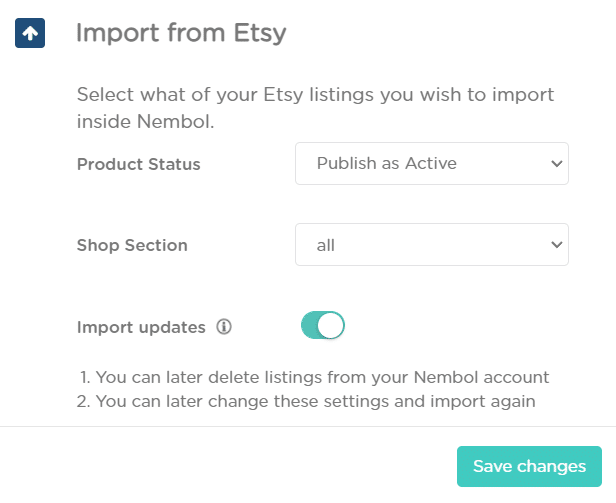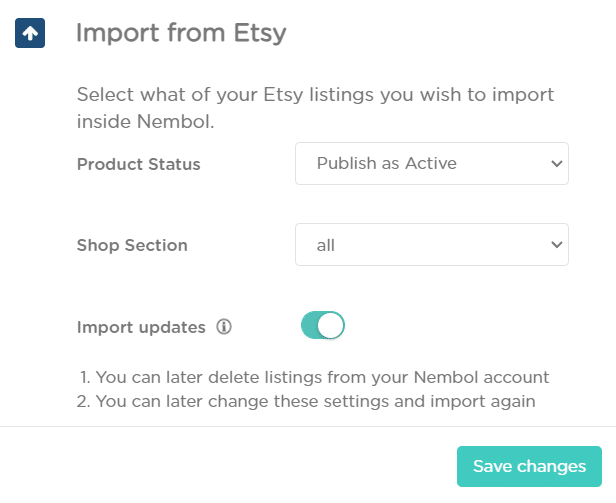 Discover exclusive content, insider tips by subscribing to our newsletter. It's quick, easy, and free! Join now and get a 10% discount!
By entering your email address, you accept our Privacy Policy and Terms of Use. Totally free. Unsubscribe at any time.