Amazon Node ID: what is it
Browse node IDs are numeric codes that identify inside Amazon a given product category. There are more than 30 THOUSANDS product categories on Amazon, each one identified by a unique Node ID (also called Browse Nodes).
Find the Node ID can be useful if you want to publish on Amazon a product not yet associated by Amazon to an ASIN.
Read more: How to publish new products on Amazon
If instead your product already has an ASIN, i.e. the internal Amazon's Unique Product Identifier, the Node ID you may assign to your Amazon listing becomes mostly irrelevant.
In Amazon's own words: Browse node IDs are positive integers that uniquely identify product sets, such as Literature & Fiction: (17), Medicine: (13996), Mystery & Thrillers: (18), Nonfiction: (53), Outdoors & Nature: (290060). Amazon uses thousands of browse node IDs.While top-level browse node values tend to remain the same, the values of other browse nodes change often. Browse nodes are created and eliminated without notification.
Please note that node IDs are unique in one Amazon locale (e.g. Amazon.com, Amazon.co.uk, Amazon.fr, …) The same Node ID can be used in two or more Amazon locales, but the names and purposes of those nodes can be different and unrelated.
Read more: Sell as Barcode Exempted on Amazon
Please note that currently users cannot currently list with Nembol on Amazon, neither as barcode exempted nor new ASINs.
Try Nembol for free: enjoy a 14-day trial
No credit card required
Where to find the correct Amazon Node IDs
European and US + Canada sellers may find node IDs for their Amazon locale following these instructions:
Node IDS for European sellers
Find the node ID's for each category, using these tools provided by Amazon:
And so on for further locales. See screenshots below: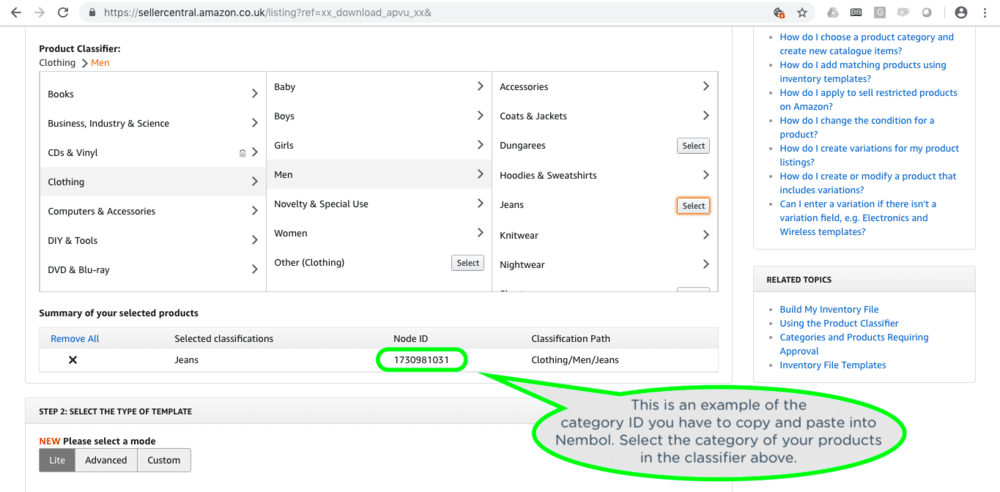 Node IDs for USA and Canada sellers
On Amazon.com, node IDs have recently been moved and are a little bit hidden for some reason. This is how to find them:
Use the product classifier tool for new products, available at this link to logged Amazon sellers: https://sellercentral.amazon.com/hz/productclassify
Browse the category tree to find your preferred category for the product or set of products you are about to publish. In the example below, we used: Beauty & Personal Care > Makeup > Eyes > Mascara.
Click "Select".
Look in the URL for the "&recommendedBrowseNodeId=xxxxxx". In our example, the code is "11058611". This is the node ID you are looking for.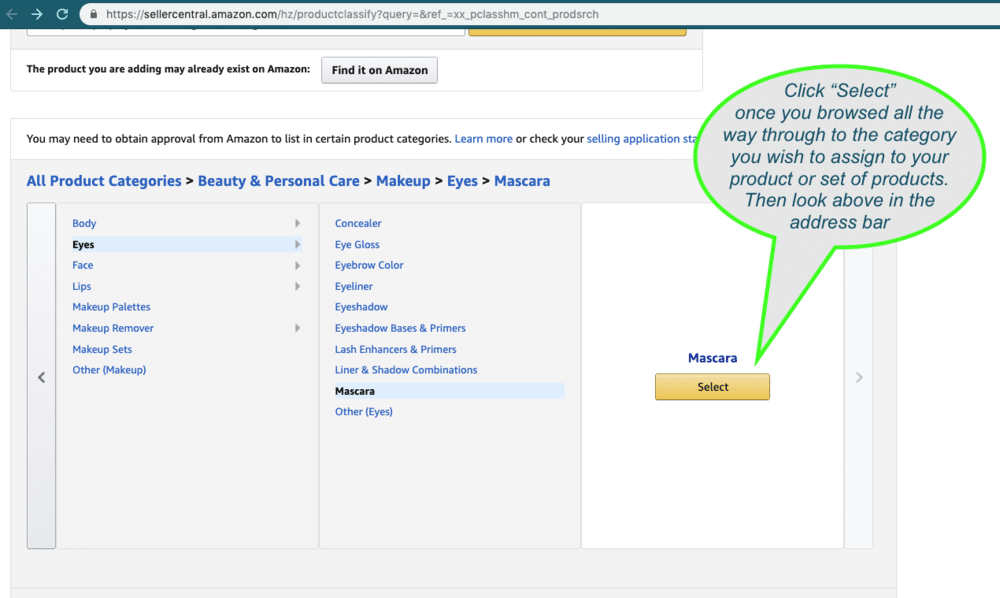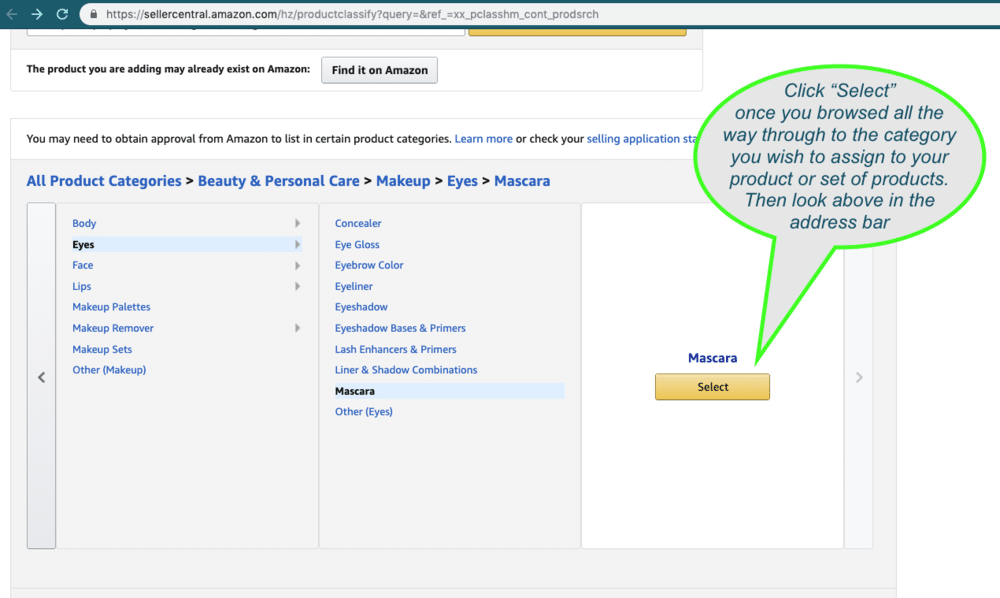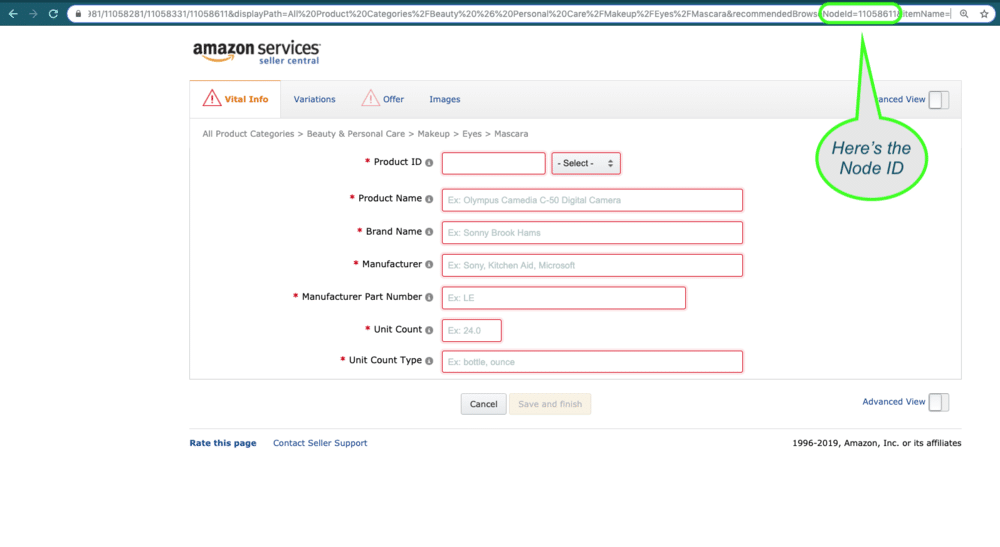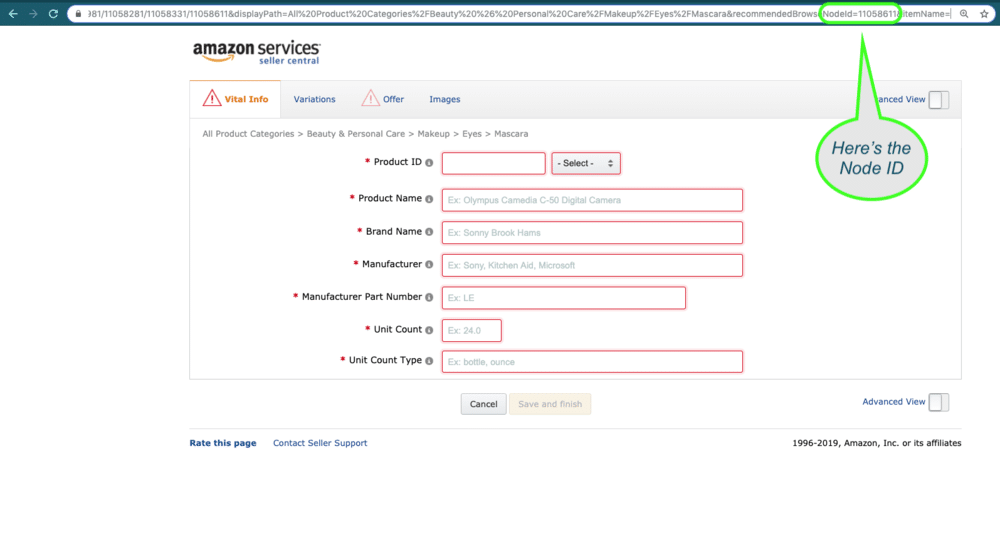 Learn how to sell multichannel: get free education, tips, and inspiration. Start growing your successful multichannel business. 
By entering your email address, you accept our Privacy Policy and Terms of Use. Totally free. Unsubscribe at any time.