Is it better to sell on eBay or Amazon?
As you may already know, Amazon and eBay are two popular marketplaces, where online sellers and retailers can sell products, increase profits and broaden their costumer base. Even though Amazon and eBay could seem similar, they are very different in usability, policy, and requirements.
Let's go through them together.
Which marketplace is easier to use?
Unlike what you might think, becoming an Amazon seller requires a high level of experience, skills, and time. Due to its many requirements and rules, it suits sellers that have already run online shops or are used to the online retailing world.
First of all, before applying for your Amazon seller account, you need to collect a bunch of information and documents:
Your generic business information, such as the legal name, address, and phone number.
An email address to use as a business account.
A copy of your bank account or valid credit card details
Your TID (Tax Identification Number) and your State Tax ID.
Remember to provide your email address and phone number in the first place to allow instant message and communication with Amazon support.
After the application, Amazon will look through your form. Once the reviewing time is over, it will finally give you a response, refusing or finalizing your application. Recently, sellers in some European countries were required to set an appointment with an Amazon representative and go through an online interview to have their personal identification verified live. Very exact, for sure, but very time-consuming.
In case of acceptance, Amazon asks its sellers to keep their profile updated and provide a quick answer to customers' messages. Indeed, Amazon has high standards of service quality, and if you want to scale up and be more competitive, you definitively need to keep up with Amazon's requirements.
Is it easy to sell on eBay?
eBay is more seller-friendly than Amazon. Indeed, in terms of rules and sellers' beck-end interface, eBay shows up ideal for beginners that are still fledgling and want to avoid mistakes. Since the first stage of the subscription process, the procedure proves to be very simple: you just need to create a seller account (which is completely free and takes just a few minutes to activate) and connect your payment method (which is now provided by eBay itself).
Moreover, eBay listing content is more customizable and don't need to follow strict rules like on Amazon. The latter simplifies the publishing process on eBay compared to Amazon, letting you experiment with different strategies to ladder up and rank higher in eBay search results.
Is it easy to sell on Etsy?
Etsy is another important marketplace focused on craft, vintage, and handmade products.
Like eBay, Etsy is very beginner-friendly, and creates a seller account from scratch takes just a few minutes.
One important thing to bear in mind is that on Etsy, attention to detail could make the difference in terms of customer engagement and sales. Indeed on Etsy, you can use Etsy Patterns, a sort of customizable virtual store with an intriguing name and pleasant graphics. That's why many sellers decide to buy Patterns to personalize their little Etsy e-store.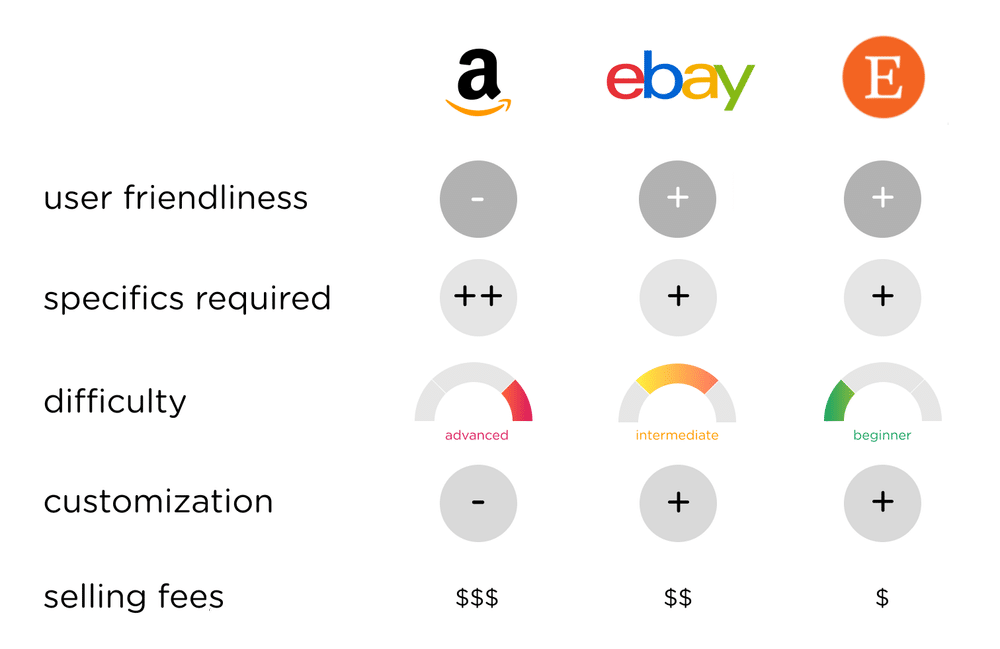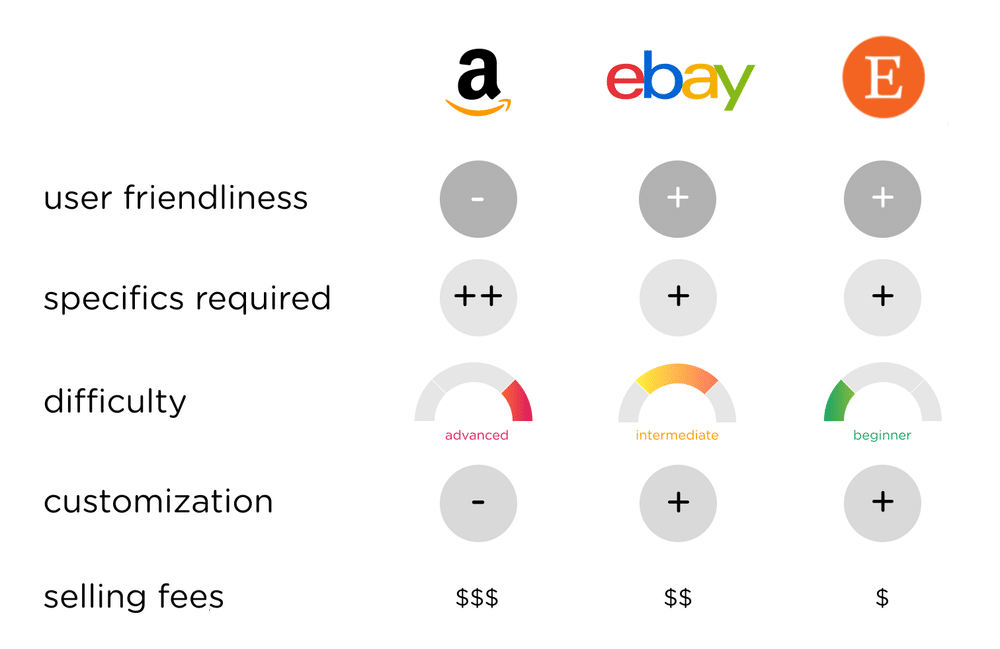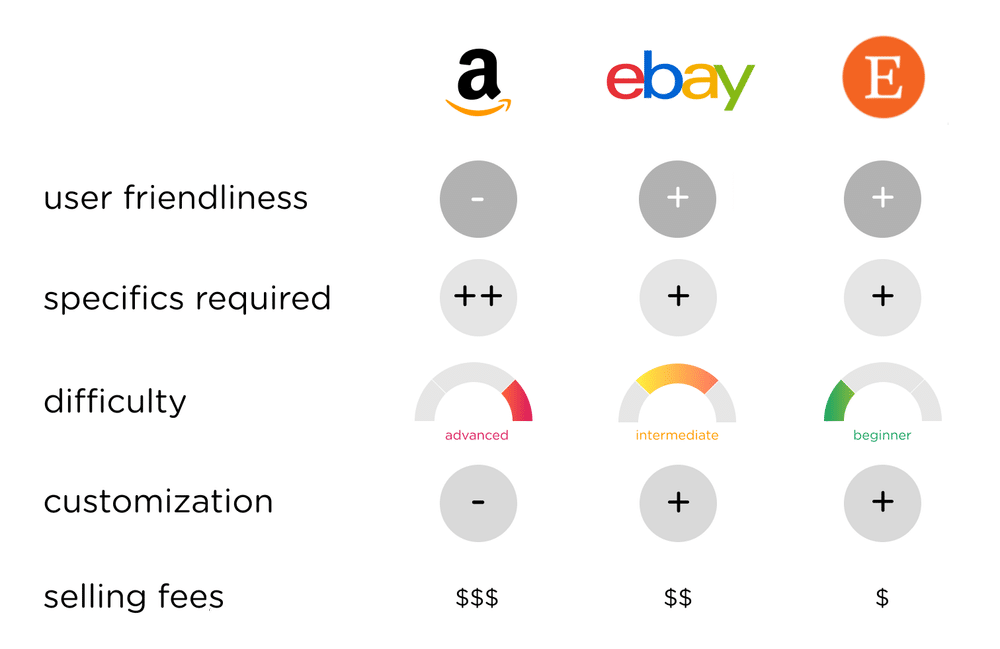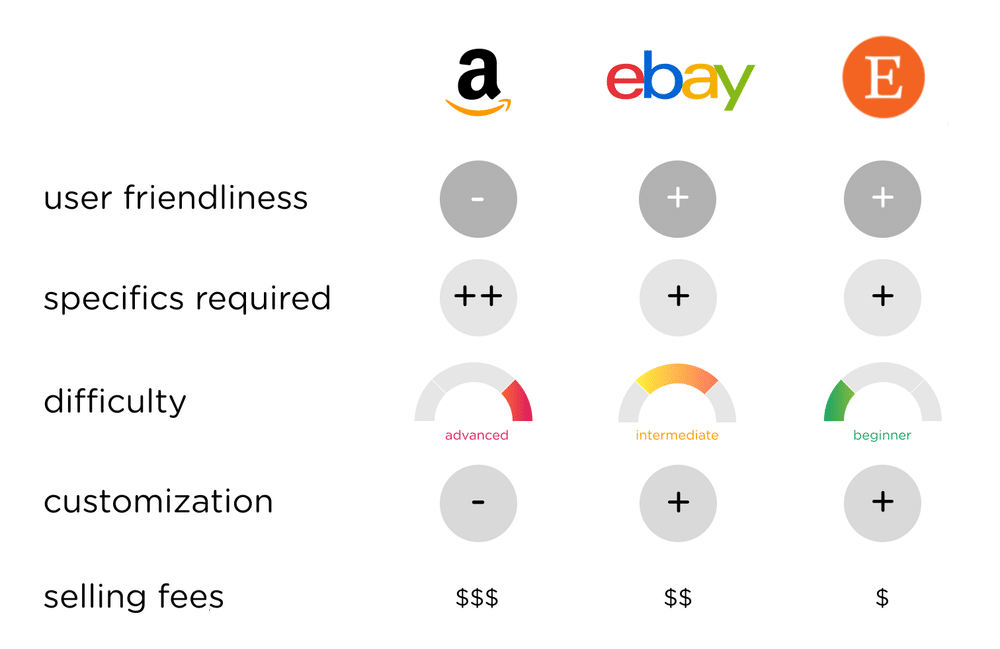 Products specifications
Amazon and eBay don't have particular requirements for product types. Except for a few restricted items (read a list of restricted products for Amazon, and eBay prohibited and restricted items), you can sell almost everything, from clothing and apparel to software. Nevertheless, during the publication process, you should be careful to include some important info and specifics.
Amazon requires you to use valid barcodes to list your products
Amazon requires sellers to specify: product title, description, brand, and SKU, and GTIN code.
Unless you have a barcode exemption approved by Amazon, Amazon requires each product to be listed with a valid and genuine GTIN (which stands for Global Trade Item Number): UPC, EAN, or ISBN barcode. Every product you mean to list will be identified with an ASIN (which stands for Amazon Standard Identification Number, i.e. Amazon proprietary GTIN) which, in turn, must be associated with a unique SKU code.
If your product is new to Amazon, you should find by yourself the right Node ID, a numeric code that identifies the category in which your product fits the best. Sometimes this turns out to be very tricky. That's why we wrote a guide to help you during your Node-ID Research.
eBay's items specifications help you climb up the ranking
Regarding eBay, products should be listed, including brand, product dimension, type, color/style, and keywords to rank. Even if those are eBay requirements, you can definitively benefit from that! The more you are accurate in describing your products, the more you will optimize your chances of showing up among the first searching results.
Etsy is restricted to handmade and vintage goods
On the other hand, Etsy has some specific requirements and objects that are allowed to be sold. In particular, as mentioned above, Etsy is a marketplace designed for crafted and handmade objects, craft supplies, and vintage items (at least 20 years old).
Reselling is only allowed if products belong to those categories. For instance, sellers are not allowed to sell new, branded products on this channel.
Did you know that you can use Etsy to create more awareness around you, to drive an interested audience to your own branded Shopify store?
Read more about the advantages of using both Etsy and Shopify.
Try Nembol for free: enjoy a 14-day trial
No credit card required
How to advertise products on Amazon, eBay, and Etsy
Especially in a super competitive platform like Amazon, using ads to sponsor your brand and products could help you scale up and improve your store visibility. In this paragraph, we will analyze the different types of available ads, to understand which one suits your needs.
Amazon sponsored products
Amazon is implementing its set of advertising tools. Nevertheless, one of the most widely used ad campaigns is the advertising of single products. By activating an ads campaign, sellers can boost products' visibility, leading them to the top of Amazon searching results.
Sponsored Products are cost-per-click (CPC), which means that sellers pay a pre-set fee every time a potential customer clicks on the ad. Such campaigns are completely customizable:
Select which of your products you want to promote
In terms of budget, you set your threshold and bid per click
Set your campaign duration
Choose relevant keywords to rank
Choose your related target
And launch your campaign to foster your sales.
eBay advertising
As you may already know, likewise Amazon, also eBay is provided with an ads campaign tool called "promoted listings". Unlike Amazon, eBay policy specifies that sponsored listings are available only for top and reliable sellers who have received positive feedback and have a recent sales history. On eBay, feedbacks are crucial and still represents one of the keys to success in this marketplace.
Furthermore, also the fees on advertising are pretty different from Amazon. The cost of promoted listings is calculated on a pre-set ad rate selected by the seller. The sellers choose a percentage that will be detracted from the final product sale price (taxes and shipping costs are not included in the chargeable amount). Once you have selected the percentage, you will pay this fee only if a customer clicks on the promoted listing and buy it within 30 days from that click.
Etsy Advertising
Etsy ad campaigns are cost-per-click promotions, where sellers could freely choose a maximum daily budget that they are willing to pay to participate in the auction.
When you decide to take part in ad auction systems, you should bear in mind that the products' positioning and relevance in the search results are affected by competition and bids. The higher are your budget and bids, the higher will be the chances to stand out in the shopping results.
Of course, you should always choose a budget affordable for your business. Perhaps it would be useful to refine your marketing strategy and Etsy SEO knowledge, to get more valuable results by spending less money.
Read more on the best marketing strategy you can use to generate more traffic and increase your Etsy sales.
Amazon, eBay, and Etsy selling fees
As a seller, you may wonder which is the most convenient seller plan to choose, a fortiori, if you are a multichannel retailer. Sometimes finding that information could be tricky, and that's why you are probably looking for a comparative guide to achieve a clear understanding and a general overview of the costs according to every platform. Let's sort this out together!
How much are Amazon's seller fees?
Amazon designed different selling plans to meet different seller needs. The pricing plans show up flexible, and every additional cost depends on the selling plan, the type of products, the order fulfillment method, and more.
Amazon's Basic Plan
The basic plan charges $0.99 for each sold item (fixed fee). If you choose this plan, you can sell up to 40 products per month, and you won't be able to use third-party apps (like Nembol) which can make your business much easier and profitable, nor many seller tools provided by Amazon itself.
Moreover, to this fee, you should consider other costs to be incurred:
The referral cost (variable fee): is a variable percentage (between 8% and 15%) that Amazon deducts from the price of the sold items. This rate depends on the product category to which your product belongs. For a better understanding, we suggest visiting Amazon's dedicated page.
Fulfillment fees: if you want to rely on Amazon's FBA fulfillment service, you should pay additional costs calculated on the basis of product weight, height, width, and packaging. Despite the costs, if you choose to entrust Amazon with deliveries and logistics, you won't have to worry about anything. Amazon will take care of almost everything, thus, the product pickup, the parcel packaging, Amazon will even look after the shipping, the delivery, and the return phases. To look through cost specifics we suggest you visit their FBA page.
Fulfillment by the seller: sellers with a Basic Plan who want to fulfill orders on their own will pay shipping fees related to the product category, and the shipping method chosen by their clients. If you choose this plan and this fulfillment method, you will receive a standardized credit to partially refund you for the shipping costs (that credit may not cover the total charges incurred by you).
Amazon's Pro Seller Plan
The pro-seller plan is designed to suit professional sellers. This plan has a fixed cost of $39.99 per month excluding taxes (or an equivalent fee in the currency of non-US Amazon locales, such as UK, Germany, India, and so on), plus a % referral fee which depends on the product category but is most of the times 15%. Anyway, pro-sellers that decide to fulfill orders on their own, will receive shipment credits that cover the whole amount of charges incurred.
Sellers who subscribe to this plan can sell more than 40 items per month and have full access to the advertising program. Indeed, with this $39.99 monthly plan, Amazon sellers have access to additional features, such as product advertising and the authorization to use third-party apps and tools.
If you don't know how useful are third-party apps to manage your business, you should have a look at Nembol.
Nembol is the easy app designed for Amazon, eBay, and Etsy sellers, which are looking for an easy software able to bulk list products on multiple channels and keep inventory quantity aligned. Nembol has many useful features that you cannot miss! Click here if you want to read more about our integrations and functions.
How much are eBay's selling fees?
eBay has a much easier policy in terms of seller fees. Indeed eBay considers just two types of fees:
One for the creation and publication of products' listings.
Another one after your items has been sold.
eBay provides you to publish for free up to 200 listings per month, if you exceed this monthly limit, then you will pay the insertion fees that differ on product categories. On the other hand, when one of your items is sold, eBay will charge a variable percentage on the final product price. Click here to look at eBay fixed fees.
How much are Etsy's fees?
Etsy has various types of charges of selling fees. Here we recap some of the most important ones.
Listing fees: Etsy charges $0.20 per active listing (this is the reason why, by default, Nembol publishes your products as drafts).
Re-listing fees: $0.20 per expired or sold listing. A listing expires after 4 months.
Transaction fees: 6.5% of the total item cost, +

6.5

% of the shipping costs extra.
Also it's important to note that all service fees, including prepaid fees, are non-refundable.
We hope this article was helpful to you. If so, please consider sharing it with someone what could be interested too!
Have a lovely day, see you soon!
How to avoid Etsy, eBay and Amazon selling fees?
Did you know that Nembol can help you save channels'transaction fees with a built-in solution? Thank to Easy Website, you can collect all your multichannel products into an autogenerated website and get payed through Paypal. 
To know more, read this article: what is Easy Website and how to use it? 
We hope this article was helpful to you. If so, please consider sharing it with someone what could be interested too!
Have a lovely day, see you soon!
Learn how to sell multichannel: get free education, tips, and inspiration. Start growing your successful multichannel business. 
By entering your email address, you accept our Privacy Policy and Terms of Use. Totally free. Unsubscribe at any time.