Overview
Integrate Conversational Commerce (aka C-Commerce) as a complementary part of your eCommerce business, because it will help to take your business to the next level.
Harnessing the power of one-to-one conversation is one of the latest strategies to emerge in eCommerce. We often forget that, from the customer's point of view, the process of searching, scrolling, and browsing to find a product can be tedious.
What if we took advantage of direct, natural interactions, using our everyday conversation as social beings to help shoppers find what they want?
In this article, you will be introduced to chat commerce pros, platforms, and examples. Moreover, you'll discover how you can do it effortlessly, with the best Chat Commerce solution designed for omnichannel retailers: the Easy Website eCommerce website.
What is Conversational Commerce
Conversational Commerce is a growing business trend that implies the usage of chats and messages to sell and purchase products in a one-to-one conversation.
Chat Commerce streamlines digital commerce by incorporating – or even sometimes replacing it – with real-time communication between customers and brands.
Instead of hunting around a website for information, shoppers can open a messaging app and ask their question directly to an agent, bot, or even an AI. Agent can answer questions and interact with their customers increasing the chance of sales.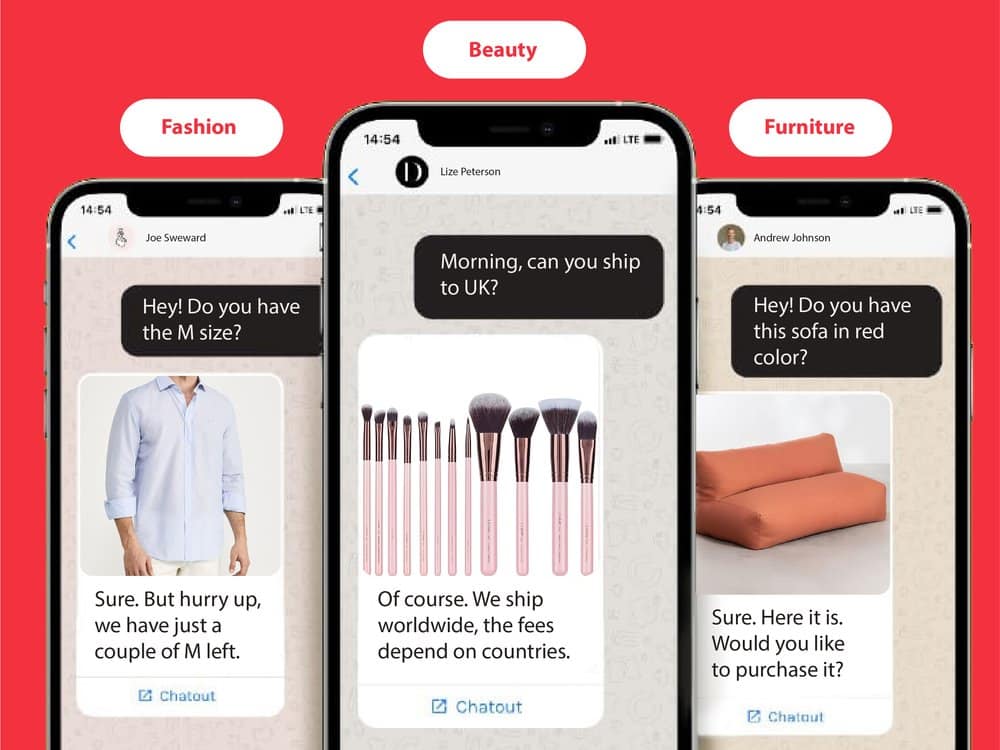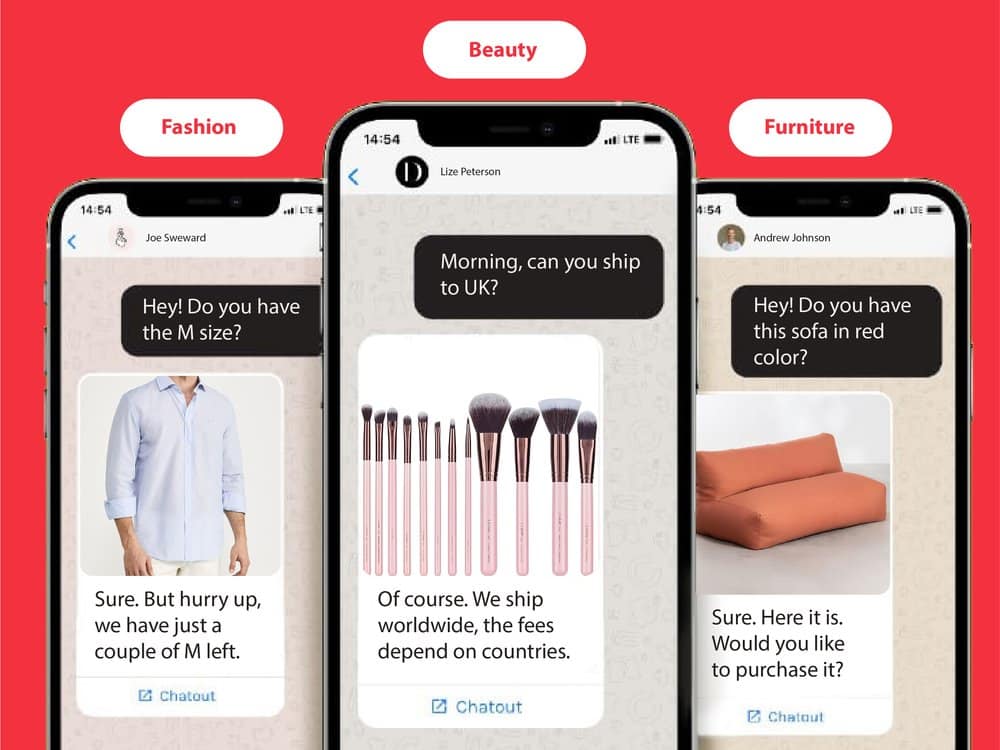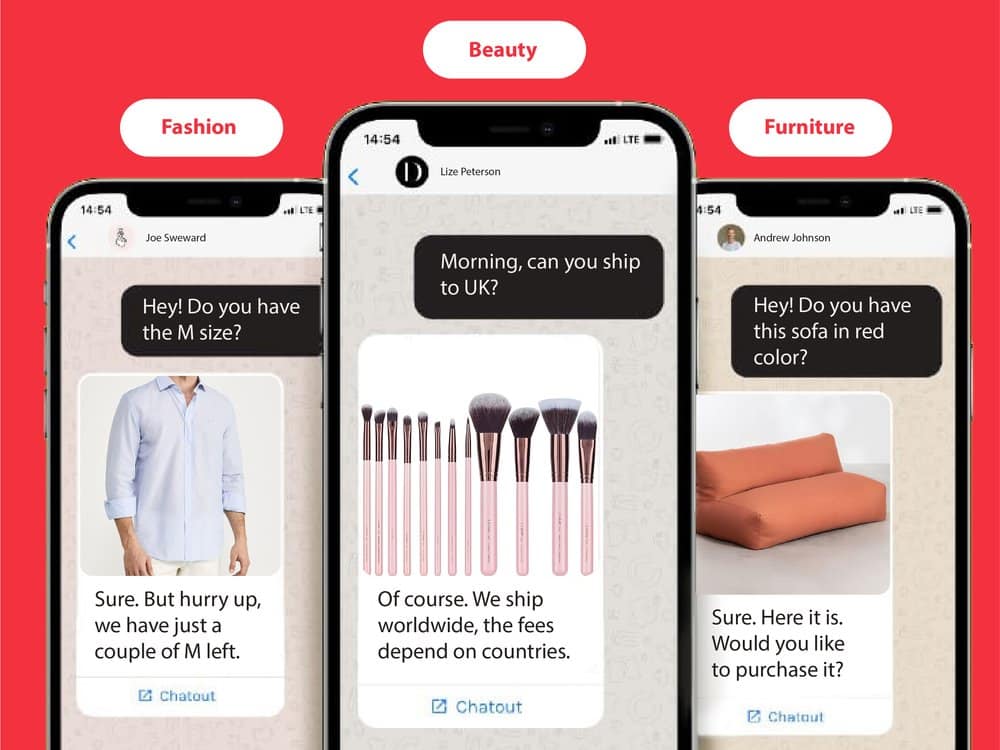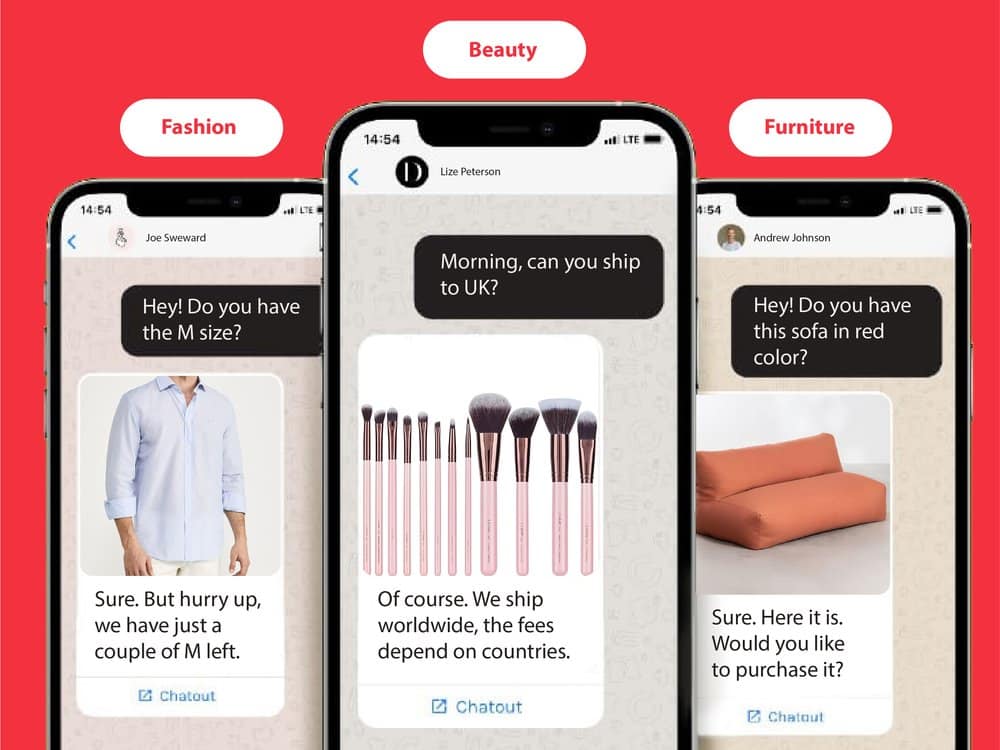 Moreover, conversational commerce is also great for:
Smoothing out other related processes, like package, tracking, updating account information.
Working with any digital shopping channel.
Ease internal processes without creating additional work for your business.
Making it easy to troubleshoot problems, improving brand loyalty and offering, and overall creating a better customer experience.
Improving buyer's journey across your sales platforms.
Reducing the chances of abandoned carts.
Conversational Commerce platforms
To chat with customers you can use one of the social messaging apps like:
Facebook Messenger
Instagram direct
WhatsApp
Telegram
Or you can add chat functionality to your eCommerce website:
With the Easy Website WhatsApp and Telegram integration (keep reading to know more about it)
Connecting AI-powered bot (generally you need a code expert to install this solution)
Benefits of Conversational Commerce
Seven reasons to run Messaging Commerce
Why chat commerce trend is becoming more and more important over time? And what are the pros of having a conversational commerce strategy?
Let's discover it together!
On average

 

people spend more than 60% of their phone

 

usage time using instant messaging apps. The necessity of being constantly in touch is increasing as a behavior, even for the less tech-savvy.
One of the greatest advantages of conversational e-commerce is leveraging

 

the power of interactions to convince customers

 

that you are a trustworthy business, present and ready to help them with their queries. By simplifying communication, the chat interaction can be what makes a shopper go through with an order. We often have questions or last-minute concerns during online shopping that can be difficult to answer via the FAQs or by sending emails.
Messaging commerce

 

improves engagement with customers in a seamless way. It helps people focus their research, suggesting add-on related products, upgrades, promotions, and assisting with the checkout process.
Chat commerce can improve conversion rate

 

and order volumes. Because of the above, this also helps to reduce the number of abandoned cart, which can lead to considerable loss of sales in the long-term.
It

 

personalizes customer journey, giving brands a way to replicate the feel and attention of working with an in-store associate.
Communication Commerce improves customer satisfaction and ensures a

 

positive post-purchase experience. Providing superior customer service and support will undeniably turn more customers into advocates of your brand.
It can be used as omnichannel communication method to enhances customer experience across platforms.
Conversational Commerce examples
Chatbot Conversations
So what are some successful example of conversational commerce?
Lego has been using Facebook Messenger to introduce Ralph, a super friendly chatbot that makes gift shopping a fun experience.
Although bots clearly cannot replace a human-to-human conversation entirely, in this case, it has become very popular.
Ralph starts by asking customers a range of questions to personalize options for the gift recipient, often followed by GIFs. Then they are redirected to the Lego website. It was originally created to assist with Christmas indecision around selecting gifts, but has now become permanent.
Chatbots are simple tools but they actually ease a lot of the friction and stress around last-minute shopping, turning it into something a little more entertaining.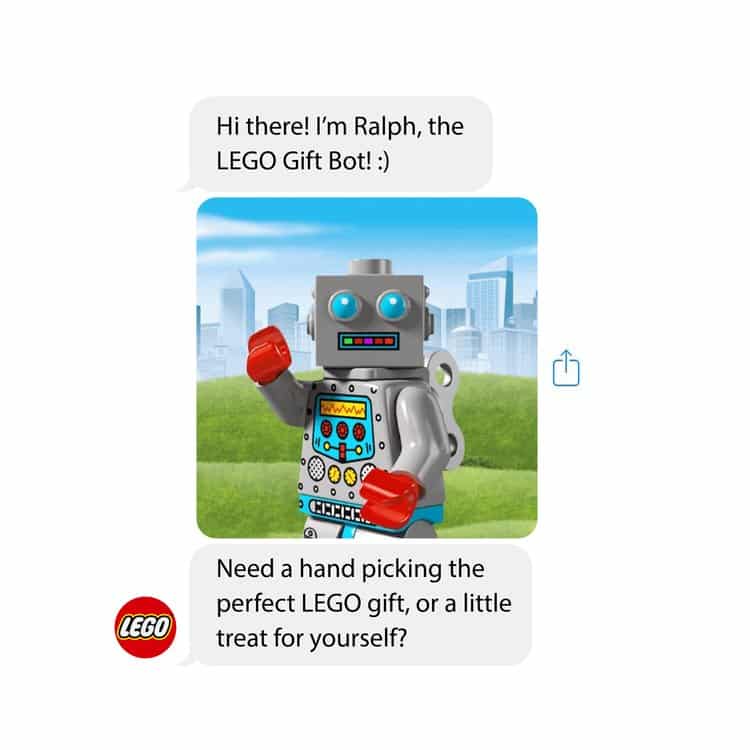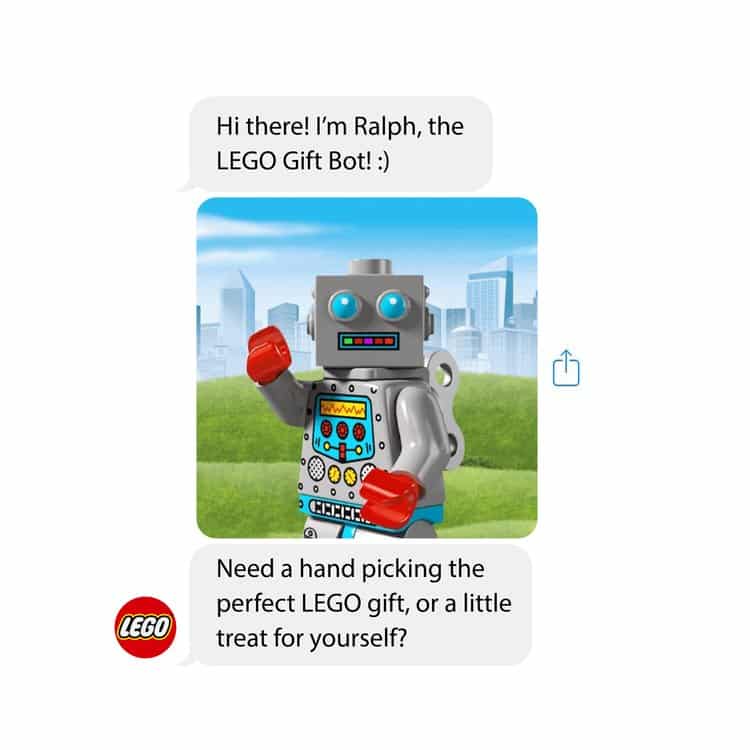 Luxury fashion brands have also understood that one of the best ways to keep in touch and make a customer feel welcome is through texting.
A shopper will either reach out or be messaged to receive product recommendations and complete a purchase. Coach and Gucci are examples high-end brands that utilize conversational marketing as a way to improve customer's digital experience.
Voice Assistants
Another type of Conversational Commerce is interacting with customers with voice assistants.
One example of a company that utilizes voice assistants for conversational commerce is Starbucks.
Starbucks has integrated its mobile app with voice assistants such as Amazon's Alexa and Apple's Siri, allowing customers to place orders and make payments through voice commands.
This has smoothed the way of making purchases, improving:
Personalization
Customer relationship
Number of sales
Even Amazon users who have an Alexa device can make purchases simply by interacting with Alexa. You can ask Alexa to add products to your Amazon basket or Wishlist. In no time, you've made a purchase decision and completed it on Amazon.
You don't even have to consider other convenient options or check if the product is available or on sale at a local store nearby.
The reason why conversational technology works is straightforward: it requires zero effort from the customer's side.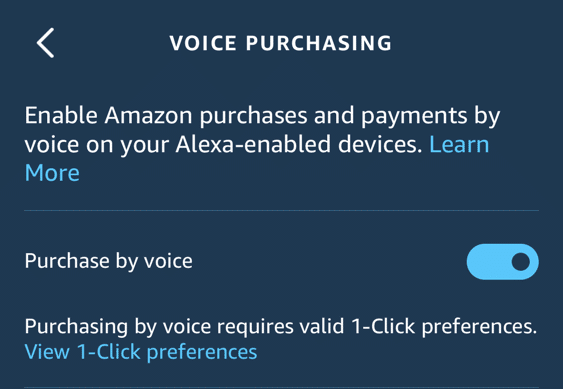 Try Nembol for free: enjoy a 14-day trial
No credit card required
Analyzing main Chat Commerce platforms
Chat commerce on Messenger
Messenger has long also employed rich tools to facilitate the same processes. As the Facebook developers describe it: "Messaging can offer a concierge-like experience that makes people feel cared for, creating a sense of connection that can lead to loyalty".
Selling on social media platforms does not differ at all from the look and feel of a regular messenger chat with a friend, making it a very familiar interaction but this time it facilitates shopping and helps businesses drive sales. This certainly gives it a unique position among other chat commerce platforms that have been late to the game.
Sell on Telegram
Far from simply being a messaging platform, Telegram has shown ambitions to become the default application for a lot more networking and professional needs.
With Payments 2.0, Telegram enables acceptance of payments using several approved gateways for merchants, such as the highly popular Stripe. Payments are now enabled directly in all chats, channels, and groups. This is a big boost for eCommerce, considering Telegram allows businesses to showcase their products within the app. You can provide customer support through its in-app push notifications and send invoices easily.
eCommerce on WhatsApp
WhatsApp, one of the most popular live chat services devised by Meta, offers a version of the program tailored for seller needs: WhatsApp Business.
With messaging apps like WhatsApp, you can have conversations with customers from anywhere and build a personal connection with your customers, who will feel valued and be more inclined to buy from you.
You can integrate your WhatsApp Business into your Facebook Catalog, or into your Easy website, the eCommerce website by Nembol.
With Easy Website, you can gather all your multichannel products and integrate WhatsApp business API and Telegram with a click! It can become your conversational website, where reply to customer queries and sell products.
Bottom line: using Easy Website, customers can check on your products and directly contact you, asking for info, and shipping costs or to directly finalize a purchase and pay via PayPal.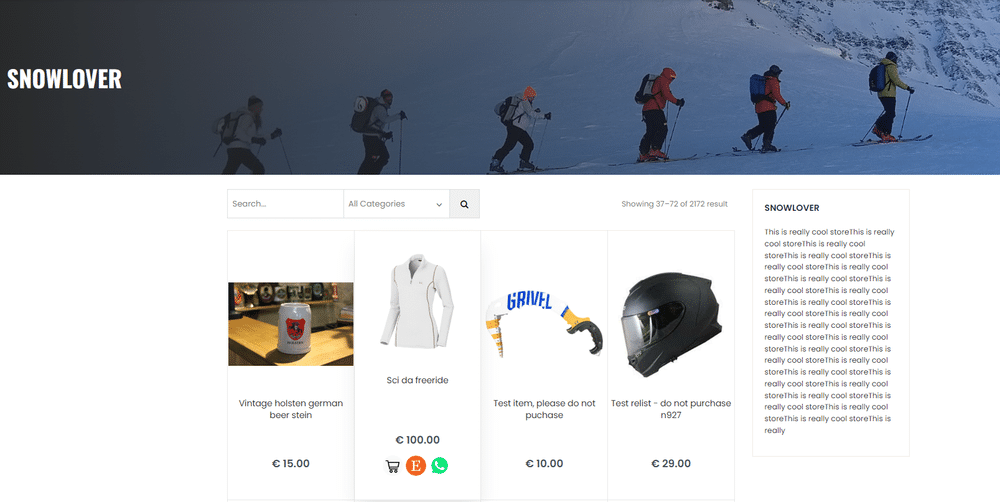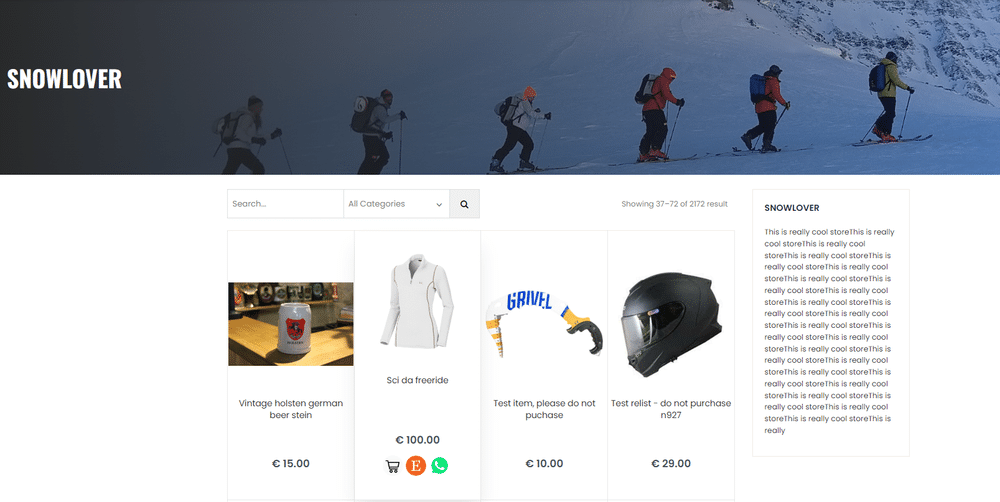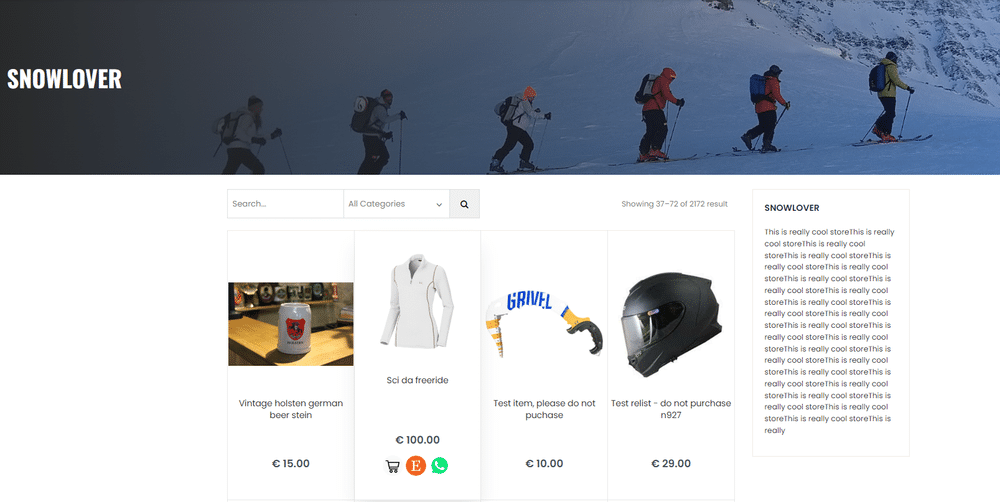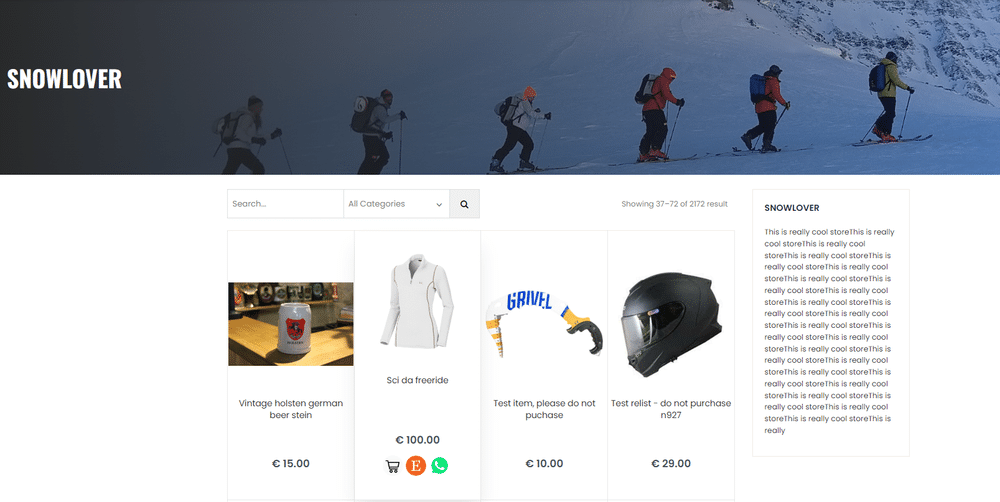 Summing-up
The online customer experience that you can create with Conversational Commerce is definitely one to invest in, as this method has offered fresh ways to connect with shoppers. The tailored advice, rapid responses and even the ability to negotiate prices or shipping methods mean customers are positively inclined towards you. When done right, the conversational experience can feel like a value exchange between customers and sellers – from the moment a customer asks a question about your product to the moment you realise you have a new loyal customer.
Learn how to sell multichannel: get free education, tips, and inspiration. Start growing your successful multichannel business. 
By entering your email address, you accept our Privacy Policy and Terms of Use. Totally free. Unsubscribe at any time.