Overview
Along with you, thousands of other sellers have expanded their businesses on the leading marketplaces and e-commerce platforms, boosting sales opportunities and meeting worldwide customers' needs. Nevertheless, ranking in the selling channel algorithms is always tricky, especially for multichannel retailers who are trying to broaden their selling horizons, starting new e-stores from the scratches.
In this article, you will learn which are the best practices to make your Etsy store scale and sell more.
How to get sales on Etsy
Etsy is a marketplace for creative goods
As you may already know, Etsy is a marketplace designed to sell craft supplies, vintage and handmade products. Unlike Amazon and eBay, Etsy doesn't allow branded product retailing, also because people themselves expect to find crafted and unique items. Indeed, on Etsy, one of the keystones is offering crafted and customizable products tailored to clients' needs.
Despite the strict product rules on Etsy, there are tons of different products, and for a seller to stand out from the crowd isn't a breeze.
How does Etsy's search algorithm work?
Etsy searching bar allows users to type in the products they're looking for, which triggers the algorithm to match the query to the products' titles, tags, and categories, showing as first results products associated with relevant keywords and labeled with a low-mid price. Etsy rewards listing quality scores, boosting product visibility of well-rated sellers by prior customers.
Hence, to get more sales and grow your business, you should definitively start using SEO techniques. The SEO actions may be confusing, so start with putting yourself in the customers' shoes, and ask yourself:
How would I look for my products?
What is peculiar about what I sell?
Which customers may be interested in what I sell and how they browse the web?
Improve your Etsy SEO
10 tips to optimize your listings
Etsy's algorithm prioritizes and shows on the firsts page results optimized listings. In the next few lines, you will learn 10 SEO hacks to crack the Etsy ranking algorithm.
1. Use short but fully descriptive product titles
The title is the first thing to be scanned by search engines when trying to match the items with the queries. That's why you should carefully choose the words to use, bearing in mind that, on Etsy, the first few words of the title steer the listing placement in the page results. Your aim is to use the most relevant queries at the beginning of the title, trying to write what you expect your customers to type in a search box.
So, imagine you're describing your product to a good client of yours: put important content first, use only one language, avoid typos, and repeating the same words or concepts. The times of keyword-stuffing are long gone.
If you want to read more about the best listing title practices have a look at our easy guide:
How to write eCommerce listing titles that sell on marketplaces.
2. Avoid using identical keywords
Like many sellers, you're probably focused on selling a set of related products, for instance, vintage clothes and accessories, or necklaces and bracelets, and so on. One of the most frequent seller errors is use always the same bunch of keywords to rank many items, even though they belong to the same product category.
Instinctively, you might think that once you discovered some relevant keywords for your products, you will just need to keep on using those queries to rank your product in the top results. This mistake is called keyword cannibalization and is quite common among fledging SEO sellers.
Indeed, Etsy's algorithm doesn't show more than one or two listings from the same seller that rank using a set of identical keywords. So, try to use different queries to boost your product visibility, avoiding keyword cannibalization.
3. Write up a catchy and compelling description
The description field doesn't need to be filled with relevant keywords. The purpose here is not to rank high on the searching results but to convince potential clients, who have already been warmed up by your product title, to click on your listing and buy your product.
If you want to write an appealing description, you should consider describing the most relevant product features in the firsts 160 characters. You may probably think that won't be a problem to exceed this number, but actually, it is.
You need to make sure all the characteristics and specifics of your products would show up as meta-description in Google search results. Indeed, while the description is fully integrated and visible into your listings, the meta-description is a short text shown under the product title in the browser. Hence, to boost your Etsy sales, you should consider both optimize your listings for Etsy and Google.
Summing up: firstly divide the most important things you want to communicate to your customers from the less relevant ones. Secondly, fill the firsts 160 characters of your description with the things you think may hook your customers, and finally, put the rest of the elements to complete the product description section.
4. Don't skip the Tag section
Although the use of tags is not mandatory on Etsy, you should definitively include them to optimize your listings. Tags help you rank for similar keywords, broaden the set of queries used in your title. One of the best techniques is to include synonyms or interchangeable keywords used to search for your products. For instance, if you sell vintage "sunglasses", you might comprehend in the tag section also "shades", or even "goggles" if you want to attract British customers.
So tags are extremely useful and using them will help you both climbing up the searching results and capturing different nieces of buyers.
5. Backlink to your listings
Inbound links attract visits to your listings. The easiest way to get free links is to use your own accounts on social media. Keep your social pages active with posts that link back to your product listings. Sharing on social media can greatly impact your SEO and visits, especially when a post gets comments or is shared.
For example, Nembol lets you publish your Etsy products on 4 different social media: Pinterest, Facebook, Tumblr, or Twitter.
6. Analyze the strategy of your direct competitors to improve yours
Selling on marketplaces means competing with thousands of sellers geographically disperse, who sell similar products but have a different sales background.
Despite your experience and knowledge, you should always have a look at your competitors' techniques and progress, anticipating them and learning their best practices.
To discover the top sellers of your product category, type in the box the name of the item you're interested in, and open up the first few listings. Once you clicked, have a look at the right side of the product fiche to see:
The Etsy tag "bestseller"
How many items are currently in the cart
The number of sales
Those elements show you (on a small scale) how many people are fond of your competitor's products, allowing you to compare your listings and adopt new selling tactics.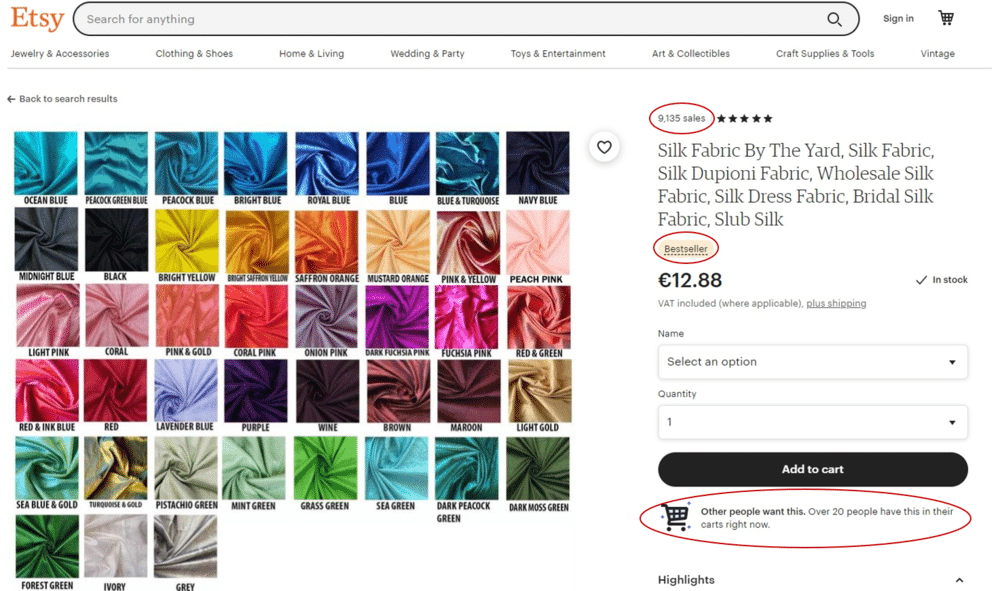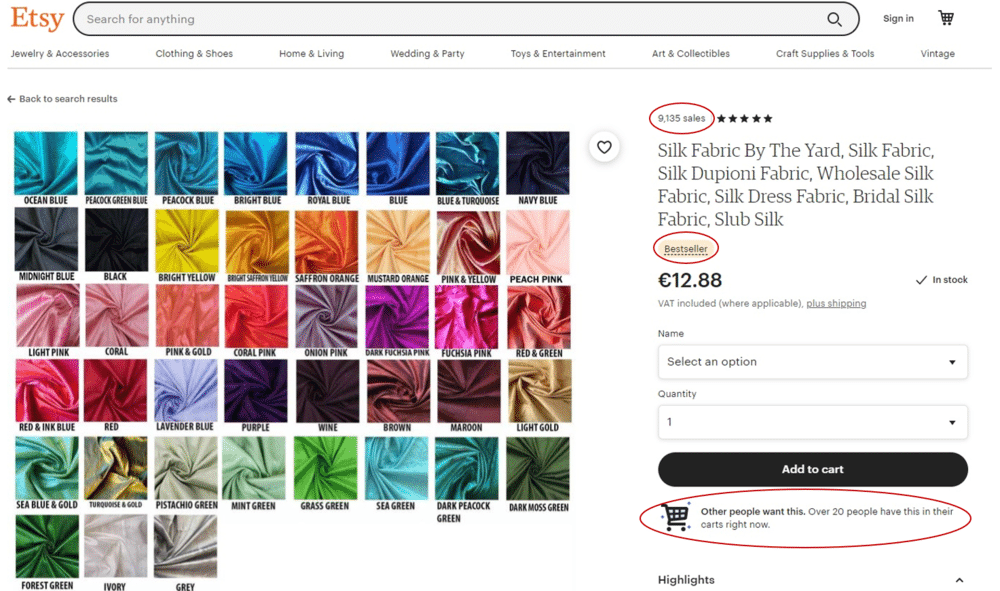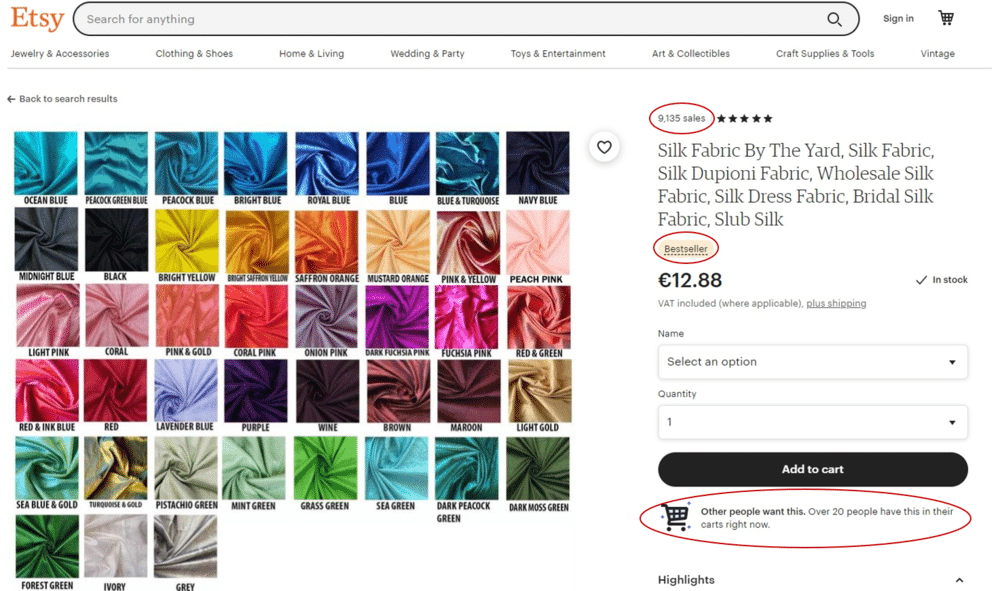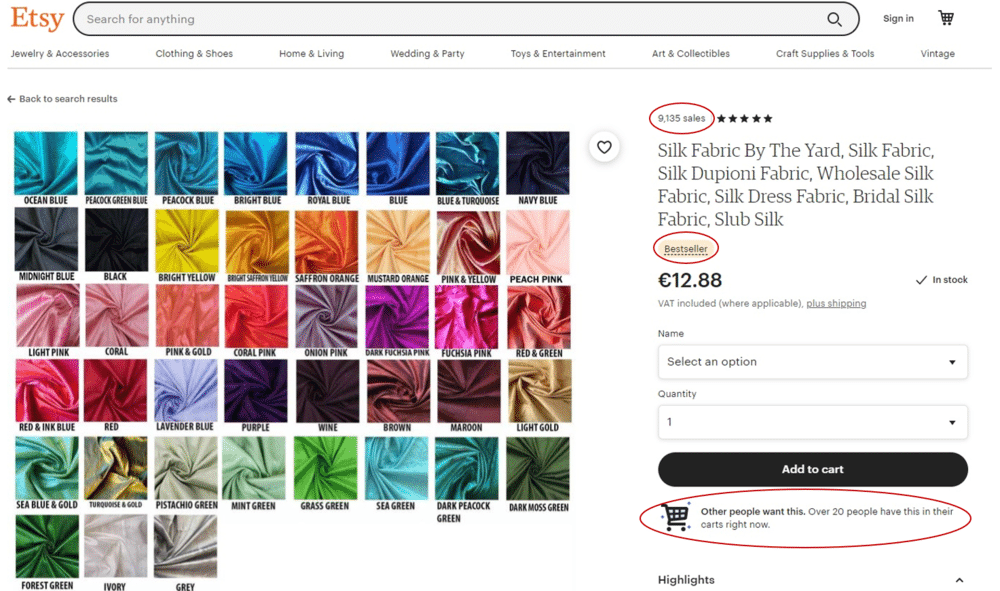 7. Watch out for competitors pricing
On Etsy, the price has paramount importance, considering that both customers and even the algorithm prioritize listings labeled with e a low-mid price. Indeed, Etsy shows on the first pages only products that are considered more convenient and competitive. That's why you shouldn't overpricing either underpricing your products. But how to estimate the right price for your items?
Take into account the cost of the raw materials and suppliers
Consider the listing fees, relisting fees, and Ads fees (if you want to promote your items)
Analyze the pricing choices of your direct competitors
Consider using psychological prices techniques to catch customer attention
Reward your work and assume how much you want to get back from each sale
If you are a multichannel retailer, you may already know how much important is pricing on Etsy. That's why you probably need to manually change the price of your items while listing from a different channel onto Etsy.
With Nembol, you will finally simplify your business by setting up a pricing rule. You can choose in advance to raise or lower your listing on the basis of the target channel. To use it, you will need just to set a positive or a negative percentage to raise or discount the price accordingly.
Try Nembol for free: enjoy a 14-day trial
No credit card required
8. Choose catchy and representative pictures
Did you ever heard "don't judge a book by its cover?" Well, this metaphor doesn't work on Etsy! Considering that you're selling craft suppliers, handmade or vintage products, people need to see what they're buying, trying to figure out the dimensions, quality, and specifics of the products.
Carefully choose high-quality photos, which can give your clients all the information at a glance.
For more: Listing Image Requirements
9. Become a top seller achieving a positive feedback score
As a seller, your main goal is to satisfy your customers, to loyalize those who have already bought your products, and attract new potential clients. Etsy algorithm prioritizes sellers with high ratings. Here are some tips to boost your rating:
Try to be clear on product specifications
Be accurate on shipping time
Reply to your customers' questions
Privately ask your loyal customers some feedbacks and suggestions to improve their shopping experience at your e-stores
10. Consider launching an Ad campaign
Sometimes promoting your items could be a useful shortcut to let customers know about your store and your products. Ads are displayed in strategic page positions to maximize the chances of sales and clicks, helping you to climb up the Etsy page results.
Although the Etsy algorithm will optimize the reachability of your ads (and of your products accordingly), you need to evaluate strategic bidding for your listings, avoiding waste of money. Indeed, Ad promotion on Etsy follows the auction system, basically, the highest is your bid price, the most will be the chance to be displayed in a strategic spot.
Nevertheless, you should consider that the amount you invest in ads will reduce the value of your sales, thus don't overspend, but choose a budget affordable for your business and decide in advance your max bid limit (at least $1).
Besides in app-adverting, you may consider running promotions on social media. For instance, by using a lookalike campaign to reach traffic similar to your buyer niche, you can reach more people interested in your products.
Learn how to sell multichannel: get free education, tips, and inspiration. Start growing your successful multichannel business. 
By entering your email address, you accept our Privacy Policy and Terms of Use. Totally free. Unsubscribe at any time.
Create your own website with Etsy's latest product
Etsy Pattern is an Etsy extension that lets sellers take their existing listings from Etsy and use them to populate their own customized websites.
There are thousands of Etsy shop owners: artisans, creators, and vintage lovers in need of a place to sell their work. But once their business has grown, they often find themselves migrating to an e-commerce platform. Why? Because it's much more rewarding to have a customer purchase from the creator's website rather than simply "from Etsy".
More branding = more chances of returning customers
More returning customers = more sales in the long run
The attention to detail could make the difference in terms of customer engagement and sales. That is why Etsy offers sellers the opportunity to open a sort of customizable virtual store with a catchy design.
With Patterns by Etsy, sellers can turn their Etsy account into an online store in a very easy and intuitive way. However, using it may become costly considering the several fees Etsy charges while listing on the platform. That way you may consider using a solution like Easy Website.
Do you want a autogenerate website that collects all your multichannel products and doesn't charge you any selling fees? Check Nembol's Easy Website. FREE for every Nembol user.
Features for your business
Sometimes keeping all these rules in mind could be tough, that's why Nembol could be a valuable ally!
Nembol is the easiest listing software around:
List on Etsy from 5 different channels
List from Etsy onto 14 additional channels
Keep the inventory aligned
Centralize your listing management
Enjoy dedicated functions and listing tools!