Overview
The titles of the items you sell online have to clearly and quickly convey exactly what you're selling. While this may seem obvious, it is often overlooked. It is of paramount importance that you allow potential buyers to single out your product from among dozens or hundreds of competing products found through visual search, search tools, or category browsing. A good title increases sales, so putting effort into writing a good one will pay off in the end.
In this short article, we provide some easy tips on how to write titles that sell.
What makes a good marketplace title?
Let's start with an example of a well-crafted title: Persol 2997-S men's sunglasses made in Italy matte silver metal frame mirrored polarized lenses new
Its anatomy is: Brand – model – gender – what it is – important marketing fact – color – material – other important specs – conditions
Titles' 3 main functions
A smart seller must remember that a listing title has at least three functions:
It gives the first impression about you and your item right from the listings page or the search results.
It provides the main keywords used by search engines that let your buyers find your products. Here we are talking about the internal search tools in a marketplace like eBay as well as external engines like Google that search within eBay.
If you use a modern listing tool, the software will use your title to list your item in the correct product category.
Marketplaces such as eBay and Amazon have literally tens of thousands of categories and sub-categories to choose from and many shoppers prefer to browse rather than search. Therefore, having your product in the correct category is good practice to maximize sales.
What to include in your titles
Write in plain, simple words what the product is
Include specifics such as size, color, gender, material, and condition
Include the brand name or the name of the producer or designer
Include a model name (if applicable)
In general, don't worry about repeating the category name or parts of the description in the title, and don't be concerned with your title making grammatical sense.
What to avoid in your titles
Avoid typos! While misspelled words are understandable by most humans, they will trick most search engines and categorization tools.
Write in only one language, that of the marketplace you are using (e.g. English for eBay.com, French for eBay.fr, etc.). Multiple language titles may put your product in the wrong category.
Avoid punctuation and special characters.
Do not use too many acronyms. Your title must be easily understandable to all humans and robots.
Don't use profanity, include email or website addresses, or use any words that would trigger your listing to be banned by most marketplaces.
And of course, don't be false or misleading in your statements. Specifically, do not include brand names other than the one of the products you are listing (using other brand names is typically referred to as "keyword spamming" and is not allowed on any serious website).
Learn how to sell multichannel: get free education, tips, and inspiration. Start growing your successful multichannel business. 
By entering your email address, you accept our Privacy Policy and Terms of Use. Totally free. Unsubscribe at any time.
Examples of good and bad titles
Let's go back to our initial example. A not-so-good version might be: Personl shades made in Italy metal frame mirored polarized lenses
In this version, we omitted the model, left out the gender, included a typo, and didn't mention the conditions.
Because of this, the listing is less credible and is more likely to end up in the wrong gender category. Additionally, "shades" as a synonym for "sunglasses" may not be clear to everyone and is an unlikely term to be searched for.
Let's look at two more examples for the screenshots below.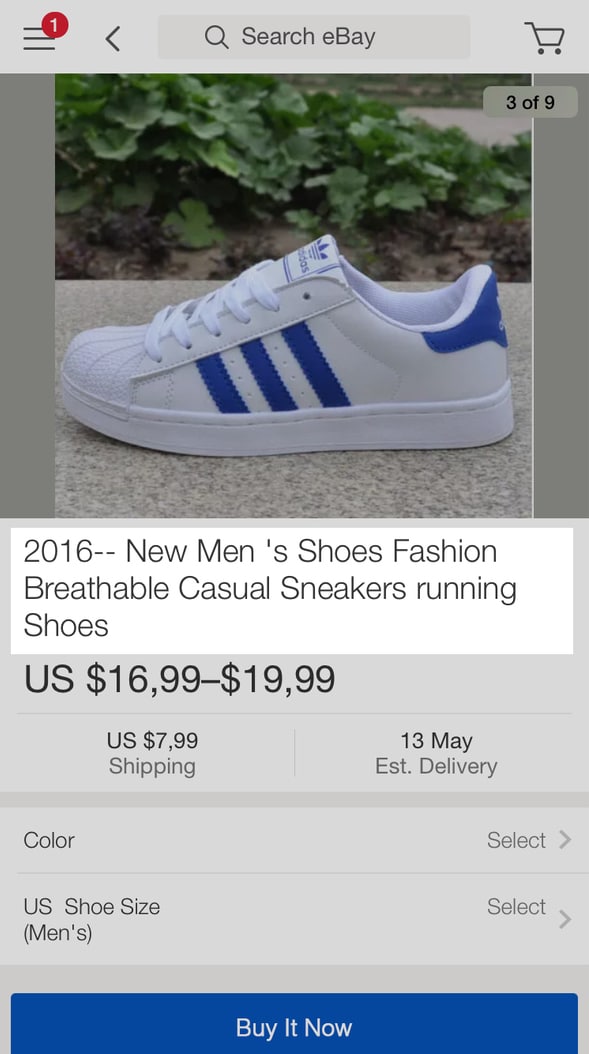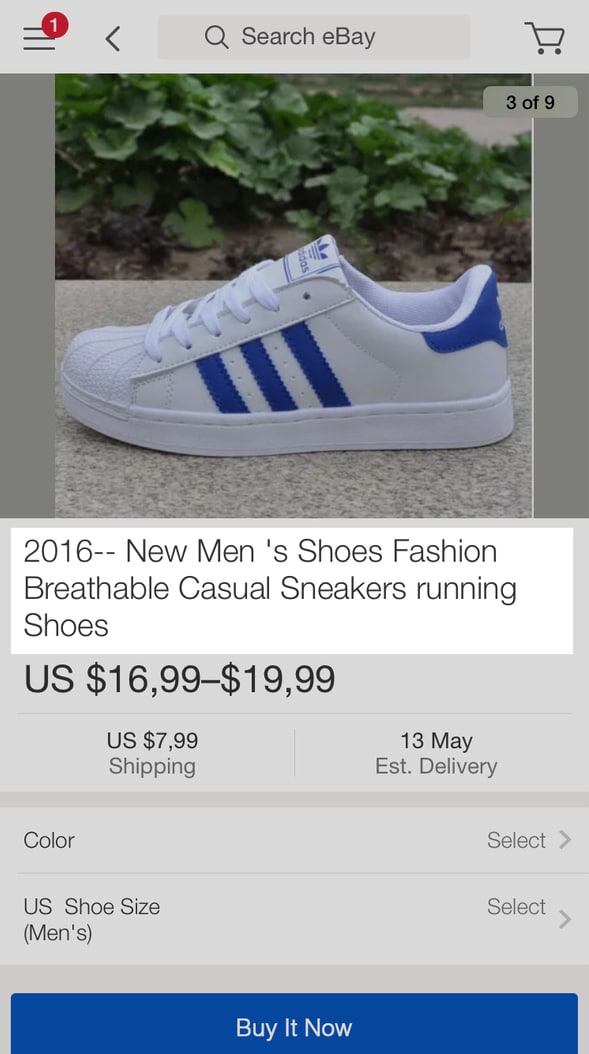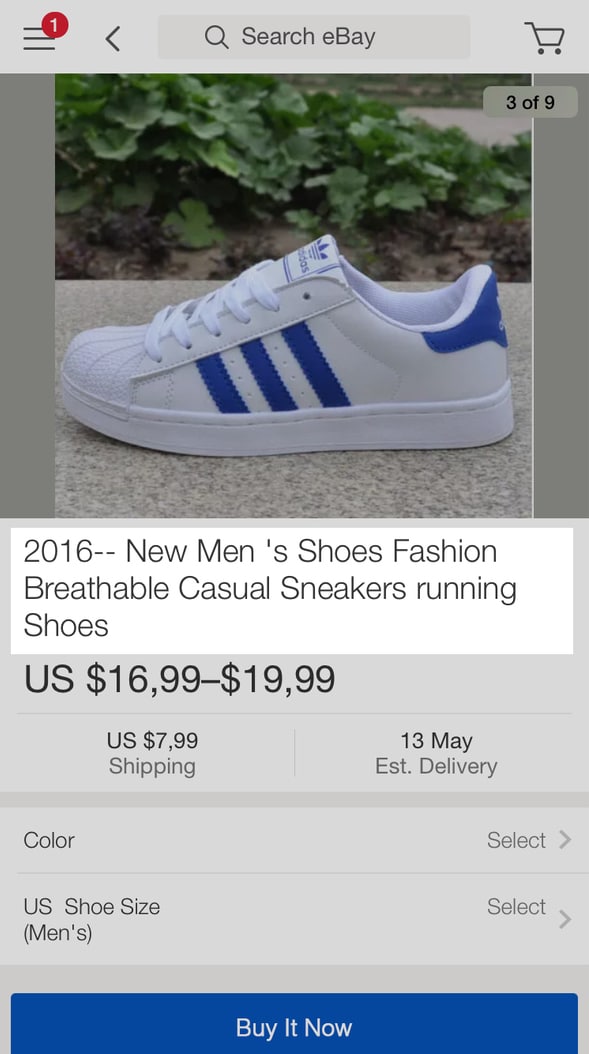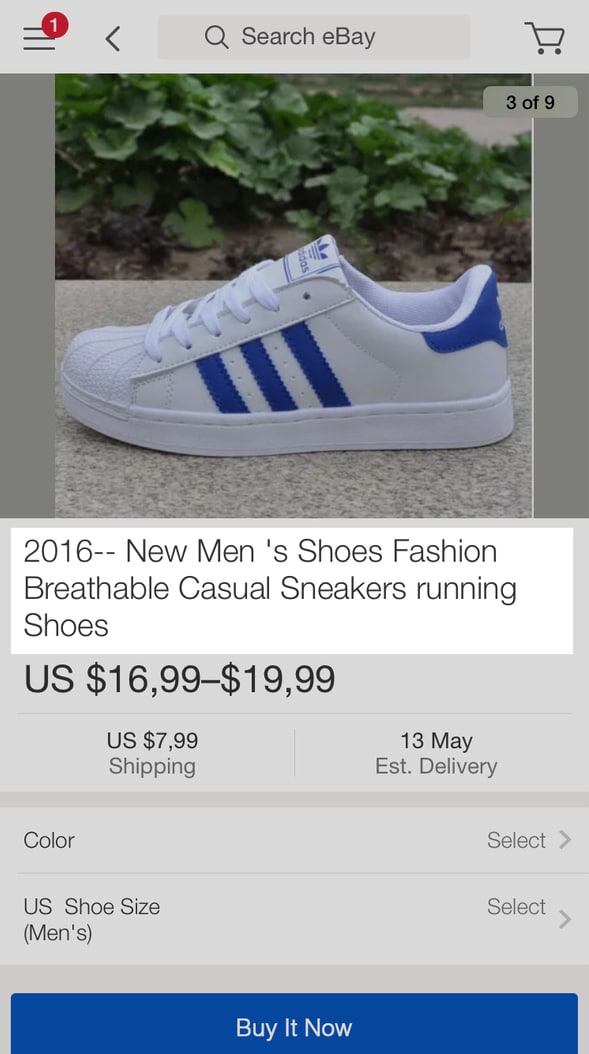 In the sneaker listing above, you may have noticed these mistakes: the seller forgot to type the brand name, included a typo (a space between men and 's), used a double dash, and repeated the word "Shoes". There is also an inconsistent use of uppercase letters.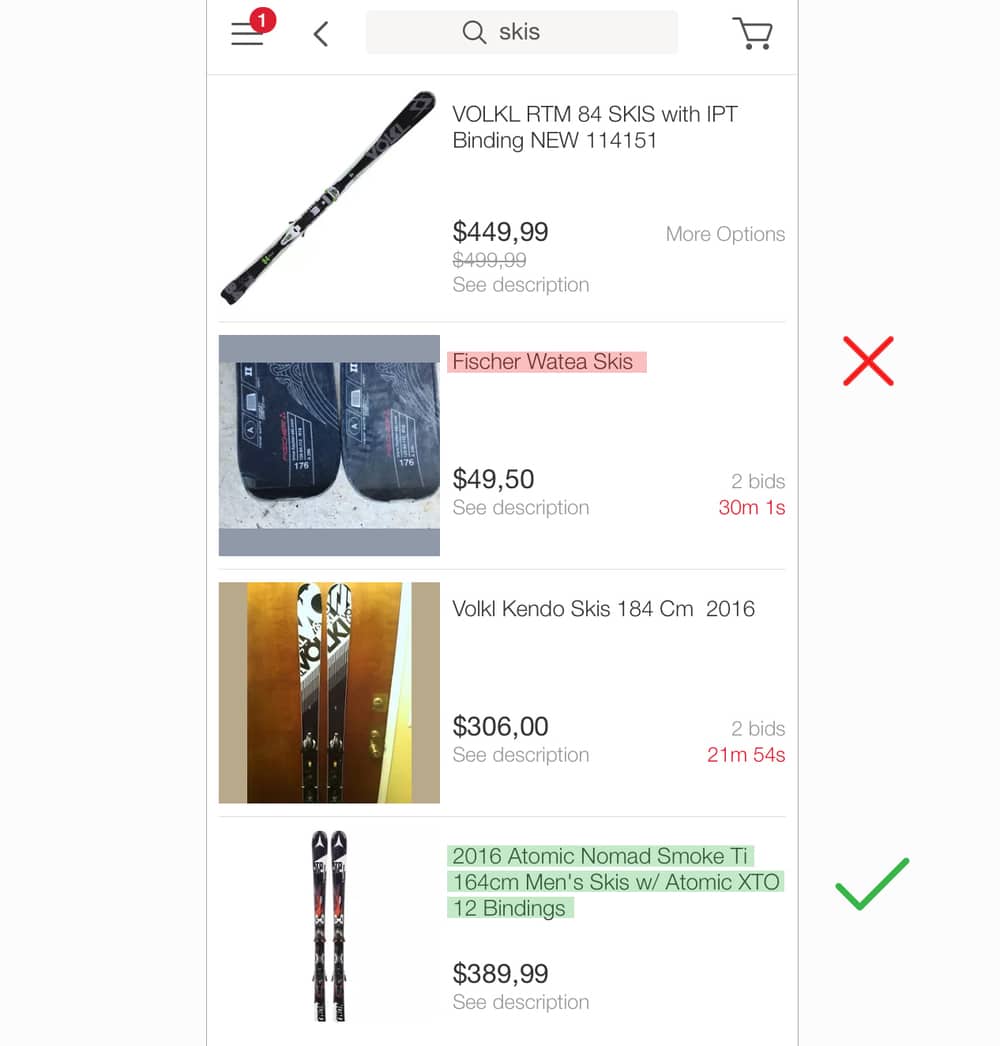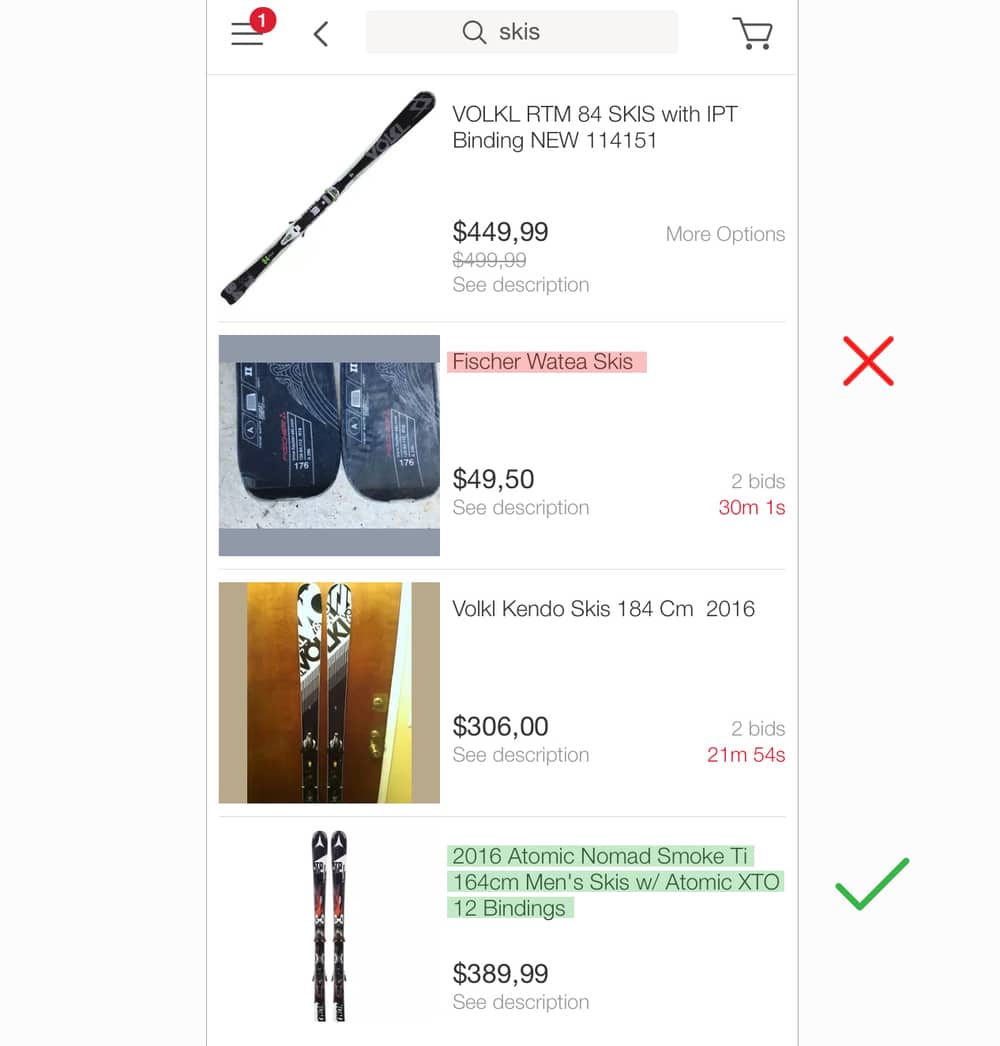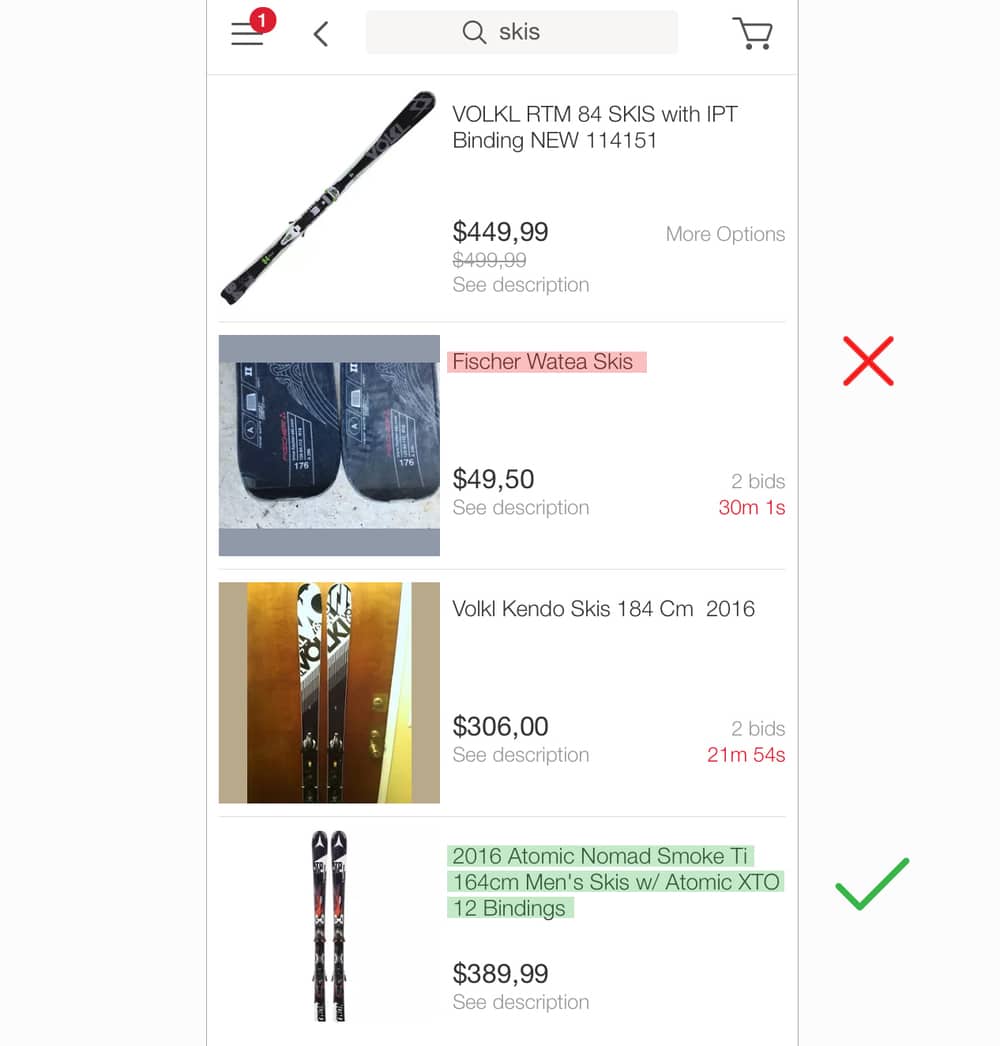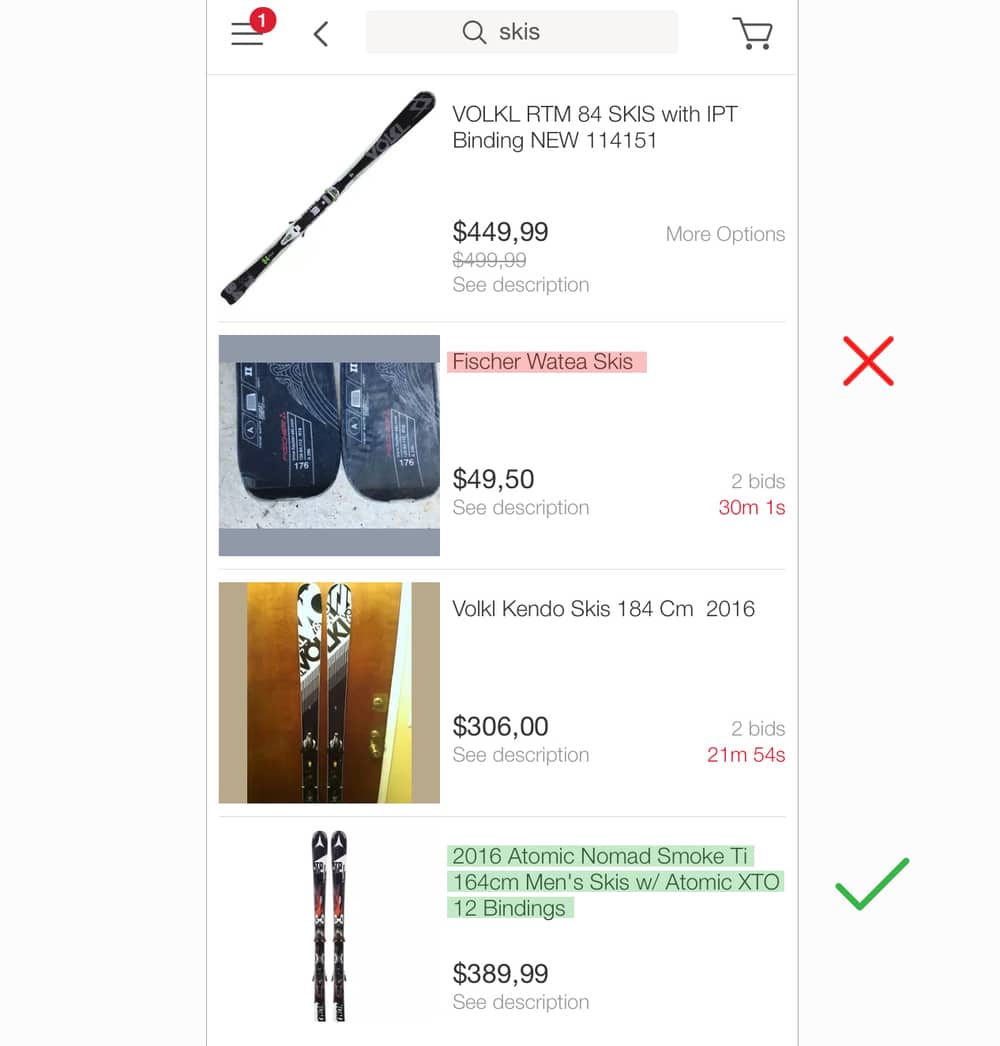 In this search results page for skis, you see four listings. Of these four, only the last one is very good: 2016 Atomic Nomad Smoke Ti 164cm Men's Skis w/ Atomic XTO 12 Bindings.
The least effective is the second, Fischer Watea Skis. It's missing important specs such as the production year, the length, the conditions, and the gender. In addition, the picture does not convey what the product looks like or what "exactly" it is: do these skis include bindings or not?
I hope this article will be of help. Please feel free to contact our team here at Nembol for any e-commerce related questions or curiosities. If you're interested in SEO hacks, please consider having a look at those articles:
Enjoy!