Overview
Many eBay sellers, especially those who have recently opened an account, have heard of eBay sales limits, which are one of the safety measures deployed by eBay to make the marketplace a trustworthy buying and selling platform.
But what are selling limits, and how can you negotiate and increase them quickly?
Let's see discover it together!
What is a sell limit on eBay?
Why does eBay have a selling limit?
Selling limits are standard sales thresholds that vary based on a seller's reputation within eBay.
eBay states that seller limits are meant to ensure the "sustainable growth of sellers' businesses", which is a nice way to say that any seller wishing to carve out a "retail space" must demonstrate reliability and have a profitable offer. Thanks to limitations, eBay can collect information on your business, behavior, and sales, making it easier to:
Tell apart good sellers from scammers and suspend suspect accounts
Understand the scalability of a user's business
Monitor the quality of services provided by sellers and the related customer satisfaction
Limits are expressed as both a maximum number of items that a seller can list per month, and their maximum currency value. New accounts can list up to 10 items with a total value of up to $500 per month (check the value in your own currency on your local eBay), and the more you get sales and positive reviews the more are your chances to increase your selling limits.
To be precise, eBay says that limits are calculated on the "number of listed items", but does not specify that the limit considers both the number of products listed and the available stock for each individual product that has been published.
Therefore, if you are a new seller with a limit equal to 10 items, you can publish 10 different listings with stock =1 or even 1 listing with stock =100 (still respecting the $500 threshold). In both cases, you would have reached your monthly listing quota.
Pay attention to this aspect as it will come in handy later when talking about ways to grow faster still in total compliance of eBay's limitations.
How to see my selling limit on eBay
Every seller has to comply with their limits, which vary from a store to another on the basis of selling metrics and customer satisfaction. Therefore, if you have or are planning to have multiple eBay accounts, each of your stores will have different selling limits. But how to check on them?
Open eBay, and hover with the mouse on "My eBay"
Click on "Selling" to be redirected to the Seller Hub
Open "Overview"
Scroll down to the "Monthly limits" quadrant.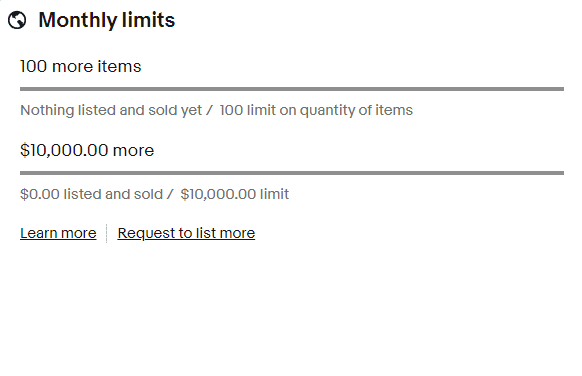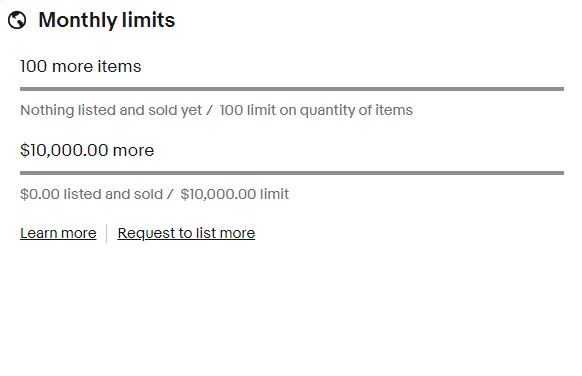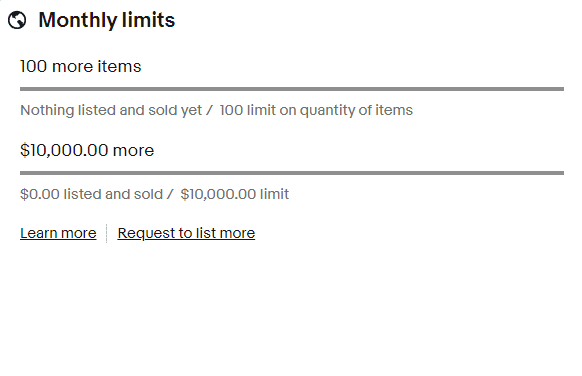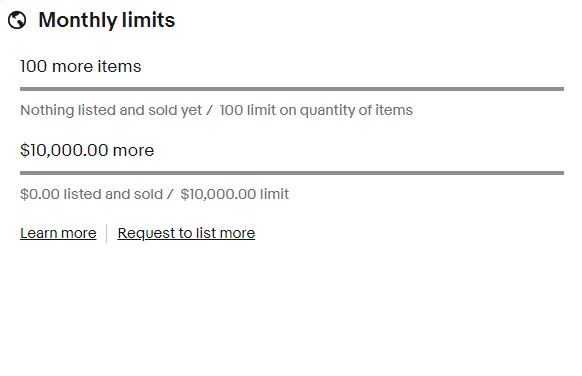 Learn how to sell multichannel: get free education, tips, and inspiration. Start growing your successful multichannel business. 
By entering your email address, you accept our Privacy Policy and Terms of Use. Totally free. Unsubscribe at any time.
How to increase eBay selling limit
Requirements for increasing sales limits
As mentioned above, the eBay seller limits are calculated on the basis of a mix of quantitative and qualitative metrics. Therefore, in order to ask eBay seller support for a recalculation of the limits, you'll need to comply with some prerequisites:
Account history: all new eBay accounts can sell up to 10 items with a value of up to $500. That is because eBay doesn't have a history for new accounts, hence needs to see how they perform before allowing to raise the limit. Selling restrictions here are meant as a "trial period" to test the trustworthiness of newcomer sellers. Hence, before asking for a limit raise, make sure to have some – positive – history in sales.
Selling volumes: Since eBay charges over 10% on the total amount of each sale, they will of course prefer to increase sales limits for sellers that have high selling volumes.
Customer satisfaction: last but not least, customer satisfaction is one of the leading aspects. Collecting positive reviews will be your passe-partout to scale your business.
Request higher selling limits
Now that you know what you need to ease selling restrictions, how can you request eBay to review them?
Usually, eBay automatically runs the first limit review after 90 days from the creation of the account. If a seller meet the criteria, eBay will get in contact with them by email, communicating their new selling limits.
However, if you think you already had good performances before the effective 90-days-period, you can submit a manual request in two ways:
Through this eBay informative page
Or via your Seller Hub > scrolling down to "Monthly limits" > and clicking on " Request to list more"
How to get around eBay selling limits
There is no way to ignore or trick eBay's limitations, plus it would be wrong. Nevertheless, you can grow faster, in compliance with them in two ways:
Using Nembol Limit Listing Quantity function, which is designed to help sellers automatically mitigate the burden of limitations. With this function, you can list items with a reduced inventory, avoiding reaching the stock threshold. Once products are listed with a reduced inventory count, each time you sell one item out the reduced stock, Nembol will automatically refill it until the products actually go out of stock in your warehouse. Thanks to this function, you'll be able to list your full product catalog and inventory without being stopped by limitations!
Opening additional eBay accounts and starting to sell in different product categories, opening sort of niche stores. With Nembol, you can list on multiple eBay accounts and centrally manage their inventory effortlessly. This way, you won't let eBay put you down with limitations and sell more, still being compliant with eBay marketplace rules!
Try Nembol for free: enjoy a 14-day trial
No credit card required