Overview
If you're running an ecommerce store, managing hundreds or thousands of products, it is important to make regular backups of your data.
With backup you can protect your products data from loss and ensure that you can recover it if something goes wrong. Backup is like an insurance for your car, or house, but for your ecommerce store.
In this article, we share some hints on how to regularly backup your Shopify store and restore it back if needed.
Shopify Backup explained
What is a backup?
Backup is a copy of your data, separately and safely stored from the original. It is a precaution that may save you a lot of time, effort, and nerves. For if anything ever happens to your original data, you'll have a backup plan.
Let's dive deeper into the reasons why you may need a backup.
You're making massive updates on your listings
There comes a moment in a seller's life when you need to update your products. Change descriptions, titles, prices, etc. While rethinking and optimizing your Shopify products, you or any member of your team might unintentionally make mistakes, which can negatively impact your website's design, content, or functionality.
That's why, before doing any bulk changes, as a precaution, you might want to have the old version saved and stored. For if anything goes wrong, you will be able to revert to a previous version.
You're redesigning your Shopify store
Redesigning a website involves making significant changes to its structure, appearance, and content. If redesign involves changes in the navigation framework, incorrect or partial redirects could eventually result in tons of 404 errors in your Shopify store.
These errors can impact your website's performance, potentially leading to search engine penalties, such as website de-ranking.
Even in the case of non-structural changes, there's a risk to accidentally delete or overwrite important data during the redesign process. That's why when you're reformatting your store you need to temporarily move your data somewhere else. Secure it. Store safely. So that you can recover anytime.
You need to prevent the Listing data loss
As an online seller, you have created each of your products, providing them with all the necessary product details. This has taken time and effort.
When you handle a lot of different products, losing data can paralyze your business. It will be tough to fix.
That's why backuping your Shopify is important. It is one of the best practices you shouldn't underestimate when you run an online business.
Protect yourself from Cyber Threats
Hacking, natural disasters, hardware failures can happen and compromise your Shopify store's data. Backups provide a safety net that assures the continuity of your online business. With backup, even if the worst-case scenarios materialize, you will have a method to restore your shop's operations. 
Therefore, backups are your peace of mind. They will allow you to play smart by being safe. It will save you from sleepless nights working on replicating your store manually.
However, Shopify does not provide backups. In case you ever need one, their support will kindly say "Unfortunately, we can't help you".
With the perspective of "prevention is better than cure," in the lines that follow, we will present you with different methods and apps you can rely on to have frequent backups of your Shopify store. Keep reading.
Ways to backup a Shopify store
There are essentially two ways to handle backup:
Exporting your data directly from Shopify via CSV file.
Using third-party apps to do this automatically for you.
Now let's dive deeper and explore the PROS and CONS of both.
Backup with CSV
As mentioned above, Shopify doesn't have a built-in backup system, therefore, they suggest using their CSV data export to get a copy of the stored data as a CSV.
To all of those who never come across a CSV, it is a digital document supported by a system such as Excel, Numbers, or Google Sheets, that organizes tons of different data in multiple rows. CSV represents one of the most common ways to download and upload heavy and complex data in an effective way.
This is the information you can download from Shopify via CSV:
Products: product name, description, price, images, and other product information.
Customers: customer's name, email address, shipping address, and order history.
Orders: the order number, order date, products ordered, shipping address, and payment information.
Gift card codes.
Discount codes.
Financial data.
Store's theme. You can download the theme from your Shopify admin.
How to download data formatted as CSV files from your Shopify store:
Access your Shopify backend.
Go in the store section you'd like to export (eg. product tab, order, tab, etc.)
Click "Export".
Select the format of the CSV file. You can choose between a CSV file for Excel, Numbers, or another spreadsheet program, or a plain CSV file.
Click "Export" again.
Done.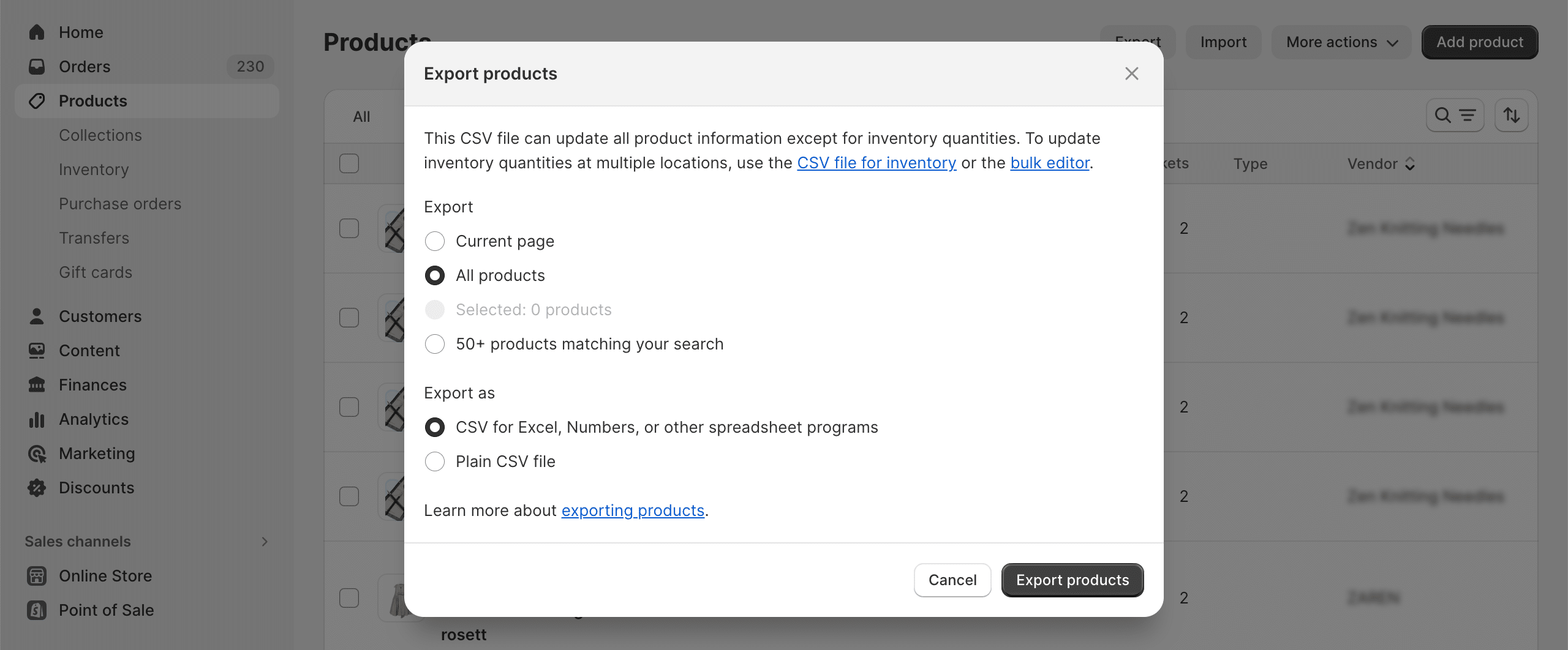 What are the PROS and CONS of CSV backups?
Advantages:
It is free.
Supported by every system.
Disadvantages:
Hard to manage.
Not all data can be backed-up & restored.
Multiplies the number of files stored on your computer.
Difficult to check for missing information.
Broken CSV can overwrite your store and this action cannot be undone.
Try Nembol for free: enjoy a 14-day trial
No credit card required
How to restore Shopify Backup with Nembol
More than everything, it is important to backup your products. They are the core of your business and deserve high attention.
Let's see how you can restore your products from Nembol.
Nembol can backup your Shopify products and store them safely for as long as you need. When you're ready and need them, you can restore them in a few clicks.
Let's see how easy it is to store your Shopify products in Nembol and revive them whenever you need.
Sign up to Nembol via Web
Connect your Shopify.
Import your products from Shopify. You can filter import and get the products you want instead of importing all (in case you want to backup some specific collection or by product status.
Write to the in-app chat and request the Idle Plan.
Done.
For $9.99 per month, your products will be stored safely on Nembol's servers. Ready when you are.
PROS and CONS of using the Nembol Idle plan:
Advantages:
You can choose to backup certain or all your collections of products.
Nembol offers cloud-based safe storage with zero risk.
You can also promote your Products on social media by listing them on Pinterest, Meta, Tumblr.
If one day you'll want to go multichannel. Nembol can also help with that and transfer your products on additional marketplaces and ecommerce stores. Ebay, Etsy, WooCommerce, and more. Just write to the support and switch to another plan to get started!
Disadvantages:
One-time backup. Nembol stores and keeps products as they are in the moment you activate the Idle Plan.
Conclusions
Backing up your Shopify store data is essential for your ecommerce business if you want to protect your products from any data loss or corruption. 
Here are some key takeaways from the article:
Shopify does not automatically backup your store data, you should do it yourself.
There are two main ways to backup your Shopify store data: manually and using a third-party Shopify Backup apps.
Manual backup is time consuming, you can only backup some parts of information at once, and CSV is a risky document to mess up. With no way back. 
Third-party apps will automate the backup process for you. It is an easier way to keep your store data safe.
Nembol can backup your products and restore them anytime.
Thank you for reading! Feel free to contact us for any questions.