Some users report to us that they have been experiencing duplications in some channels,
and in Nembol as a consequence. Especially Shopify, eBay, Etsy.
Let's see the possible causes and solutions.
Starting point: you find a duplicate
One day you find a duplicated product in a channel, or in Nembol, and – rightly – you start worrying.
Why did this happen? How do I solve it? Will it happen again? How do I avoid it?
Despite duplications may be a serious issue for most e-commerce accounts, they can be solved and avoided in the future. Let's see how, together.
1. You have two different listings for the same item in Nembol
We designed Nembol in a way that doesn't allow to import the same product twice, from the same channel, *unless*:
You deleted that product from Nembol and then clicked "Import" again.
That listing got assigned a different listing-ID in the channel you imported from. And then you clicked on "Import" again.
We guaranteed that Nembol is designed not to import duplications.
But Nembol works by comparing products and listings using their product ID as provided by each channel (some channels call it listing ID, same concept).
Therefore, if you have two listings with two different listing IDs in a channel but, from your point of view, they are the same listing, Nembol will still import them twice.
Because a machine can't understand that they are the same listing!
This may cause a duplication in Nembol, and as a consequence, if you bulk list, a duplication in any list-to channel will occur.
In the end, the cause of the duplication in Nembol is a previous duplication in the source channel.
Bear in mind that: Some channels do generate duplications. Especially eBay.
If you have many listings, it is hard to spot them in the source channel.
2. You have duplicates in eBay, later imported in Nembol
When a product goes to inventory quantity = zero in eBay, eBay delists it, unless you have the "Out of stock" option turned "On".
In the latter case, your "Good Till Cancelled" eBay listings will remain active also if quantity reaches zero, although hidden from eBay search and not-buyable until you, or a colleague, or Nembol increases their quantity above zero again.
If the Out of stock command is turned "Off", your eBay listings will be simply delisted when quantity reaches zero. When you restock in Nembol, Nembol will create a new listing for you. The latter will be a new listing, with a new listing ID, and in the latter case, if you click "Import" again from eBay in Nembol, it will be imported again.
SOLUTION: keep the Out-of-stock "ON". We set it "On" by default in Nembol for all new users (see picture below).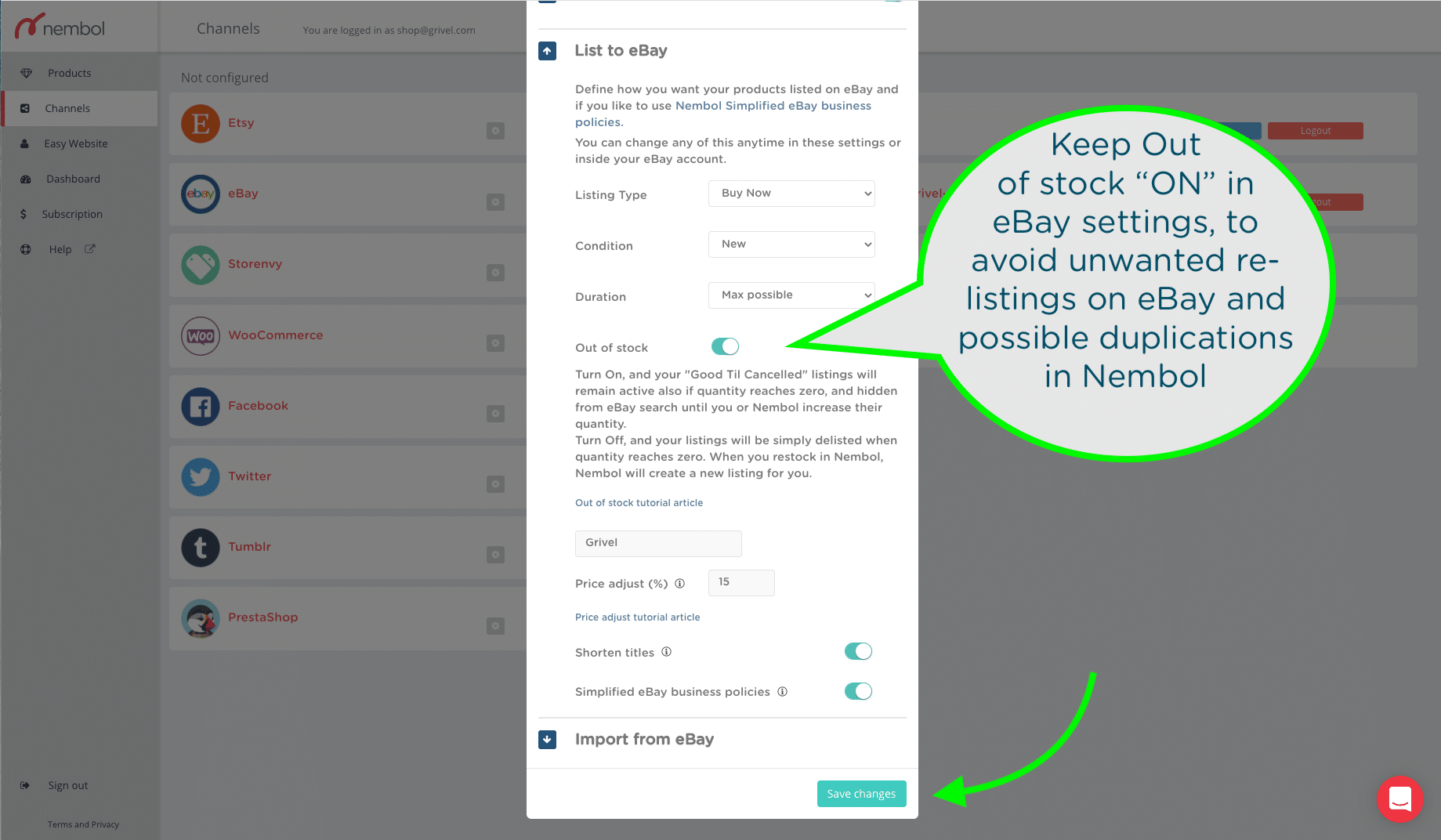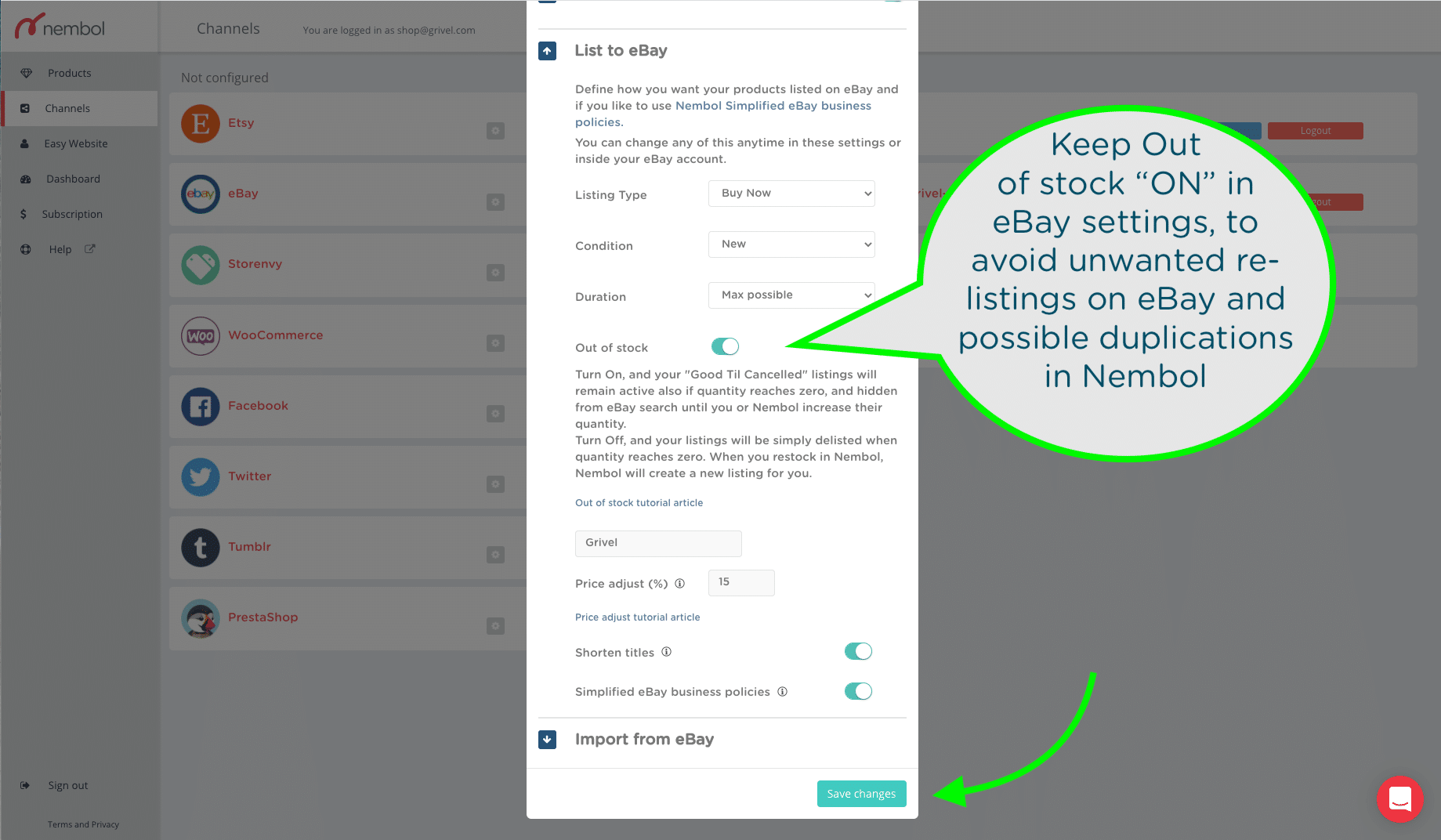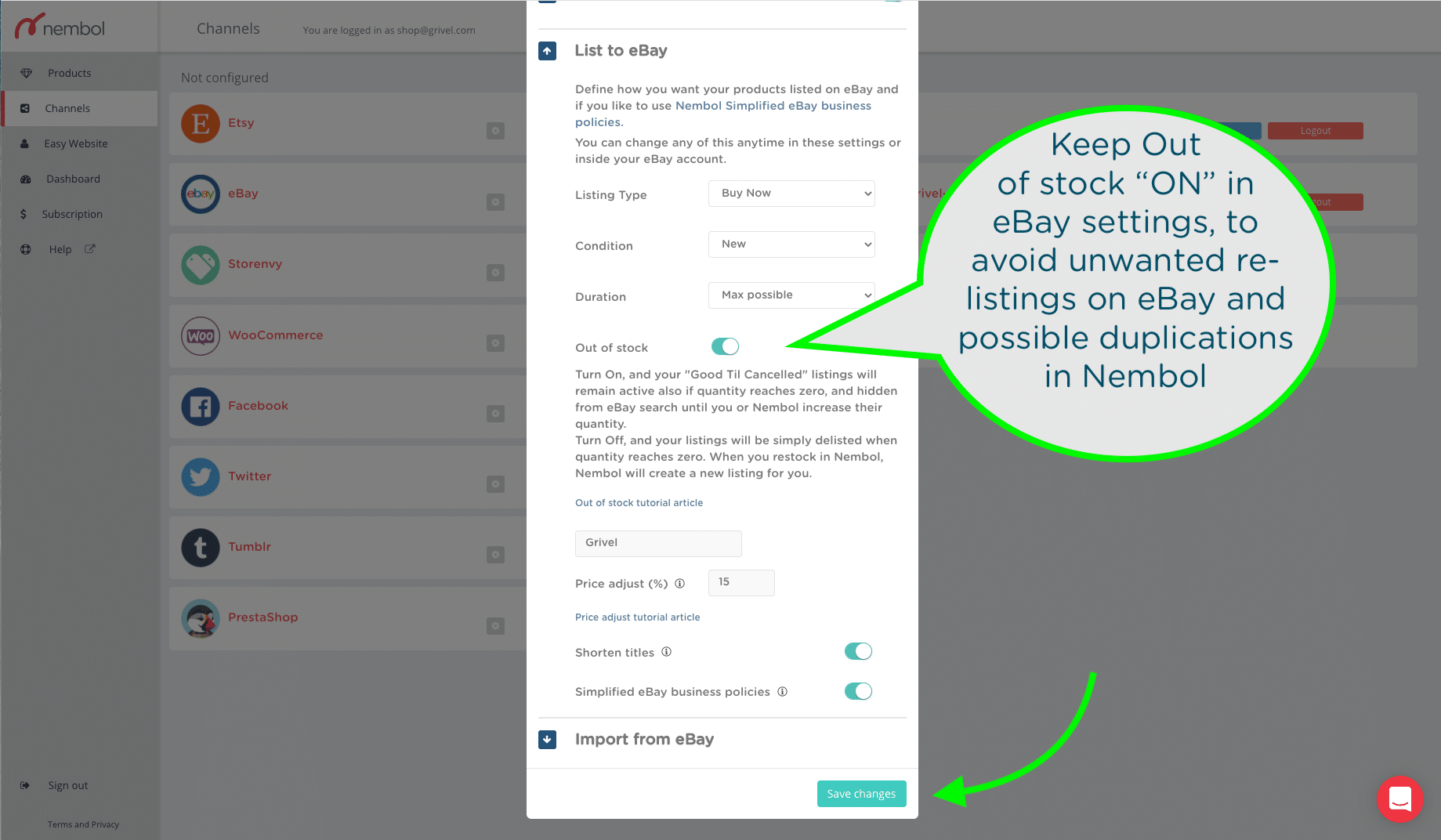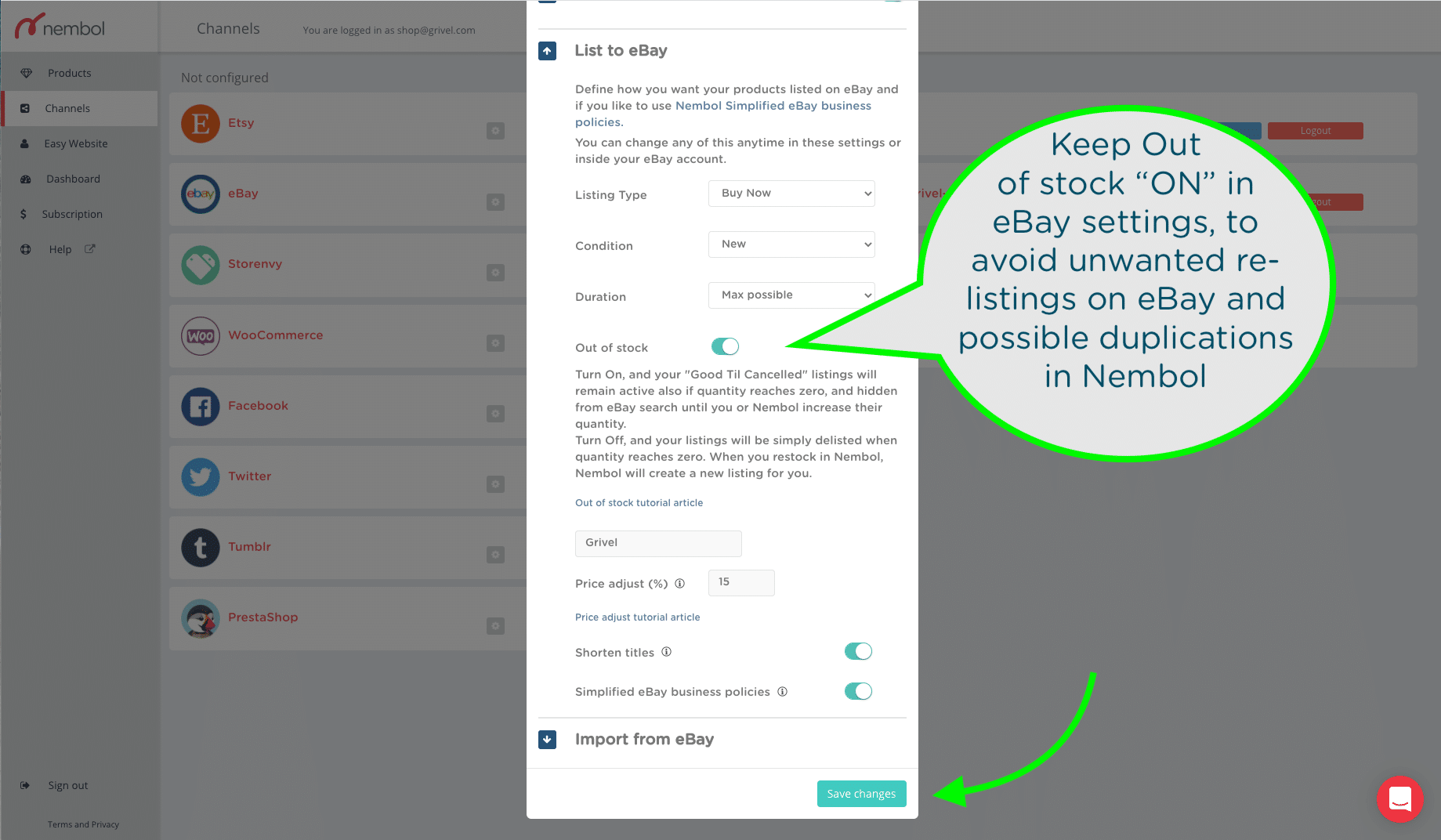 3. You import from a channel on which you listed earlier on
If you list on a channel and then import from that same channel, Nembol will import back the listings you just did, effectively creating duplications in Nembol.
Those newly imported listings cannot be listed on the most recent import-from channel, but could be listed back on the original source channel.
Nembol Link prevents duplications
In July 2020, we introduced a control for duplications dubbed Nembol Link. This function will look for each product SKU code at the moment of import and WILL NOT IMPORT but CONNECT products with the same identical SKU code as a product already in Nembol.
For the latter to work, of course, you need to have matching SKU codes across your listings on different channels. Therefore, Solution:
If you do not have SKU codes, please do not import from a channel towards which you previously listed.
Progressively apply SKU codes to your products.
See below the two screenshot of two Nembol users' dashboards and check your own dashboard to see potential problems.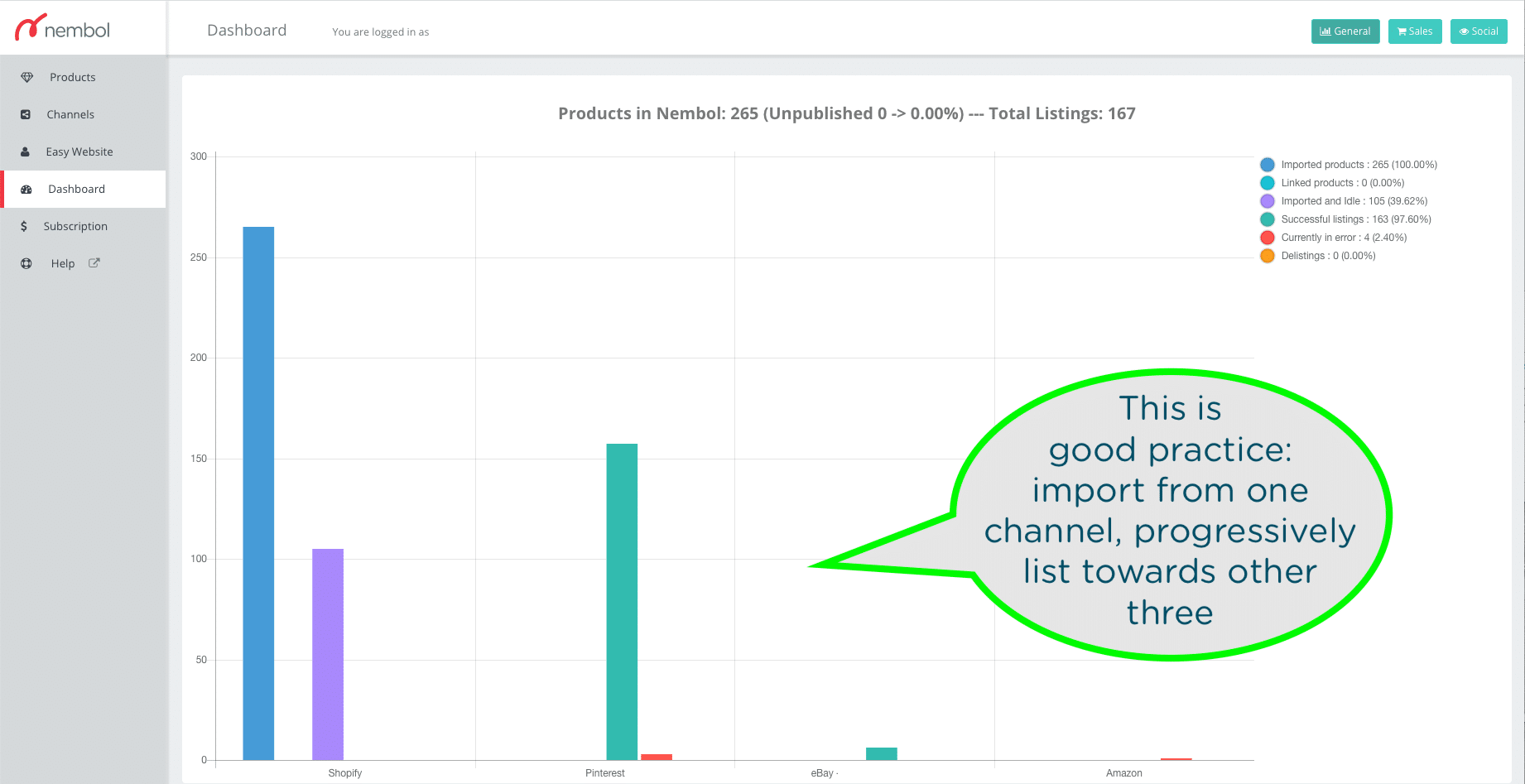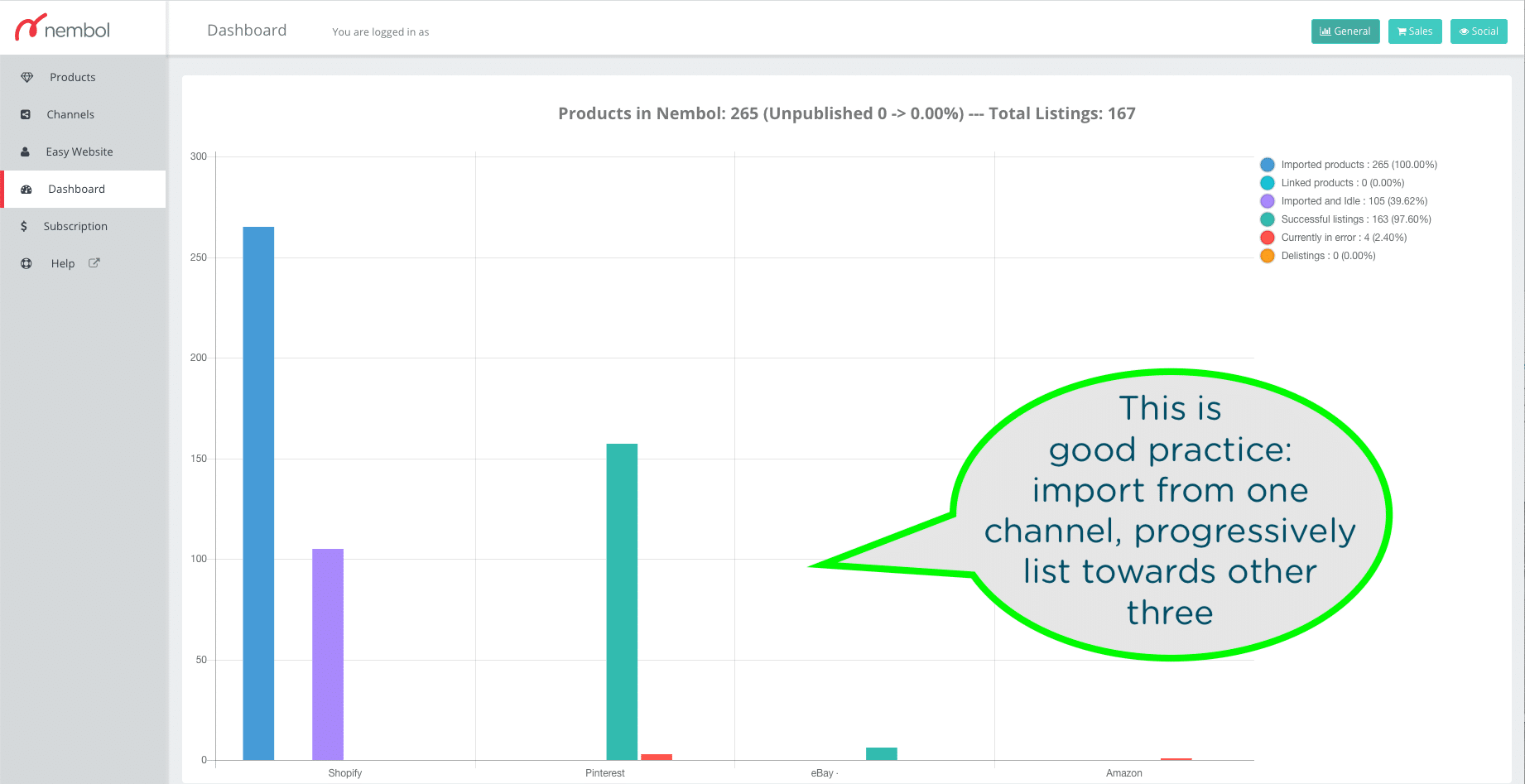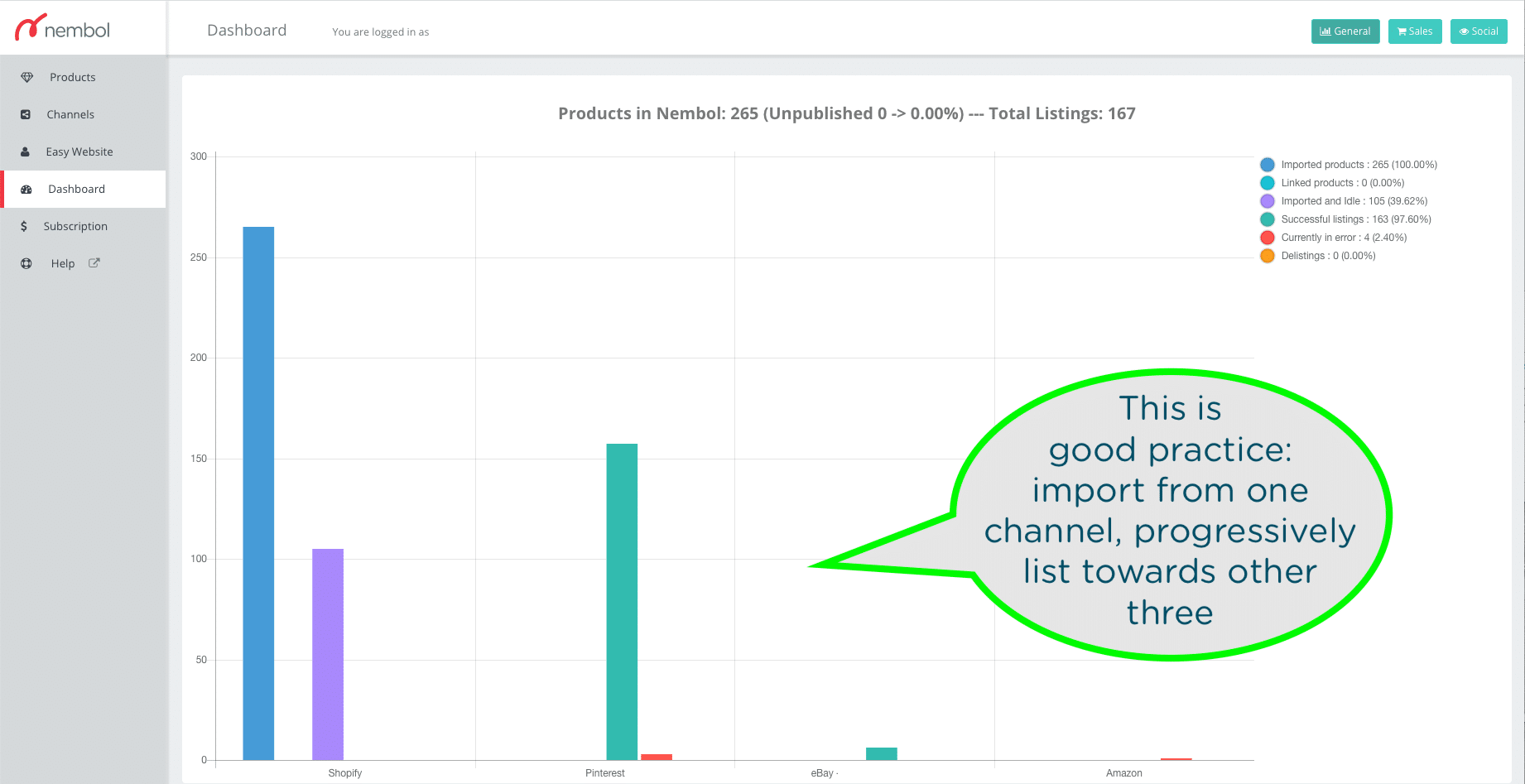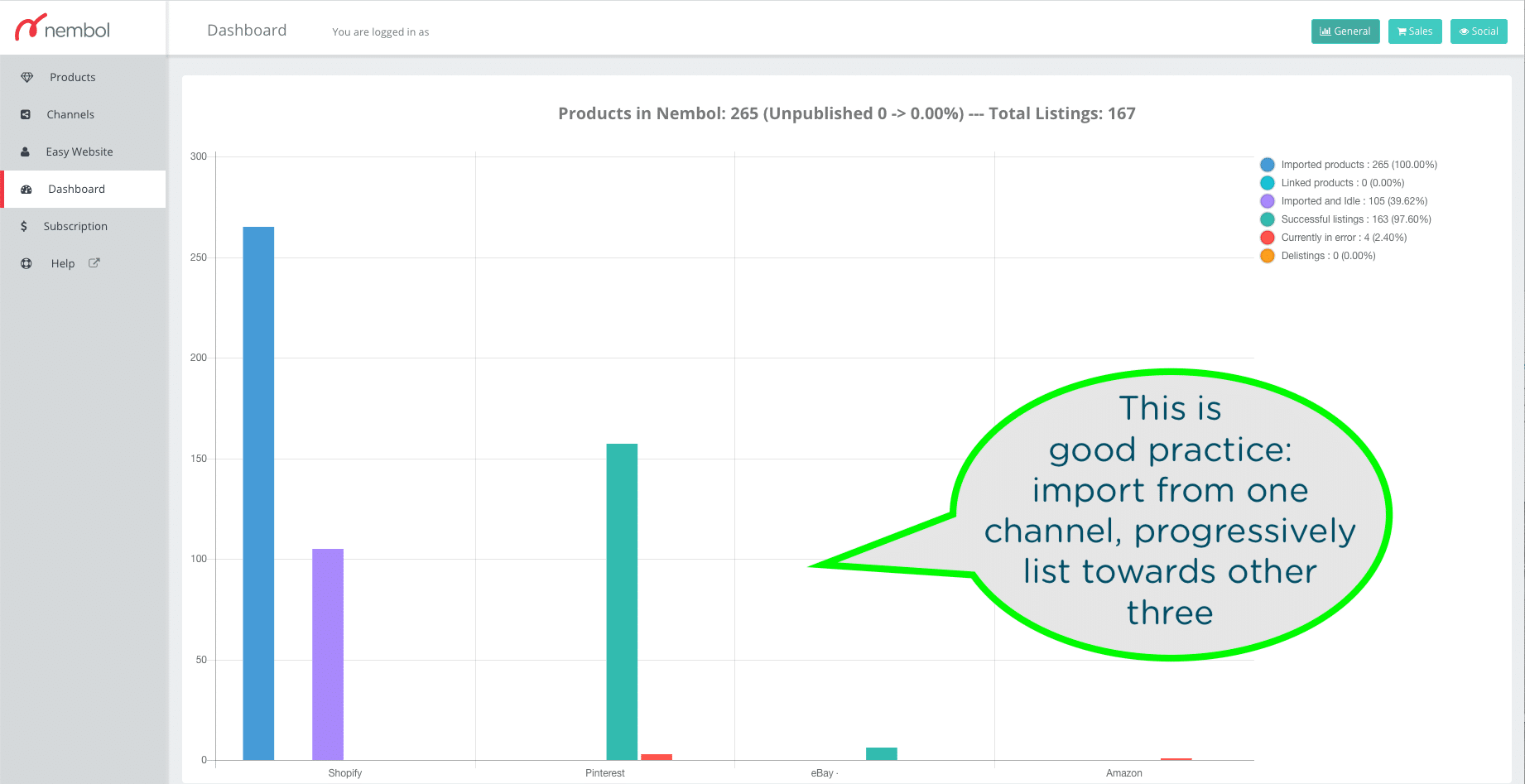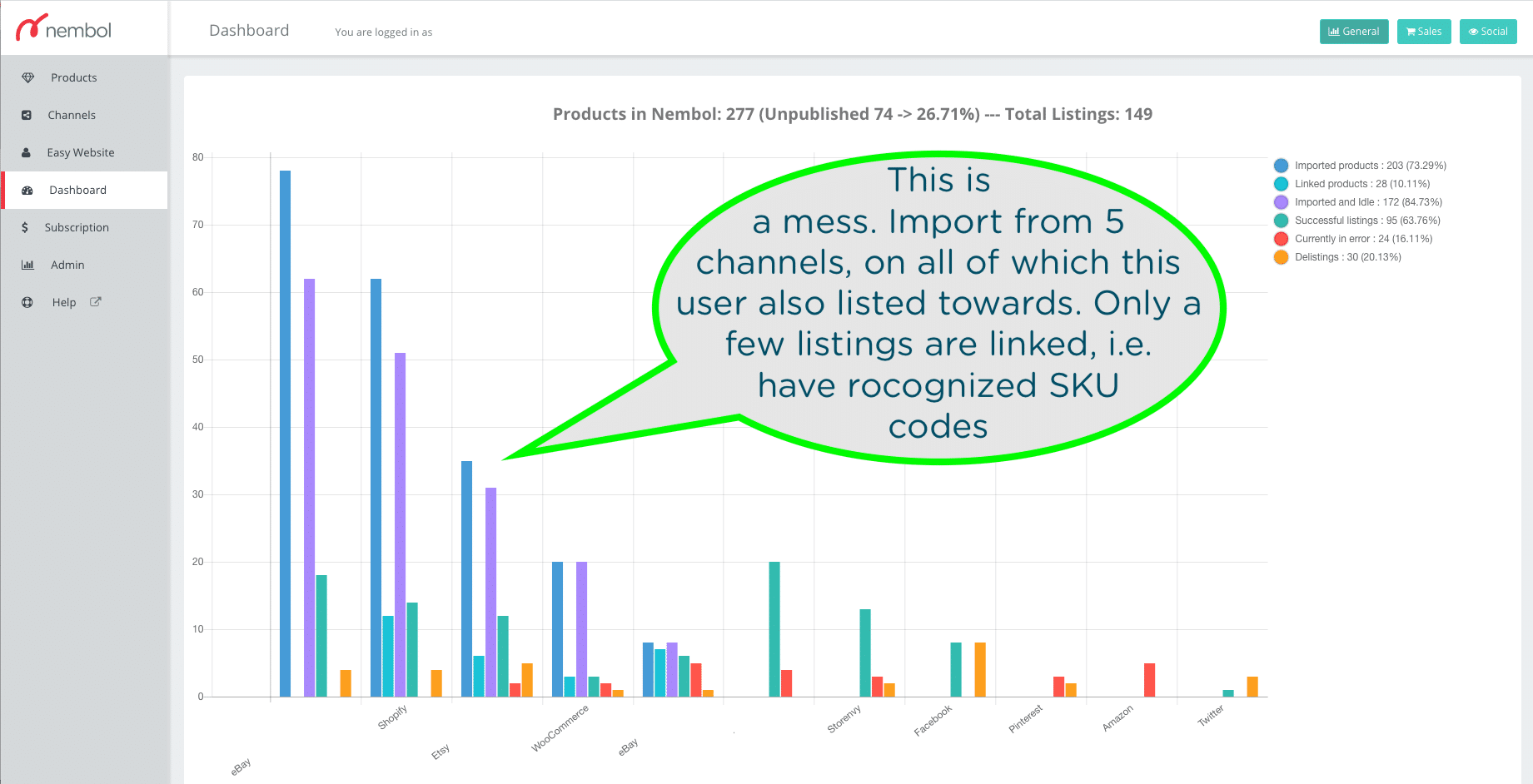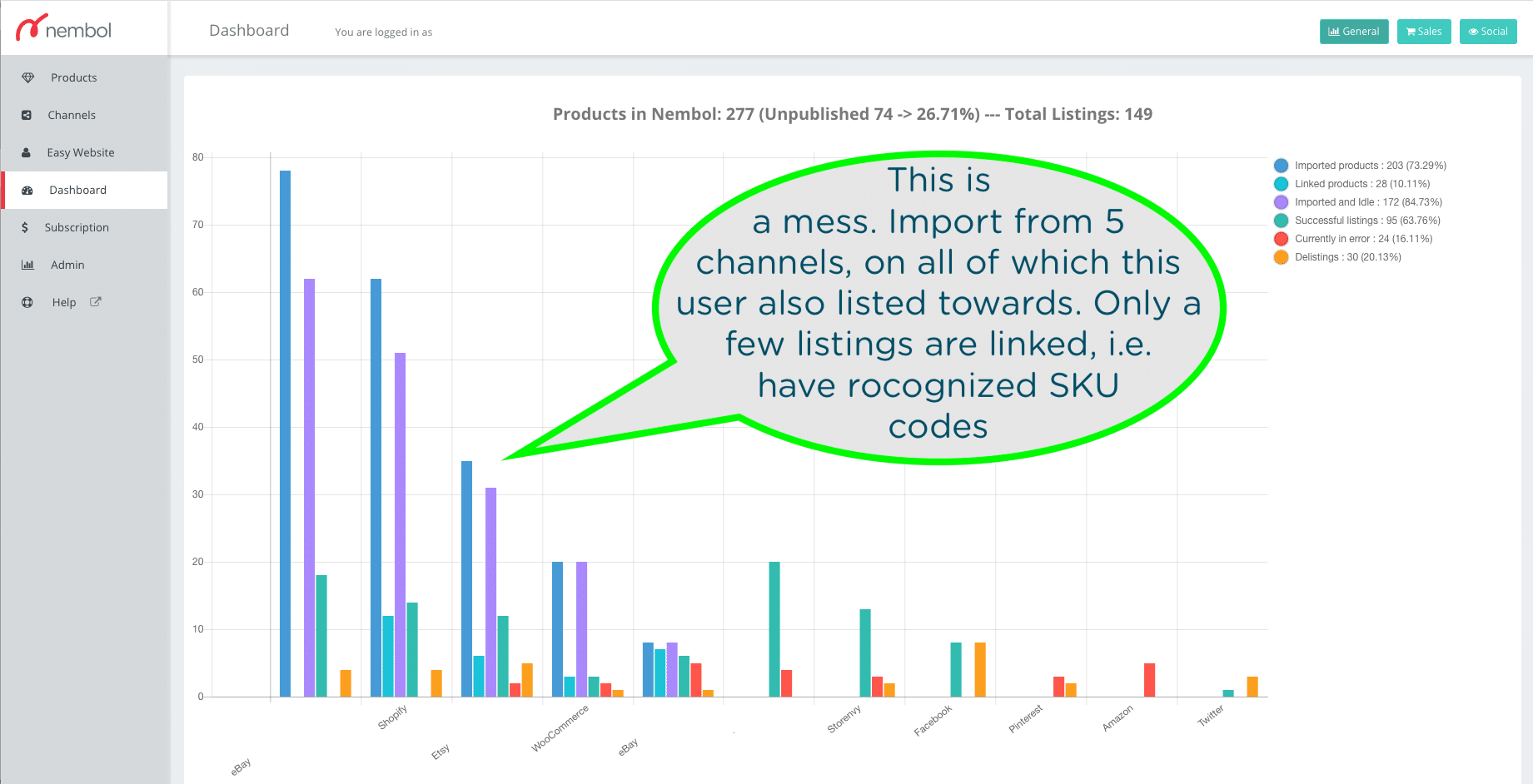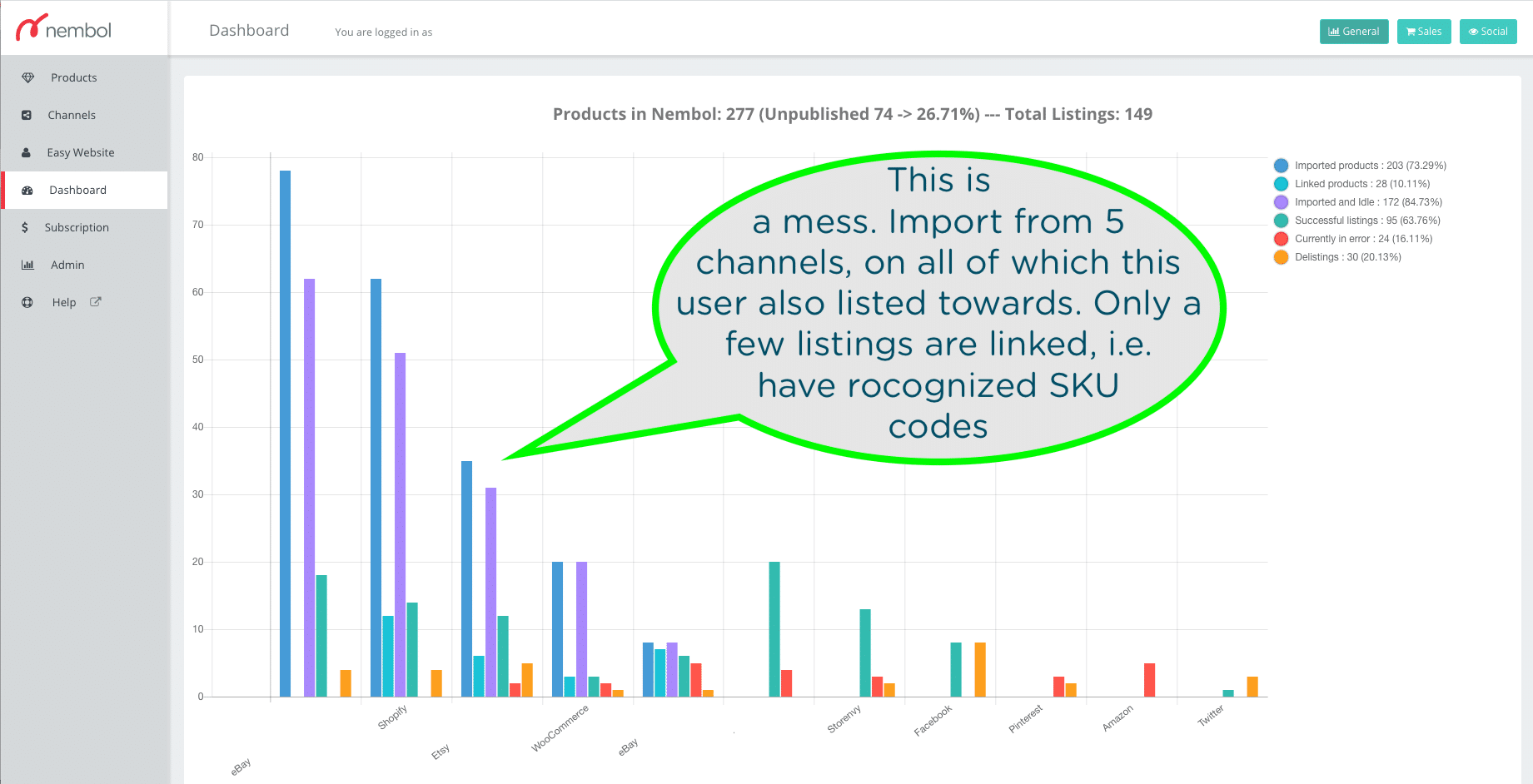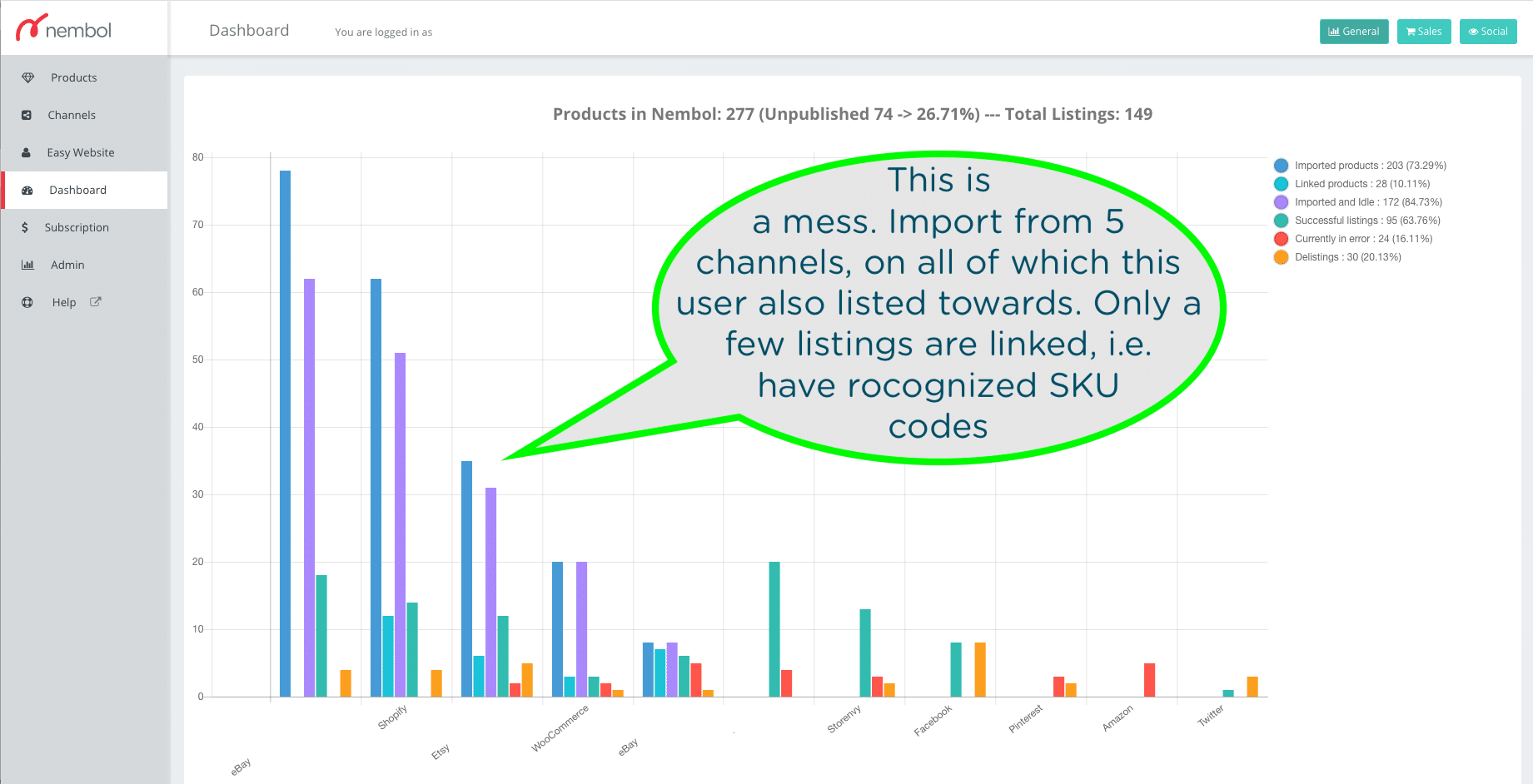 4. You have more than one listing app on the same channel
As you activate Nembol on your eBay, Shopify, Amazon, Etsy, etc. accounts, you or members of your team could activate other tools that will list products or edit inventory.
If a user has two such apps active at the same time, he/she may experience listing duplications.
This doesn't imply either app is malfunctioning, they simply work in parallel.
For instance, Shopify users: avoid activating Nembol AND also eBay selling channel in your Shopify store. This will likely create duplicated listings, and inventory double edits (see image below).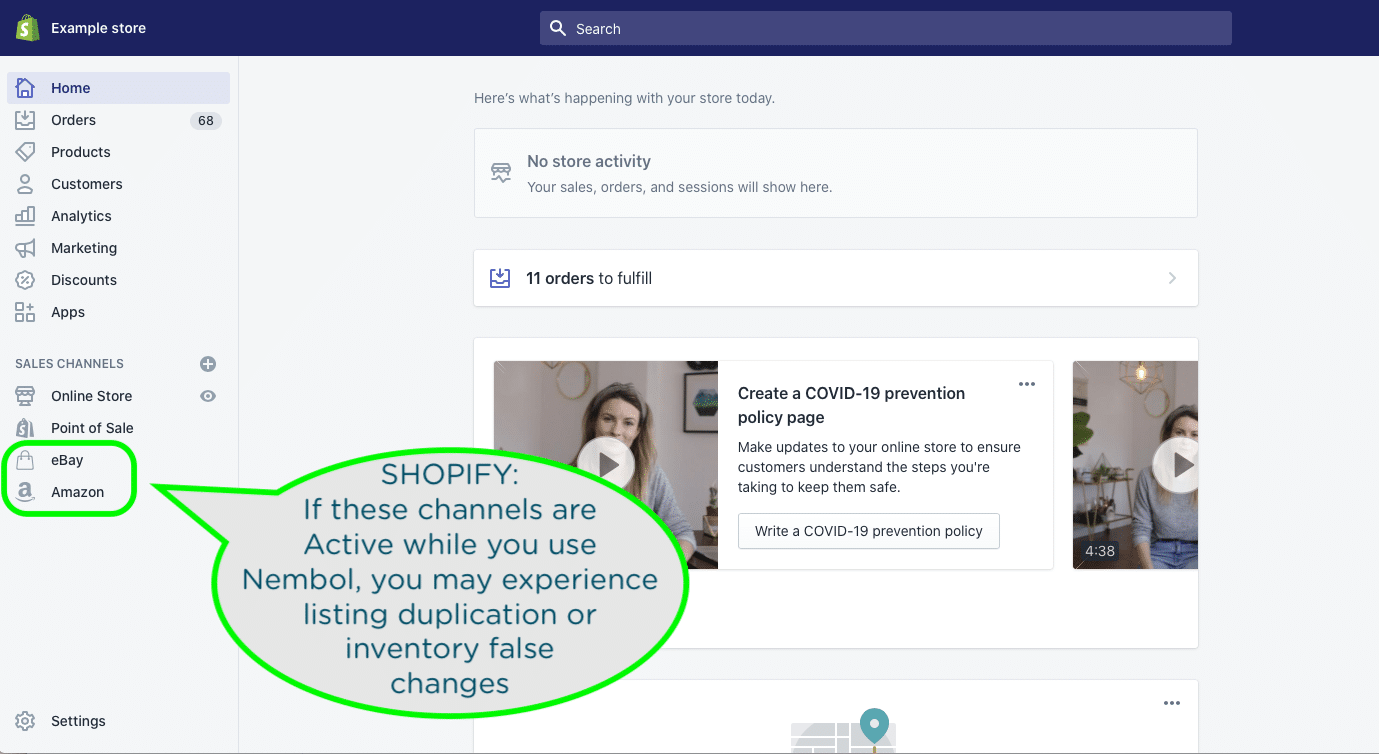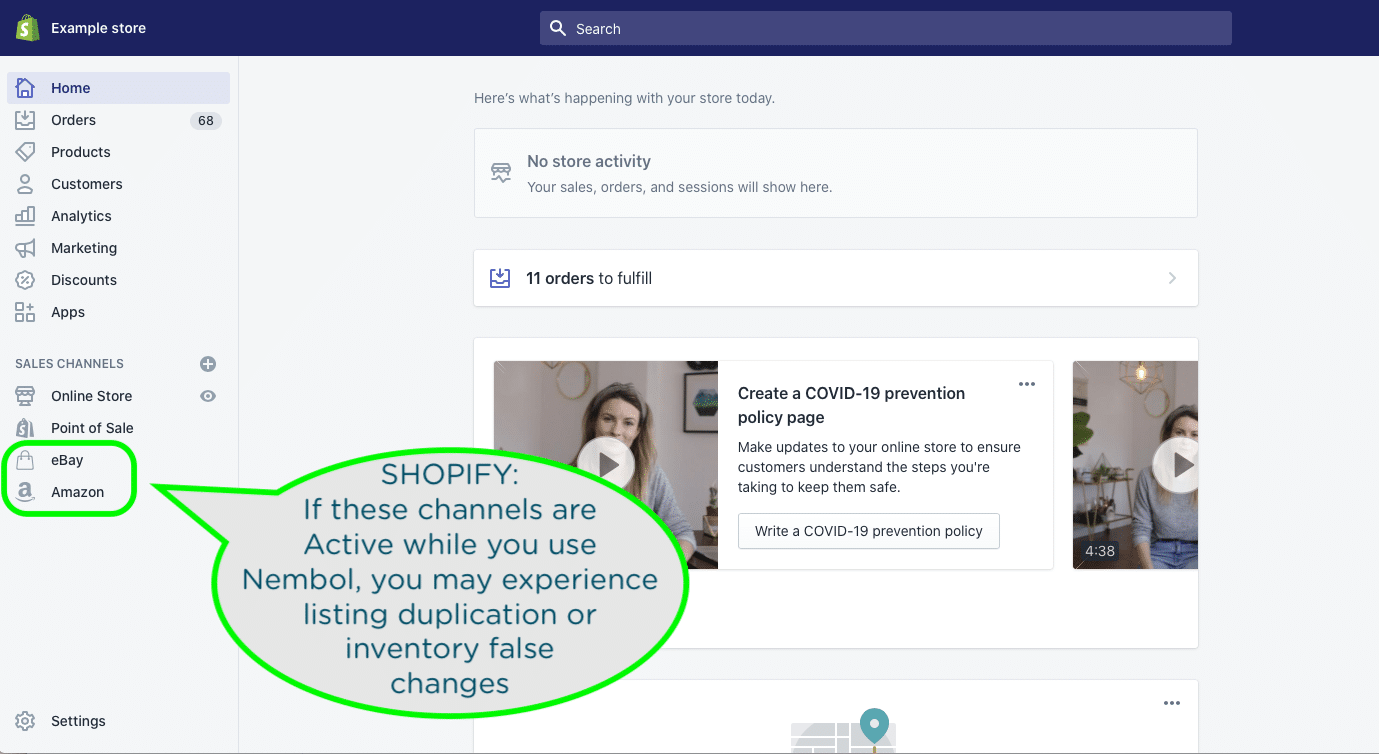 Once it happened, how do I solve it?
Unfortunately, once the mess is done, the solution involves quite a bit of manual action.
Follow these steps may help:
Have only one app, connected to your stores, which is doing any form of listing or inventory sync activity.
Delete duplications in any source channel. I.e. any channel from which you may later import (the most obvious source being eBay).
Search for duplicates in Nembol and delete them. You can do it by using the keyword search.
Do points 2 and 3 with attention: you want to delete the SAME duplicated product in all channels. We suggest turning "Edit from Nembol" ON, add a small difference between the two duplicated products (for instance a dot "." at the beginning of the title), then search for the dot in the source channel and delete that listing and not the other.
Let us know if you still have trouble. Start a chat in-app e we'll help you out!