What is Good 'till Cancelled on eBay?
In 2014, eBay introduced a new feature called "Good 'till Cancelled" (GTC). Starting in 2019, Good 'till Cancelled has become eBay's only duration for all fixed-price listings. Meaning that previous duration options (3 days, 7 days, 30 days) are no longer available.
Why?
"Because GTC listings offer more sales opportunities than any other fixed price duration. Over time, GTC listings keep and grow watchers, sales history, and SEO authority as they maintain the same item ID and URL for the life of the listing."
And you don't want to lose any of it.
What does it mean for sellers?
So, after this update, every fixed-price (Buy it Now) product listing automatically renews every 30 days. This stops when:
You manually end the listing;
The inventory count reaches zero.
Please note that the usual listing fees are still due at every renewal (i.e. every month).
But the most important consequence here is that your products have now a static URL. Meaning that your listings keep their performance metrics, reviews, watchers, and SEO authority over time, instead of losing them at every manual renewal.
Another result is that you have improved management tools in your eBay account.
You can sort your items by:
Number of days each listing has been active
Time left until renewal
Renewal date
How do you cancel "Good 'till Cancelled"?
Since the GTC has become the standard for Buy it Now items on eBay, you can't deactivate it. You can only manually end the listings, or sell them as auction-style listings.
Discover exclusive content, insider tips by subscribing to our newsletter. It's quick, easy, and free! Join now and get a 10% discount!
By entering your email address, you accept our Privacy Policy and Terms of Use. Totally free. Unsubscribe at any time.
How much does eBay charge for "Good 'till Cancelled"?
The feature itself is actually free. Regarding charges, nothing has changed in practice.
The usual fees are applied every 30 days. The only difference is that they renew automatically, so that you don't need to do it every month.
This move by eBay brings it closer to other marketplaces, such as Amazon, where GTC has always been the standard.
"Good 'till Cancelled" key benefits
Good 'till Cancelled is a smart feature by eBay. The most important result is that your products have now a static URL. Meaning that they can grow and keep sales history, reviews, watchers, and SEO authority (both on Google, and on eBay's internal search engine).
Keep in mind that listing longevity is critical to a good-working SEO. A longer listing life is basically a sign of the listings' trustworthiness. That's why you should prefer to keep rather than cancel the eBay listing.
Good 'till Cancelled works especially well when used together with the Out-of-Stock option by eBay.
These are the key benefits of the Good 'till Cancelled feature:
The static URL allows you to keep your SEO ranking;
You will preserve the listings' sales history, increasing the buyer's trust in your products;
Listings will save their buyers' engagement (which contributes to the ranking): impressions, views, and watchers.
So, the major takeaway here is that Good 'Til Cancelled is critical to a functional eBay SEO, and consequently, successful selling.
How do you use the "Out-of-Stock" option on eBay listings
Recently, eBay has also introduced a new Out-of-Stock option for sellers to use on their Good 'Til Cancelled listings.
This function is also free for all sellers, and probably the real deal behind the GTC.
Here is how it works: when the Out-of-Stock option (OOS) is turned on, your products don't get delisted when they sell out. The listings are hidden from buyers on eBay and appear as sold out, so that you don't get a sale by accident.
Though hidden, these listings retain their purchase and search history, so that you can bring them back to life simply by replenishing the stock (in eBay or in Nembol).
This means that the OOS option helps you safeguard your hard-earned listing reputation, during the period in which they aren't available to buyers.
Important benefits of the Out-of-Stock option
All eBay sellers may take advantage of the OOS option, which allows you to pause the availability of an item, but without losing all its history. This comes in handy when you are waiting for a restock, or you are just on vacation. When you are ready to sell again, all you have to do is change the quantity back to a positive number (you can also do it for multiple listing at once, using a bulk edit tool).
Other important upsides are:
Any Good 'Til Cancelled listing with zero-quantity for an entire 30-day billing period may qualify for an insertion fee credit at the end of that period;
When your listing is Out-of-Stock, buyers will not be able to purchase your items but the listing will keep its URL and eBay item number;
If you restock it, on eBay or in Nembol, the listing will become active again;
While the quantity is zero, the listing will be reachable to external links. Which is important if you linked to it from social media, your website, or affiliates;
Any Good 'Til Cancelled listing that has a quantity of zero for 180 consecutive days, will be automatically terminated by eBay.
How much does Out-of-Stock listings cost?
The option itself is free. eBay then charges you usual listing fees each 30-day billing cycle. If your listing remaining with zero-quantity over 3 entire billing cycles, it will automatically be terminated by eBay, and you will be eligible for an insertion fee credit.
How to activate the Out-of-Stock option in eBay
Go to My eBay > Account settings > Site preferences
Under "Selling preferences," look under Listings stay active when you're out of stock. (See screenshot below)
Select the checkbox. There is currently no "Save" button, always look for it as eBay changes often.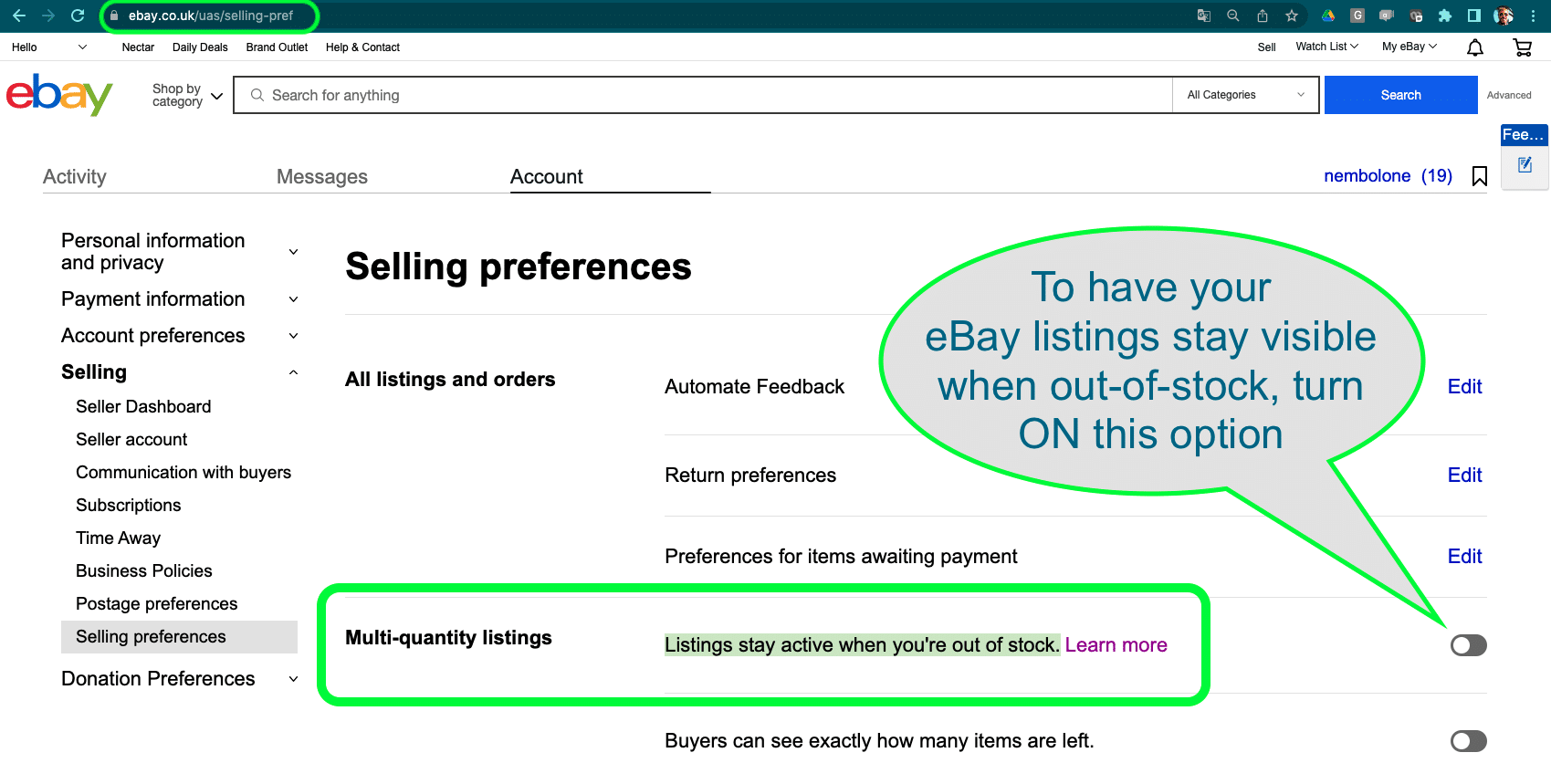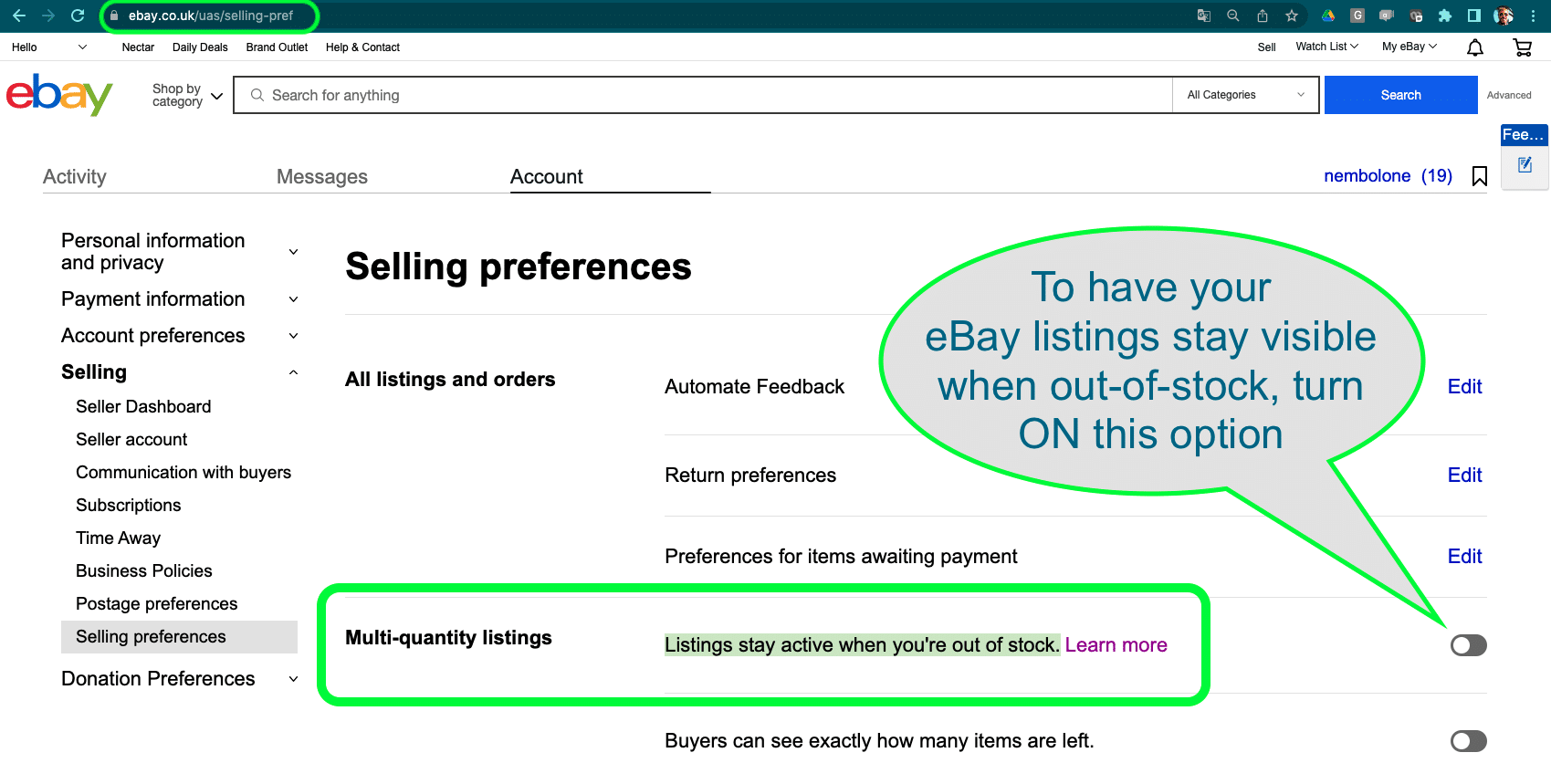 How to set out-of-stock eBay listings in Nembol
For all Nembol users: Good 'till Cancelled listings have one additional benefit. they do not only have a static URL, they also get a static Product ID. This is crucial to have a working inventory across multiple sales channels.
This is the reason why we included a simplified way to activate the Out-of-Stock option directly in Nembol.
In your "List to eBay" settings in Nembol, look for the "Out of Stock" switch.
Turn it On and save. Your "Good 'Til Canceled" listings will remain active also if quantity reaches zero, but hidden from eBay search until you increase the quantity.
When you restock in Nembol, your listing will become visible again in eBay searches and people will be able to purchase.
Turn it Off, and your listings will be simply delisted when the quantity reaches zero. When you restock in Nembol, Nembol will create a new listing for you.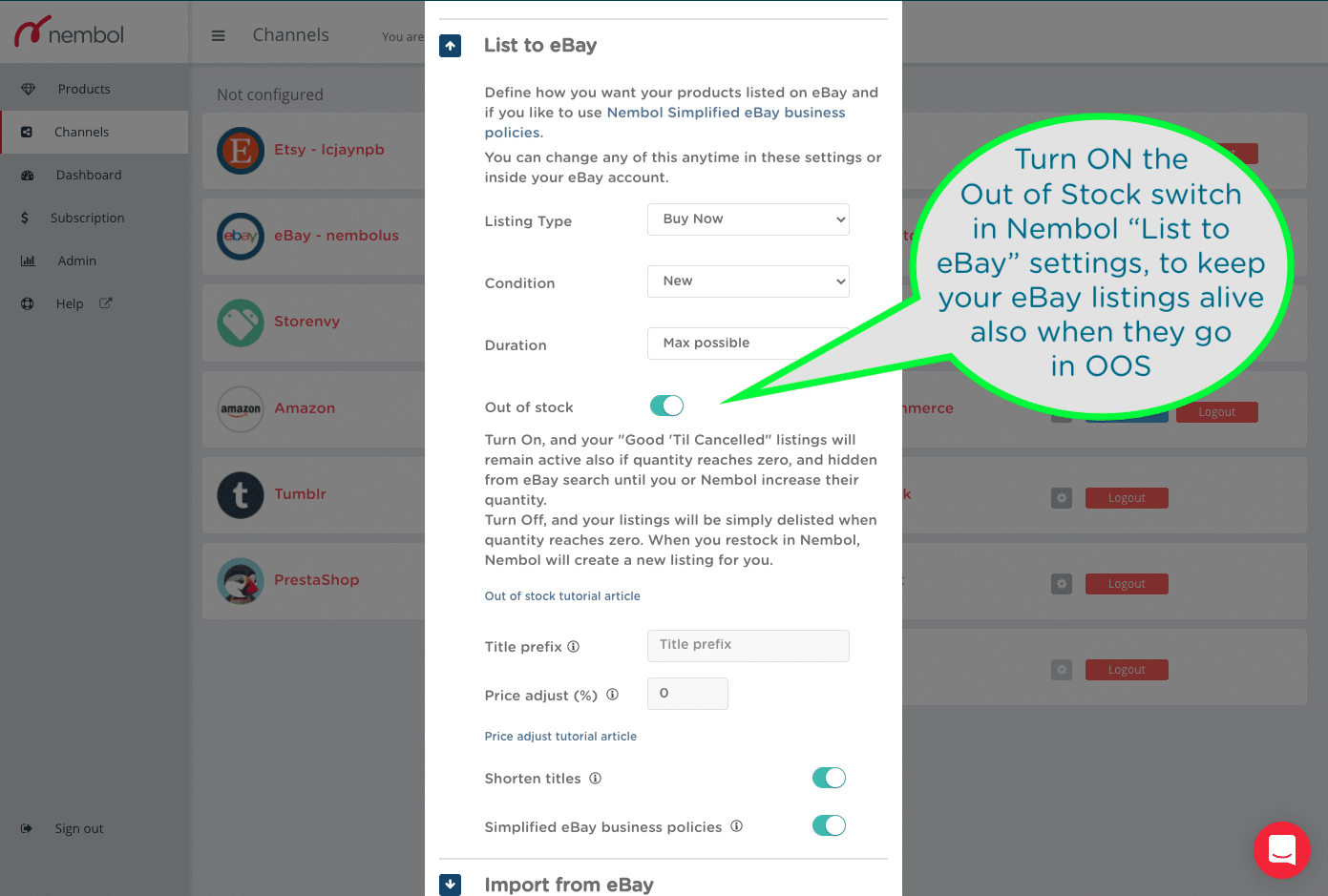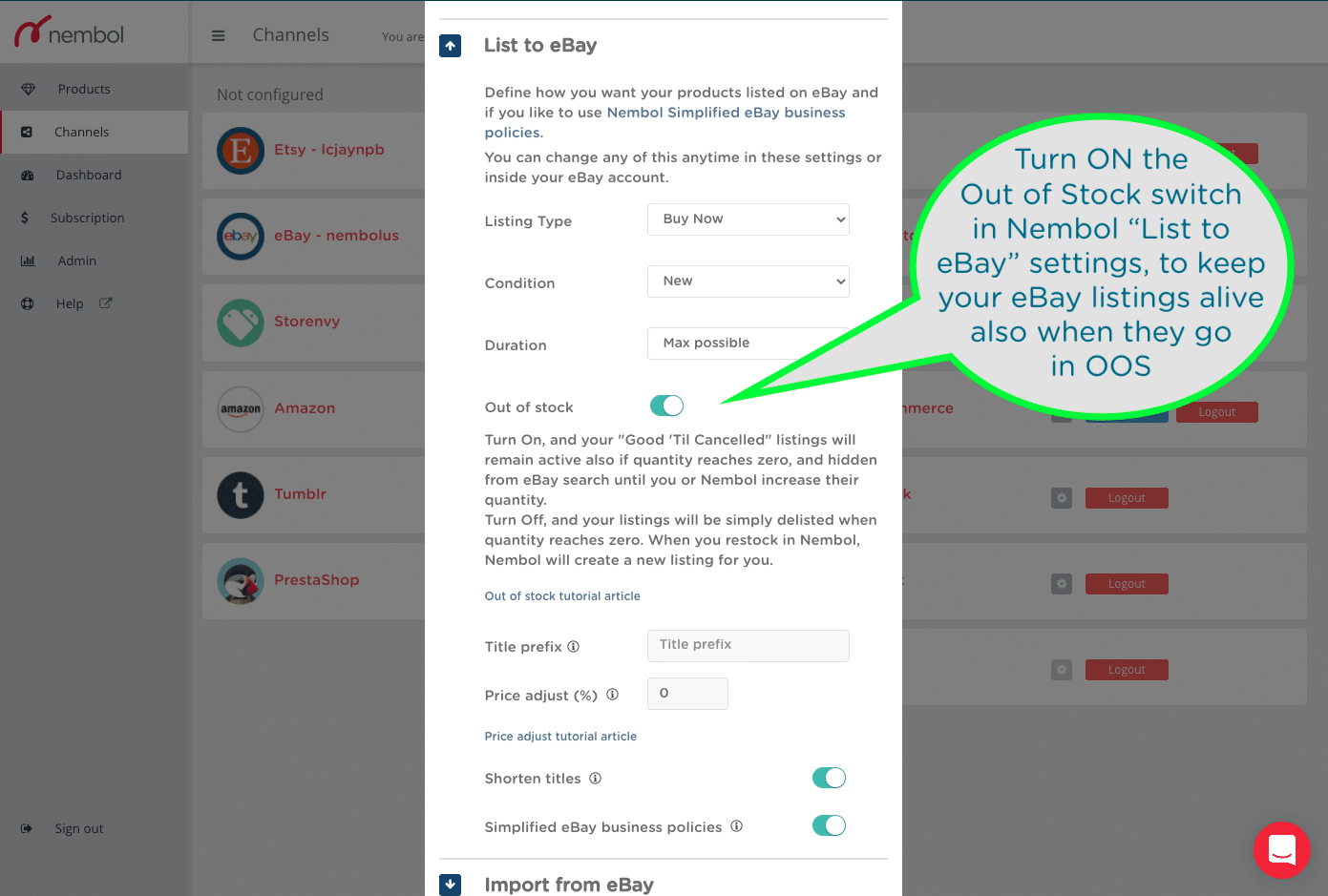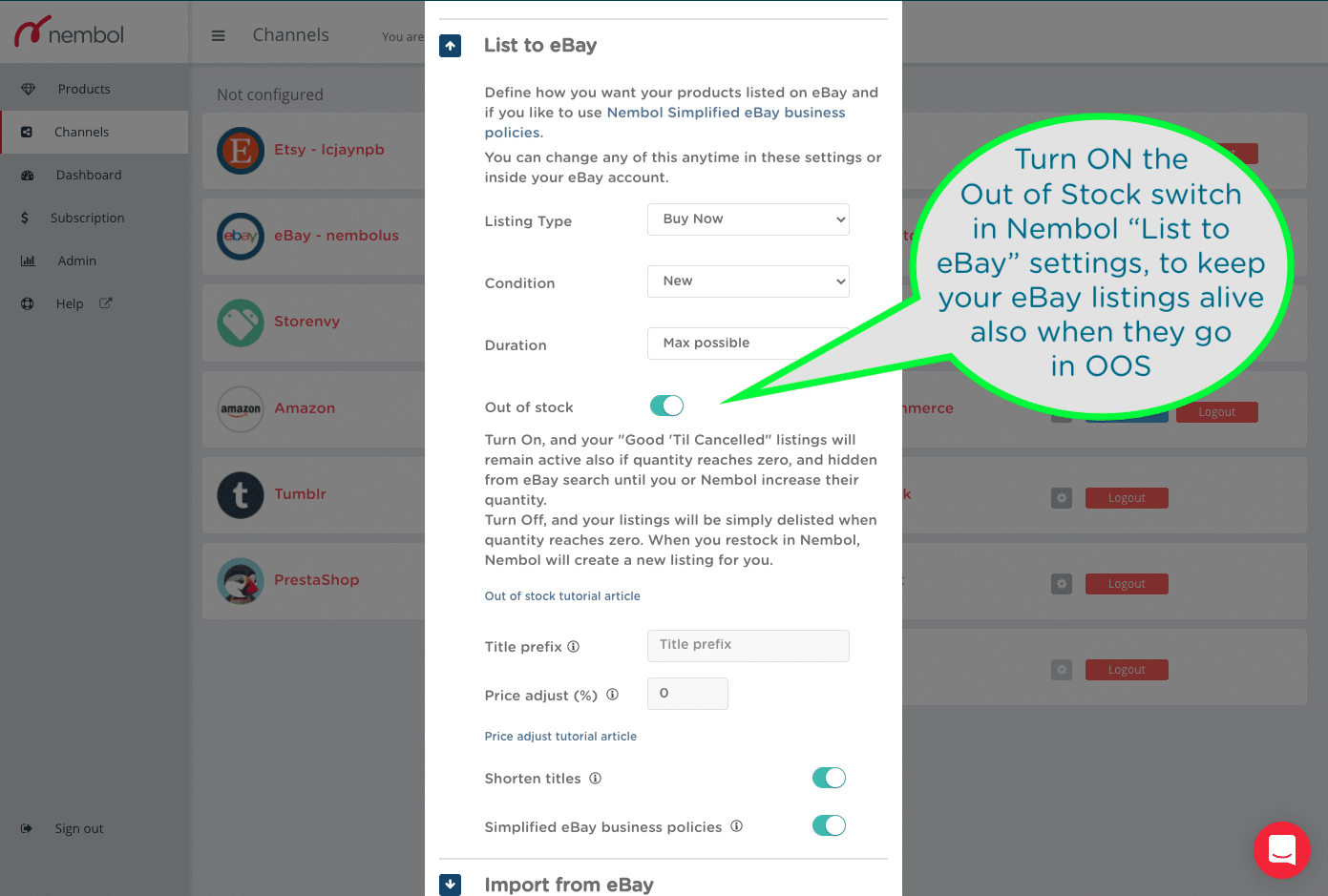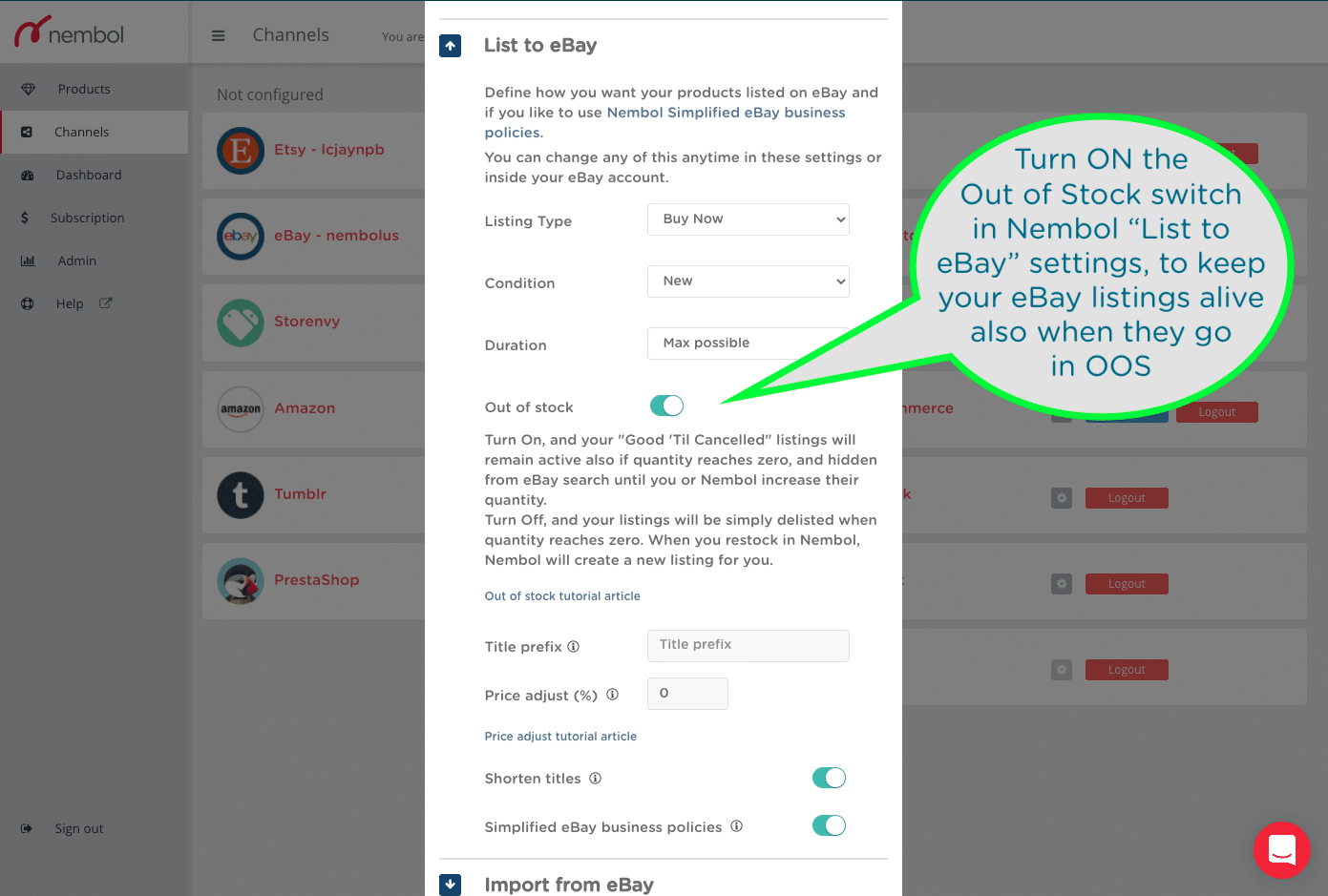 Try Nembol for free: enjoy a 14-day trial
No credit card required
Out-of-Stock with Shopify and re-stocking or drop shipment tools
The out-of-stock setting is especially important if you are a Shopify user and use automated restocking tools, such as a drop-shipment platform. In this case, you should set the Sync edits from Shopify in Nembol "On" and:
If you have the out-of-stock "on" in eBay settings, when you restock in Shopify, Nembol will restock and reactivate your original listing on eBay
If you have the out-of-stock "off" in eBay settings instead, Nembol will create a new listing on eBay, which for some users is not optimal.