Overview
This article explains what eBay selling templates are (they're also called listing templates). We also provide an explanation on how to use them, which information they may contain, and the main difference between templates, product listings, and HTML descriptions.
In the second part of the article, we focus on eBay's HTML description templates. We give you 5 important tips to improve the management of HTML templates, and we explain how Nembol helps you when selling across multiple channels.
If you wish to know more about HTML descriptions and multi-channel bulk listing, read our dedicated article: HTML formatting on cross-channel product listings.
What are eBay listing templates?
eBay listing templates are containers of product-information that can be re-used in each listing and therefore ease product listing for frequent eBay sellers.
You may think of eBay listing templates as mock-products that are in fact not listed as-is, but which can be easily searched, re-opened, completed with the missing or updated information, and in a single click give birth to a better, more complete listing.
Later, eBay Listing Templates do not disappear but remain promptly available for your subsequent listing action.
What information can an eBay listing template contain?
An eBay listing template can contain all pieces of information normally assigned to a product. In fact, the creation of a listing template is very similar, if not identical, to the creation of a product listing:
Title
Category
Pictures
Description
Price
SKU code
Variations
And on and on…
You can see Picture 1 for an example of a real eBay listing template.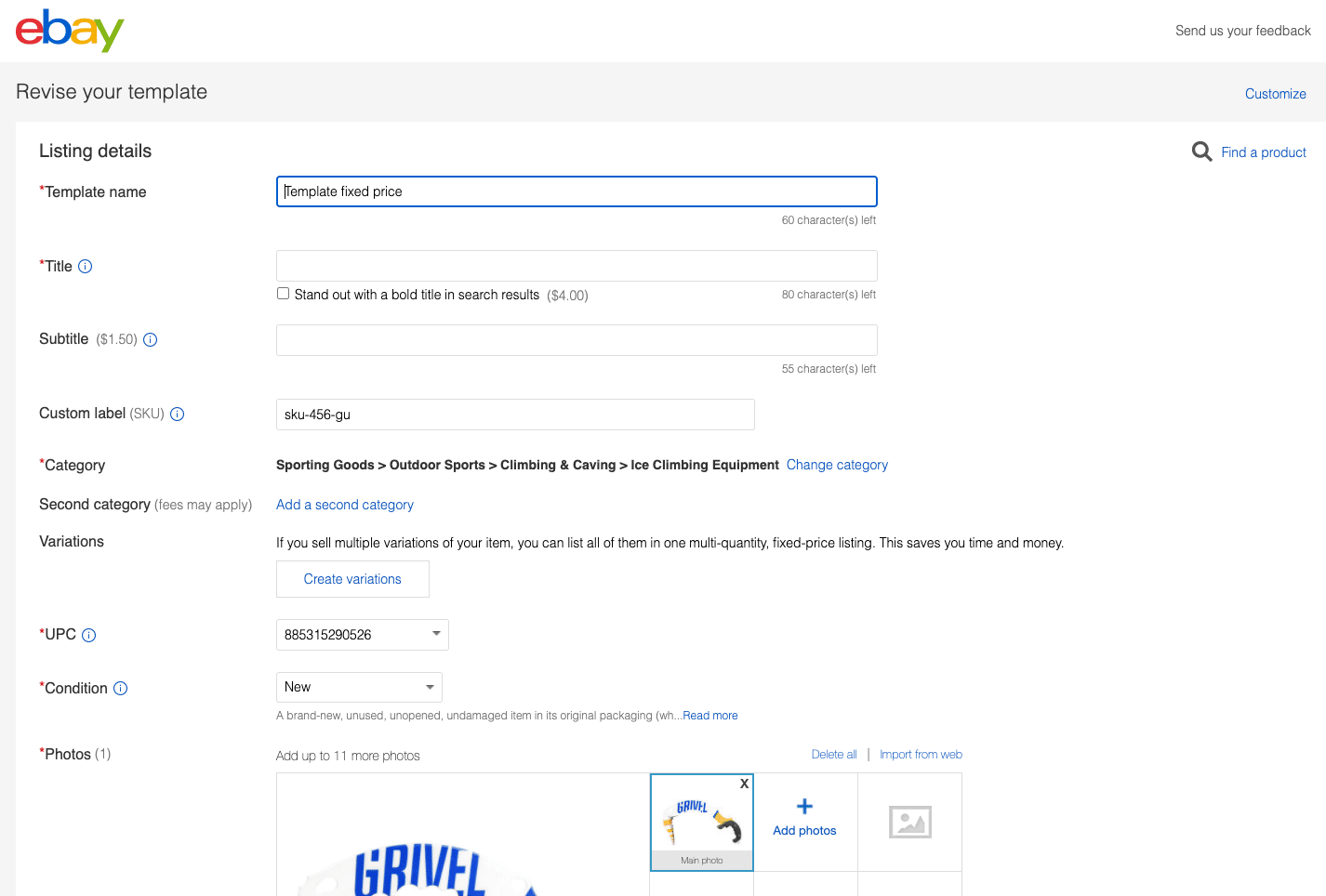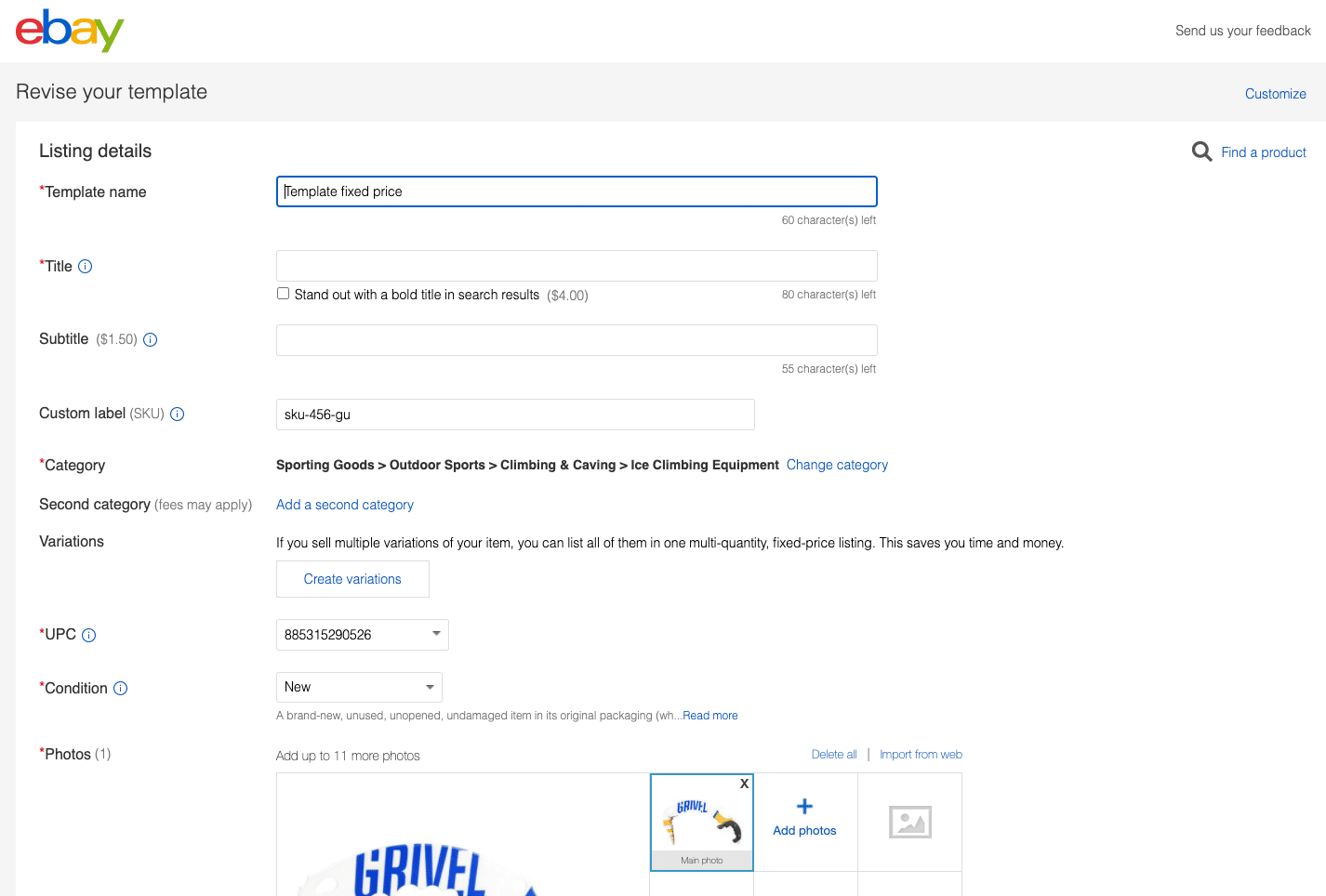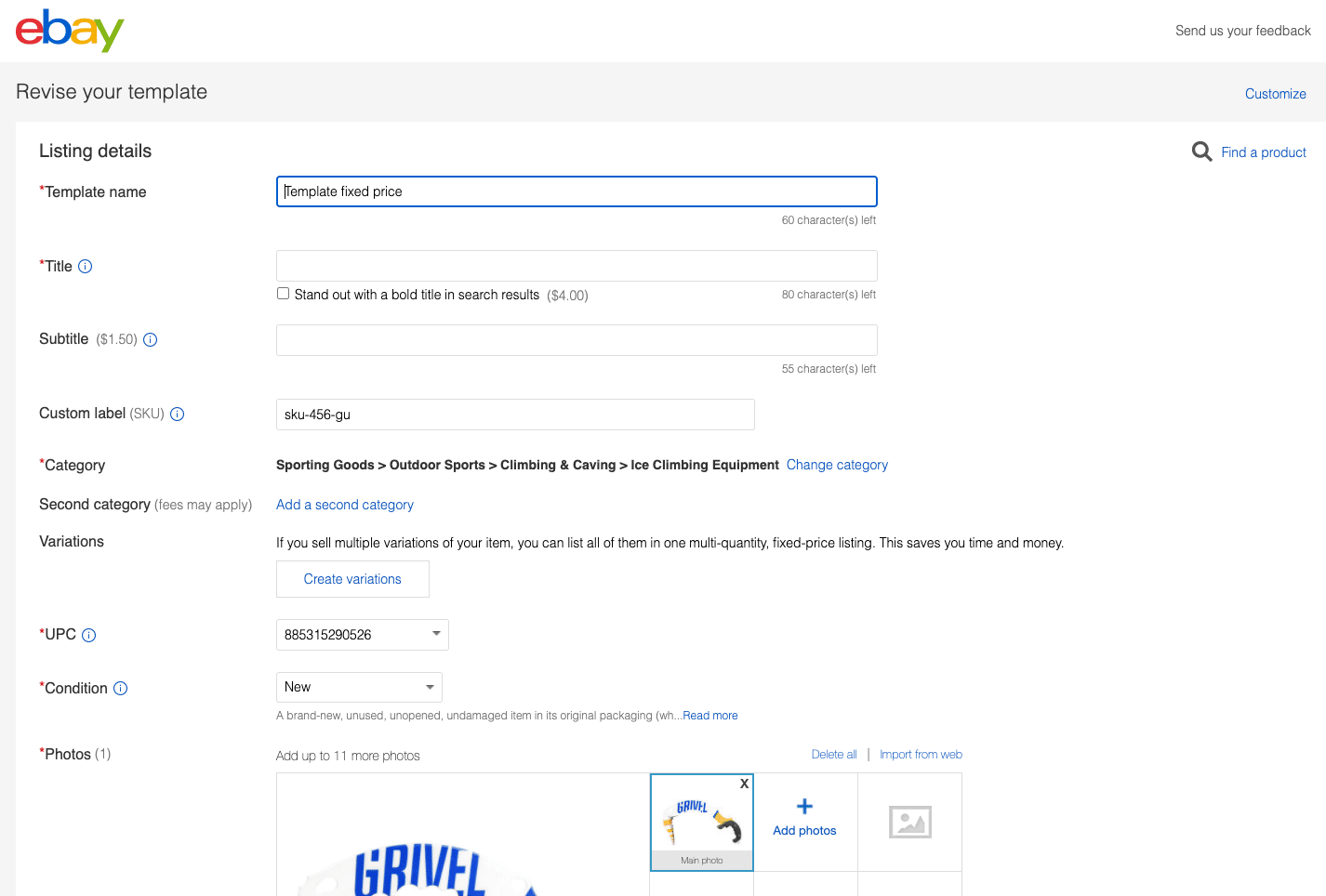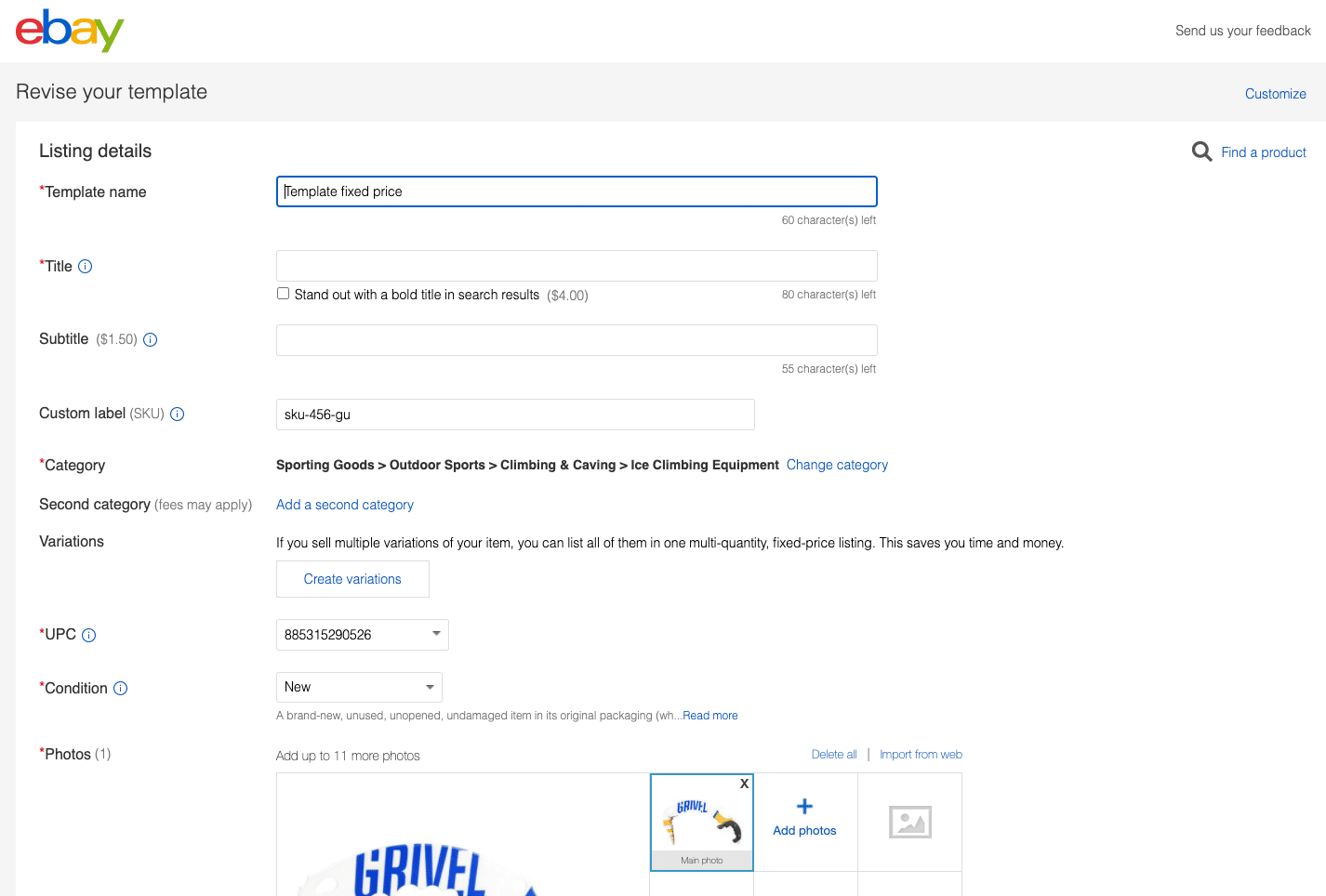 Listing templates vs Product listings
There are two main differences between listing templates and actual eBay product listings:
There are no required fields in eBay listing templates. Meaning that, while you cannot have a product listing with no picture or no title, you can definitely have a listing template without such info. This because you can leave them empty to fill them up later.
Listing templates are not listed on eBay. On the contrary, they are offered in a list for sellers to quickly select and build (better and faster) listings based on them. See the picture below.




Try Nembol for free: enjoy a 14-day trial
No credit card required
eBay listing templates with HTML descriptions
This is a generalized confusion also amongst seasoned sellers:
eBay templates may include HTML descriptions, but are not strictly and only HTML descriptions.
The confusion is caused because Web designers often call an HTML description file also a "template", and hence as a seller, if you purchase an HTML description, you are often billed for an "HTML template".
Given that eBay listing templates are NOT only nor necessarily HTML templates, the following is true:
You will include an HTML description in an eBay listing template if you want to reuse the same look-and-feel for multiple listings. In such cases, your HTML description will likely have place-holders for text that may differ from one product to another.
Otherwise, you may have an eBay listing template with a completely empty description field, so that you will later fill it up with completely new information for each future listing, and such future information may or may not contain HTML formatting.
In the latter case, what the listing template will replicate for you may be categorization, type of listing, return or payment rules, product variations, or else.
You can see an example of HTML description in Picture 3 below: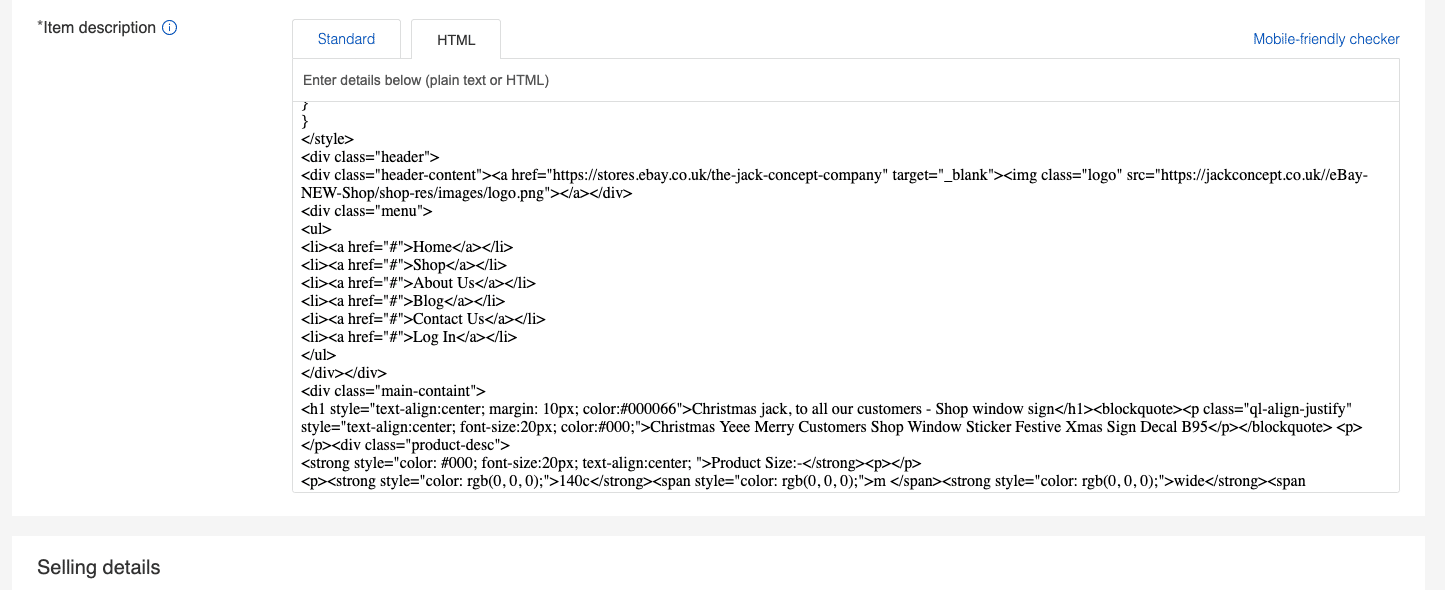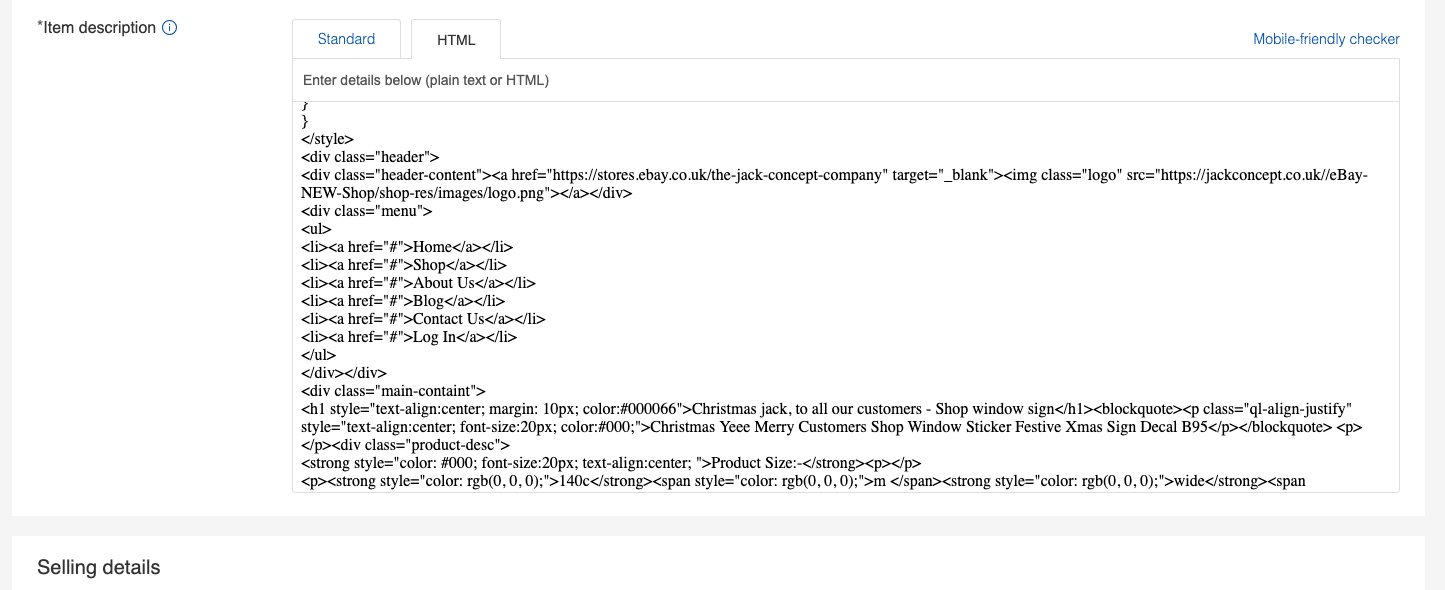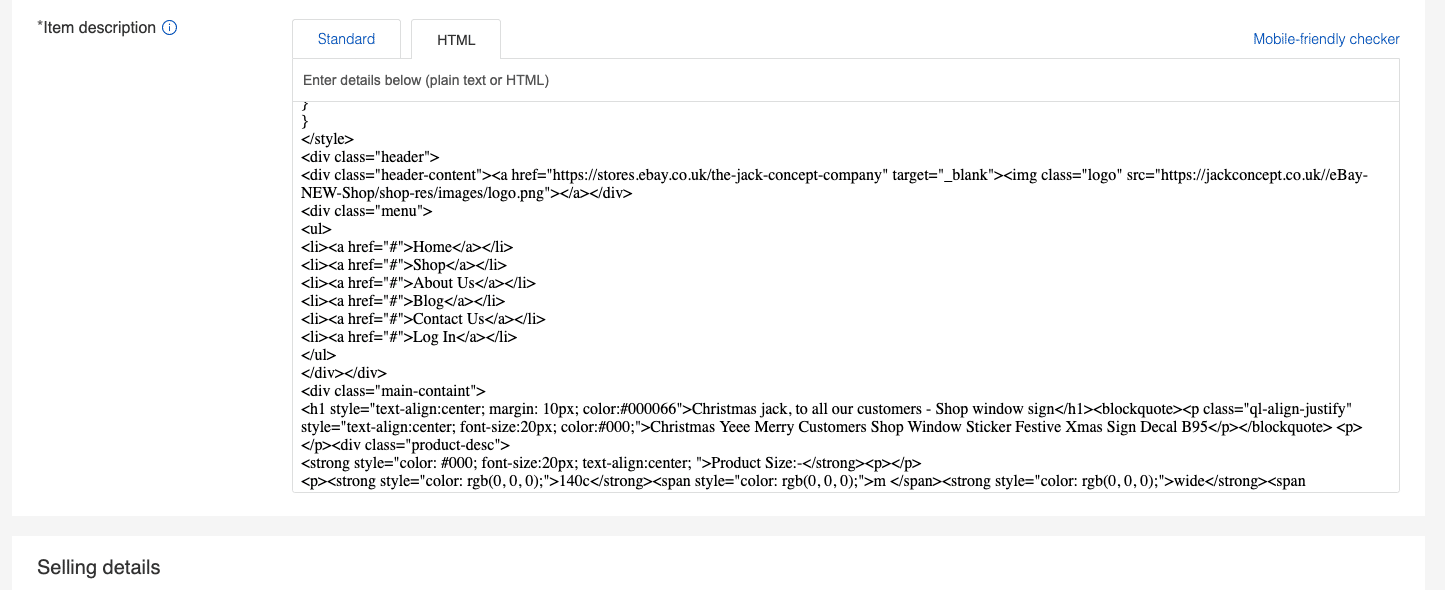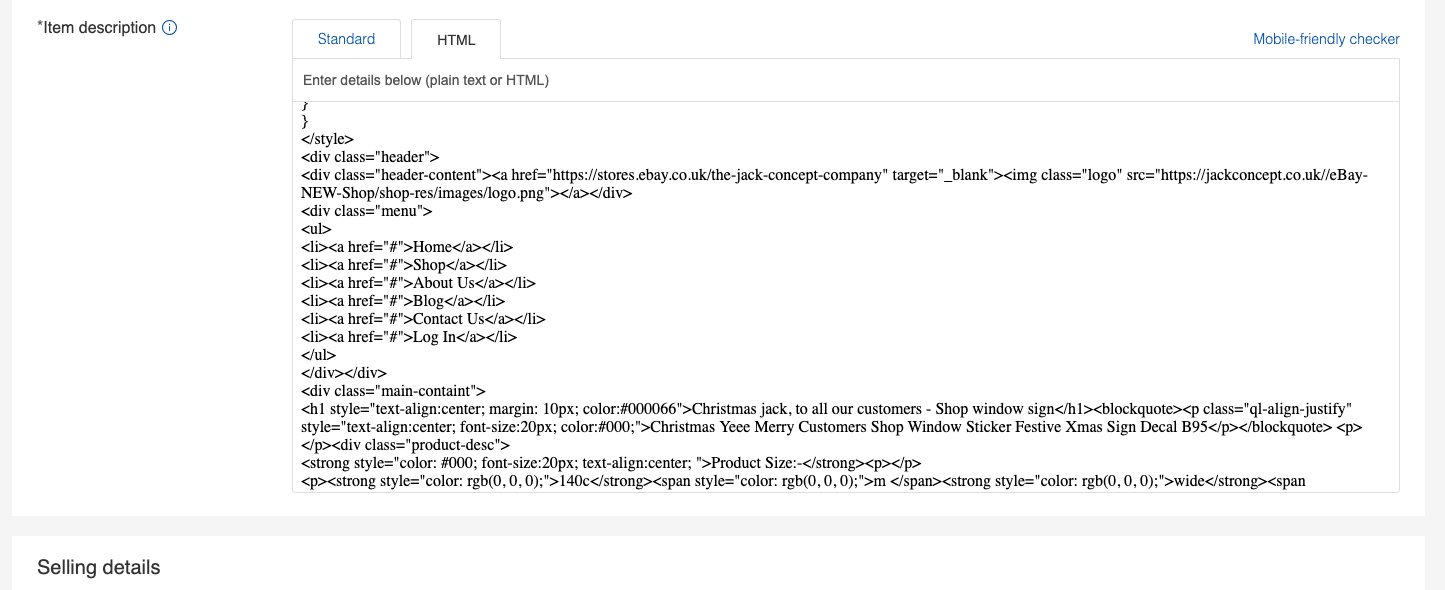 Such an HTML description may be purchased by sellers from a Web designer, or you may "do it yourself". Many description "templates" are also out there as free perks. You just need to look out for a few things while using an HTML description. Keep on reading.
How to create HTML descriptions on eBay
HTML is of course the formatting language of the Web, it's easy to use, easy to read, and ubiquitous from school pupils up to professional designers. Still, using such formatting makes your product descriptions more complex, therefore we suggest watching out for at least the following aspects:
HTML may look different on mobile devices
HTML description may render your listing not-compatible with some mobile devices. This may mean either that the listing will look "ugly" on a mobile browser (because such browser is smaller and has a vertical screen) or that the listing will not work at all on a mobile device.
For this reason, eBay provides you a "Mobile-friendly checker" function (you see it top right in Picture 3 above) that allows you to verify how well your HTML description comes out on a mobile device. See Picture 4 below for an example of warning if the work done by your Web designer is very very bad 🙂
eBay's mobile app may change your HTML
Many many buyers browse and buy on eBay via one of their mobile apps. As product presentation is often standardized on mobile apps as opposed to Web browsers, eBay has a way to filter away undesired HTML formatting from your descriptions. This though used to lead to cumbersome results, especially in the past. We advise you to check your chosen HTML description on the eBay app before using it.
Colors and fonts shouldn't clash with eBay's design
HTML formatting includes color and font choices. For background, images, etc. Such colors and fonts may look nice when the designer shows them to you but may look awkward once plugged into an eBay page. eBay has different ways a listing is shown on different devices and in different parts of the eBay sites.
We suggest you make sure your choice of colors and fonts is not too far off from eBay's general look and feel. And that you test before purchasing or using the description.
Be careful when using pictures in the description
Some HTML descriptions may link to external pictures. Watch out as eBay security settings may prevent from loading pictures hosted on more than one server. This is a technical issue but it may become a problem on eBay and will certainly be a problem when listing on multiple selling channels.
How to manage HTML descriptions when listing multichannel
Listing beyond eBay and cross-channel: Nembol and other apps allow sellers to easily and quickly list products cross-channel. This practice is the new standard for savvy sellers, because it multiplies reach and opportunity to sell.
Beware that not all channels accept all HTML formatting, and some accept none. See our other article on this matter, but in short: if you plan to sell on multiple channels (and you definitely should!) consider minimizing your use of HTML formatting to the basic formatting accepted on most channels.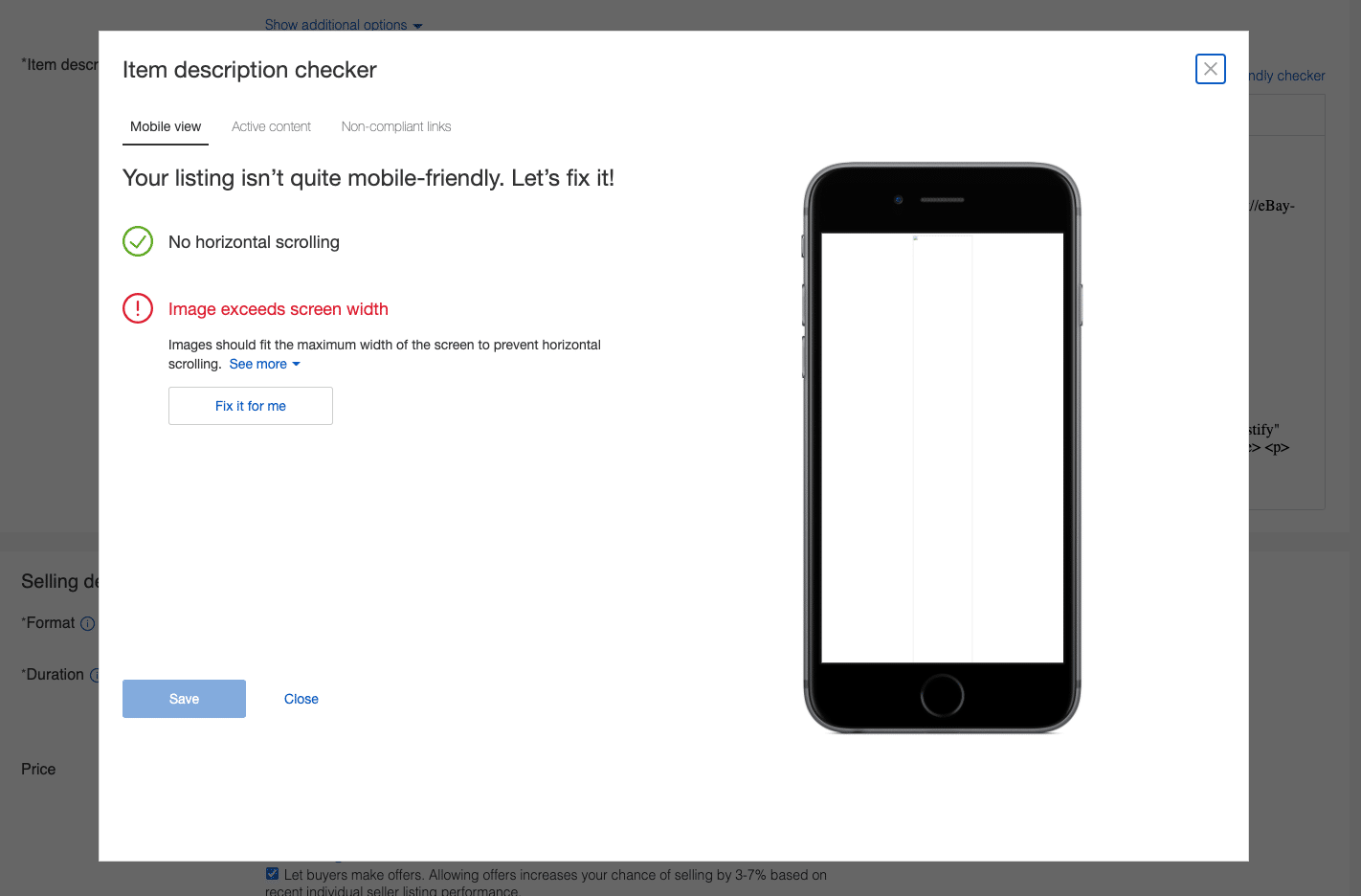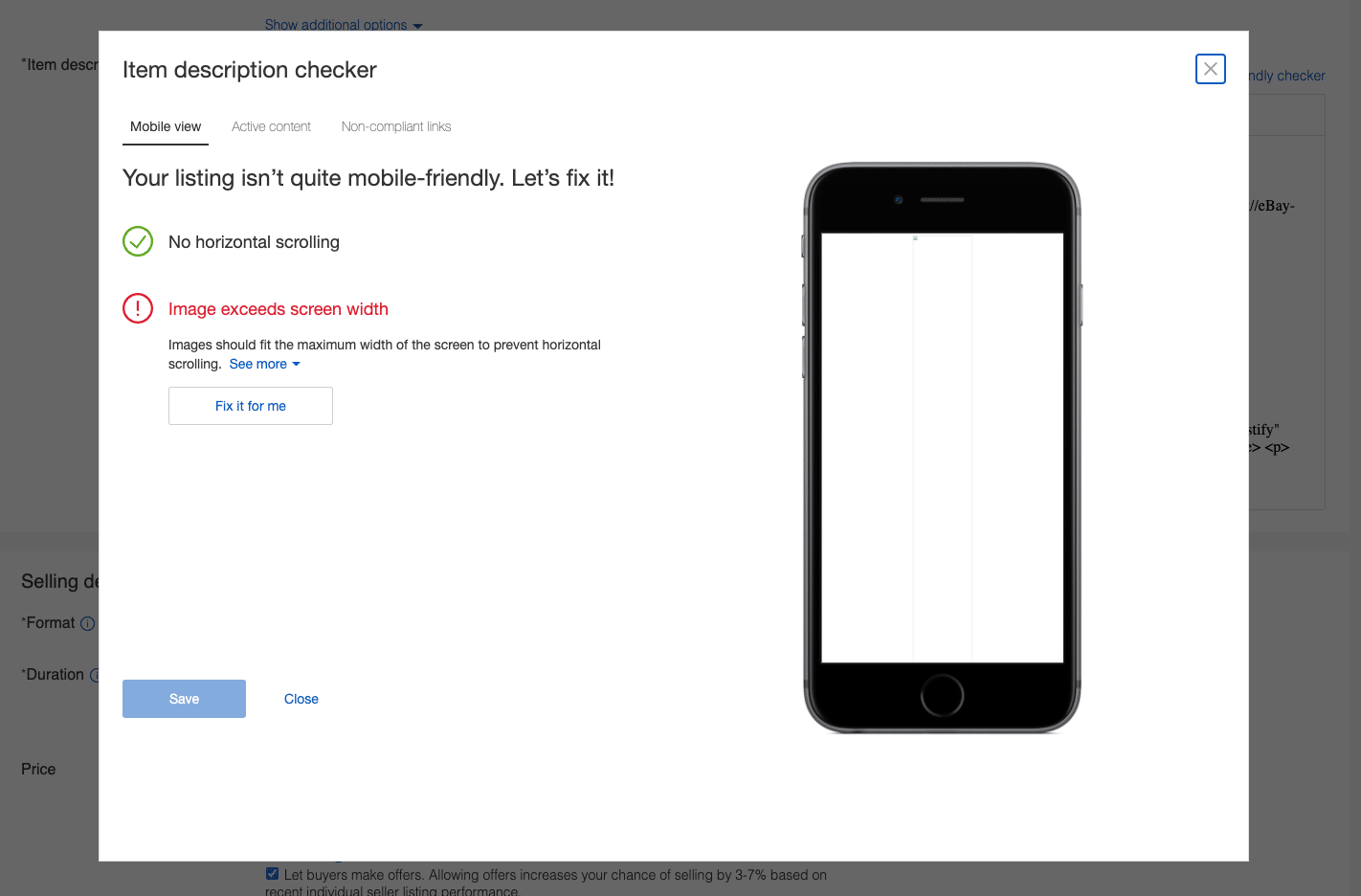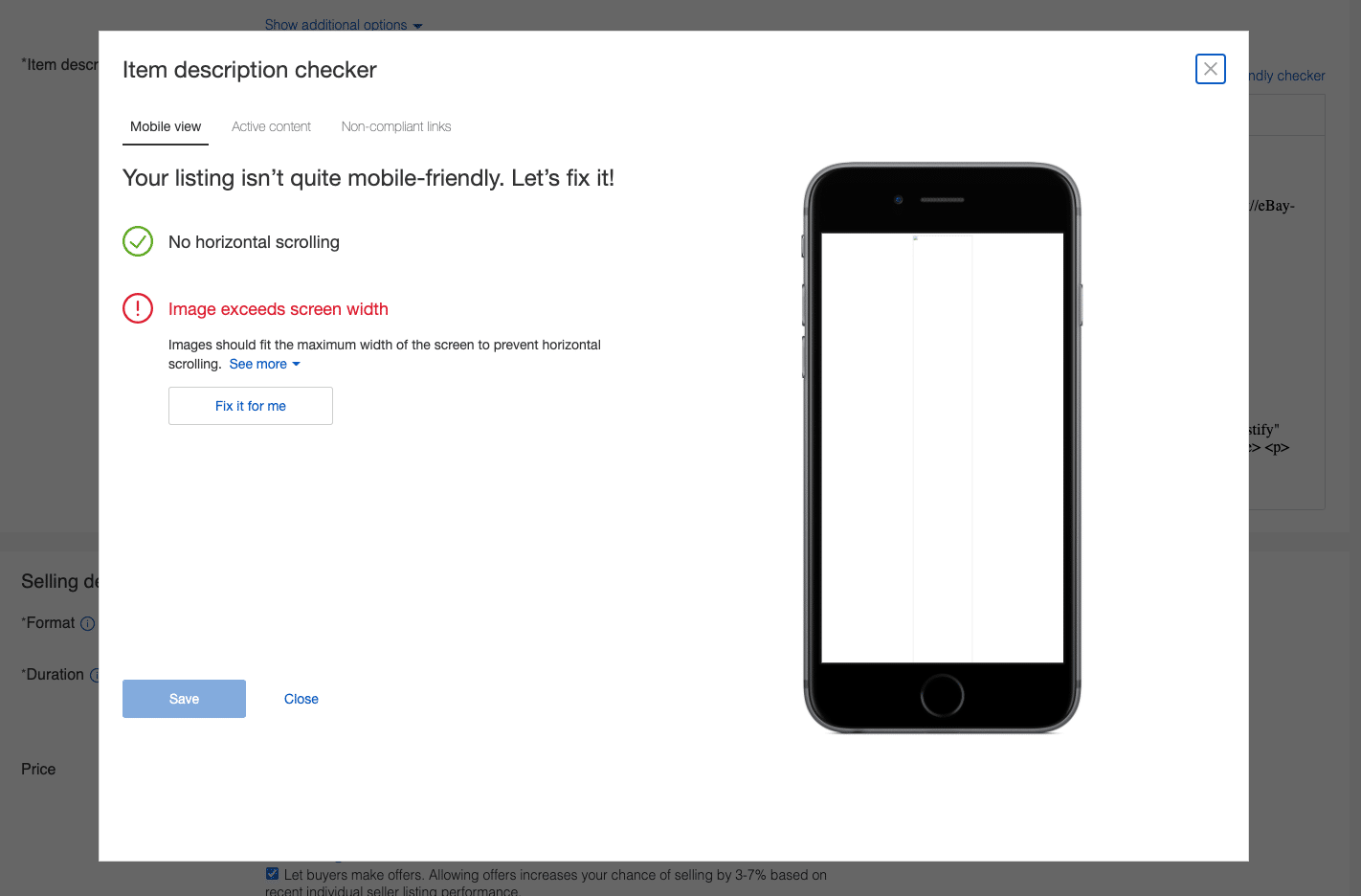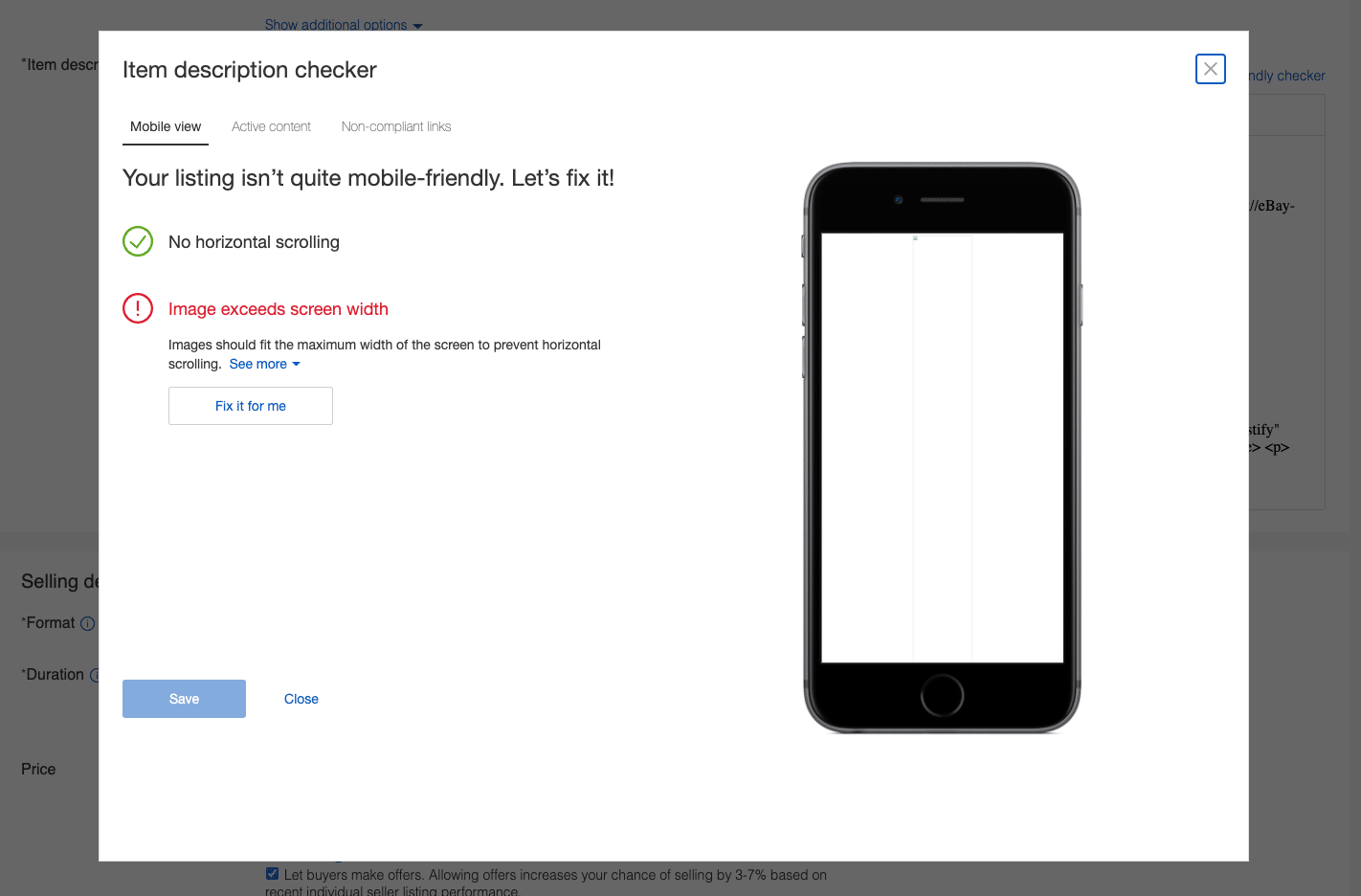 eBay listing templates can be faster with Nembol
Nembol current main functions are 4:
eBay listing templates interact with the first three functions
Since no other channel shares the concept of "listing templates" used by eBay, specifically Nembol works the following way:
Export listings from eBay: Nembol collects and extracts some information of an eBay listing (but not all of it). This because things like for instance categorization are done differently on different channels. Same with listing types, or product specifics.
Therefore, if you use an eBay listing template to create your eBay listings, Nembol will collect most information the listing template has projected into an eBay listing, but it will not extract nor save nor manage the eBay Listing Template itself.
List products across selling channels: since no other channel shares the "eBay Listing Template" concept, Nembol cannot cross-list items using a Listing Template.
Nevertheless, Nembol does in fact collect most information from an eBay actual listing, and share it on additional channels. We invite you to test a certain number of significant mock listings during your Nembol 14-day free trial.
Keep product content in sync over time and across channels: Nembol does manage HTML product-descriptions, but since not all channels accept the same set of HTML formatting commands (aka "tags"), once your start moving your listings across e-commerce channels, descriptions may start to "look" different between channels.
I.e. the product description will be coded differently on different channels. In such a case, you may want to proceed in one of two ways:
Disallow (set to "Off" in Nembol settings) the function that syncs content across channels, and use Nembol to sync inventory only, i.e. available product content.
Align also your eBay descriptions to the minimum common set of HTML tagging accepted across all channels you wish, or will wish, to use.
Discover exclusive content, insider tips by subscribing to our newsletter. It's quick, easy, and free! Join now and get a 10% discount!
By entering your email address, you accept our Privacy Policy and Terms of Use. Totally free. Unsubscribe at any time.
Nembol automation tools to ease your life
Rest assured that Nembol has built-in controls to minimize your effort.
For instance, Nembol:
filters some HTML tagging unwanted by specific channels
reviews your word-count
allows you to automatically review and even adjust titles to meet cross-channel requirements.
We invite you to try Nembol and to test it over the free-trial period!
Leave us a note below if you liked this article or if you need further information or answers on any cross-channel e-commerce listing issue. Share this article if you liked it, thank you.
Have a great rest of the day!