Overview
Etsy is a great marketplace for craftsmen, and for manufacturers of supplies and materials, such as paints, hardware tools, fabrics.
But Etsy has strict listing rules. Among such rules, some create problems for sellers wishing to expand their presence from eBay, or some other marketplace, to Etsy:
Etsy will not allow listings of items with above 999 inventory quantity;
Etsy will not allow listings with titles having stretches of all uppercase letters;
There are several other rules, but in this post, we focus on rule 1.
How to list on Etsy with unlimited quantity
What to put for quantity on Etsy
The 999 inventory count limit turns out as a problem for those who sell self-manufactured items, on-demand products, or items restocked with continuity.
When you list to Etsy such types of products, the best thing to do is to set the quantity to a very high number (e.g. 200), or directly 999. This will tell potential customers that there is not a limited quantity to be purchased.
Automatic restock in Etsy
When you set the inventory count to a low number, for example, 1 for on-demand products, you also need to activate the automatic restock. But please note that every time the product gets restocked, you will pay $0,20 in listings fees.
This solution can be used to avoid stock-outs while devising scarcity as a marketing strategy.
How can I move to Etsy my eBay listings if I have stated in eBay thousands of available inventory?
The same problem applies to sellers who use bulk listing tools to move their products from other channels to Etsy. Other marketplaces, like eBay, allow a much higher inventory count.
So if you have, for example, 10.000 available inventory for your items, you can of course list manually and edit each item's quantity, but this will take weeks if you have thousands of products on sale.
SOLUTION: Set an inventory quantity limit
To overcome this type of problem, Nembol has two different tools that will help you a lot:
If you just need to one-off transfer products to Etsy, you can change their quantity (on each variation too) to 999. This is done with our Quantity Bulk Edit tool (read below).
If you also need to sync inventory with other platforms (e.g. for dropshipping), you can set an inventory limit to publish your products with a maximum quantity of 999 and automatically restock as you sell.
Try Nembol for free: enjoy a 14-day trial
No credit card required
The Quantity Bulk Edit function
In Nembol you can bulk change the stock quantity of your products. You can do that:
Before bulk listing to a channel (Etsy, or anyone else)
After you listed your products (Nembol can be used as a centralized bulk editing tool for your listings)
Change quantities in bulk
This is how it works:
Import your listings from eBay (or Shopify, WooCommerce, PrestaShop) into Nembol;
Select in Nembol the products you want to change the quantity of (up to 200 at the time);
Click on the Actions button;
Select "Quantity bulk edit" (see screenshots below);
Assign a quantity of 999, or else;
Click "Save";
This will assign the quantity you chose to all selected products.
Please note: the edit will be pushed to all the channels where you listed those items (and for which you have Edit from Nembol activated). This process will take up to a few minutes, depending on how many products you have selected, on the current server traffic, and on the channel (Amazon is usually the slowest).
Now you can easily list to Etsy, and if your products were in error from a previous listing attempt, they will be corrected and successfully listed with no need for further action.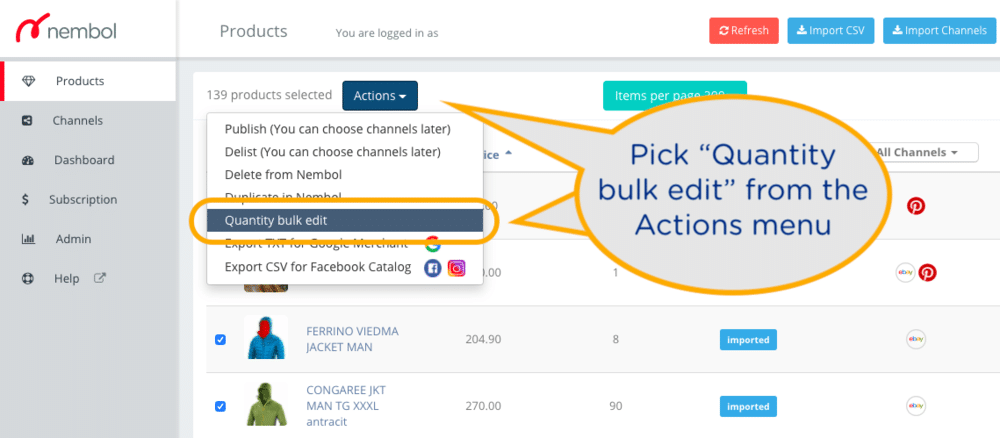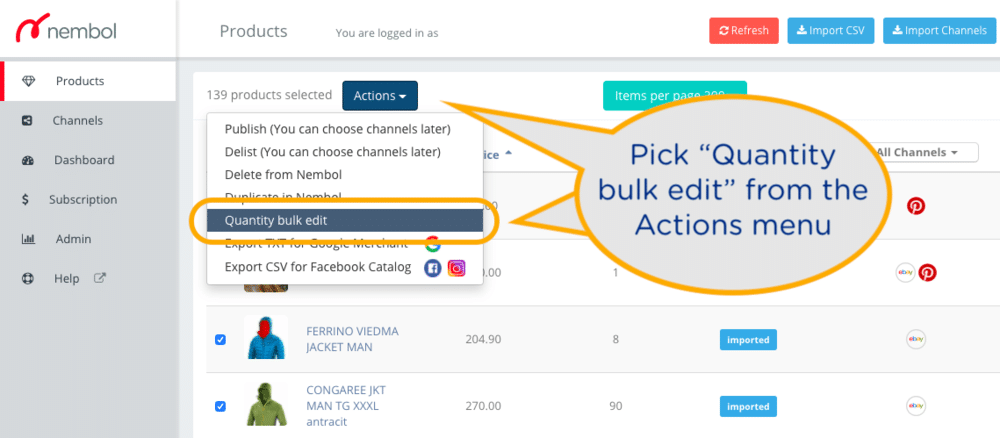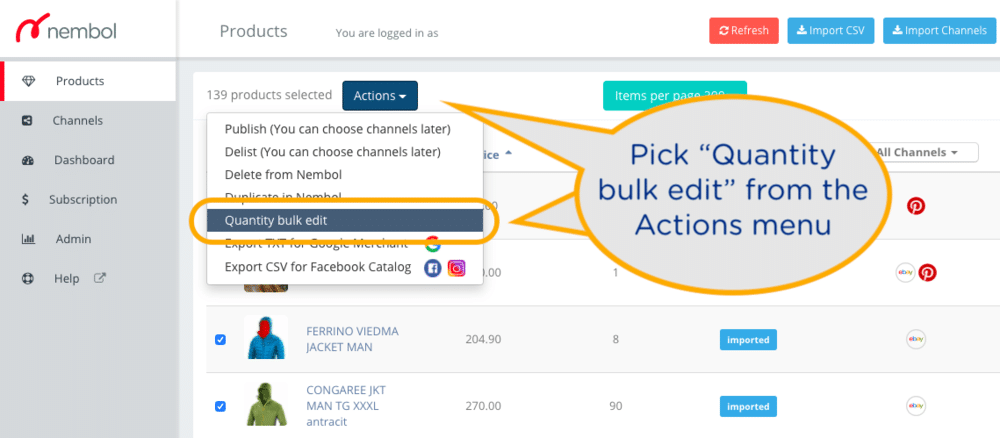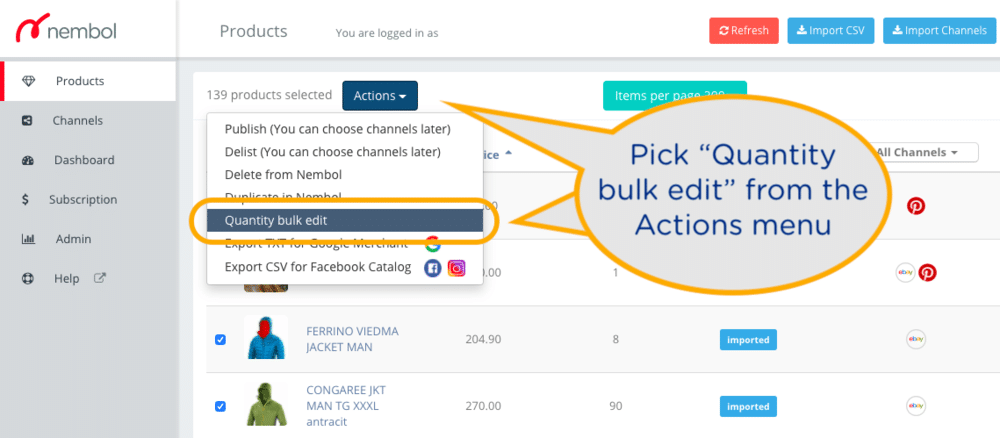 Discover exclusive content, insider tips by subscribing to our newsletter. It's quick, easy, and free! Join now and get a 10% discount!
By entering your email address, you accept our Privacy Policy and Terms of Use. Totally free. Unsubscribe at any time.
Will the bulk edit also change the quantity of the variations?
Yes! All the variations will have the quantity changed to the number you typed in.