Sync stock on multiple channels
Nembol is a cloud-based bulk-listing tool and inventory sync software. Meaning that it keeps your inventory synced in real-time across 5 e-commerce channels and marketplaces.
This automatic function has various features you can take advantage of: Nembol allows you to sync stock in real-time upon sales, automatically align inventories, and bulk-restock single products or groups of items.
In this article, after explaining in detail how these features work, we will show you how to correctly set up Nembol to sync your inventory. The last part of the article is dedicated to solving common issues that can occur when syncing inventory across multiple channels.
Real-time Stock Sync
Every time you receive an order in a connected channel, Nembol will adjust the quantity accordingly in connected channels where the Quantity Sync function is active.
This process is really fast: it lasts from a split second, up to a minute, depending on the specific channel and the current traffic on it (the slowest one is Amazon).
Example: let's say you have an inventory count of:
10 on Nembol
10 on eBay
10 on Shopify
When you complete a sale in any of those channels – e.g. you sell 1 item on eBay – Nembol will diminish the quantity in all other channels. The end result will be:
9 on Nembol
9 on eBay
9 on Shopify
Inventory Adjustment
Nembol also aligns the stock levels across your channels, giving you a way to bring order to messed-up inventories. This is useful, for example, when you use the Link Function to connect existing listings on different channels. Sometimes, the quantities are misaligned and the numbers need to be fixed.
Nembol automatically aligns quantities based on the inventory count you have in your Nembol account.
Example: for some reason, you have an inventory count of:
10 on Nembol
13 on Shopify
7 on eBay
You sell – say – 1 item on eBay. Nembol will reduce by 1 the quantity in its inventory, and subsequently push that given quantity to all channels. Meaning that your final quantities will be:
9 on Nembol
9 on Shopify
9 on eBay
Perfectly aligned inventories!
Bulk Inventory Restock
Nembol can be used to restock your items on multiple channels at once, or manually correct misaligned inventories.
You can restock product-by-product: just open a product in Nembol, change quantity and save. Nembol will push the new quantity to every channel where this item is listed, automatically aligning the inventories.
This can also be done in bulk for multiple products: use our Quantity Bulk Edit function to change the inventory count of multiple products at the same time.
Example: let's say you have an inventory count of:
0 on Nembol
0 on eBay
1 on Shopify
If you change the product's available stock in Nembol (but also in Shopify) to – say – 5, Nembol will update the quantity on all connected channels:
5 on Nembol
5 on eBay
5 on Shopify
Available Channels
Nembol can sync the inventory on the following channels:
Amazon
eBay
Shopify
Etsy
WooCommerce
Try Nembol for free: enjoy a 14-day trial
No credit card required
How to use Nembol's Quantity Sync function
How to turn the inventory sync ON or OFF
You can access the channel settings by clicking on the grey gear icon next to a given channel.
Each channel's settings has a switch that controls the Quantity Sync.
Turn it ON, and you will activate the inventory sync from that given channel
Inventory sync to a channel is instead always ON when that channel is connected to Nembol (i.e. you are logged in);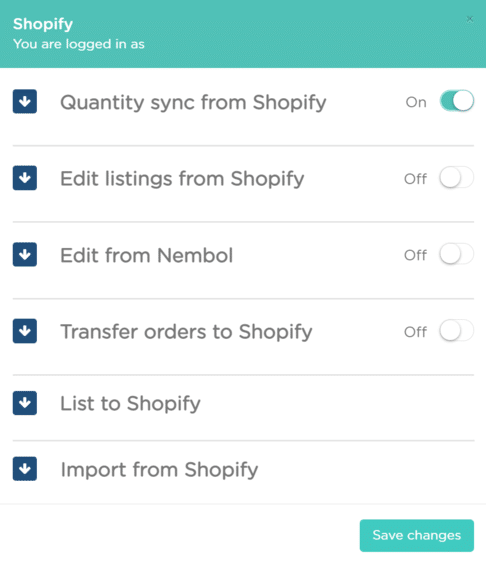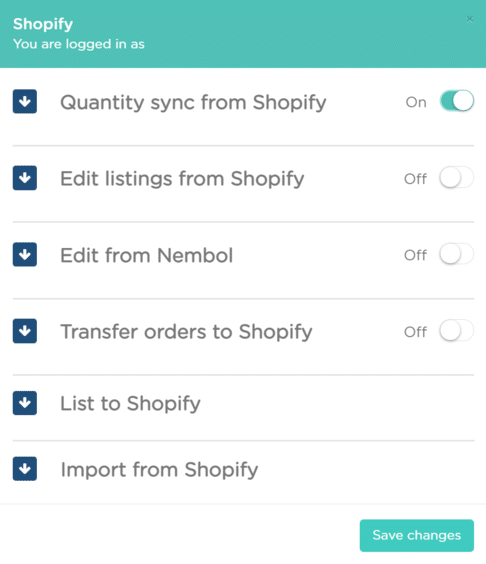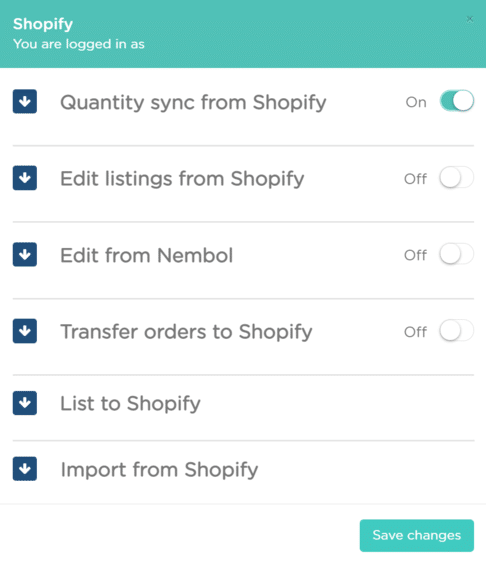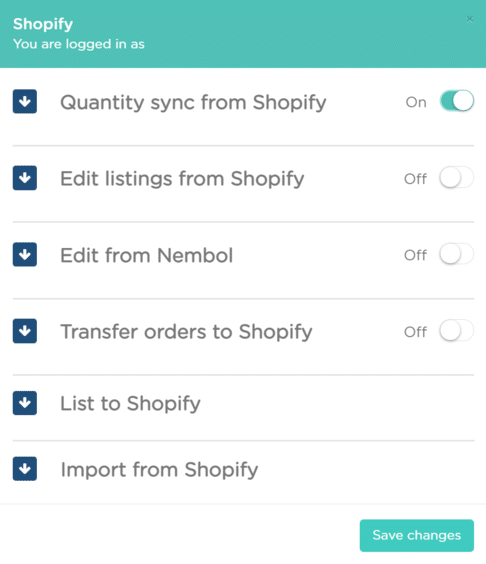 This means that, for example, if you turn the inventory sync OFF from Shopify, but ON from eBay:
If you get a sale for some product in Shopify, this sale will not change the quantity of that product in Nembol nor in other channels;
If you get a sale for the same product on eBay, this will be reflected in an inventory reduction for that product in Nembol and in all connected channels, including Shopify of course.
Remember to always save the settings!
How to sync inventory across Shopify, Etsy and eBay
Have a look at our video tutorial and see an example of how to activate the Quantity Sync from Etsy to Shopify, eBay, Amazon, and WooCommerce.
Important points about Stock Sync in Nembol
Products must be listed or linked via Nembol
Nembol can keep in sync only products imported in Nembol from a channel and/or exported from Nembol to a channel.
This means that it is not enough to connect a channel to Nembol and activate the sync to have items' quantity synced: the items have to be published via Nembol (or imported in Nembol) for the system to work.
Channels must stay connected all the time
Inventory sync across channels works only when they are actually connected to Nembol. This means that when you are not logged in, sync does not happen and cannot be updated even if you log-in later: sales sync is lost forever and will require a manual update.
Inventory sync is for sales only
Inventory sync works only upon sales. This means that if you edit a quantity in eBay, or Amazon, or Etsy, or WooCommerce, this edit will not be transmitted to Nembol, nor to other channels. Same with the exception of Shopify (Nembol supports edits done in Shopify).
Inventory sync is just about item quantity. Nembol will not sync title or description edits nor other edits. If you periodically need to update your items' descriptions, or titles, or other aspects, do it in Nembol: edits done in Nembol will in fact be exported to all channels.
Read the dedicated article: Edit from Nembol: bulk edit product content or inventory only
Edits done in Nembol will be duplicated to all channels as soon as they are connected, and will overwrite older versions.
How to restock items
If you need to restock items, do it either in Shopify (if you are a Shopify user), or in Nembol.
Discover exclusive content, insider tips by subscribing to our newsletter. It's quick, easy, and free! Join now and get a 10% discount!
By entering your email address, you accept our Privacy Policy and Terms of Use. Totally free. Unsubscribe at any time.