Overview
Selling multichannel has become the new normal, especially for retailers who want to scale their business, seizing the opportunities offered by multiple digital markets. In this new stage of retailing, marketplaces and eCommerce platforms play a leading role, fostering sellers' business profitability, getting them access to a broad customer base, and boosting their product offer exposure.
For many sellers, marketplaces have been the starting point in their online retailing experience, but for sellers who want to boost earnings and brand awareness, creating a branded e-store on an e-Commerce platform is the next step to take.
In this article, it will be explained which are the benefits of starting a Shopify store along with your marketplaces. Discover all the advantages you may have access to, and learn the best practices to launch and scale your e-shop up.
Why you should use Shopify
As an online seller, you might be already comfortable with marketplaces as selling channels, and probably you're using multiple of them, trying to gain more exposure and sales.
Of course, marketplaces are very popular and profitable, but, on the other hand, it can become quite expensive to keep up with all the fees and channel requirements. Moreover, those channels are product listing aggregators, meaning that they collect tons of insertions of the same items. That makes the market competition a rat race, where only sellers with lower prices can expect to grow their sales.
All those factors have driven many sellers to consider opening their online stores, carving out a space on the web to let their business grow. There are several eCommerce platforms that can be used to create your personal store, but we will focus on Shopify, considering it is the most user-friendly and suitable both for newbies and experienced sellers, striking a balance between cost and available services and features.
Have a look at this article to know more about other eCommerce platforms' pros and cons.
So, why should you use Shopify? And how to use it in combination with your marketplaces, gathering everything in one place?
Is a Shopify store worth it?
Shopify is one of the most user-friendly eCommerce platforms, with a good price-performance ratio.
Shopify is a cloud-based platform, which means you can access it directly from the web, avoiding hosting taxes or servers rent. These types of eCommerce platforms tend to prioritize the ease of use over the degree of customization of the storefront design.
Indeed, unlike on-premise platforms, Shopify comes provided with an already coded set of templates and an intuitive design, which allows getting used to it quickly. You may utilize Shopify's free e-commerce templates or pay for the pro themes. Any design will automatically adapt to different devices' screen sizes, avoiding text overlapping or broken buttons.
The store set-up is very intuitive, the dashboard well-formatted, and for every doubt or curiosity, there are tons of guides, videos, articles at your fingertips. You can even find tutorials on the best SEO practices and how to use its built-in tools.
Moreover, using Shopify as your store headquarters and connecting it with your favorite marketplaces can be very convenient for you. Indeed, you can leverage on marketplaces, where most consumers gather to find and buy products, to get your offer known. Once gained exposure for your items offer, it will be much easier to drive traffic to your Shopify store, where you will be able to freely manage your products and set your prices according to your needs.
Read more on this topic:
How to connect Etsy to Shopify
Learn how to sell multichannel: get free education, tips, and inspiration. Start growing your successful multichannel business. 
By entering your email address, you accept our Privacy Policy and Terms of Use. Totally free. Unsubscribe at any time.
How to launch a Shopify store
Now that all the pros of having an eCommerce have been underlined, you are probably wondering how much time and effort will take to lunch your store.
Even though it might seem a burdensome task, you will probably be glad to hear that starting an e-store using Shopify is a few-hour job. Indeed, you can start by setting up only the main pillars of your website, and, as you get more familiar with the tools, increasing the degree of complexity and sophistication of your store.
Shopify launch checklist
Let's see how to configure – step by step – an online store using Shopify.
1. Sign in and create an account. Shopify provides its new users with a 14-day free trial, where you can start build your store and get used to the available features. All you need to complete the registration is:
Your business e-mail
A strong password
The name of your brand/store, which will be displayed in your website domain.
2. Opt-in your store settings. Firstly, open your setting store tab by clicking on the grey gear icon – see the screenshot below – and go to General, filling the blanks with the requested data. Afterward, connect a payment system, hence how you want customers to pay for your products. You can choose to rely on Shopify Payments or use additional apps such as Stripe or Paypal.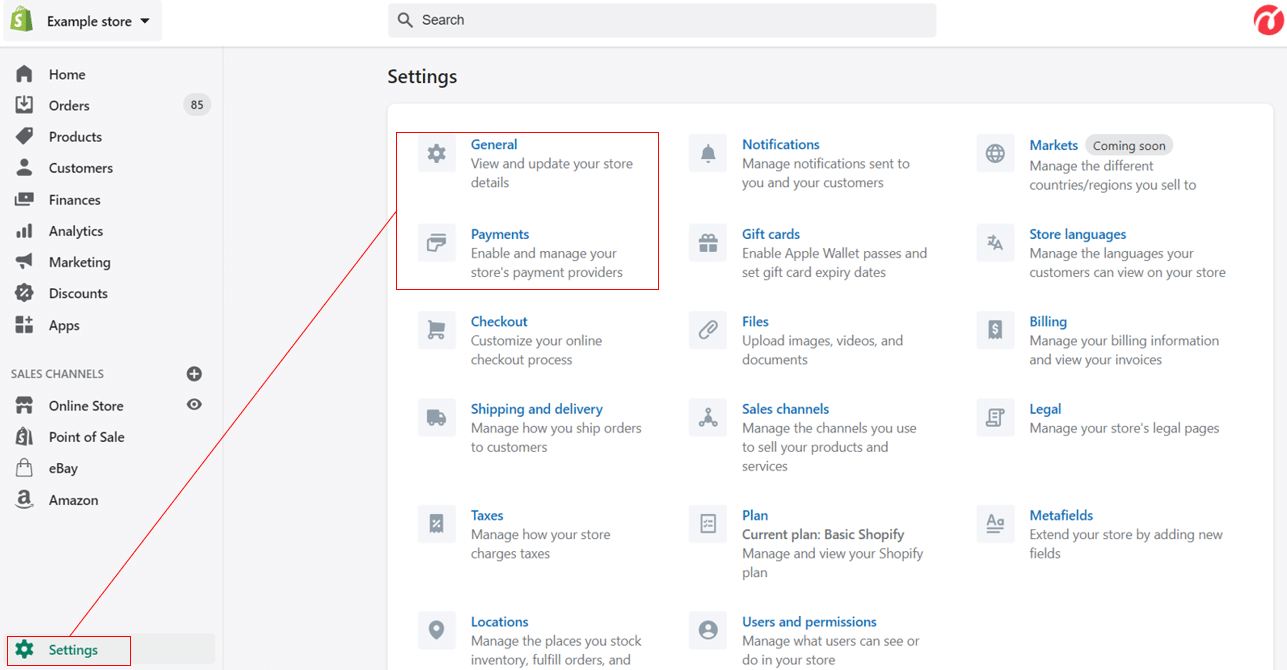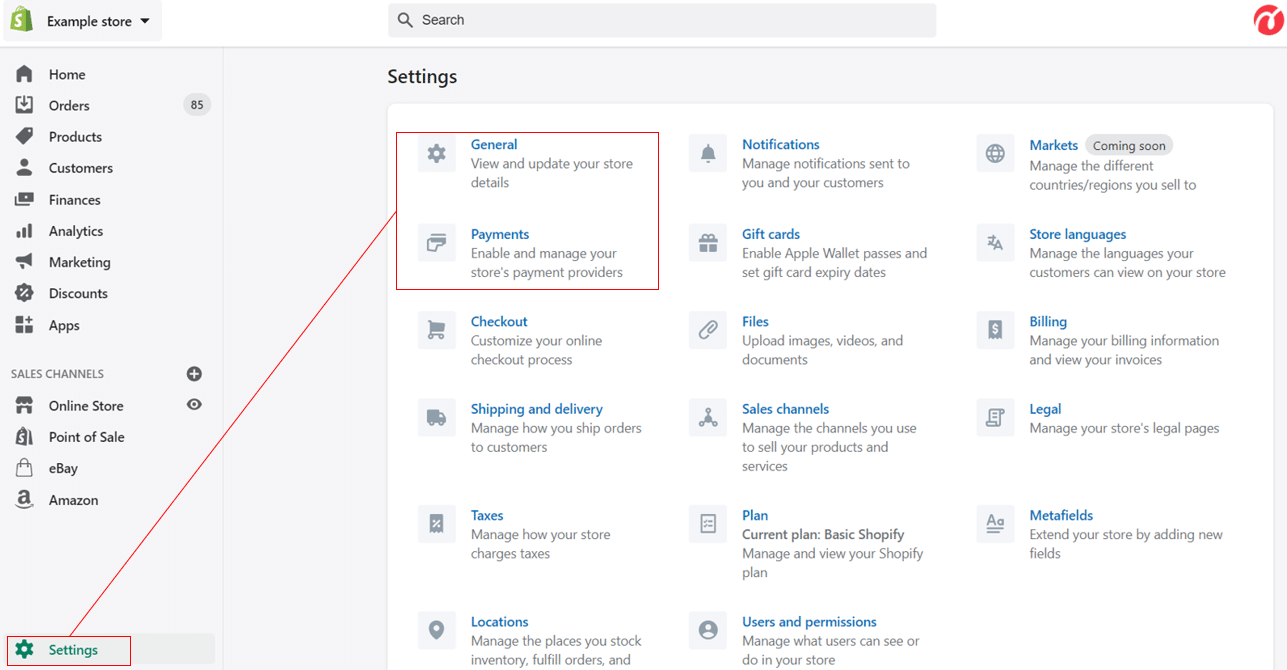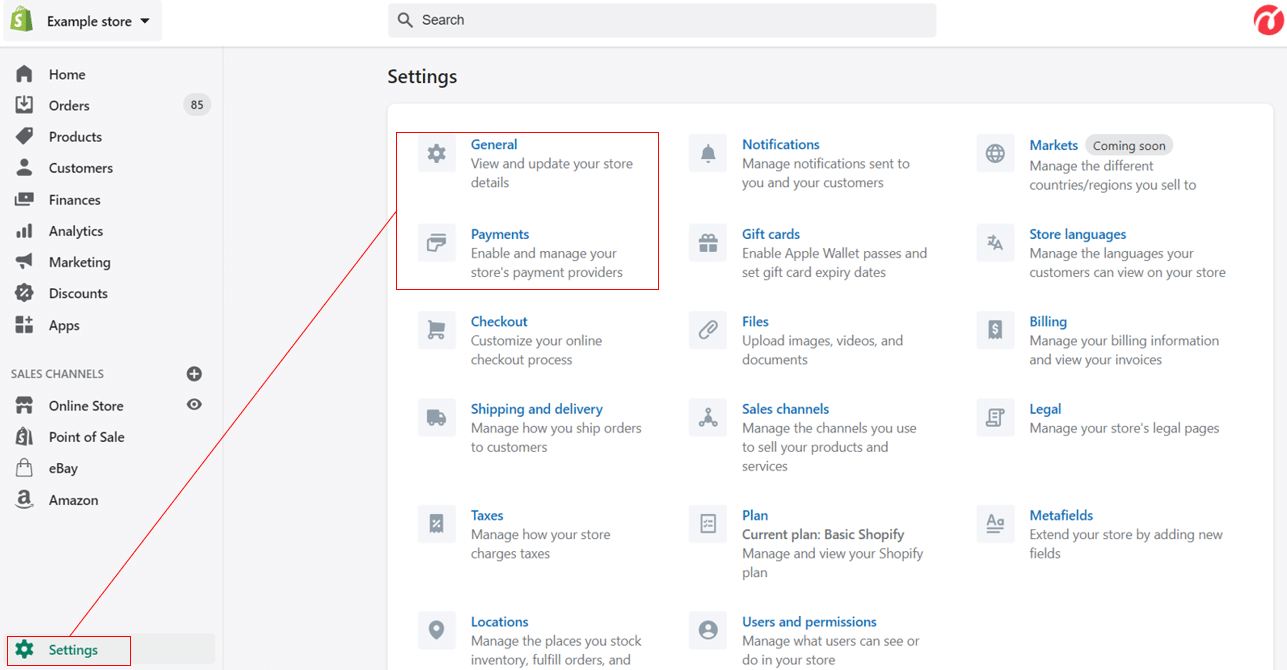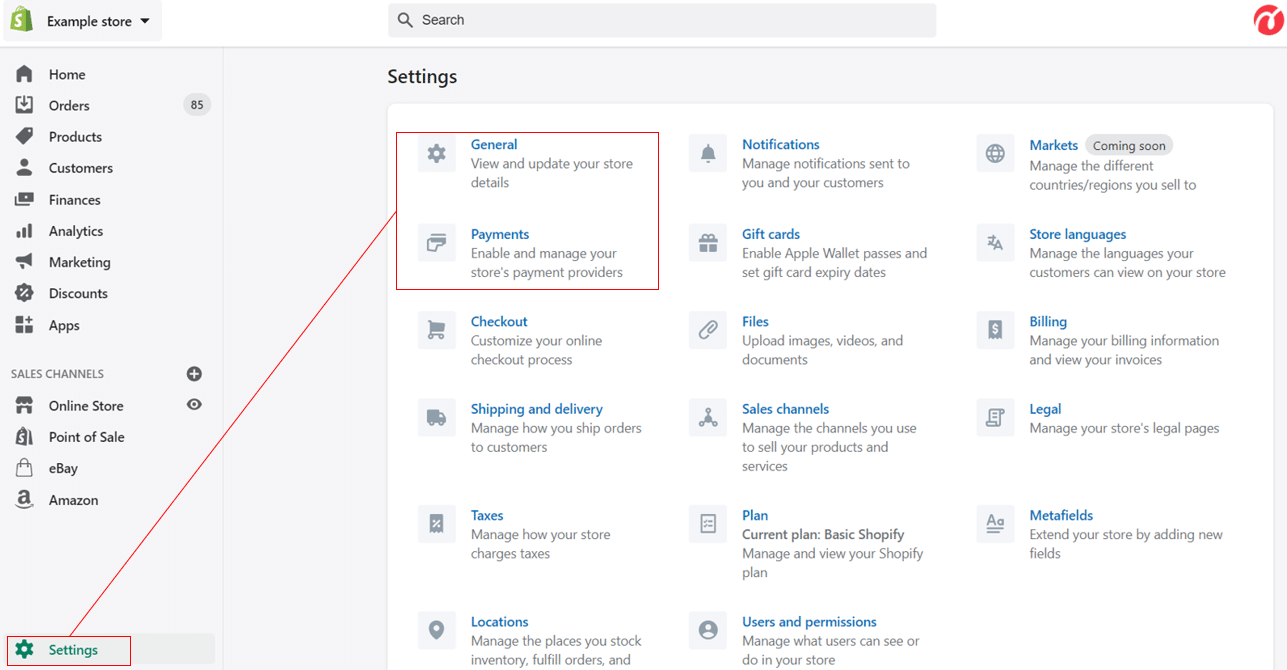 3. On the admin page, you can start customizing the design of your store by choosing a theme, fonts, colors, or a new logo. For fledging users would be recommended to use free of charge themes that are already coded and ready to use.
4. Create a custom domain. To foster your brand recognition and store exposure, it could be convenient to choose a custom domain with your store or brand name. Go to admin to create and buy your personal domain.
5. Populate your store with your products. At this stage, you should add all your products and listings. But without using software, this task will be extremely time-consuming, especially if you already have created and optimized listings on your most used marketplaces. Luckily, you can use a third-party app like multichannel listing software to bulk-publish your listings from multiple sales channels to your own branded Shopify store.
6. Create product collections to organize products and seasonal sales. Go to the Product tab, click on Collections and select "Add New Collection". Using Nembol, you can import multiple or single collections according to your needs.
7. Set up and Manage your tax accounting in Shopify. Considering you must collect sales tax from your consumers, Shopify provides users with a tool to automatically calculate taxes based on current sales and tax rates.
8. Choose a shipping and delivery profile to manage how you want to send envelopes and packages to your customers.
Now that you have managed and set up the main settings, you can start launching your store, adding or customizing, at a later time, additional preferences.
Start selling like a pro using Shopify!
Start using multichannel automation tools
Using Nembol with Shopify, you will be able to connect your favorite marketplaces to your store. Subscribing to Nembol, you will centralize the management of your multichannel business, using Shopify as your main source channel. Nembol connects to many marketplaces, social, and eCommerce platforms, such as eBay, Etsy, Amazon, WooCommerce, Facebook Catalog, and many more integrations!
Moreover, with Nembol, you can take advantage of many useful features, such as:
The inventory sync, to keep qualities aligned across channels.
The order transfer, to import orders into Shopify's backend, making fulfillment and shipping super easy.
The link listings feature, useful to connect your existing listings across multiple channels, avoiding product duplication or syncing glitches.
Try Nembol for free: enjoy a 14-day trial
No credit card required