Overview
To meet users' needs, we recently added weight and dimensions item specifics to Nembol product card.
Thanks to this recent release, sellers can now import and export their multichannel listings with weight and dimensions, or even add weight and dimensions, via Nembol, to their existing listings. This facilitates order fulfillment and allows Etsy and eBay sellers to set and use calculated shipping profiles.
Keep reading to learn more!
How does Nembol sync multichannel listings?
How to sell multichannel profitably
Nembol is an app designed to help multichannel retailers to cross-post their listings on 14 different channels and keep the inventory synced every time they receive an order or manually change the available stock.
Indeed, keeping an eye on every channel and controlling everything is troublesome, especially if you manage multiple stores on different channels: each platform needs to comply with different rules and policies.
Let's face it: running multiple stores is profitable but really burdensome, as it increases the complexity of the business, mainly if you run your business alone or with a small team. Indeed, the more channels you have, the higher the chances you have to jeopardize your seller rating and customer satisfaction because of oversights or overselling.
That's why Nembol is provided with functions designed to ease the life of multichannel sellers: bulk-migrations, automated inventory sync, central edit, and more.
Multichannel syncing functions
For example, through the quantity sync function, Nembol automatically aligns the available stock every time you get an order or manually edit your inventory, so you don't need to do it on your own for every channel.
Another useful tool is the bulk-listing function, which lets you export your listings from one store to another. By doing so, Nembol transfers most item details, among which item weight and dimensions.
How do weight and dimensions work on Nembol?
Automatically transfer weight and dimensions
Providing weight and dimensions is very important for sellers because they can have a clearer idea of how to set the shipping and how much it will cost them.
With Nembol, you can easily import your items provided with all the main product details, including weight and dimensions. You can import your listings from Etsy, eBay, Amazon, Shopify, and Woocommerce.
If you sell in different regions, such as the United States and Europe, Nembol will automatically convert the weight and dimension unit of measure during the publication process.




At the moment, only to Etsy and eBay accept both weight and dimensions, while Shopify accepts weight only. If you need to export listings with weight and dimension to other channels as well, contact us through the built-in chat and let us know. We will add this function as soon as possible.
Weight and dimensions channel by channel
Weight and dimensions on Etsy
On Etsy, the weight and dimensions of the good sold are crucial to estimate your shipping costs and organize shipping charges and prices.
Knowing the weight and dimensions, you have a clearer idea of the shipping fees, and you can decide whether to charge your customers for shipping or include it in the item price, offering free shipping (which is one of the best selling tips on Etsy).
With Nembol you can import your Etsy listings provided with weight and dimension details, and export them to up to 15 integrated channels. You can also import listings from other channels, such as eBay, Amazon, Shopify, and WooCommerce, and publish them on Etsy with all the weight and dimension details.
Weight and dimensions on eBay
With Nembol, you can publish multichannel listings with weight and dimensions on eBay, or use this channel as the source from which to export your listings. Moreover, on eBay you can also set a calculated business policy to have the shipping cost estimated on the basis of customer location and the weight and dimensions of the sold product (keep reading to know how to set and use this feature).
Weight and dimensions on Amazon
You may use Nembol to import all of your Amazon listings details, including weight and size.
Weight and dimensions on Shopify
Shopify doesn't provide sellers with an item-dimension field, but only with weight. Thus, by importing your listings from Shopify and exporting them to eBay, you will have size as missing product data. In this case, you can decide to:
Add sizes by opening the product in Nembol, and editing it before the publication.
Proceed by publishing your listing as it stands.
However, on Etsy, all details are required, hence if you post a Shopify product (or simply a product that doesn't have all the weight and dimension details) an error may be returned and prevent you from posting it.
In this case:
Open the product in Nembol.
Edit it by adding the missing data.
Save and retry the publication.
Weight and dimensions on WooCommerce
With Nembol, you can import your WooCommerce listings provided with weight and dimensions and publish them on additional channels of your choice.
Try Nembol for free: enjoy a 14-day trial
No credit card required
How to create a shipping profile on Etsy
If you're an American or Canadian seller, you have accesso to an exclusive service: Etsy calculated shipping profiles.
Basically, if you ship your products with USPS, GlobalPost, or Canada Post, you can use the calculated shipping profile, which allows you to automatically determine the cost of shipping for purchased products on the basis of product weight, external size, and distance between the shipping location and the customer's address.
Moreover, weight and dimensions are also extracted by the product details and, in case of multi-item orders, used to determine the size of the package. The latter is taken into account by Etsy to assess your postage costs (this is true only for sellers who use Etsy's default boxes).
Now that you know what this Etsy feature is, you're probably wondering how to create a calculated shipping profile on Etsy and use it with Nembol. Well, all you need to do is:
Open your Etsy store manager.
Click on the settings and select the shipping settings.
Add a new shipping profile > Calculate them for me.
Add the shipping data and don't forget to use the processing time feature to let your customer have a clearer idea of the shipping timing.
Confirm.
Name your shipping profile and click "Create".
Once you've created your profile, select it in Nembol, and use it when listing your items.
All you need to do is:
Access Nembol Channel Tab.
Open the Etsy settings.
Select the "List to Etsy" settings.
Scroll down to Delivery Profile.
Select the profile you want to use with your products.
Remember to click "Save changes".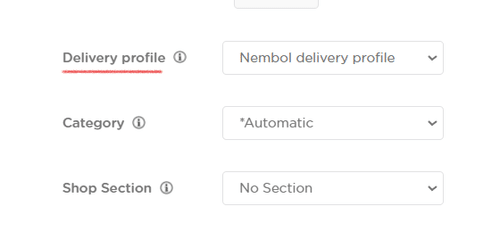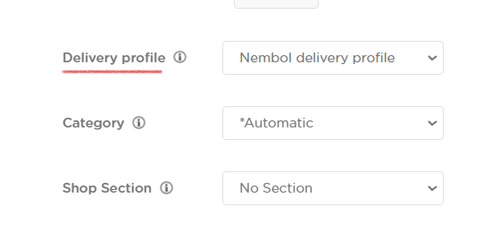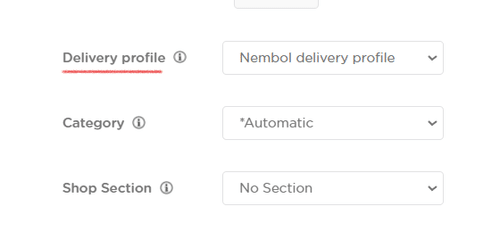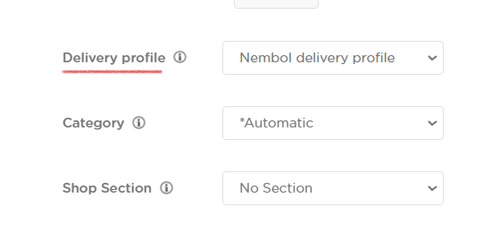 eBay calculated shipping rule
Unlike Etsy, creating the calculated shipping on eBay is not a straightforward process, and it eventually requires setting up eBay shipping policies.
eBay provides a shipping calculator that helps you to automatically calculate the shipping fees according to the buyers' location and the weight and dimensions of the sold item. This shipping service is useful especially for retailers who sell groups of similar items in standard sizes (e.g. vinyl, CDs, books).
Indeed, to use the calculated shipping policies, you will need to bulk-assign the shipping policy according to the size and dimensions of the parcel of objects that share the same weight and dimensions features.
All you need to do is:
Log into your eBay account.
Click on the "account settings."
Select shipping preferences in the "selling" list of settings.
In the settings line "Allow combined payments and shipping" habilitate the Combined payments setting by clicking on "edit" which will unlock the calculated shipping option (screenshot below).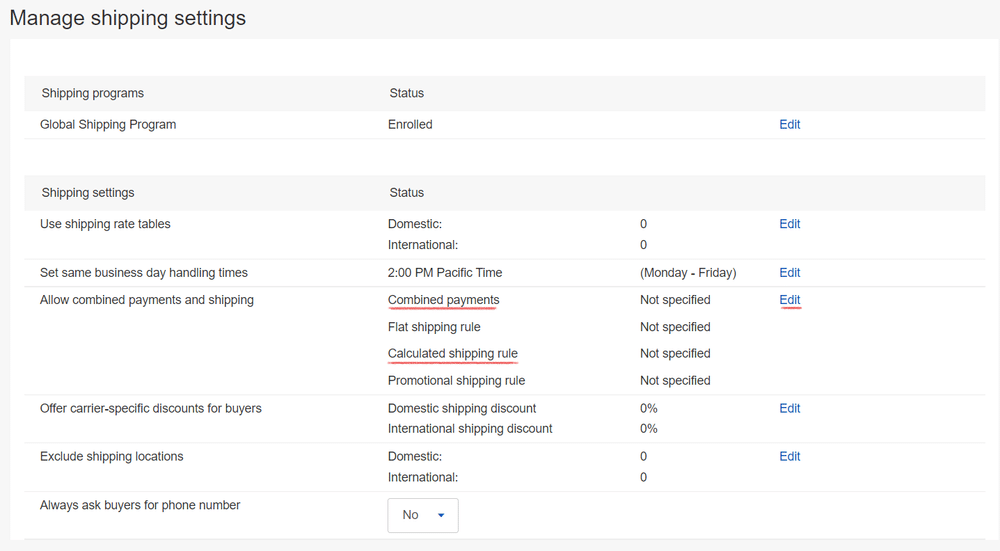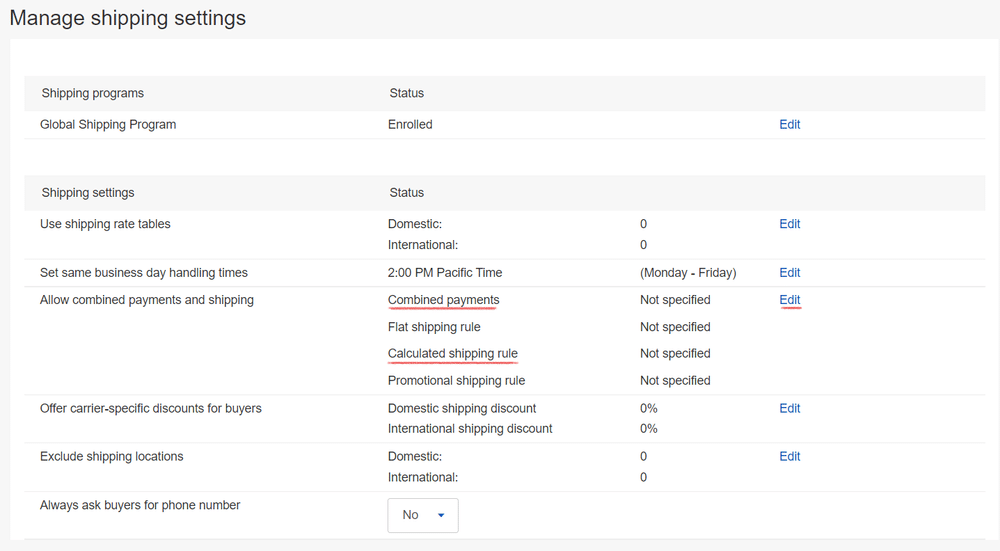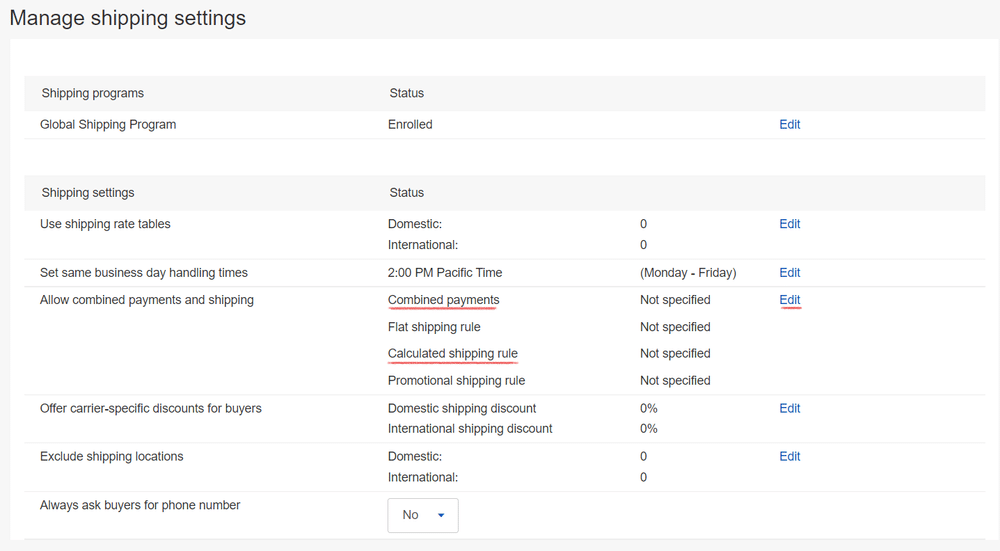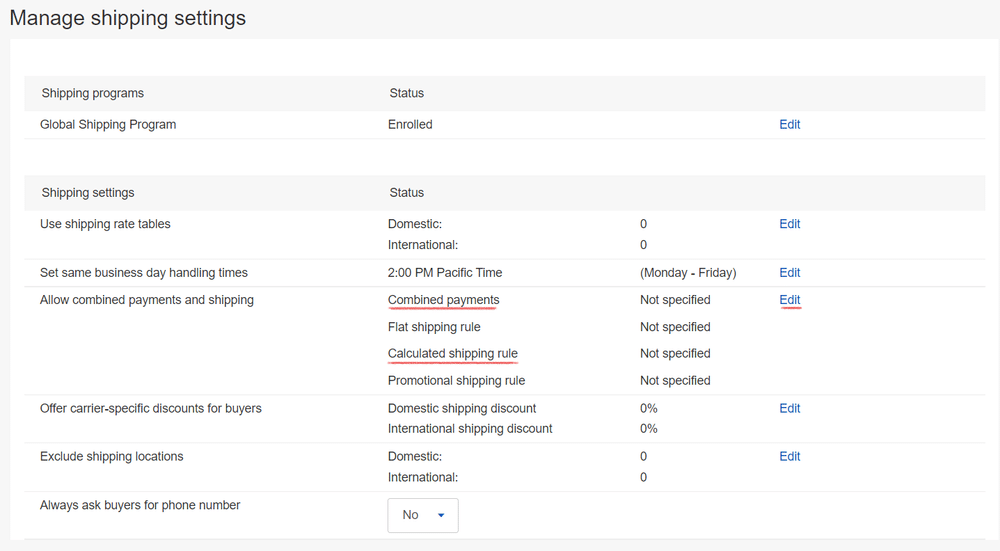 Select calculated shipping and select the option "combine all item weight."
Keep going and select the "handling cost rule" you want to use.
Open your business policy tab and click on "opt in" to be redirected to your policy.
Edit the Shipping policy to which you want to apply the rule of calculated shipping.
This will display the settings of the selected policy. Now open the drop-down menu > select "Calculated: Cost varies by buyer location" > and opt-in "Apply my calculated shipping rule."
You're done!




Now that you've correctly set your calculated policy, you can:
Open Nembol "Channel tab."
Click on settings next to the eBay icon to open the drop-down menu of eBay settings.
In the "List to eBay settings" select the business policy you've created and Save changes at the bottom.
Now start bulk publishing your product with your calculated business policy!