Overview
As a seller, you always need to deal with order fulfillment, stock amendment, inventory replenishment, edit on listing content, and all the other tasks required to run an online business.
However, everyone needs a break!
But how can a seller activate the Vacation Mode and pause sales without undermining its seller status? How to temporarily stop receiving orders on one or all of your e-shops? How to put a shop on hold and reactivate it after the holidays?
Let's find out together!
What is the Vacation mode?
The vacation mode is a setting to temporarily pause a shop's availability on channels and prevent new purchases while the seller is away and unable to fulfill and process orders, or simply needs a break to start or reorganize a shop. 
When a shop is in this status, customers can still view the shop and its listings, but they – generally – cannot make new purchases until the shop owner returns and deactivates vacation mode.
The main Pro of the "holiday mode" is that you can still attract users and keep the target audience's interest in your products and brand while you're away.
Etsy vacation mode
How to put an Etsy shop on vacation?
Turning Vacation Mode ON in your Etsy shop is super easy.
All you need to do is:
Log in to your Etsy account and access the backend in Shop Manager.
On the left sidebar, click "Settings" and then "Options".
Under the "Vacation Mode" section, click on the "Edit" button.
To put your shop on "Vacation mode", flip the switch "ON".
Type a Vacation Announcement: a custom message to show your buyers when in your shop
Set an Automatic Reply to let your customers receive prompt communication if they send you a message.
Save to Confirm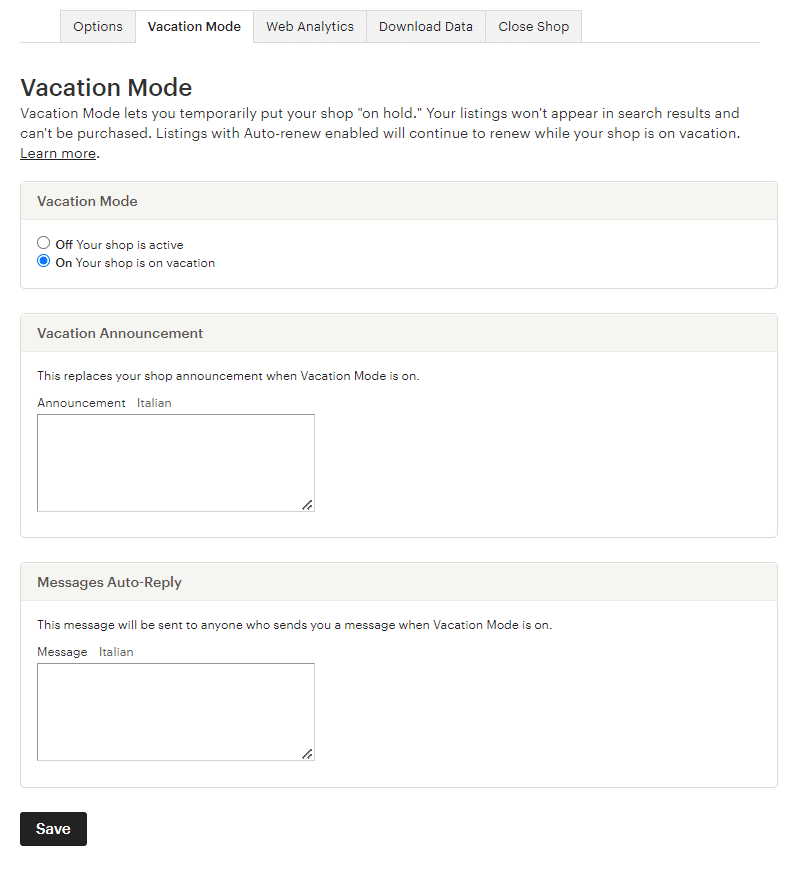 What happens when you put your Etsy shop on vacation mode?
During your short break, a notice will be displayed in your-shop to let your customers know you're temporarily off.
Only those who search for your exact store name will be able to find you, while your products will not show up in the Search results. 
Even having your store on vacation mode, you'll still be able to:
Check on orders and fulfill the pending ones

Receive messages

Issue refunds

Cancel orders 
Does putting my store on vacation mode slow sales?
According to Etsy, using the vacation mode doesn't affect your seller status or performance. Nevertheless, having your listings hidden from the search results means that your competitors' products will get more views and purchases, and, as a result, get more customers, reviews, and all the benefits of having the store up and running.. and with less competition!
eBay Time Away
How to put eBay on vacation mode
To temporarily suspend sales and commitments while you're on holiday, you can use the eBay time away setting (AKA eBay Vacation mode).
eBay store on vacation mode allows you both to receive new orders or pause on the basis of your settings. In the first case, if you run shops on multiple channels, you definitely should consider using eBay inventory management software to update stock levels while you're away.
However, as for Etsy, when the Vacation Mode is ON:
Orders received before still have to be fulfilled.
You must reply to messages and requests of buyers received before activating the vacation setting.
Your eBay store subscription will be up and running, therefore, listing and account fees will still be changed.
Discover exclusive content, insider tips by subscribing to our newsletter. It's quick, easy, and free! Join now and get a 10% discount!
By entering your email address, you accept our Privacy Policy and Terms of Use. Totally free. Unsubscribe at any time.
To put your eBay in Vacation Mode, please:
Access your "Hi, your store name" page
Click on "Account Settings"
Under the "Selling menu" pick "Time Away"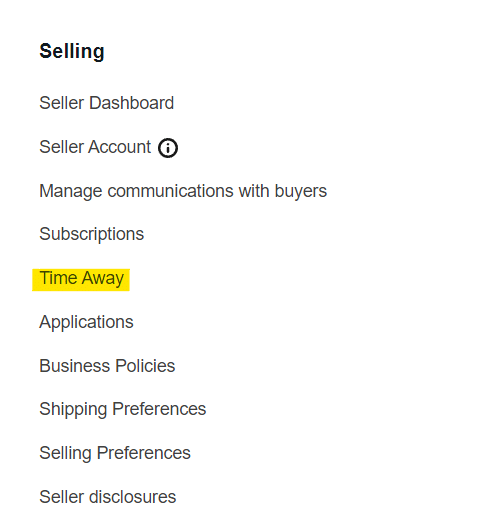 Click on the " Schedule Time Away" button.
Decide whether to "allow item sales" (customers will still be able to buy but knowing the order processing time can be longer since you're away) or just "Pause them"
Set a starting and ending Date.
Apply to confirm.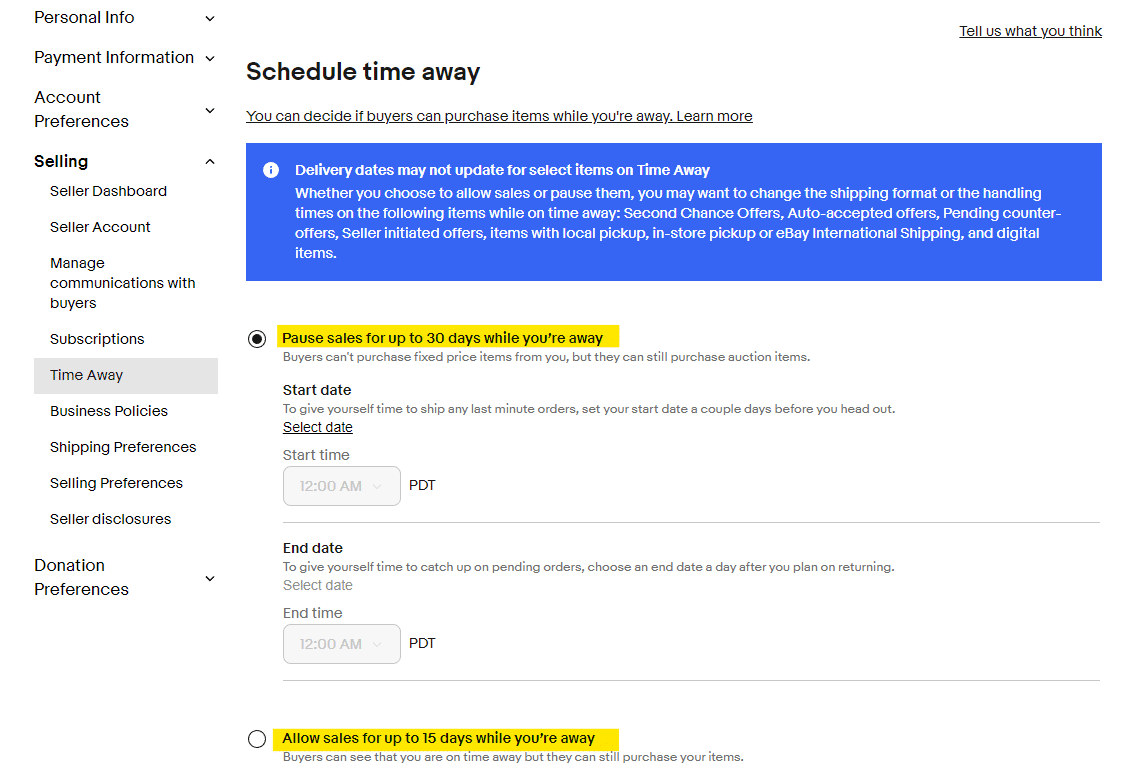 Amazon Seller Vacation Mode
Can you put the Amazon seller account on vacation?
As for eBay and Etsy, even on Amazon you can go on vacation and set up your account accordingly.
However, the functioning of the Vacation Mode is slightly different from other marketplaces, and it changes based on the type of fulfillment offered:
FBA (Fulfilled By Amazon): As Amazon already has your products in their warehouses, your listings can remain active and can be sold even when you're on vacation. This can make you think FBA is worth it..but don't forget it's pricey!
FBM (Fulfilled By the Merchant): Amazon needs about 36-48 hours to process your request and put you on vacation mode. If you don't remove listings before being OFF you'll have to fulfill them (so be careful).
How to put Amazon on Vacation Mode?
Log in to your Amazon Seller Central account.
Go to the "Settings" tab and select "Account Info".
Under the "Listing Status" section, click on the "Edit" button next to "Vacation Settings."
On the Vacation Settings page, click on the "Activate" button to turn on the Vacation Mode.
Set the start and end dates for your vacation period.
Optionally, type an automatic message to send to customers.
Save your changes to activate the Vacation Mode.
Shopify Vacation Mode
How to pause a Shopify store?
On Shopify there is no setting to stop the sales when you're on Holiday or taking a break from selling. That's because unlike marketplaces, where you get displayed among hundreds of search results, on Shopify you have your own e-commerce shop ranking on Google, with your brand and domain.
Therefore, to notify your customer your store is in "Vacation Mode", you can:
Add a banner to notify the customers that orders placed from date "x" to "y" will be fulfilled with delay. Or that orders will be on hold for a number of weeks etc.
Protect your Store with a password and make it private for the entire period of your break. Note that this solution may affect your ranking in the long term.
Switch to the Pause and Build plan, which will convert your store into a "Showcase" without the Payment checkout. Choosing this option allows you to keep ranking on Google. However, potential customers may be puzzled and may think your website doesn't allow online shopping.
To be fair, none of these options will benefit your business, that's why you may rather look for alternative solutions.
Alternatives to the Vacation Mode
Let's look at some alternatives you can consider instead of putting your business on hold:
Hire someone to work while you're off: this could seem pretty obvious, and certainly, if you haven't done so far it's because your business still needs to grow to pay for an employee's salary. However, for short periods of time, you may consider hiring a freelancer and giving them access to third-party software, so they can help you manage your business without giving them full access to your sensitive business details.
Use an Inventory Sync Software: Whether you have an employee or manage your business on your own, using a comprehensive multichannel software like Nembol can ease your life! Nembol allows you to seamlessly manage your listings and inventory across multiple channels centrally. This way, you can easily control and sync your stock, keep an eye on sales, or easily update product details. Whenever you need to make changes or run action centrally without the need to activate or deactivate vacation mode on each individual channel, you can rely on Nembol.
Extend your handling time or adjust your shipping policies to get more time to fulfill the orders you'll receive during your break. By employing an inventory sync software instead of relying on vacation mode, businesses can ensure seamless stock synchronization even when facing extended processing times from sellers. Even during busy periods or delays in processing, the system will accurately reflect the available stock, preventing overselling and ensuring timely order fulfillment. By embracing this efficient solution, businesses can maintain a good reputation for reliable service and improve customer satisfaction by consistently meeting delivery expectations.
Conclusion
In this article, we have examined how vacation mode works across popular e-commerce platforms like Etsy, eBay, Amazon, and Shopify. We've evaluated the benefits and drawbacks of using this setting and some alternative options that can come in handy when you need to pause operations.
Remember, whatever option you choose, clear communication with your customers is crucial. Update your store's announcement, improve your conversational commerce strategy, and use automated messaging systems to inform buyers about your temporary absence.
Nourishing transparency and managing customer expectations will help to maintain trust and minimize any negative impact on your business.
Try Nembol for free: enjoy a 14-day trial
No credit card required