Shopify product tags: benefits
Tags have tons of benefits, which you should keep in mind to use this resource effectively. That's why we have collected a roundup of reasons you should use tags to improve your business management and your store performance:
Tags are useful to create collections and have better navigation inside your store.
Shopify product tags can be also used for segmentation purposes and to identify your target customer and attract this niche.
Labeling your products can help creating a more automatic categorization system.
Tagging products allows improving a store performance, providing filters that customers can use to find what best suits their needs.
Tags may help sellers go through different product variations. So they can find the right color, size, price, or any other customization created by you.
Tag orders to improve order management
Tagging orders (even draft orders) can help you sort the sold products, helping you manage the fulfillment workflow. For instance, you can create custom tags to label orders on the basis of the chosen shipping method, prioritizing customers who paid for the express shipment. That makes sellers' life much easier, especially for multichannel sellers who, using Nembol, might transfer marketplace orders into Shopify. These retailers could use tags to assign different priorities for shipping or simply distinguish orders by channels and have control over multichannel orders that have been/need to be fulfilled.
Use tags to create better navigation menus
Smart store managers use tags to create dynamic collections in Shopify, which in turn feed dynamic navigation menus. Below is a screenshot of a menu built with this technique: the historical mountaineering gear manufacturer, and long time Nembol client, Grivel built their online stores' menu using collections based on tags. This way they can quickly and effortlessly update product categories and navigation, just by managing tag to products (e.g. add FW2022 for "Fall Winter 2022" to create sales buckets in the future).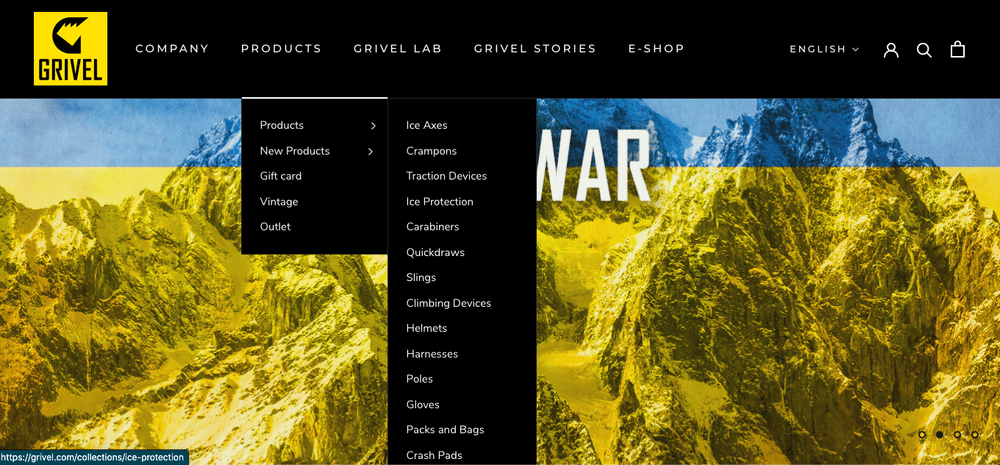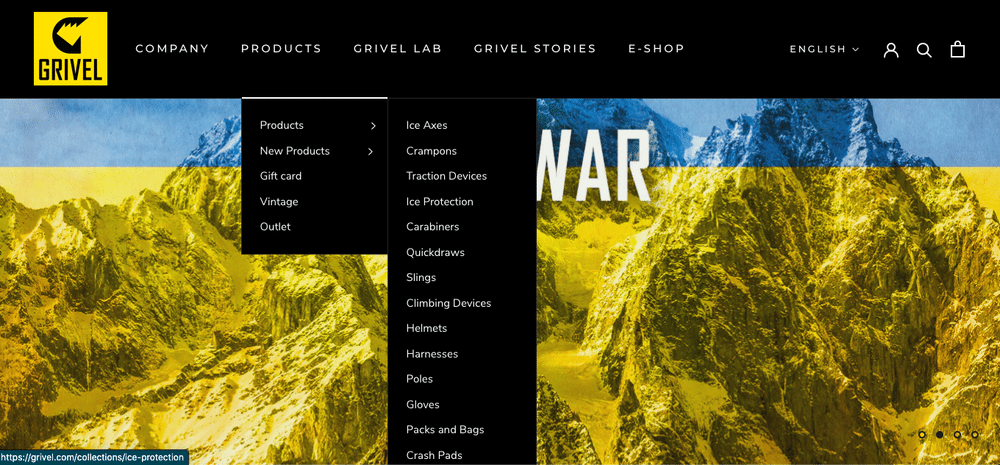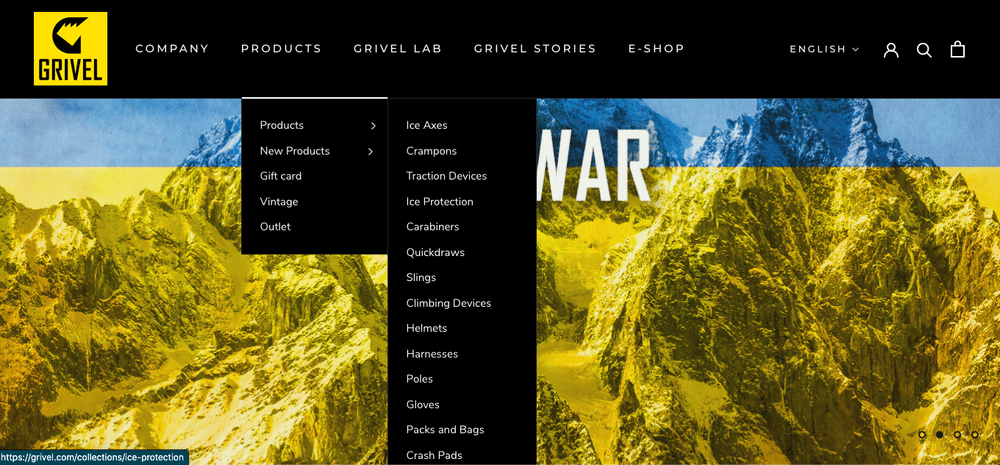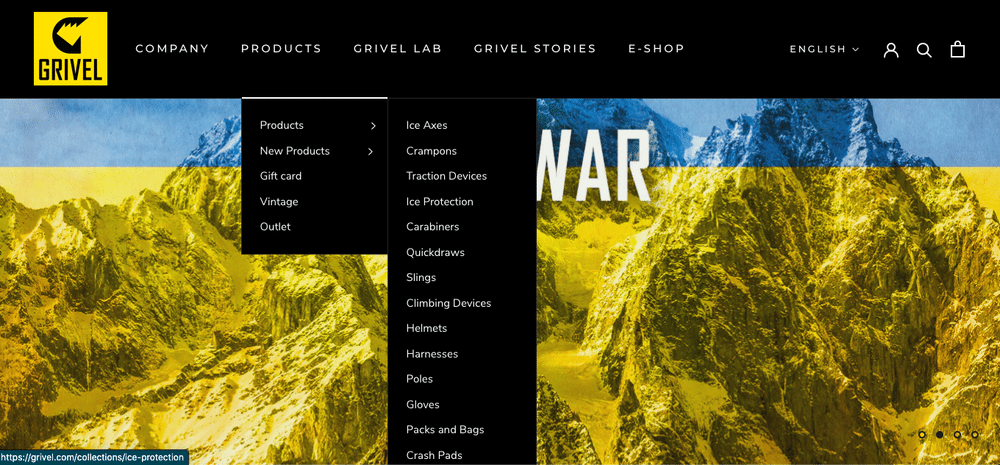 Tag your customers to run effective marketing campaigns
Shopify tags can help you build a smart and effective mail marketing strategy. Indeed, every time customers write you for info or requests, you can tag them, adding labels that summarize specific requests, expected product variations, or even personal data like location. With this data, you can run targeted mail marketing campaigns, sending mail or newsletter to customers that have asked for a specific product/feature.
By devising a good mail marketing strategy you can even offer special discounts or last-minute promos based on customer location. That allows you to focus on specific niches of consumers, aiming to retain them and improve brand loyalty.
Use Shopify product tags to ease navigation and categorization
As said above, Shopify tags are useful to add details to your product information, such as color, size, material, price, and everything that can help customers find what exactly they need. But above all, tags make it possible to automate product categorization, allowing products to be effortlessly collected in specific collections.
Keep reading to know more!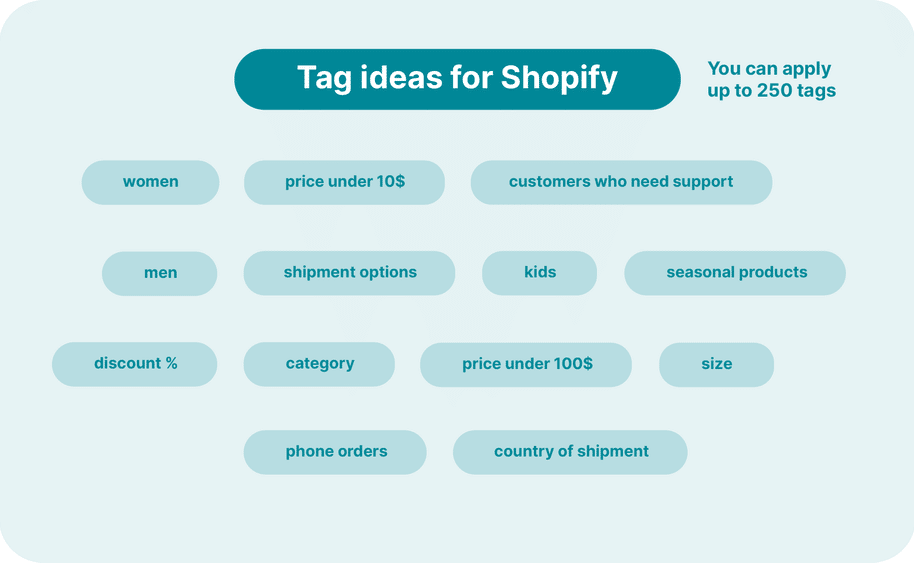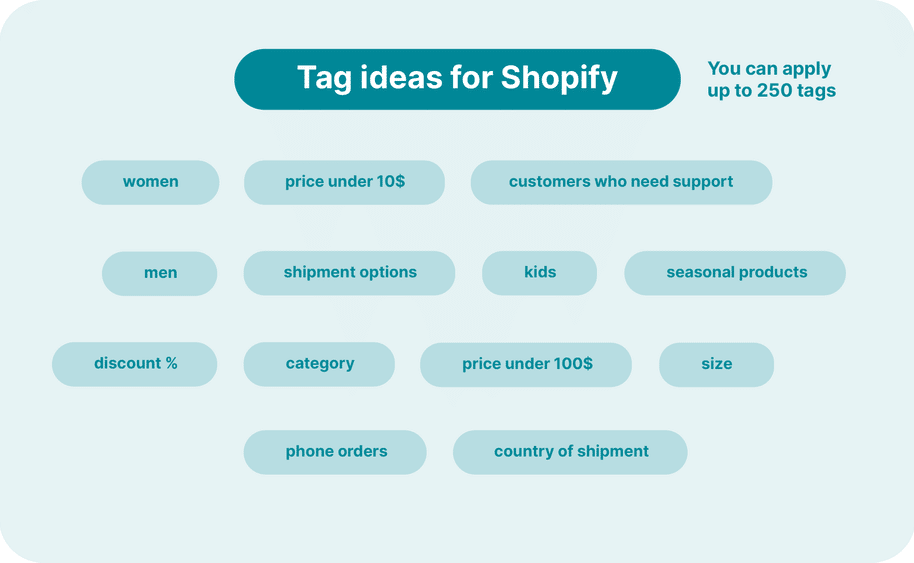 Learn how to sell multichannel: get free education, tips, and inspiration. Start growing your successful multichannel business. 
By entering your email address, you accept our Privacy Policy and Terms of Use. Totally free. Unsubscribe at any time.
Shopify filter collection by tag
Nesting your products in the right collection makes it easier for your customers to find what best suit their needs, increasing the chance of sales and the number of purchases.
Systematically doing that has many pros, especially because it helps buyers to find niches of products inside your main collections.
Let's suppose a customer wants to buy a leather bag paired with leather shoes. Without tags, the buyer will struggle to find two matching products that belong to two different collections. The only way to find a bag and shoes of the same color and material will be by scrolling multiple navigation pages opened at the same time. But this is troublesome and really annoying.
Labeling your product in a consistent way will allow your customers to filter collections by tags, easing their shopping.
Try Nembol for free: enjoy a 14-day trial
No credit card required
Automated collection to export selected products
Product tagging and Automated collections can be used by sellers also to select which products they want to transfer to Nembol and from Nembol onto their multiple online channels. You easily do this by following these simple steps:
Create a tag "export-to-nembol" or a similar name you like.
Add this tag to all products you wish to clone from Shopify to Nembol, (and then to your eBay, Amazon, Facebook catalog, or other new online channels).
Create an Automated collection in your Shopify store which contains only the products with such tags.
Select in Nembol "Import from Shopify" settings that you want to import just that specific collection.
Done. Now you'll get in Nembol, every time you click "Get products" from Shopify, only the products with that tag, saving you money and effort, and simplifying your e-commerce on multiple channels.