Overview
Let's imagine I am an online seller with a large number of listings published on one or more online channels, for instance, eBay, Etsy, Amazon, and/or Shopify.
Now I need to update these listings. How can I proceed to minimize time spent and errors generated, and avoid additional listing fees from eBay or Etsy? Let's see.
First of all, let's start with why I may want to update my listings.
Why may I need I update my online product listings
There are several reasons why online sellers may need to periodically update their listings. Let's see some examples:
Bulk-reduce prices for end-of-season sales
A typical selling cycle requires the listing of products at the beginning of a season.
For instance, the Fall-Winter (FW) or Spring-Summer (SS) seasons for clothing or sporting goods, the back-to-school period for backpacks, stationery, and many kids-related items, the Christmas shopping season, and so on.
As pricing strategy, at the end of such a season, I may need to reduce all prices to a sales level. Either -30% or -40% or -50%, or a specific reduced price such as 9.99 or 79.95.With Nembol you can bulk-discount or raise the prices using the bulk-price editor function.
Reduce inventory count because I received orders on other channels
During the ongoing selling season, I must reduce inventory available for purchase on all my channels if I receive an order on one of them. This task should be performed by an automated inventory control system. For instance, Nembol does it.
Increase stock levels as I receive new items of the same type
If I am a strong seller, I will likely receive re-stocking of the best-selling items during the peak season. I may therefore have to change the available quantities in stock of subsets of my inventory. This is actually a manual change, and cannot be performed with standard inventory control tools.
Add SKU codes to products, or correct them
Some selling channels, and especially Amazon, require each variation to have an SKU code.
Also, many inventory syncing tools provide some advanced functions only if a seller's items have correct SKU codes. Therefore, when a seller has several listings on some channel, she might need to add SKU codes (or barcodes, see below) to each of them without having to re-create any.
As we will see, this can also be done with Nembol.
What is a SKU Code
SKU stands for "Stock Keeping Unit", which is synonym with "variation", i.e. the item that can be picked from a shelf in a warehouse: that shoe model, in that color, in that size. Each SKU is often required to be identified by a code. SKU codes must be unique across your own inventory, but do not have to be unique worldwide as GTINs should. 
Add GTINs, or barcodes (UPC, EAN, ISBN) to your products
Some channels, Amazon firstly, as well as many warehouse systems, require your variations to have a barcode assigned to each of them. Many sellers have products listed on a channel that didn't require barcodes at the onset, (e.g. eBay or Etsy), and may later need to add barcodes in bulk to hundreds, or thousands, of products in a fast and error-proof way. This may happen, for instance, if you want to list your Etsy listings on Amazon.
Remember that if you are in such a situation, you must add a GTIN / barcode to each of your variations. And that the barcode has to be unique and genuine. You can do it through Nembol. We'll see below, channel by channel.
What is a Barcode (or GTIN)
Barcodes are numerical unique identification codes, assigned to each SKU, which are represented as the well-known two-dimensional image divided in vertical solid strips of different widths. Barcodes exist in different standards, such as EAN-8, EAN-13, UPC, ISBN, and so on, and are collectively referred as GTINs (Global Trade Item Numbers). Genuine barcodes are not made up by a seller, but issued by third-party authorities such as GS1, and must be used only once, to identify a specific SKU only.
Add tags to existing listings in bulk
Some of the most modern e-commerce systems use tags as a smart way to filter products in menus or to create categories (e.g tags in Shopify are used to creaate collections). Hence, A seller may have to add or edit thousands of tags in bulk, either because she/he is listing on multiple channels starting from listings on a channel that didn't have tags, or because she/he needs to change several tags to reflect a new situation or an unforeseen need.
For instance, add the season "FW-2021" or a "Sales" tag to generate new filtering in a menu.
Mass edit product titles or product descriptions
As the last example, how can I change thousands of product descriptions or update titles without opening and editing products one by one? Is there an automated way? (Spoiler: yes, you can do with Nembol most of the above).
Now, let's see if and how these update actions can be made in some of the most popular online channels, and then how they can be made centrally, just in once, for all channels.
Discover exclusive content, insider tips by subscribing to our newsletter. It's quick, easy, and free! Join now and get a 10% discount!
By entering your email address, you accept our Privacy Policy and Terms of Use. Totally free. Unsubscribe at any time.
How can I edit product listings in bulk?
Each channel has its own way to allow sellers to perform mass edits to their listings. We see here the main channels.
How to bulk edit Etsy listings
Etsy store manager allows sellers to toggle a certain number of products, and then pick amongst some "Editing options" – see picture 1 below.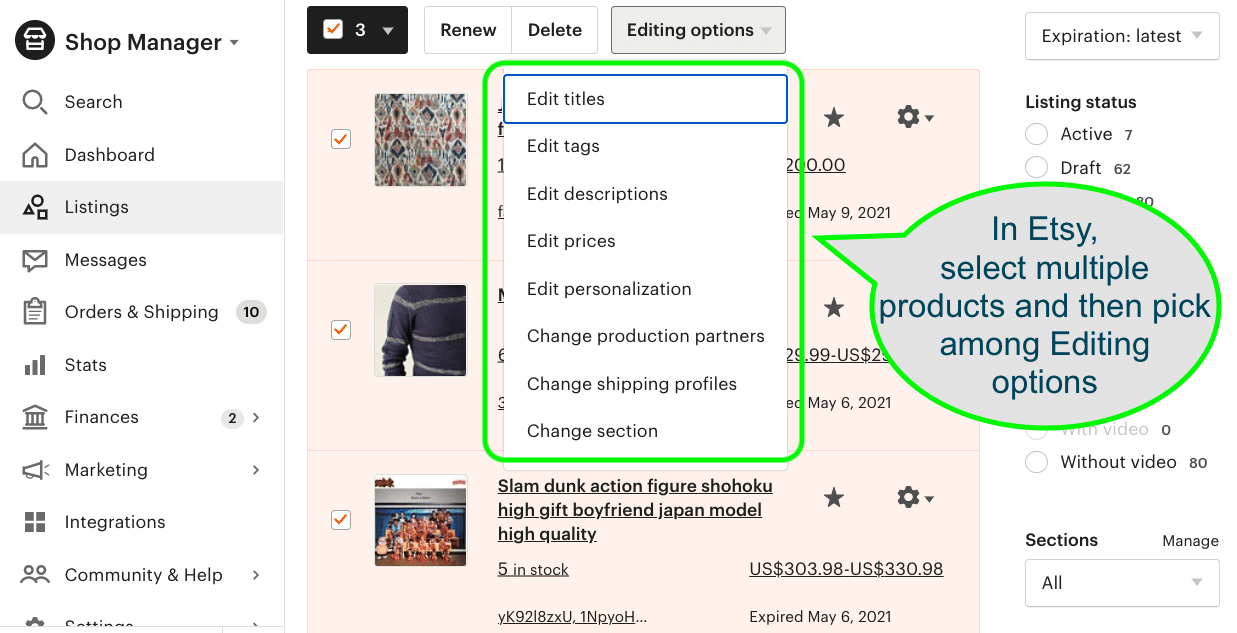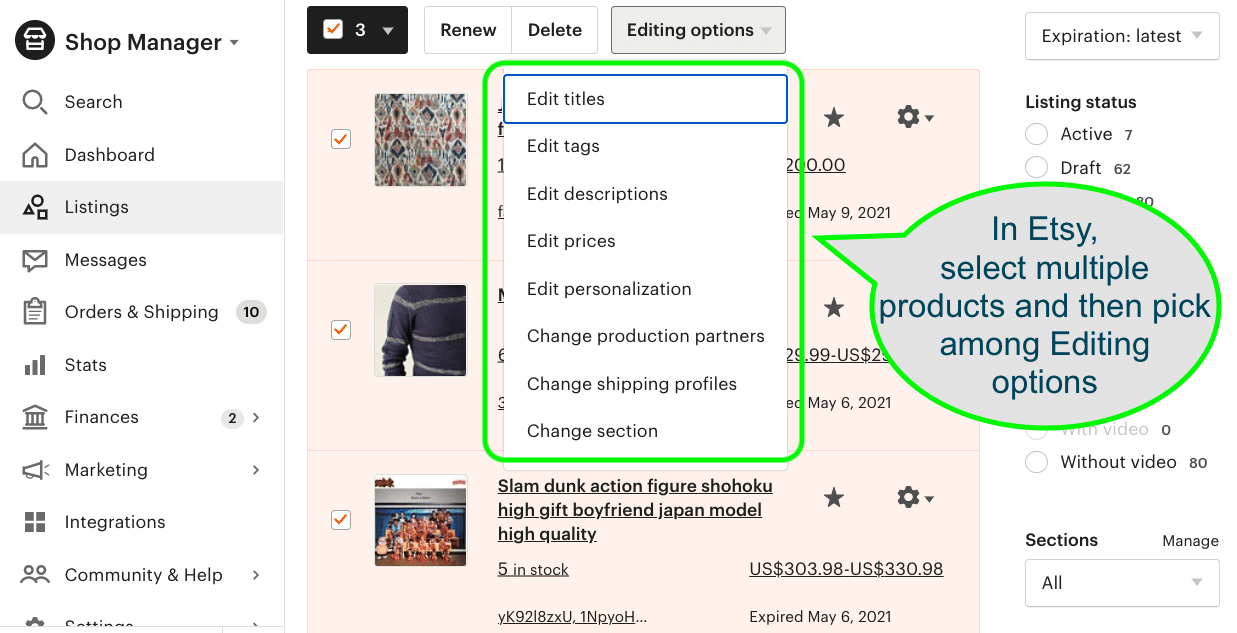 Bulk edit titles and descriptions in Etsy
For editing titles and descriptions, Etsy offers options to:
Add text at the front or at the end of selected titles or product descriptions
Find and replace text
Delete chunks of text
Clear and replace the entirety of a listing title or description
Bulk edit tags in Etsy
In Etsy, you can add or remove tags from listings in bulk. Pretty powerful tool!
Mass edit prices in Etsy
Etsy store manager currently allows you to select multiple products and:
Increase or decrease prices by an amount
Increase or decrease prices by a percentage
Set a new price (same for all the selected products at once)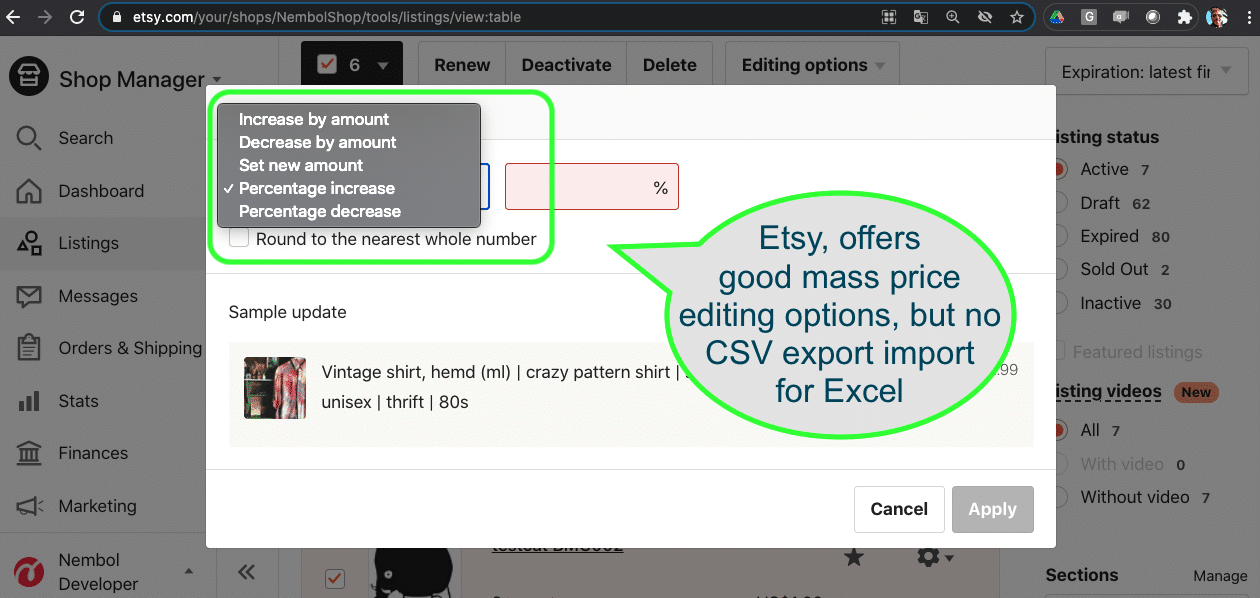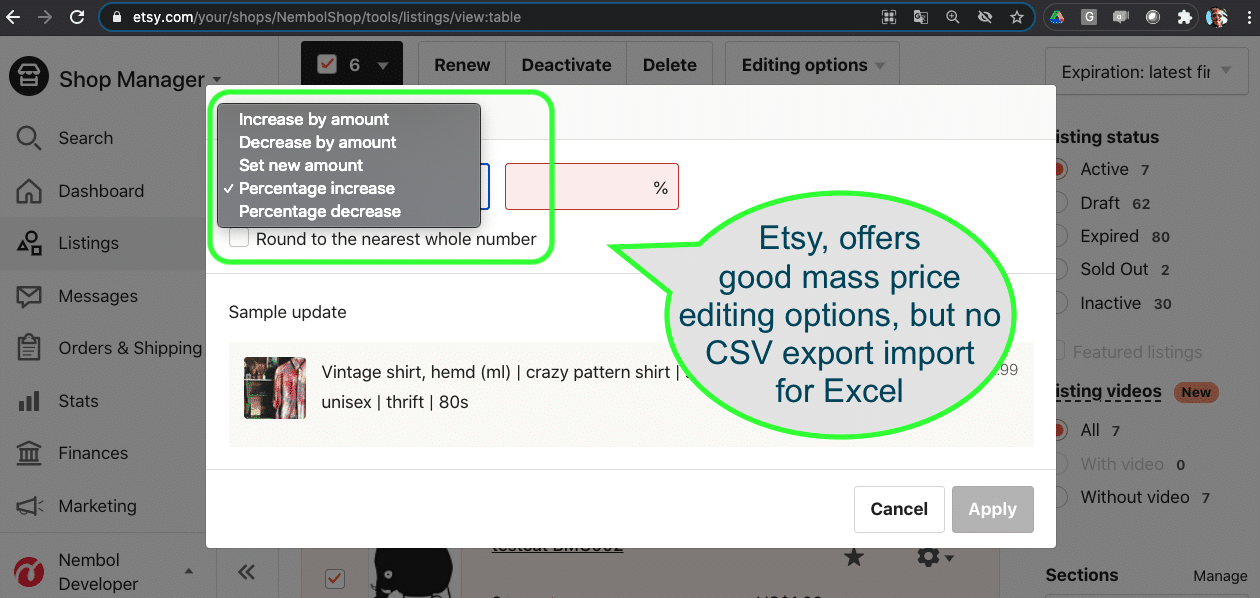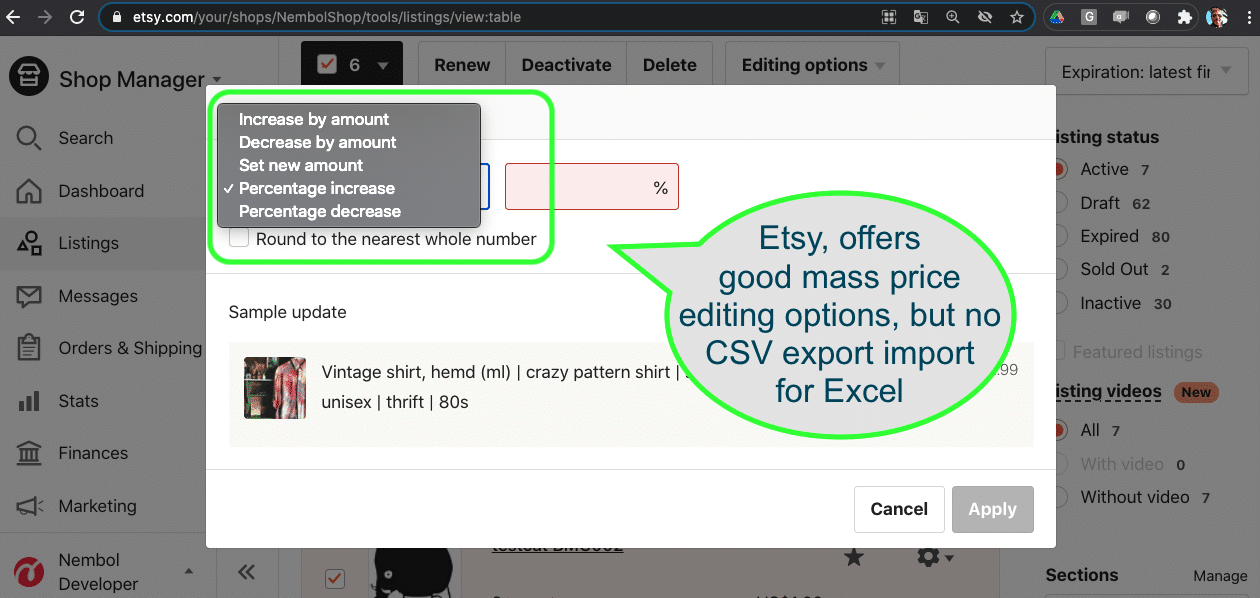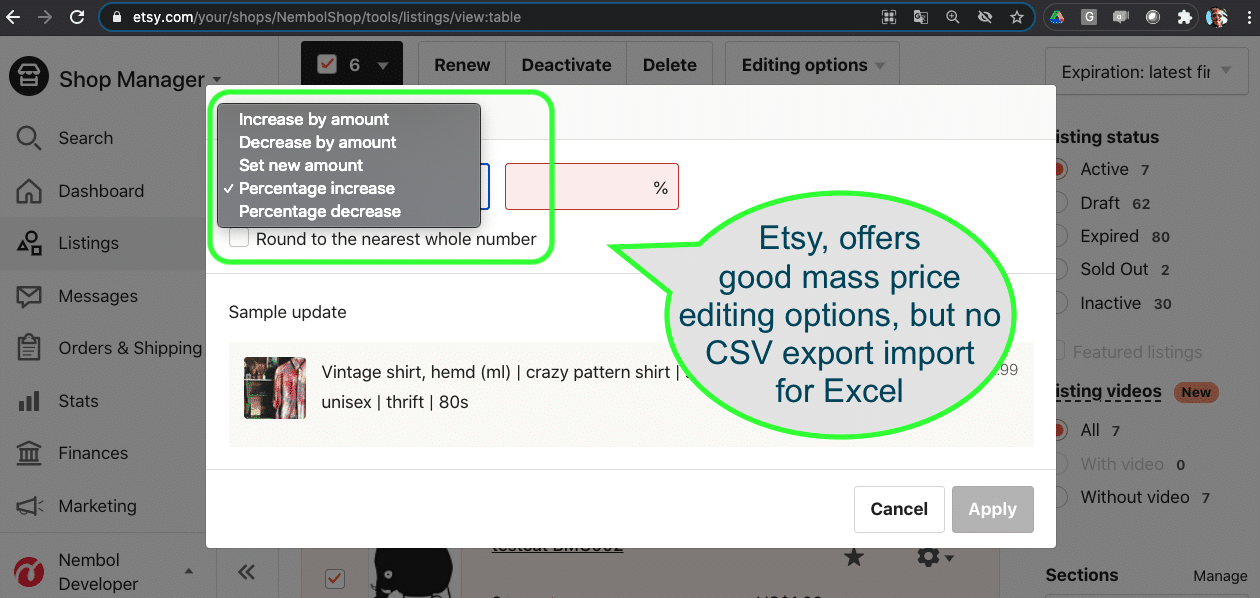 Additional Etsy bulk-edit options
Additionally, sellers can:
Change product sections in bulk. This is very useful to correct categorization errors or feed new categories when needed
Edit shipping profiles, i.e. the shipping costs and rules associated with a given set of listing
Change production partner and product personalization options. The latter are aspects typical of Etsy, not shared with other online channels
What Etsy does not offer
Currently, Etsy does not allow sellers to use CSV to upload or download products in bulk. With Nembol, you can get around this limit and upload listings on Etsy via .csv. Hence you can:
Work on a product inventory in a spreadsheet program such as Excel, Google Sheets, or Apple Numbers.
Use Nembol CSV template and bulk import and export on Etsy!
With Nembol you can also use CSV to bulk  bulk-edit listings.
Also, Etsy does not allow editing barcodes or SKU codes in bulk. Nembol solves this too.
How do I bulk edit my eBay listings?
Like Etsy, eBay allows bulk edit seller listings, suggesting relying on third-party apps to accomplish quick and reliable results.
The format of your insertion cannot be changed, meaning that you cannot convert a listing into an auction (and vice-versa). Every format has its features as well as its available types of changes you can make.
Let's see what eBay allows sellers to do.
Common editable listing aspects in Buy it Now insertions and Auction-style listings
It's allowed to change product titles, upload more photos or remove part of them, and upgrade listings.
You can lower prices both in Buy It Now listings and Auctions. Auctions follow stricter regulations. That's why price editing is allowed only if auction listings have been published within 12 hours and have received no bids.
Auction-style listings editable aspects
In Auction listings that haven't yet received any customer bid, it's allowed to change or add categories, add descriptions and items photos, update listings and choose an additional payment method.
Auctions with bids have a narrowed range of editable features. Sellers can just upgrade listings to boost their visibility and reply to customer questions.
Buy it Now insertions editable aspects
If sellers haven't yet received any purchase, they can still modify the products belonging and store category, the available quantity on sale, and shipping details. It is also allowed to add a description and photos, change titles, upgrade listings and add or remove product variants (it is not allowed to edit variants, it is just possible to raise or lower their number). Moreover, the listings that haven't received purchases, sellers cannot lower nor change the item price.
What is not allowed to change?
Generally, eBay doesn't allow to modify the listing duration and the format (from Buy it Now to Auction, and vice-versa).
Auctions' fixed price is not editable.
To sell different items is necessary to create new listings instead of editing the existing ones.
How to access the bulk editor on eBay
First of all, select some of your listings. Click on the "Edit" button. The bulk editor will Open and you'll be able to make any changes you want.
Of course, these will apply to eBay listings only. If you need to bulk-edit your listings for all channels at the same time, you may want to consider Nembol's CSV bulk editor.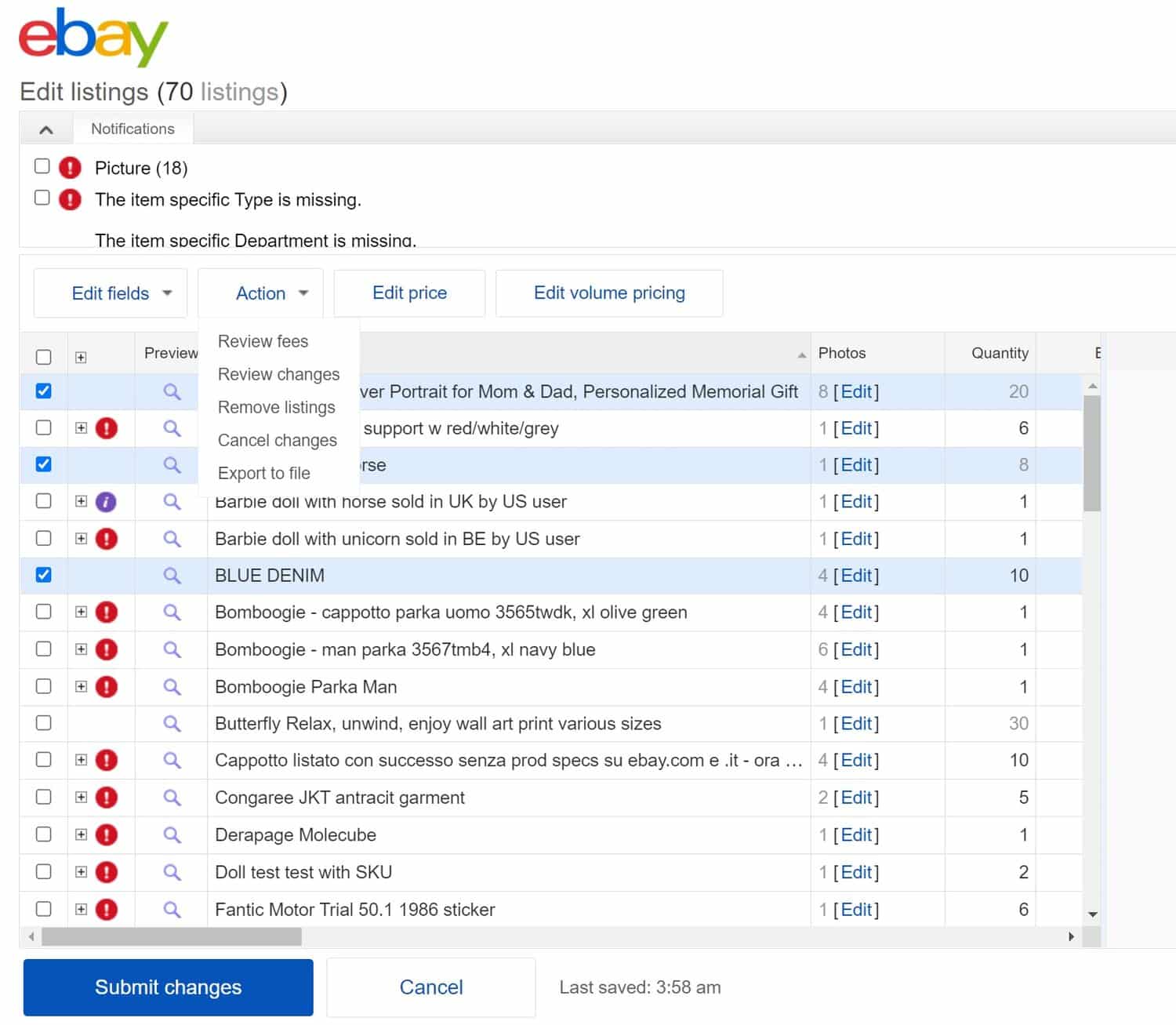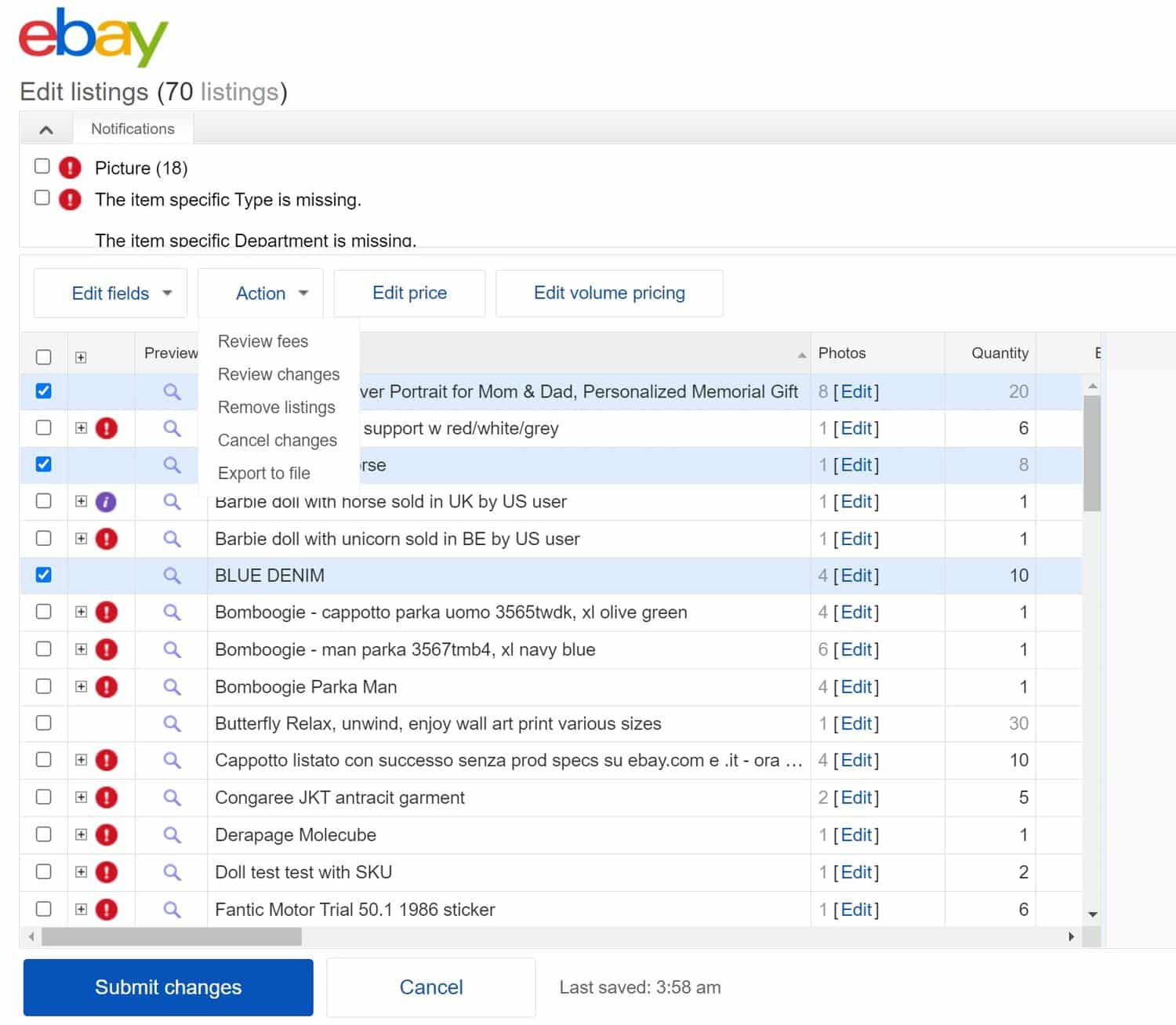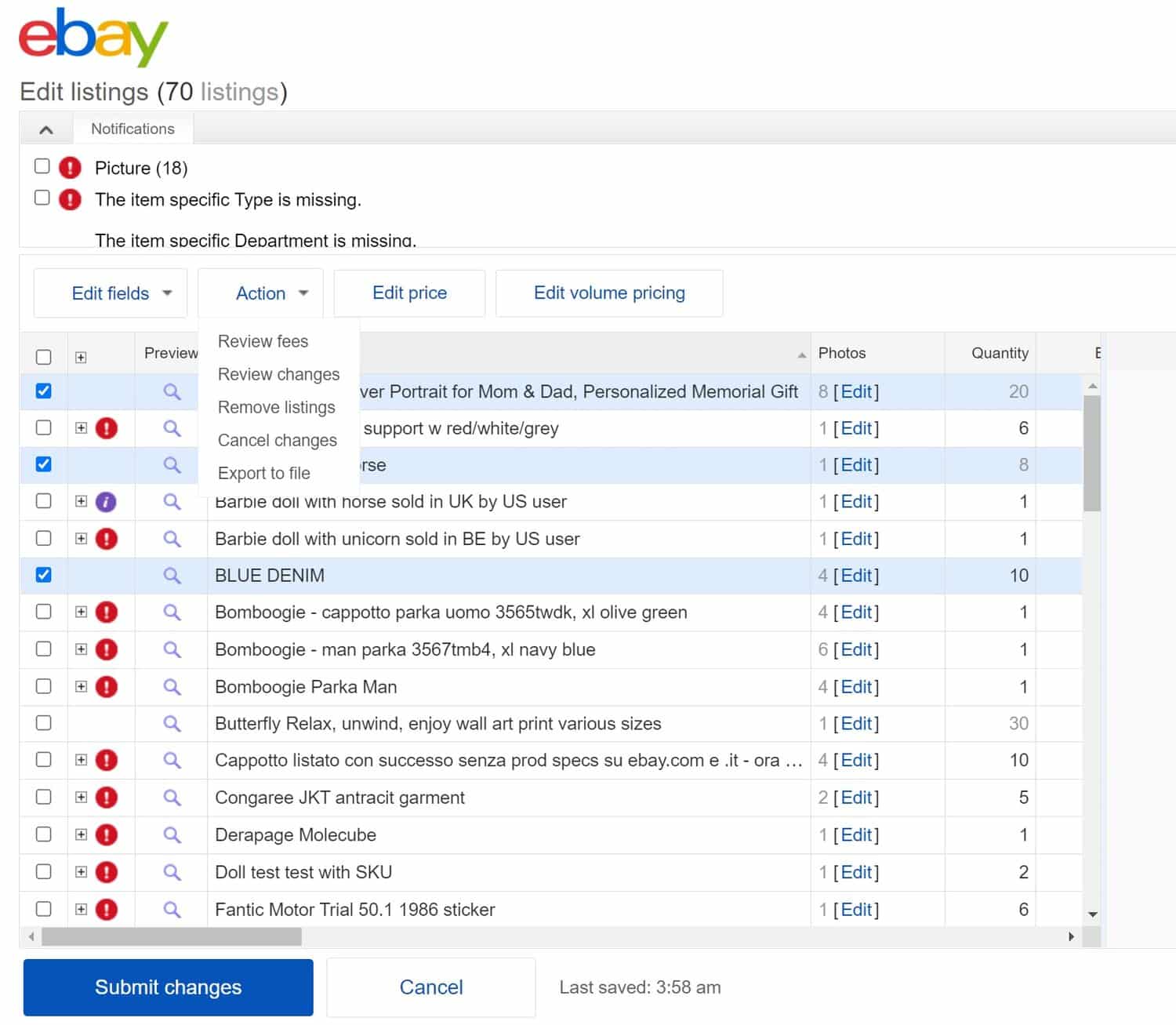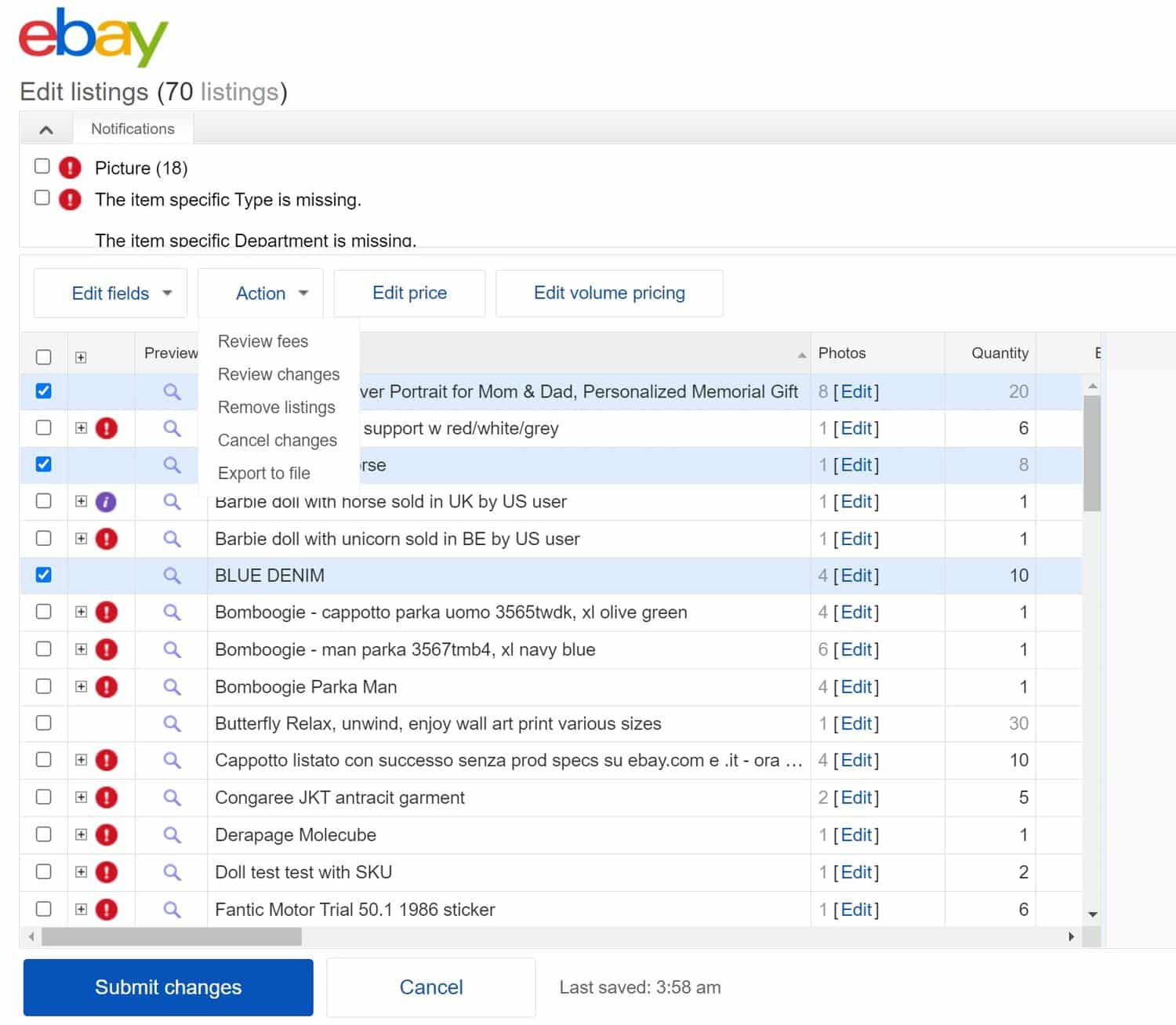 Try Nembol for free: enjoy a 14-day trial
No credit card required
Bulk edit products in Shopify
As you may already know, Shopify, the popular e-commerce platform, lend itself to integrate with third-party, as Nembol, to ease customer's business. Nevertheless, Shopify is provided with a bulk editor tool that works like a spreadsheet. In your Shopify Admin, you can make changes to products and variants and edit other several aspects, such as collections, customers, inventory, and store blog posts.
The spreadsheet template help seller to have an organized table, which sorts products and their variants in rows, and properties in columns, so you can easily modify items specifics.
How to access the bulk editor in Shopify
First of all, select some products, then click on "Edit products". The bulk editor will open and you will be able to make your listing updates. You can do it even faster, and just once for all channels, by using Nembol's CSV bulk editor.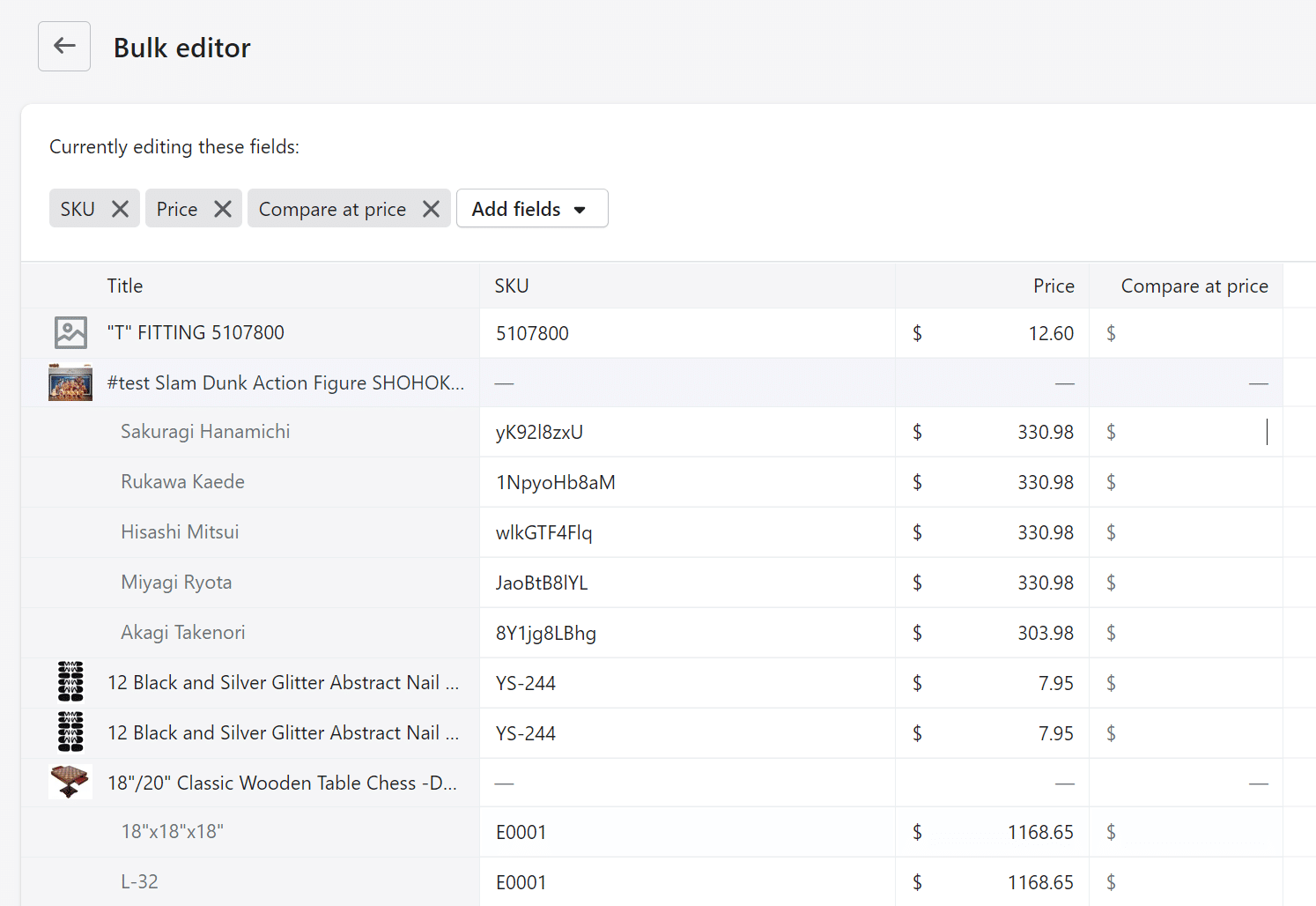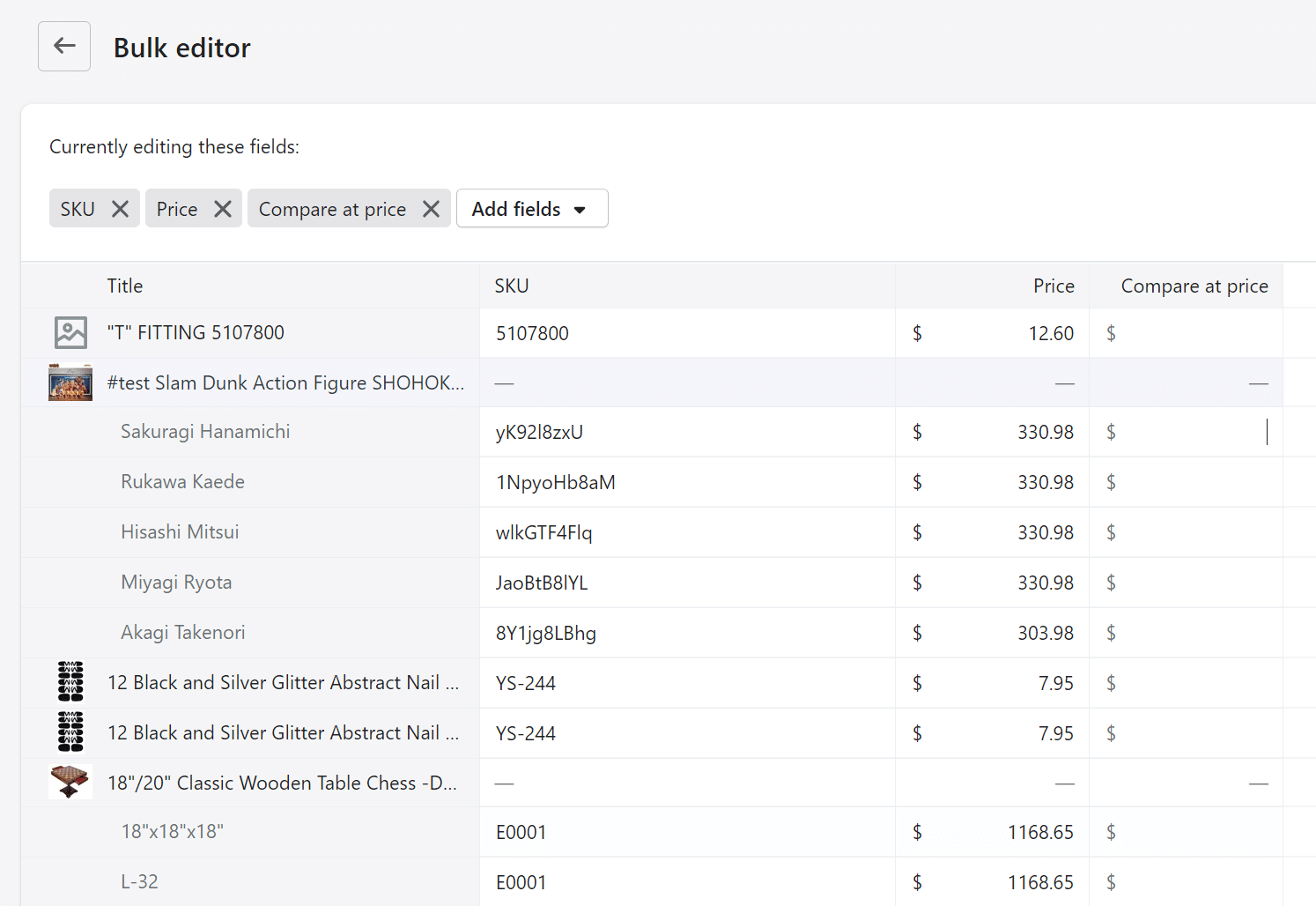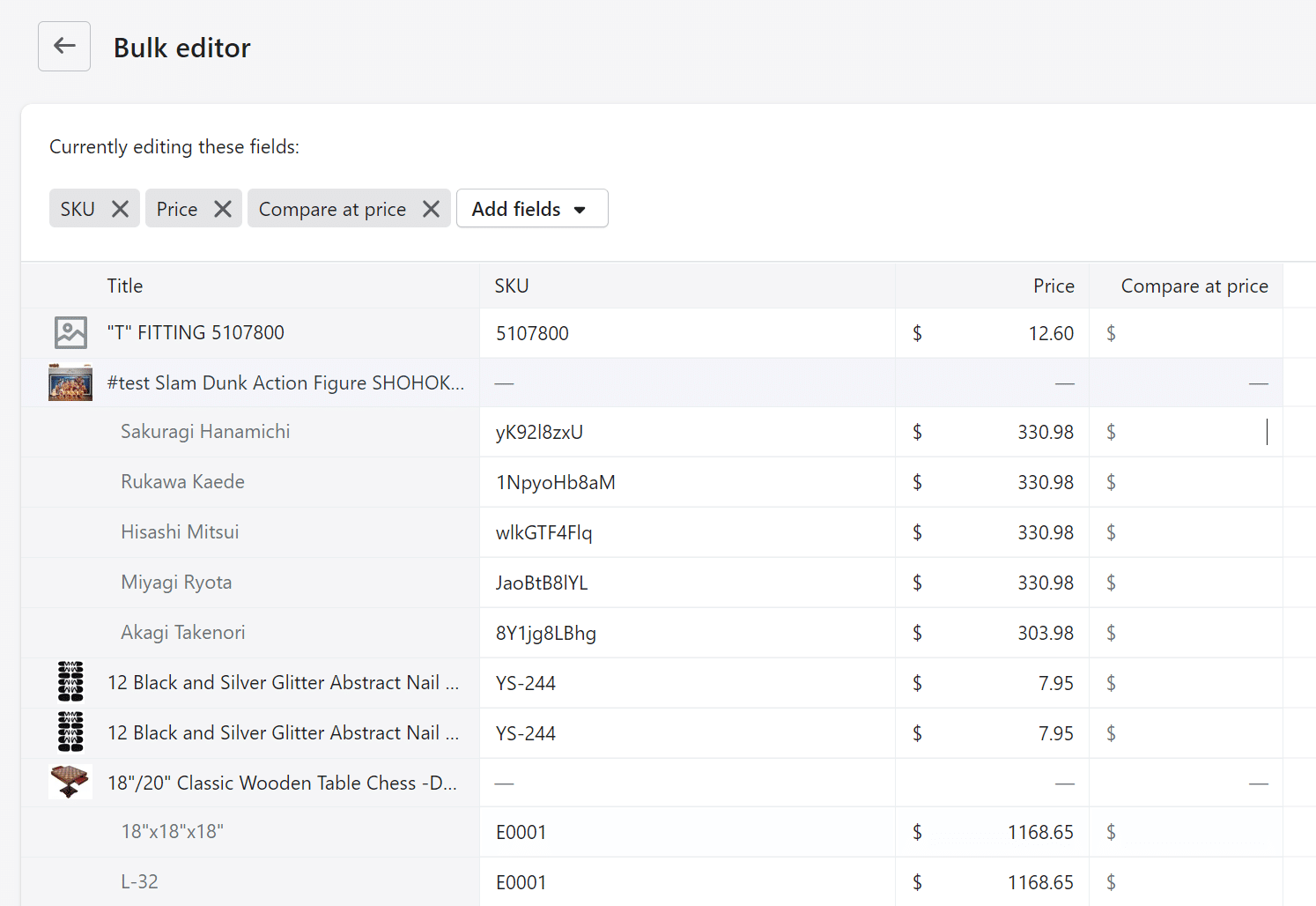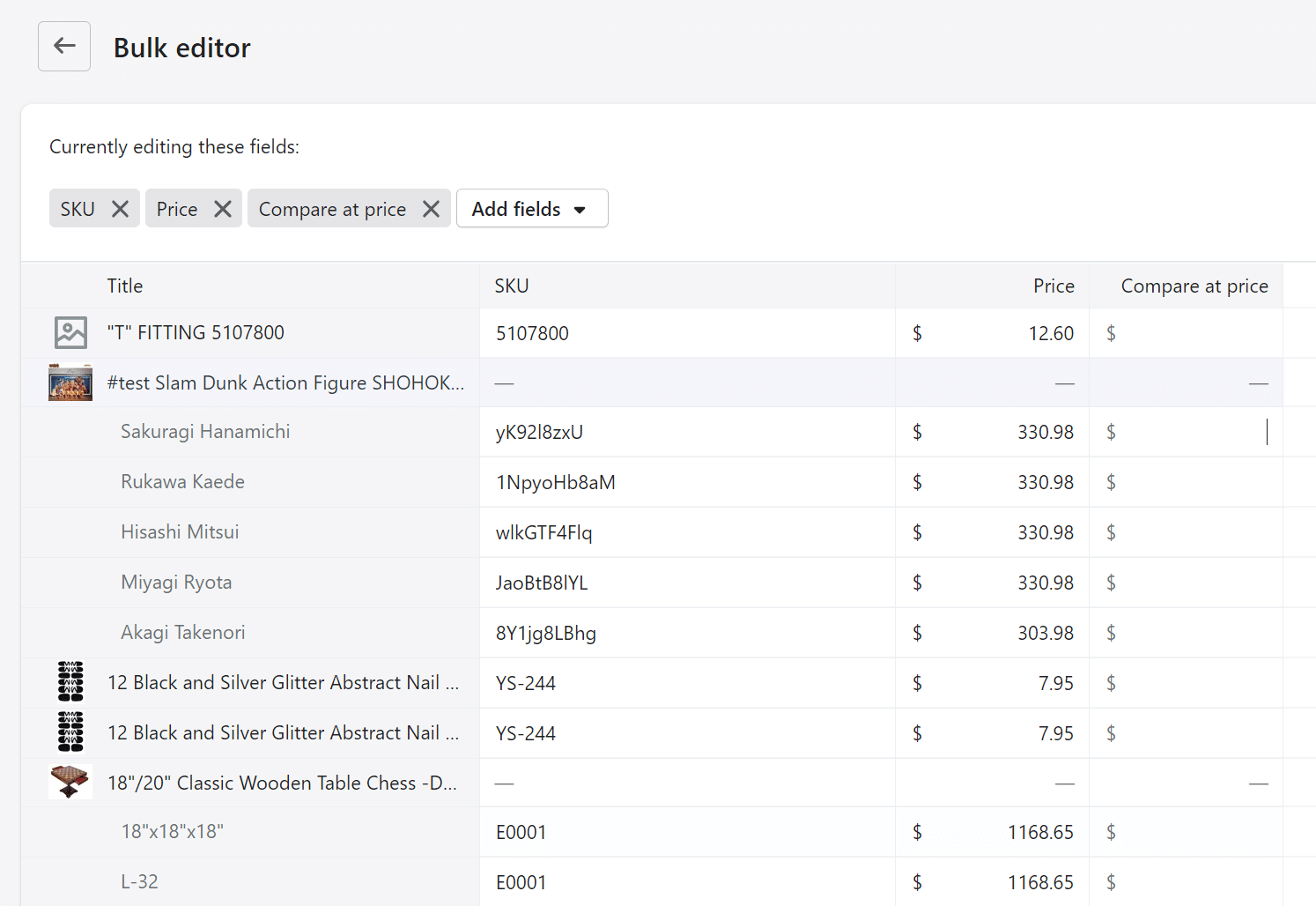 Bulk-edit Amazon listings
Unfortunately, Amazon doesn't provide any native tool for bulk editing.
The only way you have is using a spreadsheet to update your listings, and only if you are a Pro Seller. But at this point, it's more convenient uploading the CSV to Nembol directly, so that you can update your listings for all your channels at the same time.