Overview
Etsy sellers can create their own websites usingEtsy Pattern.
Pattern by Etsy lets sellers take their existing listings from Etsy and use them on their own customized website hosted within the Etsy platform.
According to the latest 2023 statistics on Etsy, there are circa 4.4 M Etsy shop owners around the world: artisans, creators, and vintage lovers in need of a place to sell their work.
But once their business has grown, they often find themselves migrating to an e-commerce platform. Why? Because it's much more rewarding to have a customer purchase from the creator's website rather than simply "from Etsy" or any other marketplace.
In this article, you will learn more about what Etsy Pattern is, how it works, and whether it's worth it to use it instead of having an eCommerce platform.
Etsy Pattern is similar to Nembol Easy Website, which allows sellers to take their listings from Etsy, and from eBay or Amazon as well, and use them on their own mobile-ready e-commerce website, hosted by Nembol.
What is Etsy Pattern
If you're an online seller, and want to improve your brand exposure and awareness, at some point you will need to consider creating a custom website. Having a custom store allows you to better communicate your brand values, generate more awareness around your brand, foster the brand loyalty process, reduce transaction fees and, above all, keep you away from the stiff competition typical for the marketplace environment.
Building your own unique site can be beneficial in many different ways. However, choosing where to create and host your website is not a piece of cake, especially because you should consider many different platforms' pros and cons, and strike a balance among them.
One of the best compromises in terms of customization, cost, and the possibility to tap both into the built-in marketplace and Google traffic is Pattern by Etsy.
Etsy Pattern is a way for you to create your customized e-commerce website. Pattern doesn't represent a replacement of your existing Etsy store, but rather an extension of it. Indeed, all your products, inventory, and content are uploaded by Etsy into your custom store, where you'll have the opportunity to play and give vent to your creativity, building from scratches your e-store design and appearance.
More branding = more chances of returning customers
More returning customers = more sales in the long run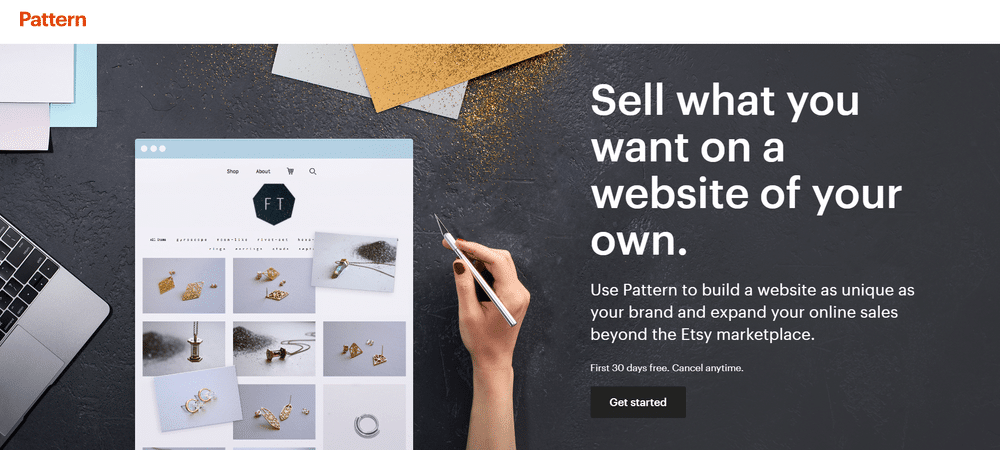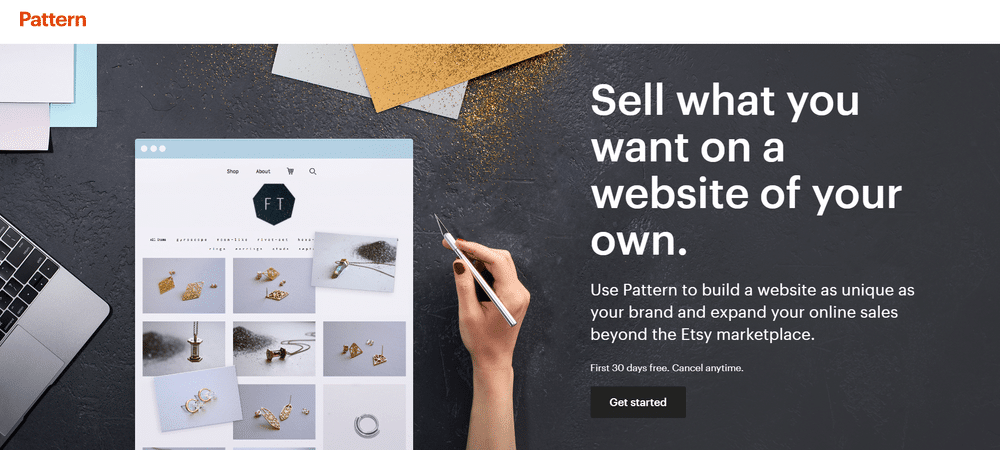 Etsy Pattern pros and cons
Let's dive in and learn what are the pros of using Pattern by Etsy:
Easy to set up. There's no need to learn new software or attend web design courses or hire pricey Web designers. Just choose an already coded template provided by Pattern, customize it, and have your own site ready to use.
Stand out among others. Having your own design will help you to differentiate. You can create a website as unique as your brand.
Become more independent with your custom domain. Pattern provides you with a personalized, separate website for your business, to which you can connect you custom domain name.
Sell everything you want. With Pattern, you don't need to be compliant with Etsy's handmade policies anymore. You can sell anything you want.
Unlimited listings. There are no limitations so far. List as many products as you need.
Get access to several marketing tools to help your business flourish:
E-mail marketing with MailChimp
Domain purchasing and connection
Blog and social media sharing
Search engine optimization tools
Facebook Pixel to create lookalike advertising campaigns
Also, on the business management side, Pattern provides you with tools and tips for improving your performance:
Secure payment processing. This will make you more trustable for users.
Advanced website analytics, useful to improve your business statistics.
Help articles and support. Valuable information that will support you along the way and teach you how to use the platform.
Despite the several pros, Etsy Pattern has – of course – cons to be aware of:
Customers need to be

subscribed

 to Etsy to buy in your e-store. This is the biggest draw-back we found so far. With Pattern, your work actually drives registered users to Etsy, and to your potential competition

.

Even though your Pattern-based store and inventory are connected to Etsy, your website will not appear in Etsy's search results. Meaning that the Etsy built-in traffic won't be driven to your Etsy Pattern website.
Few customization options

. Etsy Pattern provides a limited number of coded templates compared to other eCommerce platforms. This may be a draw-back or even a pro, depending on how much time and skills you have to dedicate to it.
Is Pattern by Etsy worth it?
Shopify vs. Etsy fees
When sellers look for an easy way to start creating their first online website, Pattern comes into play. It allows Etsy sellers to turn their Etsy shop into an independent online store in an intuitive way. But how much does it cost? And is it worth it compared to a dedicated e-commerce platform such as Shopify?
As of July 2023, a Pattern website is free for 30 days, then you will be charged US $15.00 per month, converted in your currency inside your Etsy monthly bill, if your Etsy account is set in another currency. You can cancel your Pattern subscription anytime.
Pattern listings are taken directly from your Etsy store, with no need to pay additional listing fees.
Listings that appear only on Pattern are not charged a listing fee.
Orders completed on Pattern online stores are not charged a transaction fees by Etsy. Only a payment processing fee is charged.
Learn how to sell multichannel: get free education, tips, and inspiration. Start growing your successful multichannel business. 
By entering your email address, you accept our Privacy Policy and Terms of Use. Totally free. Unsubscribe at any time.
Pattern by Etsy vs Shopify
Shopify vs Etsy pricing
While Etsy is a marketplace, Shopify is a popular eCommerce platform where sellers can create their online store. Shopify provides hundreds or thousands of already coded templates, most of which can be tailored to the needs of any seller.
The following fees are reported as of July 28th 2023.
Starting at US$39.00 per month, Shopify charges a higher monthly fee compared to US$15.00 charged by Etsy Pattern.

Etsy voided the $0.20 listing fee for listings published on Pattern only, putting it at par with Shopify (though US $0.20 per-listing fee applies for a seller to list items on Etsy.com).
Etsy charges a 6.5% transaction fee on the price published

, including any shipping and handling, or gift-wrapping costs

, for orders received on Etsy.com. Etsy though voids such transaction fee for Pattern purchases.
In addition to other fees and charges, both Etsy and Shopify do charge a payment-processing fee, which for Shopify payments (aka Shop Pay) starts at 1.9% + $0.25 per transaction. For Etsy the payment-processing fee ranges between 3% and 4.5% depending on your country of business, plus an additional fixed amount per transaction. As a benchmark, the latter in the US is $0.25, and in Europe €0.30.
Etsy Pattern additionally charges 3.5% for currency conversion into US$.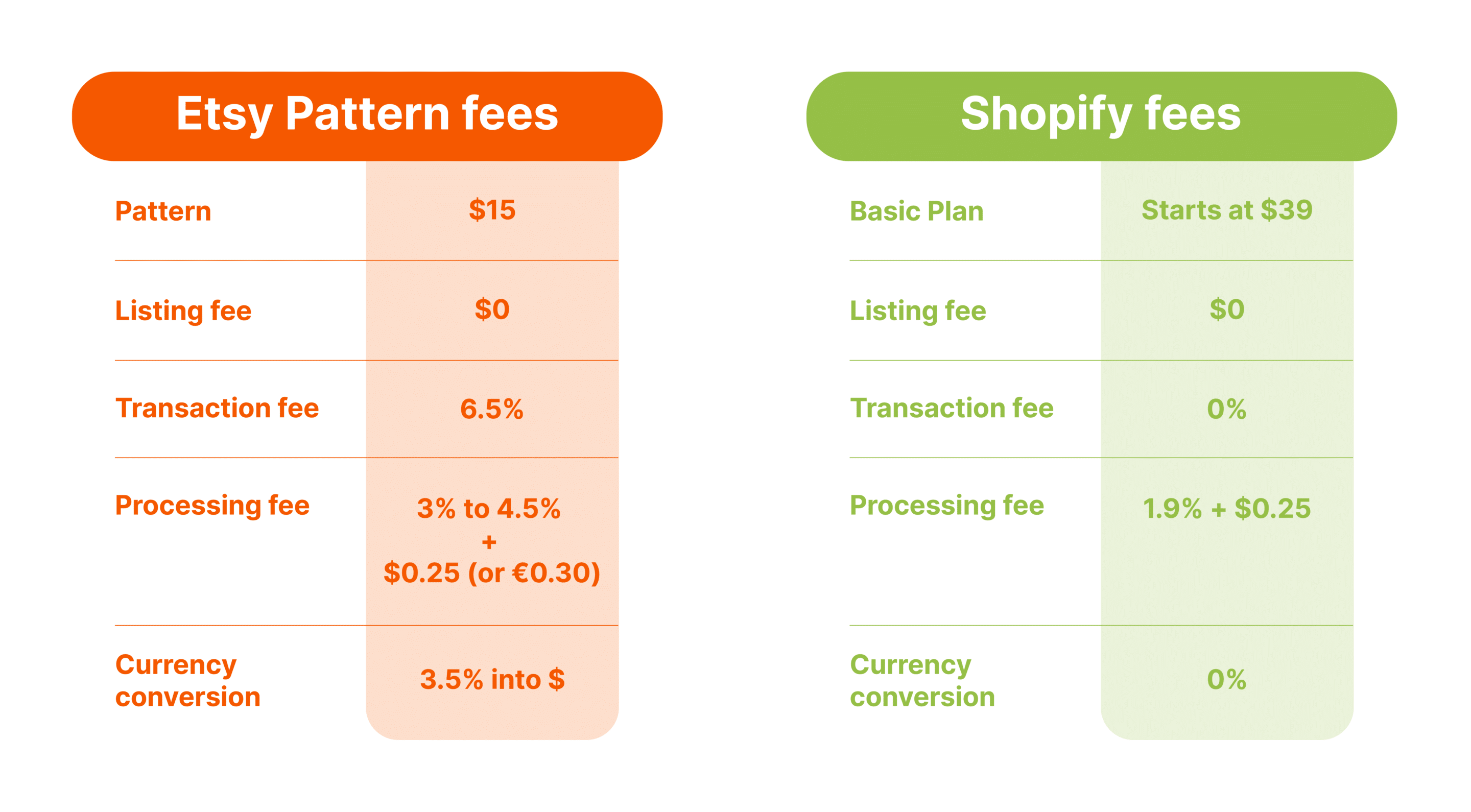 So doing some maths, comparing Shopify and Etsy Pattern pricing:
Shopify will cost a seller $24.00 per month more than Pattern as monthly fee.
On the other hand, Etsy will cost circa 2% more per each transaction. Note that the latter is an approximation, because it varies per country, and because both Etsy and Shopify payment processing may add ancillary charges, such as international card charges, currency conversion charges, specific-card charges (for American Express for instance).
Luckily for our calculations, fixed-amount transaction fees are similar or identical across the two platforms, so we will ignore them.
So, based on the same amount of transactions, if a seller sells more than US $1,200 per month, Shopify becomes economically more convenient compared to Pattern. The opposite is true (Pattern is cheaper) for monthly sales lower than US $1,200.
This because ~2% additional transaction fees charged by Pattern on US $1,200 amounts to US $24.00, i.e. the savings in monthly fee from Shopify to Pattern.
Once again the above is an estimate, because it depends on a seller's country, and on the country of residence of the bulk of your clients. Shopify is less clear on international payment-processing fees.
Bear in mind that if you will sell also on Etsy.com, as most Pattern sellers are likely to do, each Etsy.com transaction will cost you 6.5% in Etsy transaction fee (free on Shopify) + $0.20 per product listed (free on Shopify).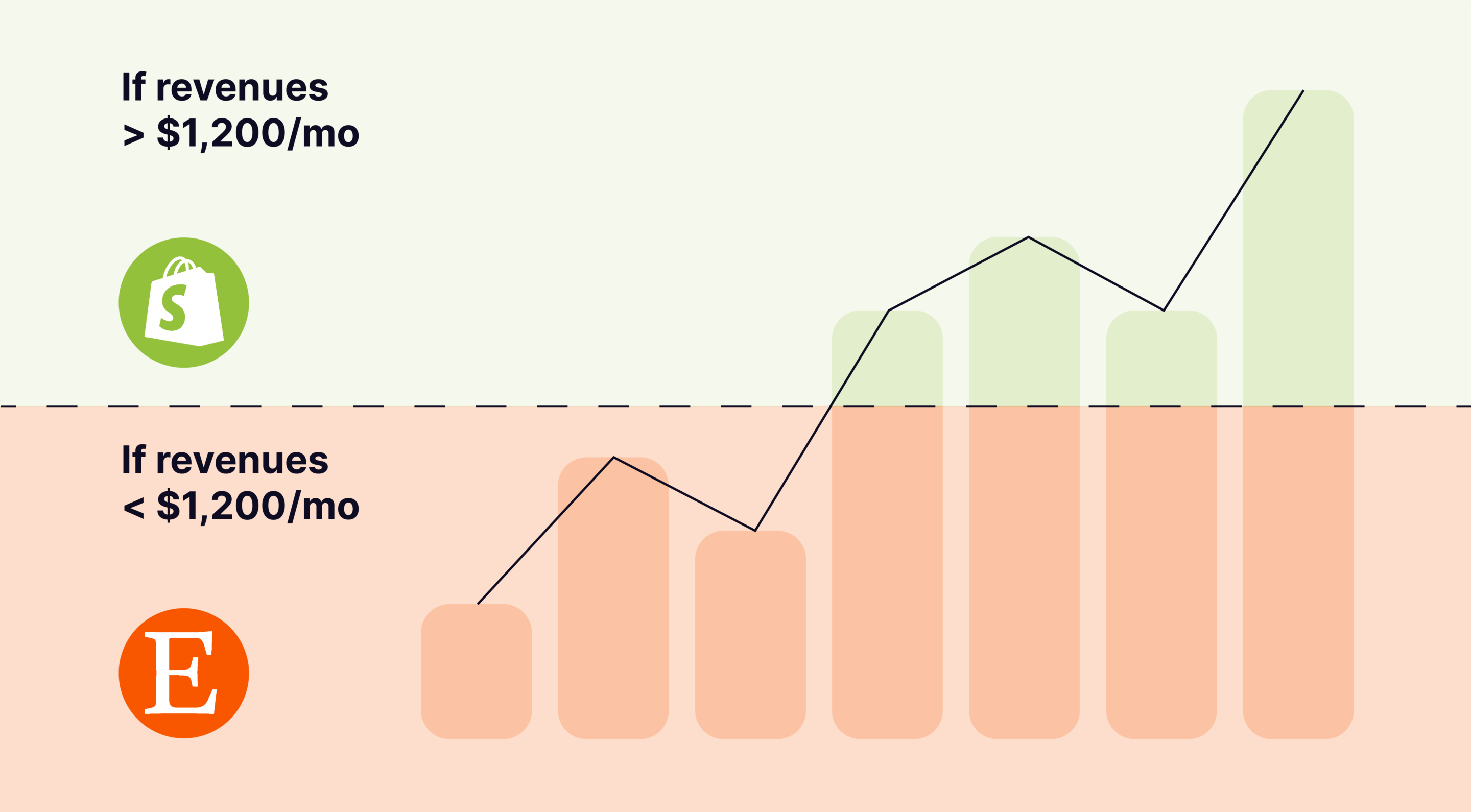 Etsy vs Shopify
Is Shopify better than Etsy
Despite Etsy's Pattern custom website service, Etsy and Shopify are very different channels.
Indeed, Etsy is a marketplace with a built-in audience where customers search and buy products by comparing hundreds of different seller offers. While Shopify, on the other hand, is an eCommerce platform where sellers can create their own store by leveraging their brand without having to compete with other retailers.
Whether this difference may be unremarkable from the consumer's shopping experience point of view, from the sellers' side, the implications of using a marketplace instead of an eCommerce platform are relevant.
Marketplaces already have built-in systems for generating traffic and matching sellers and buyers. As a seller, all you need to do is load in bulk your products, optimize your listings, and Etsy will feature your products in its search results.
Because of their size and importance, marketplaces are commonly used as purchase venues:
They are ranked up in Google search results
Their trustworthiness increases the willingness to buy online.
They offer marketing tools that allow sellers to get closer to consumers (paid sponsorships, advertising, etc.)
On the other hand, marketplaces, including Etsy, ask you to pay a variety of fees in exchange for all of those services and selling opportunities, fees that, in the long run, affect your profits.
eCommerce platforms offer a pretty different service. They allow you to:
Build your website from scratches
Customize the look and feel of your store, to foster your brand identity
Pay less fees compared to marketplaces.
Nevertheless, the other side of the coin of using eCommerce platforms is that sellers will need to drive traffic on their own, building their customer base as well as their marketing strategies. All this is of course more apt for seasoned online sellers, and makes starting on a marketplace, and later operating your own e-commerce website, the wiser choice.
So, now you know all the pros and cons of using eCommerce platforms, like Etsy and Shopify.
Lets' sum up:
Etsy has a built-in customer base and is perfect for selling online, while Shopify has a great website automatization and gives its users access to valuable tools and features. The strategy of using both Etsy and Shopify can be very beneficial for your business.
It can create more awareness around your brand and, eventually, grow your sales.
More than that, instead of using the limited Etsy Pattern feature you can open your Shopify store and sell both on Shopify and Etsy, with Nembol.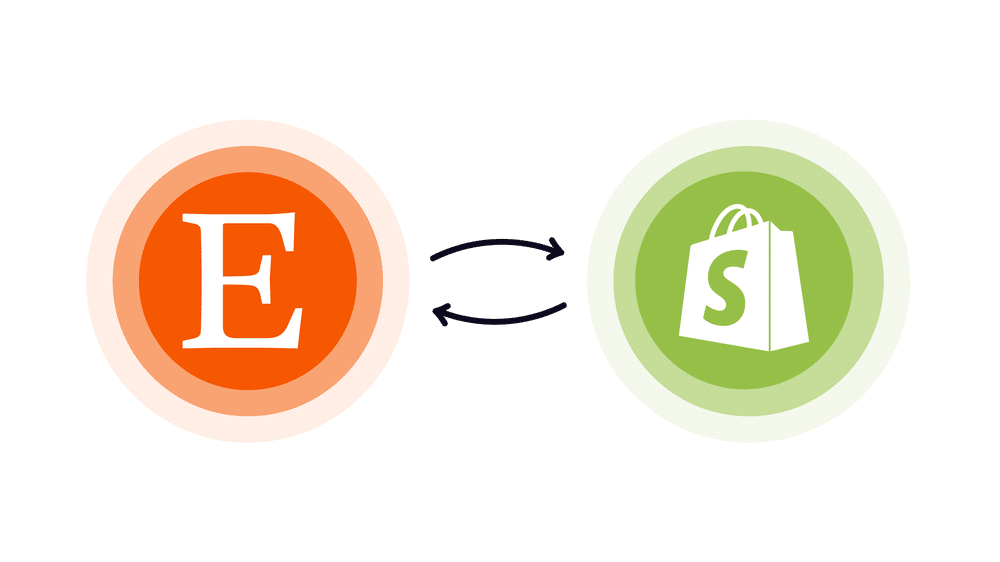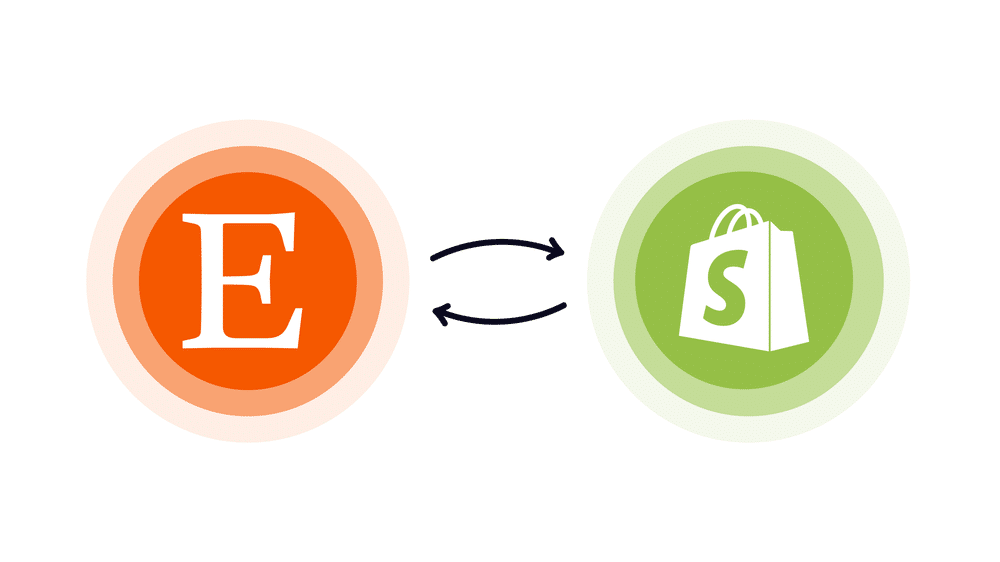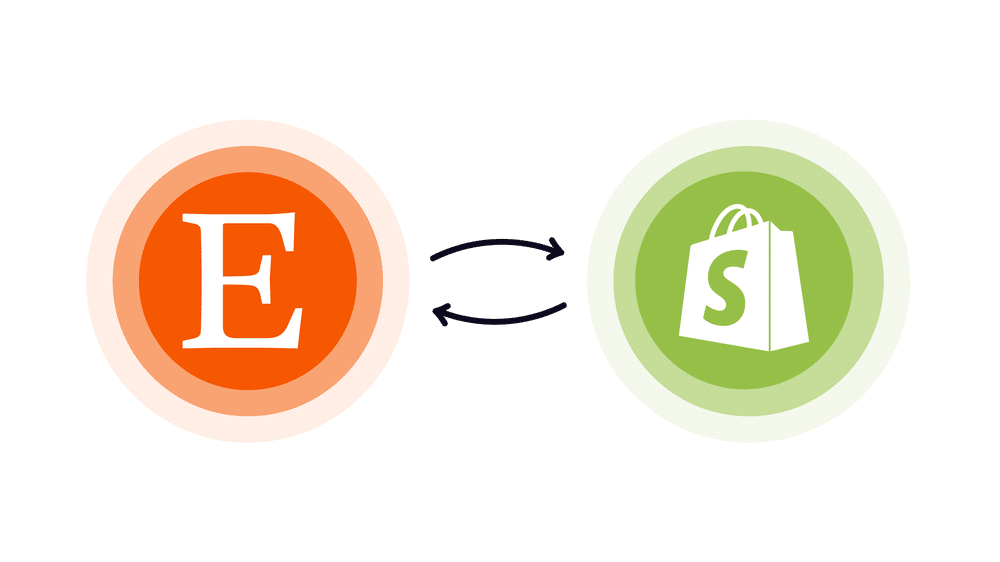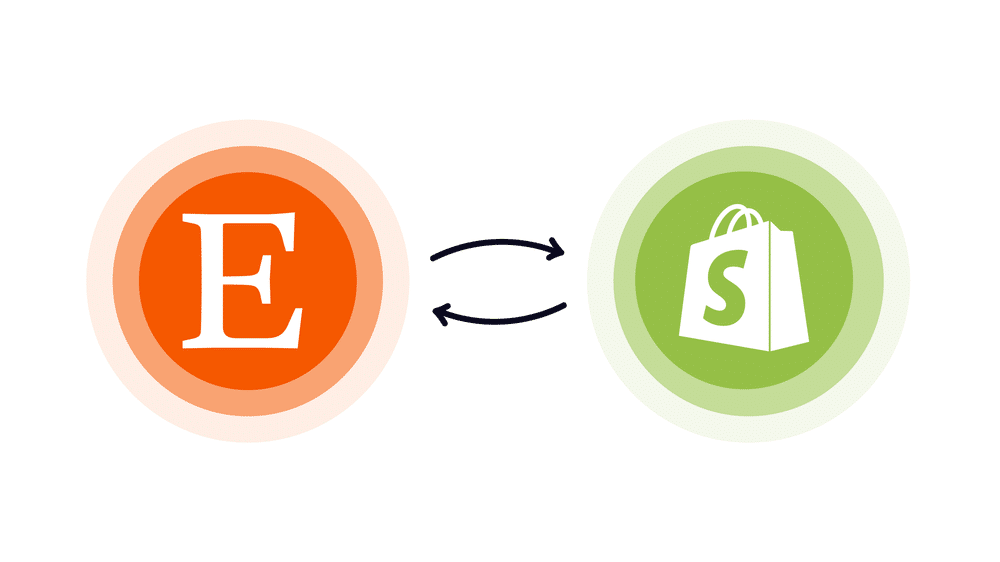 Nembol will help you to link, list, and sync inventory across Etsy and Shopify (and many other online channels).
This will save you a lot of time and effort, which can be spent in increasing your marketing knowledge and reach, or on something even more enjoyable, like hiking in the mountains, spending more quality time with your family, or enjoying a weekend in the countryside.
Try Nembol for free: enjoy a 14-day trial
No credit card required
Etsy Pattern alternative for small business
Nembol has recently released new compelling features for Easy Website, the easy eCommerce website for small businesses.
With Easy Website, Nembol users can automatically generate a simple website that features all multichannel products imported or created into Nembol.
With Easy Website sellers can:
Publish possibly the easiest mobile-ready website ever. No customization needed.
Get it free with their Nembol subscription
Point to it their custom domain name
Receive orders and collect payments via PayPal avoiding marketplaces' listing fees
Gather all their products in one place, with a powerful search engine included
Feature links to their marketplace listings.
Feel free to contact Nembol customer support in the chat provided beside, to receive any further information. Have a great rest of the day!