Overview
Nembol released Easy Website, by far the easiest website generator amongst anything we could find on the Web.
Easy Website builds a mobile-ready e-commerce website for omnichannel sellers in a matter of seconds: it takes just 3 clicks to be configured and collects all your multichannel products in a single place!
The best part is that your Easy Website gets automatically generated as soon as you create or import your first product in Nembol, so that you can use it right away. But since you can turn it on in any moment as long as you have your Nembol subscription running, you can decide to use Easy Website maybe next week or a few months from now. And you can make it appear or disappear to your own clients with a click in your Nembol account.
Easy Website it the online place where you show all your products, linked to all your e-commerce channels, and soon receive payments through it and save transaction fees.
Keep reading to know more!
What is Easy Website by Nembol
What is Easy Website and why you should use it
Easy Website is the super easy e-commerce website generator, which automatically pulls and aggregates all the products that a user has in Nembol. Products are collected and showcased in a custom website designed to be simple, effective, and intuitive!
Easy Website solution is the e-commerce website solution free for all Nembol plans.
Starting your Easy Website you'll be able to:
Increase your chances of selling products, thanks to your new mobile-ready website
List products without paying ANY fees or commissions! Our watchword is "your sales, your earnings!"
Improve your product and brand exposure
Gather and collect all your products in a single platform, all linked to the channels you use
Take advantage of the opportunities offered by Conversational Commerce (aka chat-commerce) thanks to Easy Website native WhatsApp and Telegram integrations
And for those who own a physical store, attract local customers, thanks to the embedded map!
Nembol Easy Website is super easy, fast, doesn't need to be coded, and can now be connected with your one custom domain name!
E-commerce Website features for small businesses
Connect Easy Website to your custom domain
After the latest Easy Website update, it's now possible to connect to it your own custom domain.
For sellers who already own a custom domain, it is possible to connect the domain to Nembol Easy Website, taking advantage of all the pros connected to it.
Indeed, as you probably already know, using a custom domain to run an e-commerce website will help you to:
Enhance your brand identity and allow customers to easily look for you on the Web.
Improve the chances to appear among Google search results.
Create stickiness around your brand and make it more trustable.
Have a new website in 5 minutes
To customize your Easy Website, you don't have to choose a template, you don't have to check if it works on mobile, and you don't even have to build it nor pay someone to, because Nembol already built it for you.
You don't have to wait for it to be delivered, because it's done instantly!
It also places you on a map, just provide your address if you want, and sellers will see where you are.
However, for those that still don't have a custom domain or don't need one because they sell only on marketplaces, there's still the opportunity to use Nembol courtesy domain "mynembol.com" and have access nevertheless to all Easy Website features.
Collect your imported multichannel products
Your eCommerce Website will automatically feature all products you have in Nembol, filtered into your own categories, and linked to each channel where you've listed each of them. This way, your customers will be able to click and be redirected to one of your preferred channels and finalize the purchase on that platform. Or purchase directly on Easy Website through the built-in PayPal checkout.
Easy Website works smoothly behind the scenes! It automatically updates when you add new products or list them on any channel connected to Nembol.
Sell on WhatsApp and Telegram
If you're interested in taking your business to the next level, you cannot ignore the opportunity related to Conversational Commerce!
Thanks to Easy Website, you'll be able to sell on WhatsApp (or sell on Telegram if you prefer), engaging in active and effective conversations with your customers. To enable your Easy Website and sell via chat, all you need to do is add your WhatsApp number or Telegram username inside your Nembol account.
Simple and Hassle-free!
Try Nembol for free: enjoy a 14-day trial
No credit card required
Easy Website launch checklist
This eCommerce Website needs only a few clicks and information to be set up at best, but you can skip any to be faster and lighter and Easy Website will work just fine, although less refined. Here is how to proceed:
1. Access the Nembol app, and click on "Easy Website" in the left menu
2. Add the required Info to set your e-commerce Website ON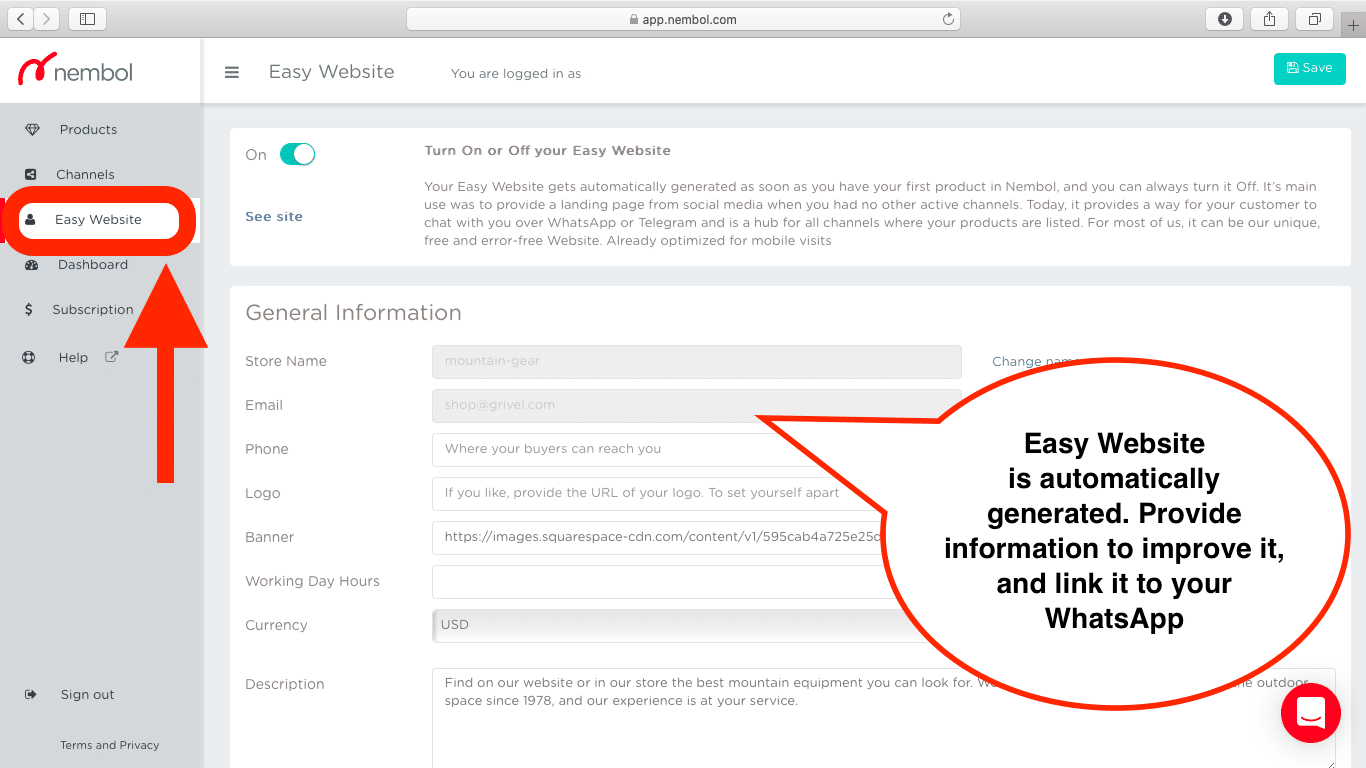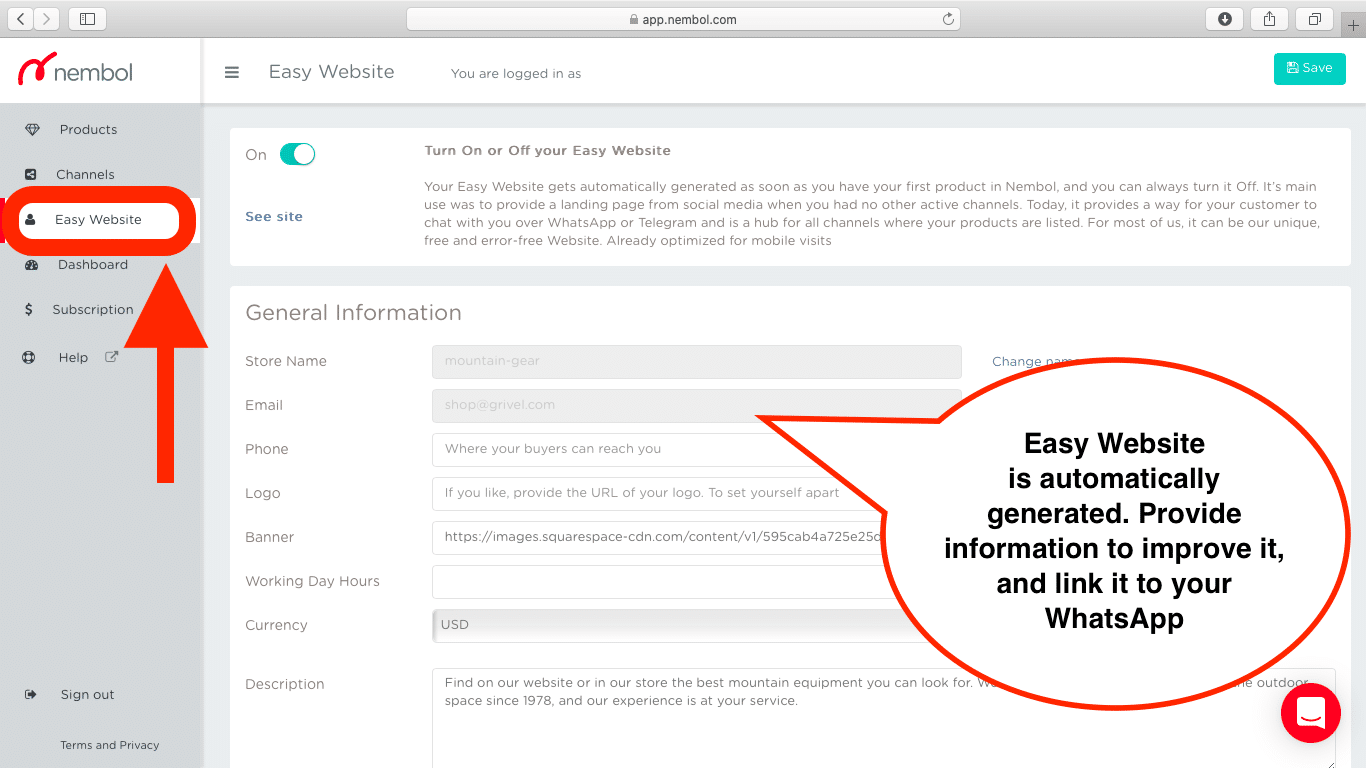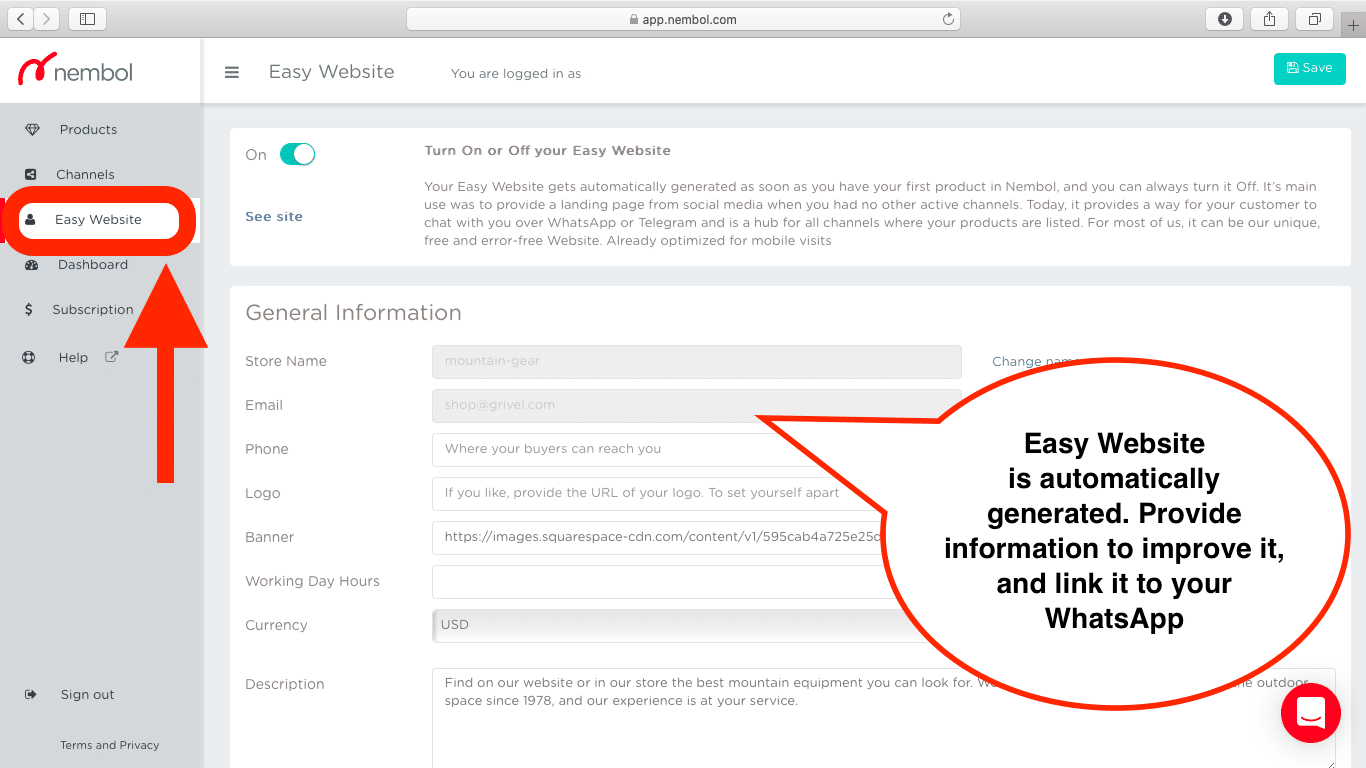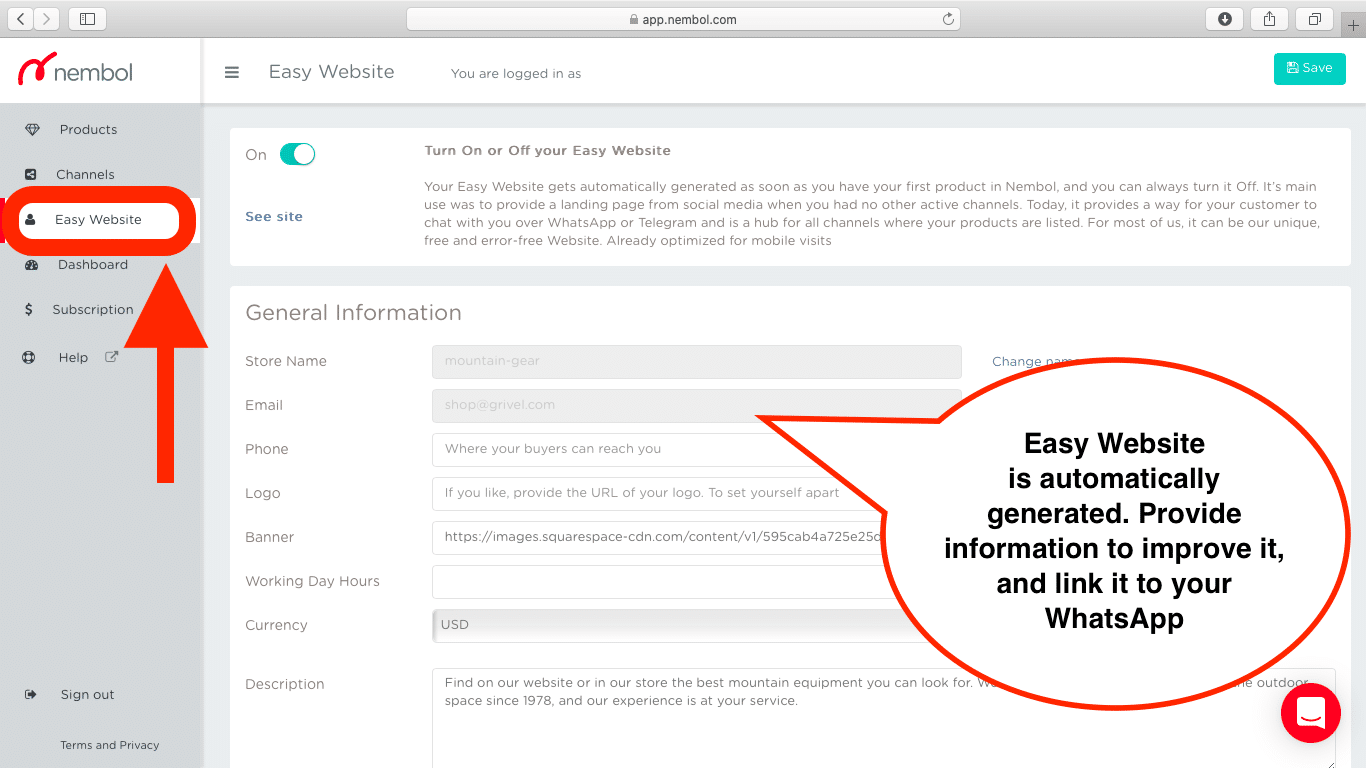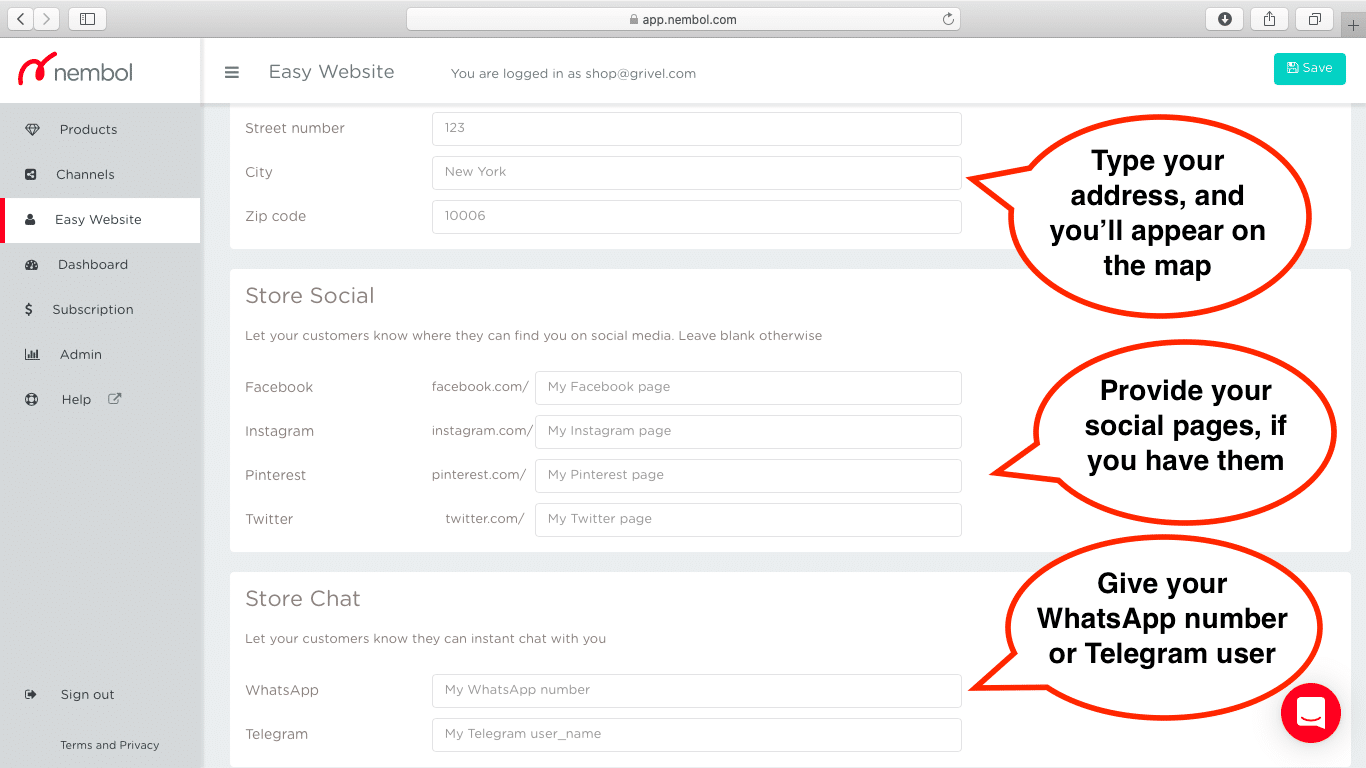 5. Customize the look and feel of Easy Website, adding your logo, header picture, your business history/details, and, once ready, let your multichannel products flow in!
How to get paid through PayPal on Easy Website
PayPal is one of the most used payment providers, loved by users for its user-friendliness and reliability.
Thanks to this latest Nembol update, you'll now be able to connect your Easy Website to PayPal and start selling your products without channel selling fees!
How to sell through PayPal?
First of all, you need to automatically generate your website for free by following all the steps to activate your Easy Website.
Once you have generated your Easy Website, access the Easy Website settings
Log into your PayPal account directly through the built-in login button
And you're done!
Start driving your recurring customers to buy directly from Easy Website using the built-in PayPal button.
In this way, you will avoid paying no selling or transaction fees besides the PayPal ones!
Don't miss out on the latest updates, exclusive content, and special offers! Subscribe to our newsletter.
By entering your email address, you accept our Privacy Policy and Terms of Use. Totally free. Unsubscribe at any time.