Overview
If you are a fledgling online retailer or just a seller who wants to broaden its business, you definitively should open an eBay store.
eBay is a well-known marketplace, become popular thanks to the "buy it now" and "auction" selling methods. Millions of sellers use eBay as an online retailing platform, trading across the world through one of the most user-friendly platforms.
This guide will help you setting-up your new eBay account. Here, you will also learn useful tips to get started with your business and let it scale up.
How to open an eBay store
Let's start from the beginning! The first step to open an eBay account is picking an email address to associate with your store.  Pick the email you use the most, or you can just create a brand-new one.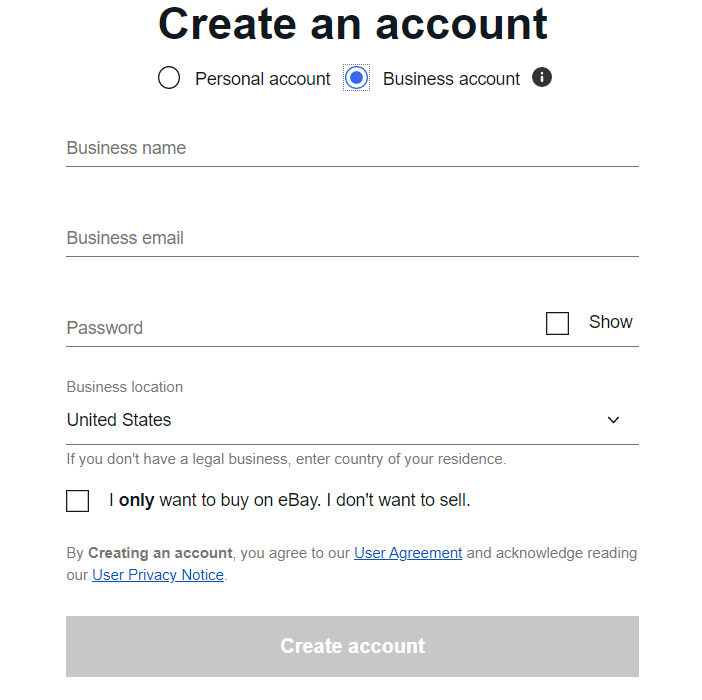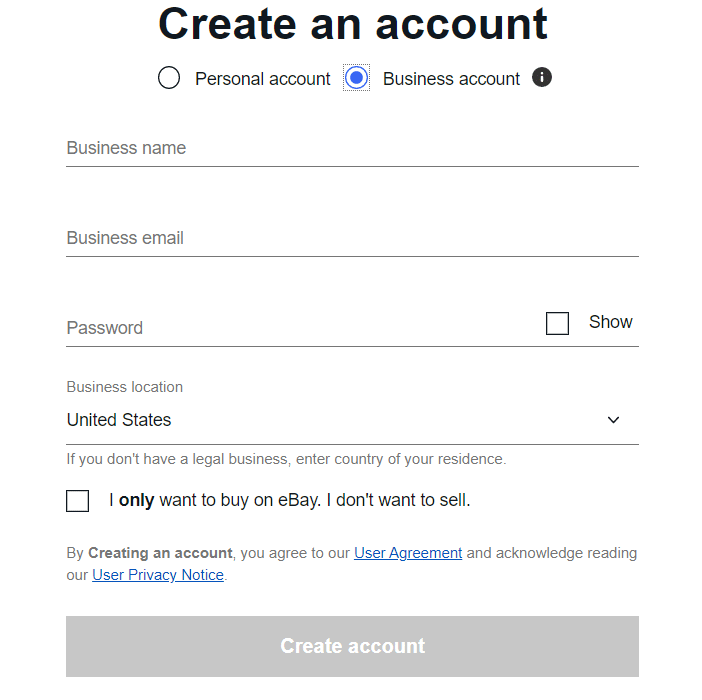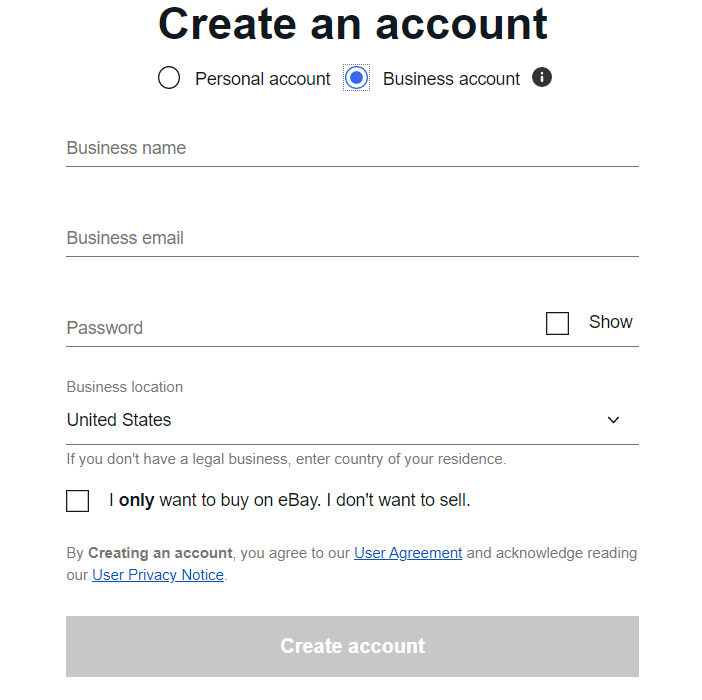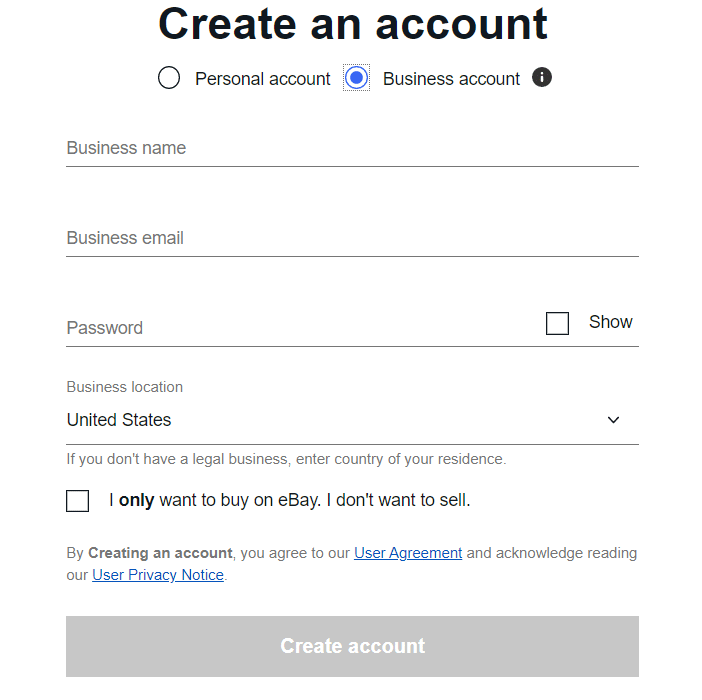 Once you have chosen the email to use, open the eBay website (ebay.com, ebay.ca, ebay.fr, ebay.de, ebay.es), move the cursor upper to the left-hand corner of the page, and click on "register." You will be immediately redirected to the registration page to create an account.
You can choose to open:
A personal account
A business account
The information required is different, so choose wisely!
Now eBay will call for a validating pin to confirm your email. Check your email account looking for "Your temporary eBay security code" and insert it on the registration page.
After this stage, eBay will ask some questions about your business.
Step 1 – Opt-in what suits your business the most:
Sole proprietor if you sell under your own name
Legal entity if you run your business as a Single-member LLC, Corporation/multi-member LLC, Partnership, etc.
Step 2 – Keep on adding data:
State your identity information
Add your bank account details
Review all the info and confirm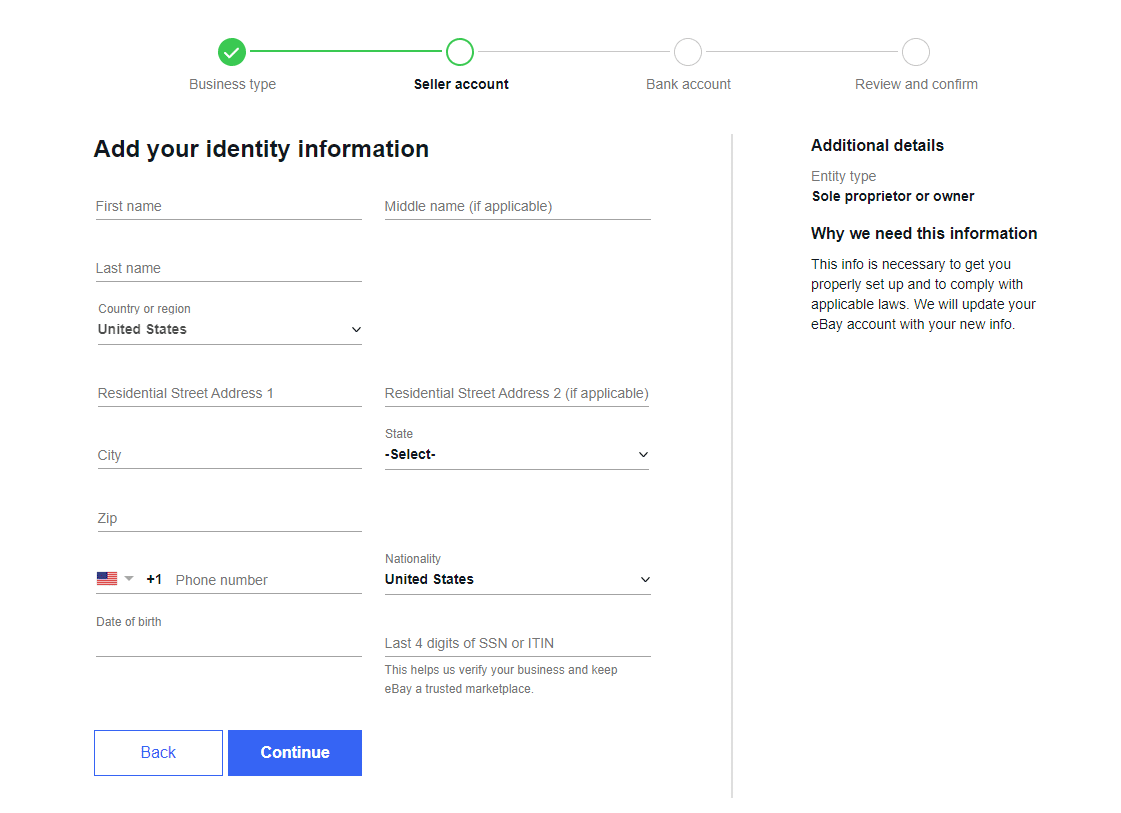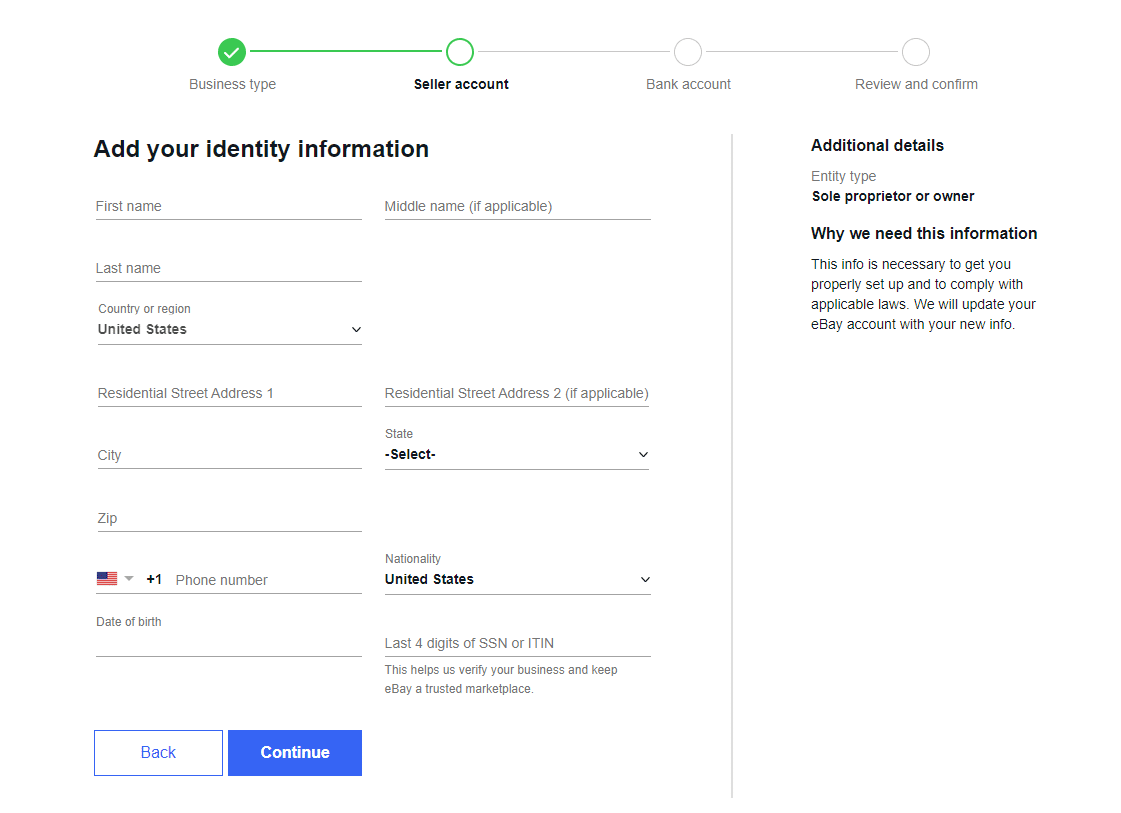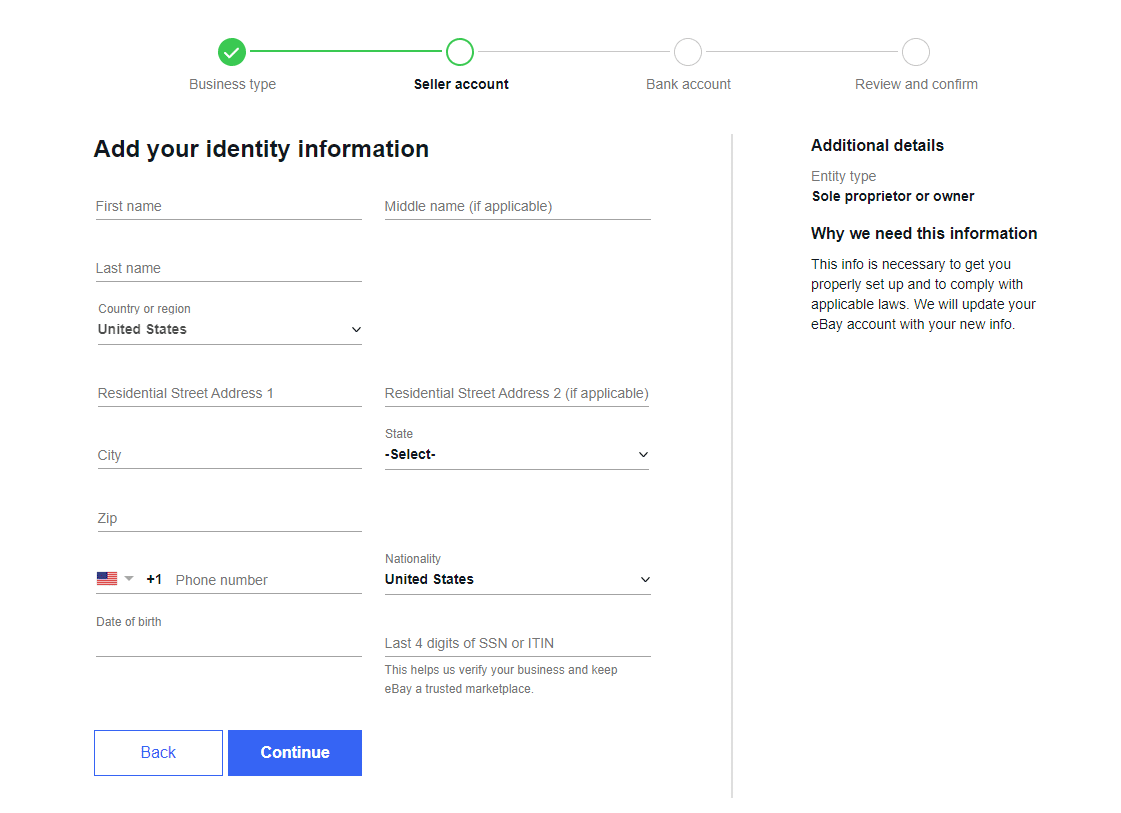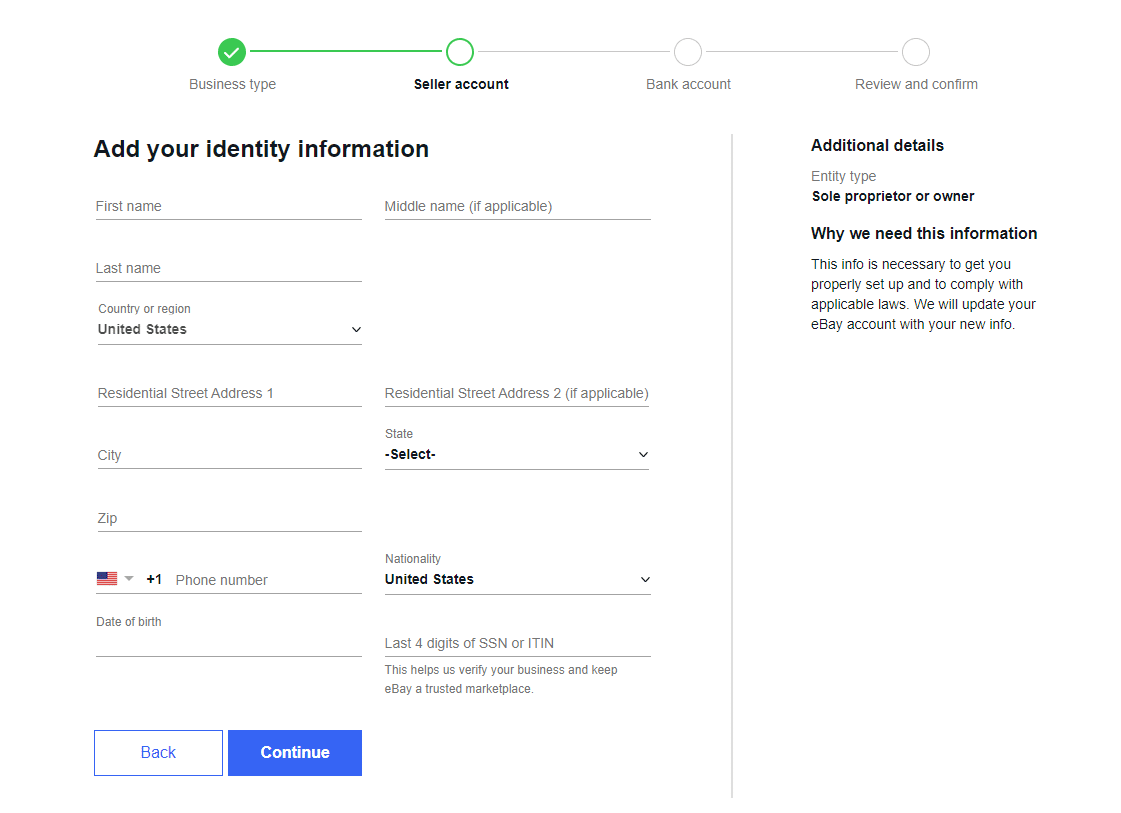 Step 3 – Choose your account settings
Here you can add:
Your shipping information. In this setting, you should choose to offer your clients one or both those shipping alternatives:
— Parcel shipping
— Local pickup
Your communication preferences. Be clear and specific about how your customers can contact you because that will directly affect your store credibility, which is paramount to success in this marketplace.
The payment method from which eBay will charge the listing fees.
Buyer requirements. On eBay, you will even be able to decide who is allowed to buy from you. In this section (called buyer requirements), you can decide to exclude different buyers, perhaps because you want to avoid shipping in some regions or specific locations, or even because you want to avoid dealing with customers with bad canceling orders reputation.
Step 4 – Add Payment method
1. Hover on the "My eBay" menu
2. Click on "Selling" > Payment
3. Add a payment method.
Step 5 – Opt-in for business policies
In order to complete your account registration, start selling and using apps like Nembol, you need to opt-in for: Business policies.
Click on the following link to access eBay dedicated article: business policies.
Click on the opt-in link at the end of the first section.
Create at least 3 policies:

A Payment Policy, to set how do you want customers to pay for your products
A Returns Policy, to specify how to manage item returns
A Postage Policy, clarifying your preferences in terms of shipping methods, handling, and so on.

Please note: if you choose to use calculated shipping, make sure your items are provided with weight and dimensions details and add your Postal Code into the "List to eBay" settings. This will allow eBay to estimate and calculate the shipping costs based on your inventory location, the customer location, and the size of the product.

To set your rules, you need to log into your eBay seller account and open the "My eBay" account section. Once you are into your personal setting account, on the left side of the pages you will find the "Business Policies" heading, click on it to open the related dashboard.

As you can see from the screenshot below, there are different button actions:

Create policy, click on it to set your first policies or to create new ones.
Reassign listing, use it to assign your existing listings to a different policy
Delate policy, click it to delete outdated rules or policies you are sure you won't use again
Clean up policies, use this button to erase policies that haven't been associated by any active or recently ended listings.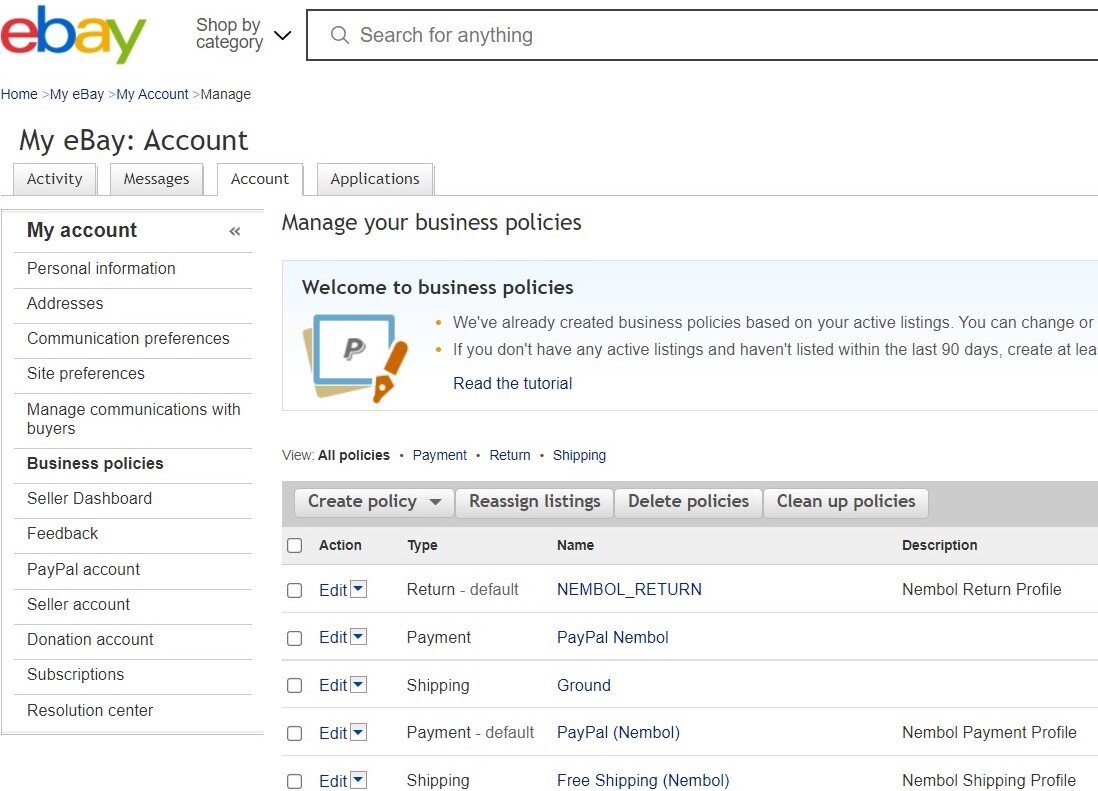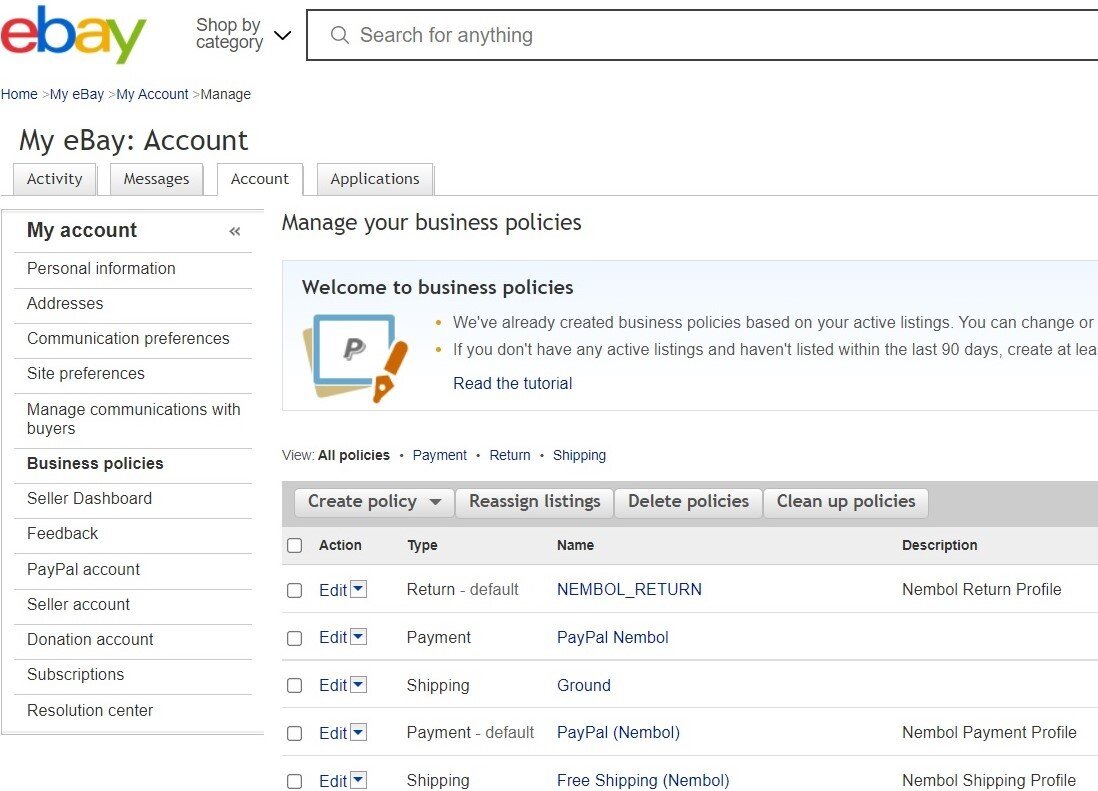 You can create different business policy templates to associate both with new listings and/or the existing ones. Nembol is provided with a dedicated section designed to manage your existing Business Policies and choose which rules associate with your multiple listings.
How to put an item on sale on eBay?
How to create a listing (with variations) on eBay
After the eBay Shop setup, you can start to list your products. 
But how to do so?
After you have logged in to your eBay account, click on the "Sell" button on the top right corner of the page

Click on "Create new" to start creating your product listing

Select whether to create an auction or a buy-it-now listing by selecting between "Template fixed price" or "Template Auction" (in this example, we will create a fixed price listing)

Create an

 optimized product title

 

for your products (you can even use 

an AI product title generator

 

to ease the listing optimization)

Assign a unique SKU code 

Fill in the required item details (brand, conditions, etc.)

Click on "Edit" next to variations to add variants, and create a combination of attributes and options (e.g color (attribute) – red, blue, yellow (options)

Add a compelling description

Price your item

Assign the shipping policy

Upload product images, making sure to use optimal ebay photo size

Publish your listing.
Bulk upload products to eBay
If you already have products listed but on different channels, recreating an exact coppy of your listing to populate eBay is a HUGE HASSLE! Luckly, if you want to avoid wasting time by recreating your listing one by one, you can use a multichannel listing tool like Nembol to bulk import products to eBay from Etsy, Shopify, Amazon, and more.
With Nembol, you can quickly populate your eBay store with listings from different sources. Use our direct import or pull-in listings using a CSV file, then keep the inventory synced, avoiding such annoying problems as overselling or stock-count management.
You can even transfer listings across different eBay accounts!
Best selling items on eBay
Except for a list of prohibited and restricted products (in compliance with eBay community rules), sellers can list and sell a wide range of different products. Nevertheless, according to eBay export analytics 2021, there is a list of top-selling items that can help you scale up.
In this section, we will rank the best selling items by category
Jewelry: apparently, watches are a must-have for eBay customers, followed by rings and earrings. Sell those products sometimes could be tough considering that clients can be leery of the quality of the products. So, to boost your sales and attract more clients, you should build a good seller reputation and give authenticity guarantees or warranties that certify product quality (especially if you are a luxury brand retailer).
Computers and electronic devices: unlike what you may think, laptops and tablets are ranked in the third position, while printers and toners are at the "top of the category". Nevertheless, all those products are the main contributors to eBay's success as a selling platform, so whatever you decide to sell will be highly profitable.
Phones and accessories: as expected, here phones and related electronic components are the most bought products of the category. The auction selling system is the most used to sell those items because it successfully engages customers and is considered by clients as the best method to get good deals.
Video Games and Consoles: In this category could only be videogames the top of selling items! On eBay customers expect to find good bargains, so you may find many potential clients interested in your products. Here you can sell from the last video game releases to the most exclusive vintage game collections.
Clothing, shoes, and accessories: apparel for men proves to be the top of the line on eBay. Selling fashion products is very easy and profitable, and you can raise your selling chance by listing products with different styles and prices.
Camera and photo: Lenses and cameras are the most searched, and photography lovers know that they can find whatever they need on eBay.
Health and Beauty: fragrances are at the top of the category, followed by anti-aging products and vitamins.
Music, DVD, and movie: with the nowadays available streaming platforms, selling DVDs and movies isn't worth it anymore. Here, the must-have of the category is music records, for people fond of vintage or last release.
Automotive: Car Audio and Electrical Components are the customers' best buy. You can sell just pieces, components, or audio equipment, becoming an eBay retailer of a specific brand, or starting a multifaceted business offering a wide range of products.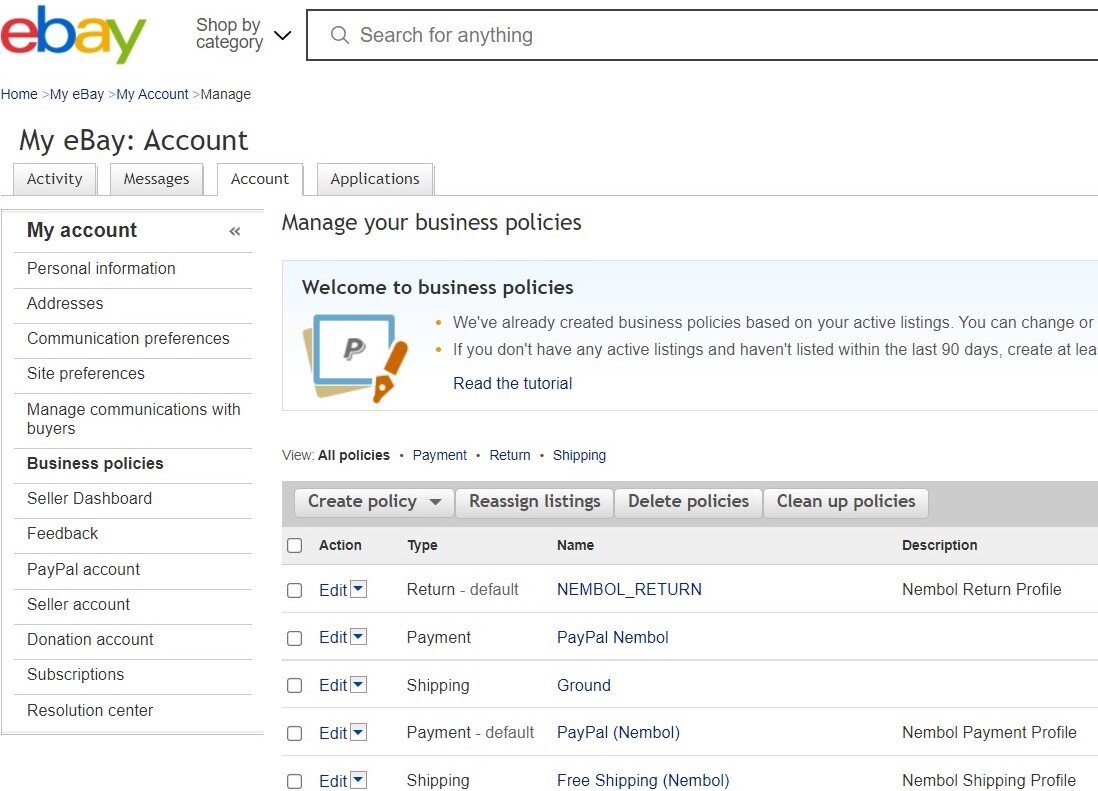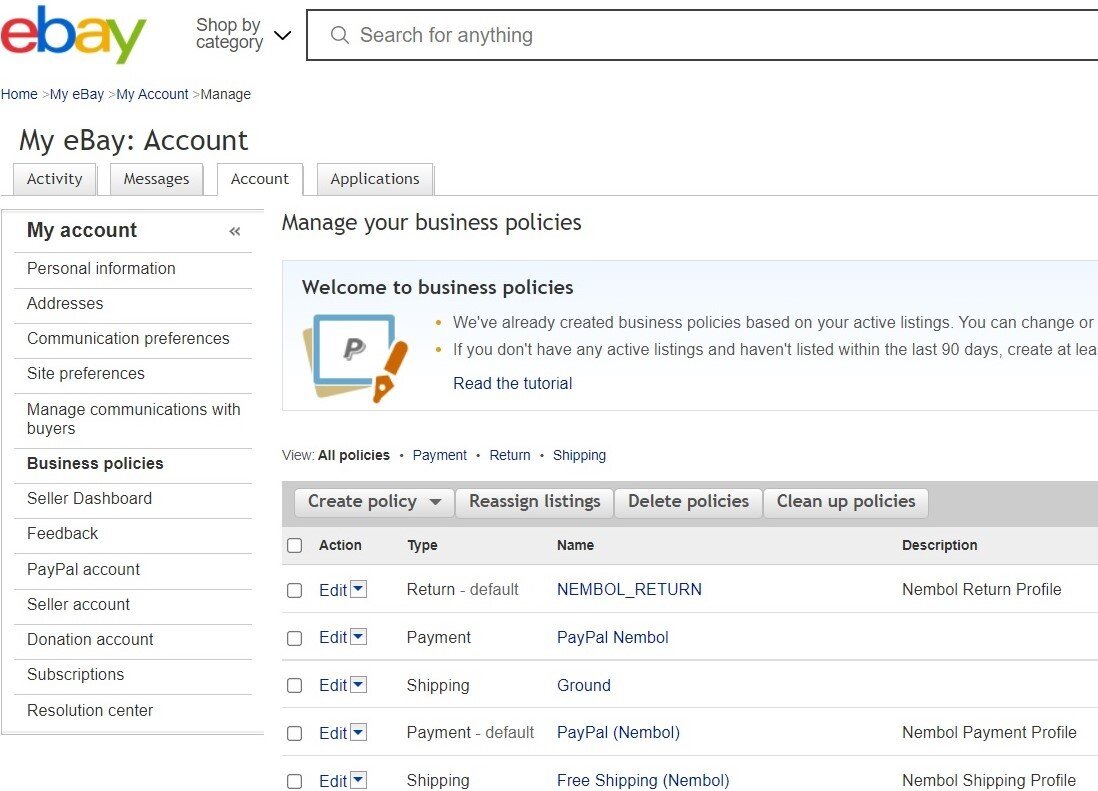 Try Nembol for free: enjoy a 14-day trial
No credit card required
eBay selling tips
Selling online on such a big marketplace, with thousands and thousands of sellers isn't a breeze. To stand out of the crowd and gain visibility, you should leverage two important aspects:
Feedback rating
Optimize product titles and descriptions for SEO
The importance of positive feedbacks
Probably you are much more familiar with the idea of feedback than SEO. Indeed, you probably already know that eBay is all about mutual trust. The user reliability is proven by the number of positive feedbacks received (both buyer and seller can be rated). For every purchase or sale you make, you will receive positive, negative, or neutral feedback. Try to make sure you have much positive feedback by shipping or paying on time for your orders, offering a good and fair service. The more your clients will be satisfied, the more you will boost your reputation, ranking up your listings.
SEO optimization
SEO optimization is a little bit more complicated topic. SEO optimization is a marketing strategy used especially by content creators to rank up in the searching results. This technique can be also used by sellers who want to boost eBay sales by letting their products appear on the firsts pages. Indeed, it is not a secret that customers, while shop online, are more likely to buy products shown on the first pages. That's why you should carefully choose which words to use as listing titles, or which term to include in your product description.
If you want to optimize your listings, start by using those two easy tips:
The title should clearly and consistent with what you're selling, including brand, product condition, and gender target.
Write a complete description of what you are selling by using keywords that customers will likely use during their research.

Make sure to use at least 500 pixels photo size for eBay. If you want to use High quality photo for your eBay listings try uploading images of about 1600 pixels.
Learn how to sell multichannel: get free education, tips, and inspiration. Start growing your successful multichannel business. 
By entering your email address, you accept our Privacy Policy and Terms of Use. Totally free. Unsubscribe at any time.