Overview
With the outbreak of ChatGPT, many people, coming from different professional backgrounds, have started to draw into the power of AI knowledge, discovering the untapped potential of this new technology.
The increasing interest in AI and its widespread usage have proved that AI can perform in multiple areas of application, particularly in ecommerce.
Indeed, through the use of prompts, it is possible to employ ai in ecommerce optimization to generate product content that not only appeals but also meets the requirements of the system algorithms used by major sales platforms. This has become a valuable tool in the ecommerce industry as it allows sellers to efficiently and effectively create product content that is more likely to reach their target audience and drive sales.
In this article, you're going to extensively read about how use Artificial Intelligence in ecommerce, what are the AI applications in ecommerce, and how you can effortlessly generate optimized listings by using our free prompt for ChatGPT you can download and readily use.
Benefits of artificial intelligence in ecommerce
Artificial intelligence is not new to the ecommerce industry. There were already tons of apps that were leveraging AI to enhance your business profitability. So what changed about AI applications in ecommerce, and why AI is now in the spotlight?
First, as with all technologies, AIs have made great strides, and their ease of usa and versatility has boosted their popularity among users.
Another important factor has been the advent of ChatGPT, which, unlike other AIs developed to perform in specific fields of use, can be used for almost any request: from copywriting to coding. 
And last, but not least, the cost reduction due to the employment of fewer staff to perform a certain range of functions.
AI applications in ecommerce
Overall, AI can help ecommerce businesses improve their operations, increase sales, and provide a better customer experience.
Try Nembol for free: enjoy a 14-day trial
No credit card required
How to use AI in ecommerce
What is an AI prompt and how to use it?
Before showing you how to use AI to optimize products, let's understand what is a prompt and what is its application in AI for ecommerce.
Using a Prompt to feed an artificial intelligence means giving a set of instructions or a query to generate an answer. A prompt looks like a list that must include a set of elements: context, expected outcomes, and values.
AI uses the prompt information to generate a response that satisfies the conditions expressed in the query. The quality and relevance of the AI's output depend on the accuracy of prompt and the sophistication of the AI model being used.
Using a prompt to generate optimized titles means feeding the AI with a set of values and with a clear query that complies with a given channel's SEO best practices. To read more on this matter, we suggest you give a look at the following guides.
Product title generator
As a seller, you always spend time trying to create optimized titles for your listings to show up on the first page of search results.
However, if you're not keen on SEO best practices you may need to hire an expert or proceed by trial and error until you crack the algorithm. Both ways sound expensive in terms of money and time, isn't it? Luckily there are different ways you can create optimized content in the blink of an eye, and in the following lines, you will get to know one of them!
AI product description generator
Looking for an effortless way to create, as for your titles, attention-grabbing descriptions that drive sales? AI-powered product descriptions might just be the solution you've been looking for!
By giving AI just a few basic product details as well as a set of conditions consistent with each channel's best practices, you can quickly generate high-performing content for your listings, even selling multichannel.
But what exactly does an optimized description entail?
First of all, incorporating relevant keywords that show up in your title, being compelling but descriptive, including search terms, and checking on length and format guidelines, are just some of the aspects to take into account. That's why our easy-to-use prompt automatically fills in the description using the product details you use in the title and adds both compelling and strategic info that can help you improve conversion rates and sales.
How to use ChatGPT for SEO: ecommerce prompts
One of the most useful AI application areas is using ChatGPT for SEO. But how to get an ecommerce prompt that helps you generate optimized content for many different products without having to manually enter each product's details?
Simply leave your email address in the box below, and we will send you a free Excel prompt that you can use to start generating high-quality content.
Once you have the Excel file on your laptop, select the sheet with the channel name for which you want to create optimized content.
Fill the prompt in Excel with the main product details.

3. Copy the "prompt_title" and/or "prompt_description" resulting text.
4. Log into ChatGPT (or any other AI).
5. Paste the text and clcik to generate a response.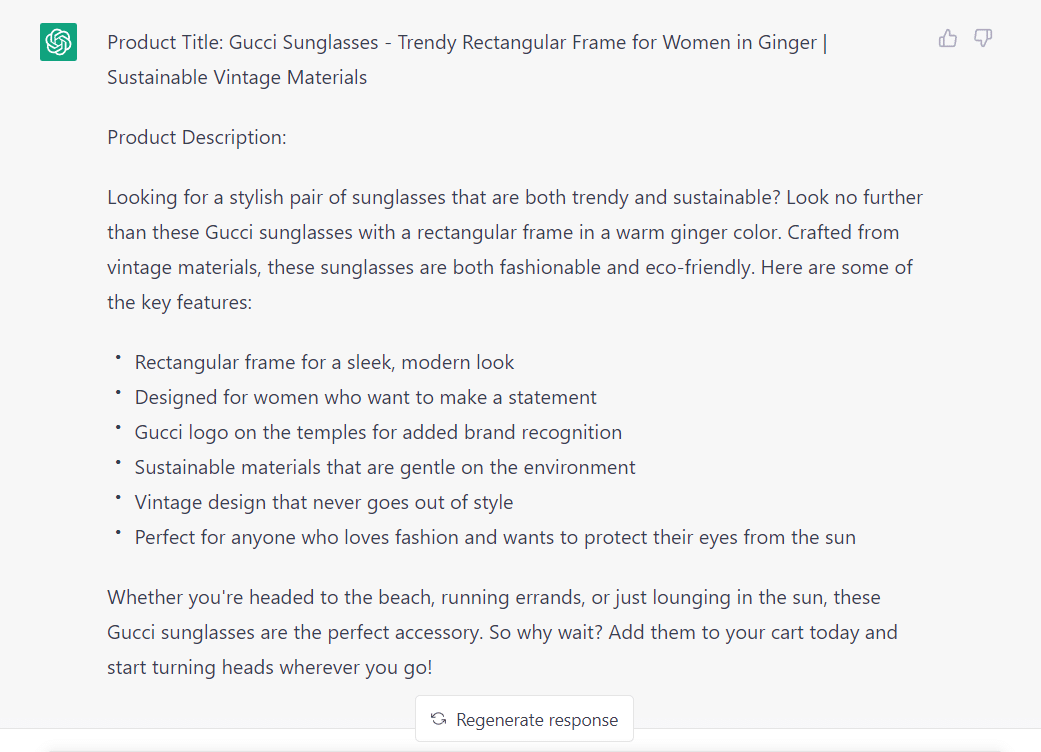 6. Copy the resulting text on your CSV for bulk uploads or directly in your product card inside your Nembol account or in the ecommerce channel backend.
Final thoughts about AI in ecommerce
Using ChatGPT and SEO tools, such as prompts, can help your products climb the search results, improving your chance of sales. AI can bring your business to the next level, but you better always tweak it a little bit whats AI-generated content. That is because, as Google recently confirmed, it doesn't matter how content is created, whether by the pen of a copyrighter or by a computer. What really matters is that the content is relevant and "demonstrates qualities of what we call E-E-A-T: expertise, experience, authoritativeness, and trustworthiness" (Google, 2023/02).
Get your free download by leaving your email address, and start generating optimized product content with this easy prompt!
By entering your email address, you accept our Privacy Policy and Terms of Use. Totally free. Unsubscribe at any time.