Overview
Being able to view recently sold items on eBay is valuable for several reasons. Whether you need to conduct market research on eBay best selling products or understand which pricing strategy to use for your eBay listings, accessing this information can provide you with valuable data that can help you develop a winning strategy for your business. In this guide, we will explore how you can easily navigate eBay to view sold items and how you can leverage on this data to foster your store competitiveness and the overall sales performance.
How to search sold items on eBay
The eBay Advanced Search Filter
On the eBay website homepage, you can see a search bar provided with filters, which allow you to refine your results and specifically view recently sold items. Here are the steps to follow to search and check on sold items belonging to specific categories or product types:
Access eBay and enter a keyword (related to the product to check) in the embedded search bar.
Click on search to display the products related to your search query.
In the top-right corner, next to the "Search" button, click on "Advanced" — See the screenshot below

4. Scroll down to the "Search Including" section and check the box labeled "Sold Items."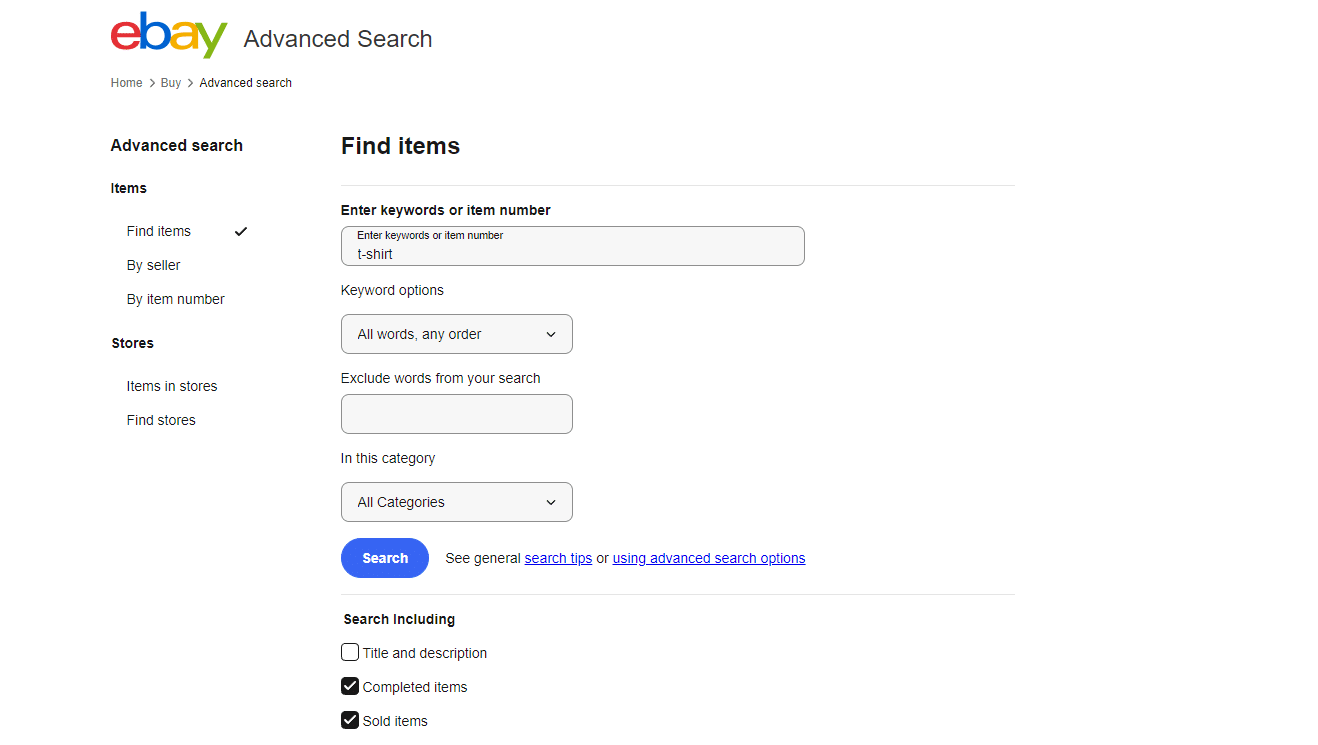 5. Narrow down your research by adding additional filters, such as category, price range, type of shipping, search by eBay seller, or even by number of bids.
6. Click on Search!
In the example below we have filtered the results by "Sold Items" >"Clothing" > "N° of bids is greater than 60" > "New, with or without tags."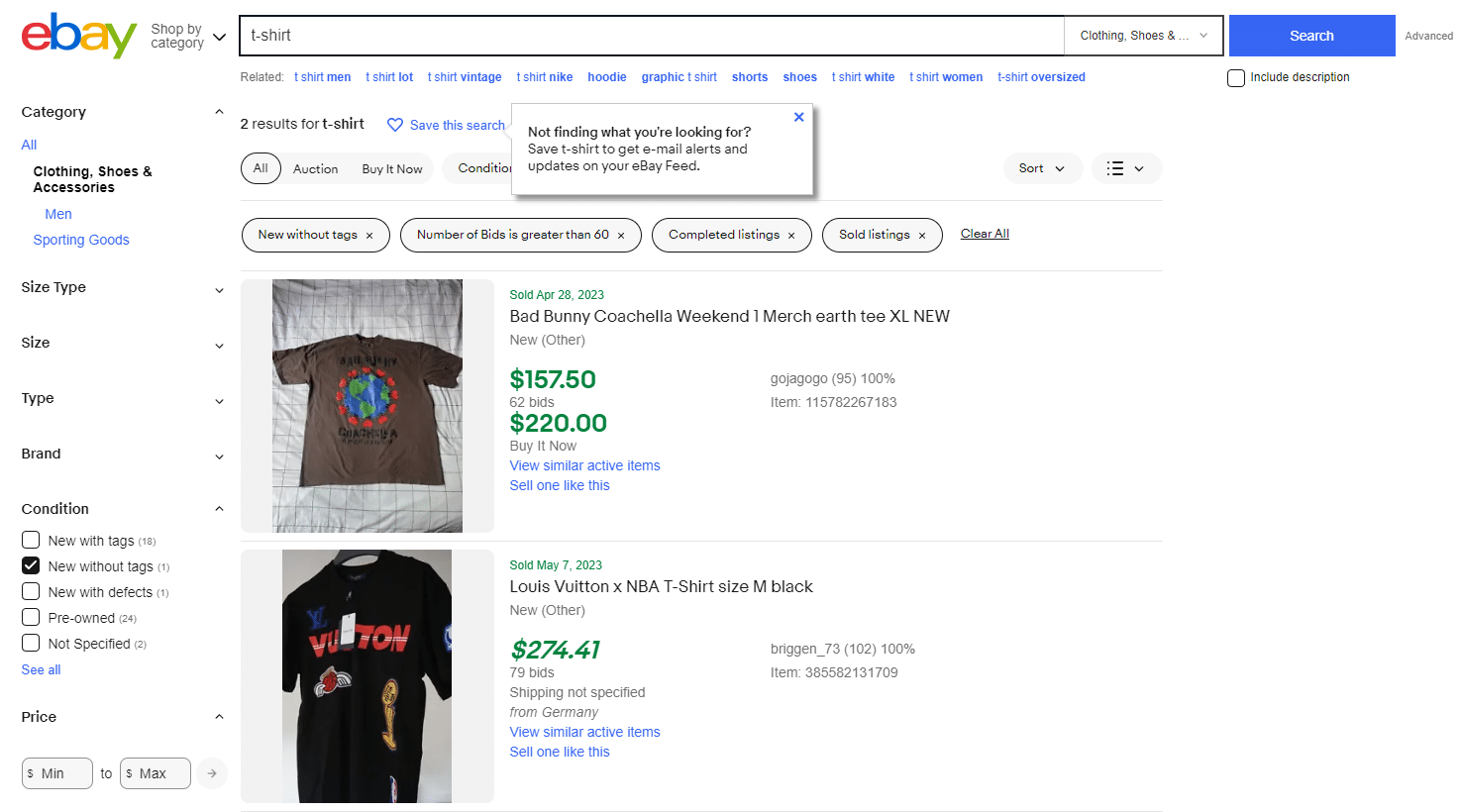 Okay, finding sold items has been pretty easy, but how can you strategically use this information and boost eBay sales?
Let's discover it together!
Why should you search for sold items on eBay?
Demand Analysis
Assessing the demand for specific products can be done by examining the number of bids, sold quantities, and the speed at which items sell. You can identify popular items with high demand and adjust your inventory or sourcing strategies accordingly.
Pricing optimization
Analyzing the selling prices of kindred items can help you determine the appropriate e-commerce pricing strategy for your own products.
By comparing prices of recently sold items in your category, you can set competitive and profitable price points.
Additionally, if you sell on multiple channels, by understanding the average sale price of your items, you can run an optimal price differentiation as a core aspect of your cross selling strategies.
But how to do it? Easy, use Nembol pricing rules!
Pricing rules provide you with the ability to efficiently manage prices in bulk across your sales channels. By setting pricing rules, you can adjust prices based on competition, fees, and market-driven criteria. With this tool, you can easily modify prices by a percentage or fixed amount, allowing for higher or lower pricing on specific channels as warranted.
By sorting sold products and analyzing the average sale prices, you can get insights into the market value of your products and set custom pricing rules accordingly. This empowers sellers like you to strategically increase or decrease prices based on the competitive landscape and market dynamics they have discovered.
Moreover, pricing rules helps you to automate the price adjustment process, saving time and effort. Instead of manually updating prices across multiple channels, you can apply pricing rules across all the integrated selling venues, ensuring consistent and efficient price management.
Try Nembol Pricing Rules for free: enjoy a 14-day trial
No credit card required
Competitor Analysis
Examining the recently sold items of competitors can provide insights into their pricing, product offerings, and sales performance. Using the eBay Advanced search hints you can asses the competitive landscape and adjust your strategy accordingly and gain a competitive edge.
Content Benchmark
By looking at your competitors' sold items you can understand how they managed to climb up the search results. In this way, you can optimize eBay listings using content that you know is performing well.
To do so, you can use Nembol to bulk-update your listing content centrally both on the platform and via CSV.
Seasonal and Trend Analysis
Tracking recently sold items over different time periods can reveal seasonal trends and demand patterns. This information can guide you in optimizing your inventory management, marketing efforts, and sales promotions to capitalize on seasonal fluctuations.
Moreover, analyzing recently sold items can help you identify emerging trends and popular product categories. This information can guide you in adjusting inventory or expanding your product range to align with current market demands.
Conclusion
eBay's sold item search allows you to get hints and strategic information to improve your competitiveness and positioning. Using that data, even through a trial and error process, can help you increase sales and develop customized strategies for each of the sales channels you're currently selling on.