Can I connect my Amazon account to Nembol?
In order to connect Amazon and Nembol, you need a Pro Seller Account.
Otherwise, you won't be able to log in to Amazon with Nembol. Meaning that you can't use your Individual Seller Account with Nembol.
Nembol does not integrate with Amazon Handmade.
Unfortunately, at the moment Nembol does not work with Amazon Handmade. Some of our users could connect, import, and list products, so we suggest giving it a try, but probably many of our functions won't be available.
If you manage to do more with this channel, let us know. We will check and see if we can integrate better with this channel.
Nembol does not integrate with Amazon FBA
For the same reason as above, Nembol doesn't work properly with Amazon FBA. Amazon doesn't want you to sell by-Amazon-stored products on different websites. Hence, the import from Amazon could be limited
You can connect Nembol with all country-locales.
How to connect Amazon?
Thanks to our last release, connecting Amazon to Nembol it's a breeze. All you need to do is:
Open the Channel Tab inside your Nembol account.
Click on the green button "log-in" next to the Amazon icon.
Grant access to Nembol.
Wait to be redirected inside Nembol to see whether the login process ended successfully.


Main features available with Amazon
Import products from Amazon
With Nembol, you have two ways of extracting products from your Amazon account.
Method 1 is to download a .csv file from your Amazon Seller Central and use it to upload your products into Nembol.
Read more: How to extract your listings from Amazon using a .csv
Method 2, available since late 2020, is to directly import your Amazon products into Nembol.
Watch our video tutorial to see how it's done: How to export Amazon listings
Once you imported your products into Nembol, you can list your products on additional channels. So far, here are the channels eligible for bulk-listing.
Please note: Nembol will import your Amazon variations as alone-standing products
Bulk list products on Amazon Seller Central
Nembol can be used to bulk list your products from other channels on Amazon. The channels you can import your products from are:
Shopify
WooCommerce
PrestaShop
Please note: Nembol will export variations on Amazon as single products. You can merge them later into one product using a tool available in your Seller Central.
Sync inventory across channels
Nembol has a specific function that allows you to sync available quantities across channels.
When you activate it, every time you'll get an order in any connected channel, Nembol will automatically adjust the inventory across all your marketplaces and e-commerce carts.
Read more: The Quantity Sync function
Bulk Edit products on Amazon
Although Amazon has centralized content, you can use Nembol to bulk edit product quantities on multiple products at once.
Read more: Quantity bulk edit
While content like product pictures, titles, and descriptions must be the same for every seller, you can have your own prices. You can change them in the Product Cards.
If you're listing your own products, you can also use our CSV bulk editor to quickly edit your listings.
Link listings on different channels
When subscribing to Nembol, you may already have your products listed on more than one channel. You can easily link those items together.
How to link products on different channels:
First, import your products from one channel.
Subsequently, import from any additional channel, as many times as you want. No worries: Nembol will never import duplicates.
Nembol links products that have exactly the same SKU code across channels, and imports the remaining ones.
Read more: Link your listings across channels
List on Amazon with Nembol as barcode exempted
As of June 2022, barcode-exempted and new ASINs listing from Nembol to Amazon is suspended due to Amazon API ongoing update. Please check with our support the current status
Nembol can be used to list on Amazon by barcode exempted sellers too.
Although, because Amazon has thousands of categories, each one with different attributes, some sellers may experience issues.
Sometimes, we just need to map a specific category. We did not map every category on Amazon, because there are too many. But we do it within 24 hours when a user asks us to.
There are some cases when a seller can't use Nembol to list as barcode exempted. Some categories require fields that Nembol does not manage (e.g. specific clothing types).
This is the reason why we offer a 14-day free trial. Test Nembol out, and if something is not working, contact us. We will help you find out whether Nembol is a good fit for you.
Read more: Sell as Barcode Exempted on Amazon
Transfer orders into Shopify
Some users use Shopify as a central hub for listing management. Any edit done in Shopify (like quantity updates) can be automatically synced over to Amazon, and other channels.
Also, Nembol can transfer orders you get in Amazon into the Shopify backend.
Read more: Import orders into Shopify
Try Nembol for free: enjoy a 14-day trial
No credit card required
How to use Amazon with Nembol: settings
In this section, we go through all settings available for your Amazon account in Nembol.
To access the settings, go to your Channels Tab and click on the small Gear Icon next to the Amazon logo.


These are the different settings available in Nembol for Amazon:
Quantity Sync on Amazon
Edits from Nembol
List to Amazon
— Barcodes
— Brand
— Node ID
— Condition
— Dedicated Prices
Note that you can expand them by clicking on the blue arrow on the left-hand side.
Remember to Save!
After you finish editing the settings, remember to save, or your changes won't be applied!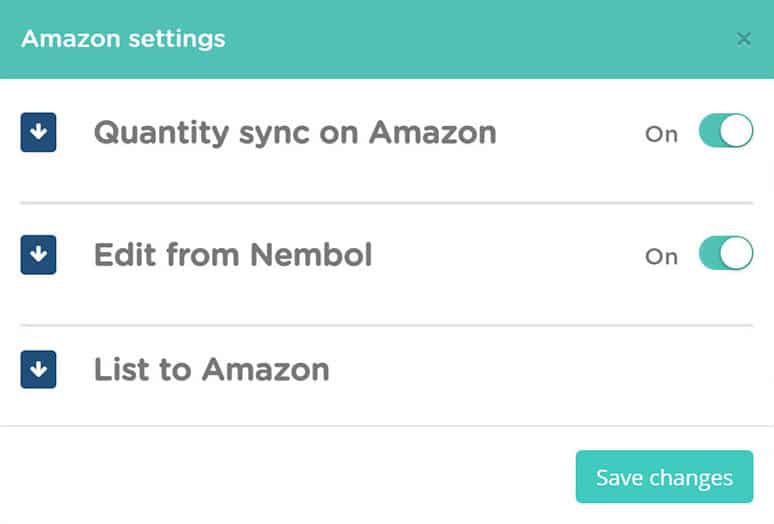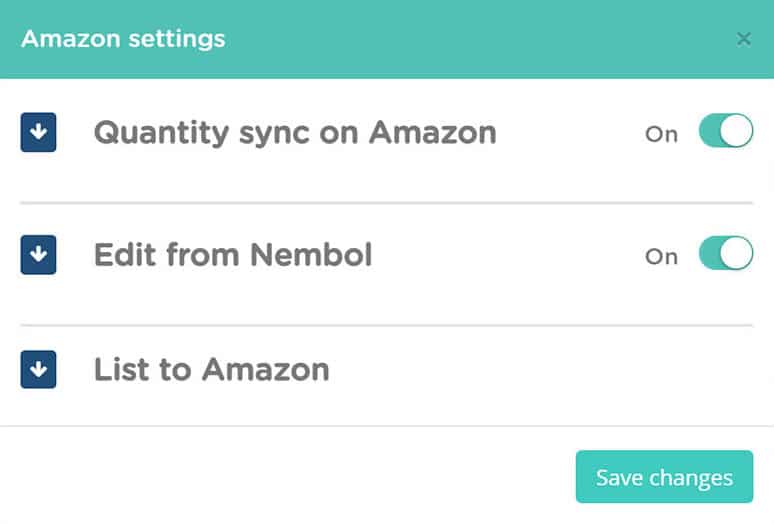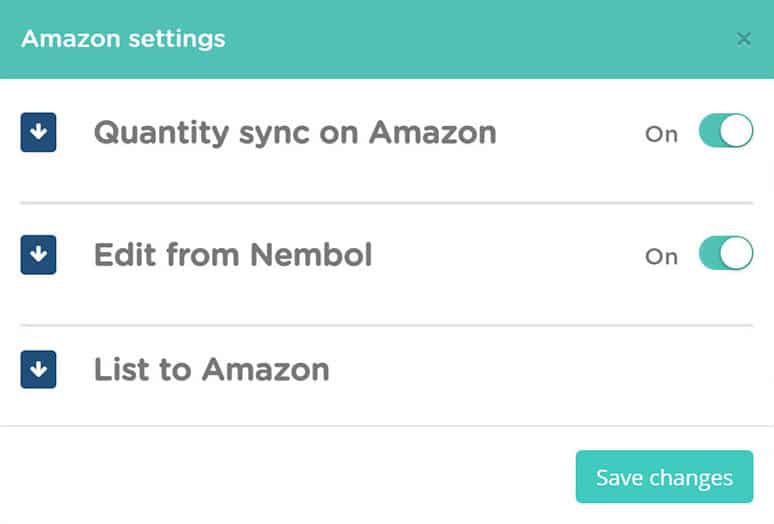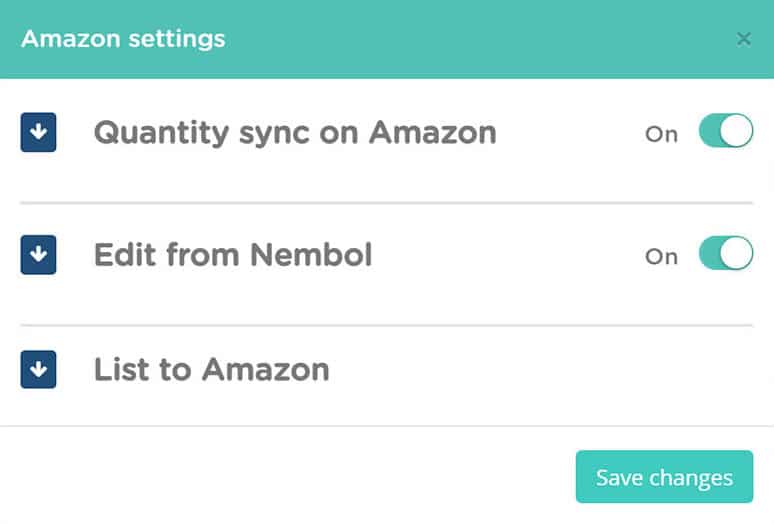 Amazon inventory sync
Nembol allows you to keep your inventory aligned across your channels. It's currently available also on Shopify, eBay, Etsy, WooCommerce, and Storenvy.
The inventory sync works in two ways:
Upon orders: Nembol syncs the quantity after an order is placed in any connected channel. This process is usually really fast, almost instantaneous, in some channels (Shopify), but it is slower on others (Amazon).
After a manual change done in Shopify or in Nembol. Edits done in other channels can't be synced.
Read more: Inventory Sync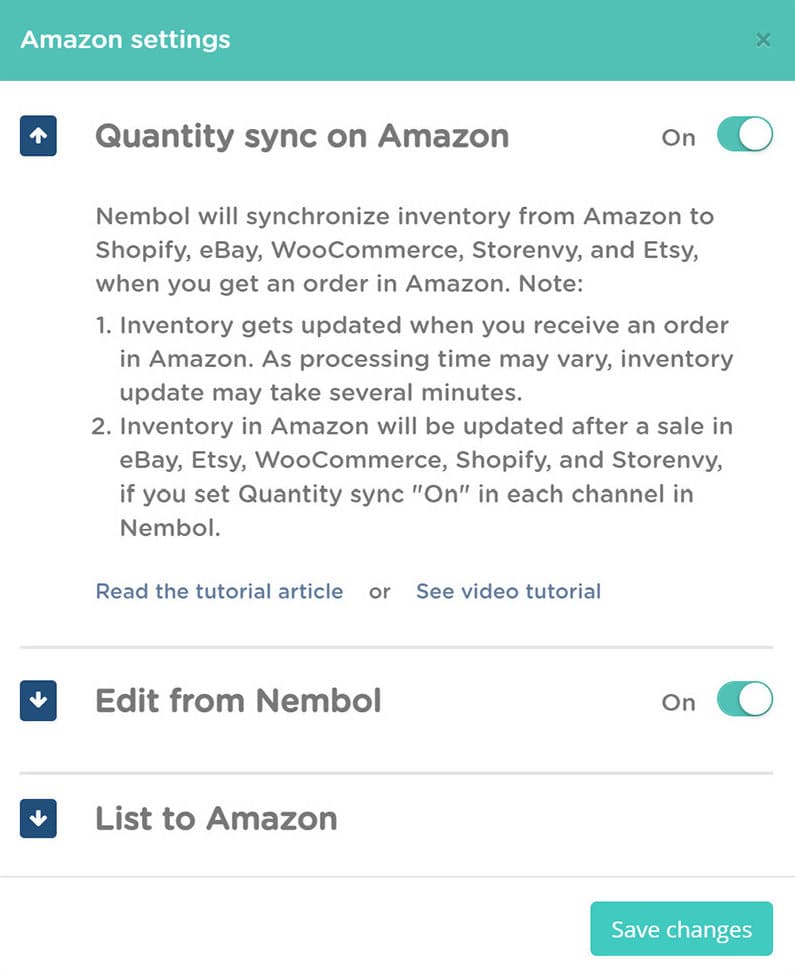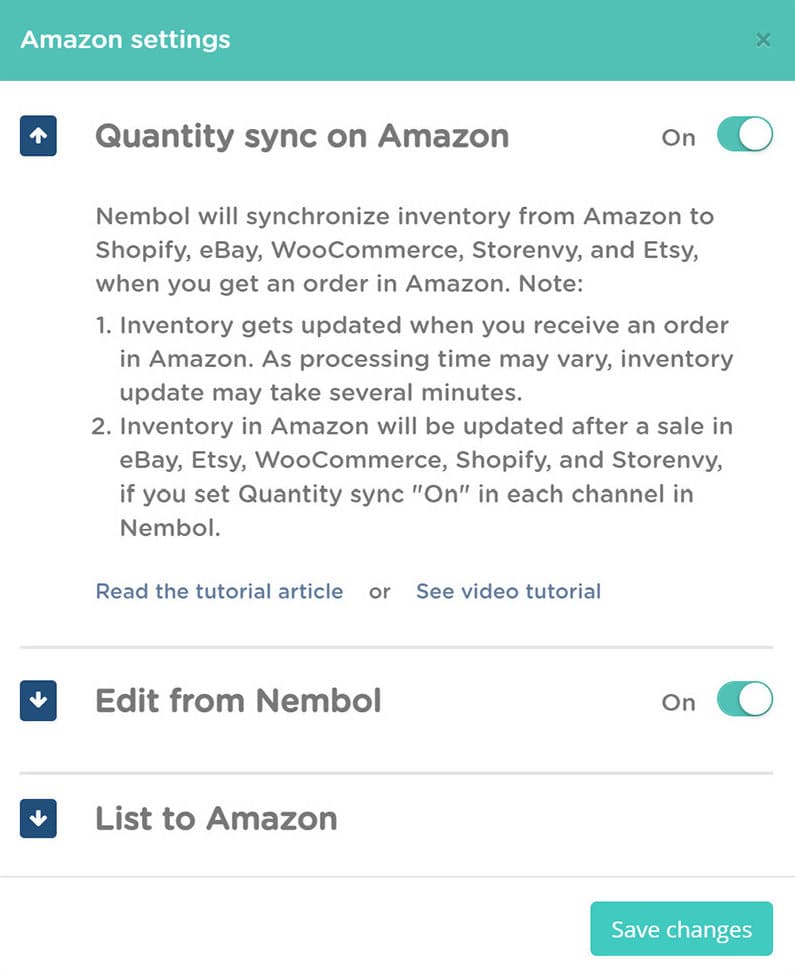 Sync edits through channels
When using Nembol, you can centrally edit your listings. This can be done in Shopify, or in Nembol.
Unlike other channels, Amazon has centralized content. This means that you can't edit everything on your listings.
Here's what you can't customize on Amazon listings:
Titles
Descriptions
Bullet points
Pictures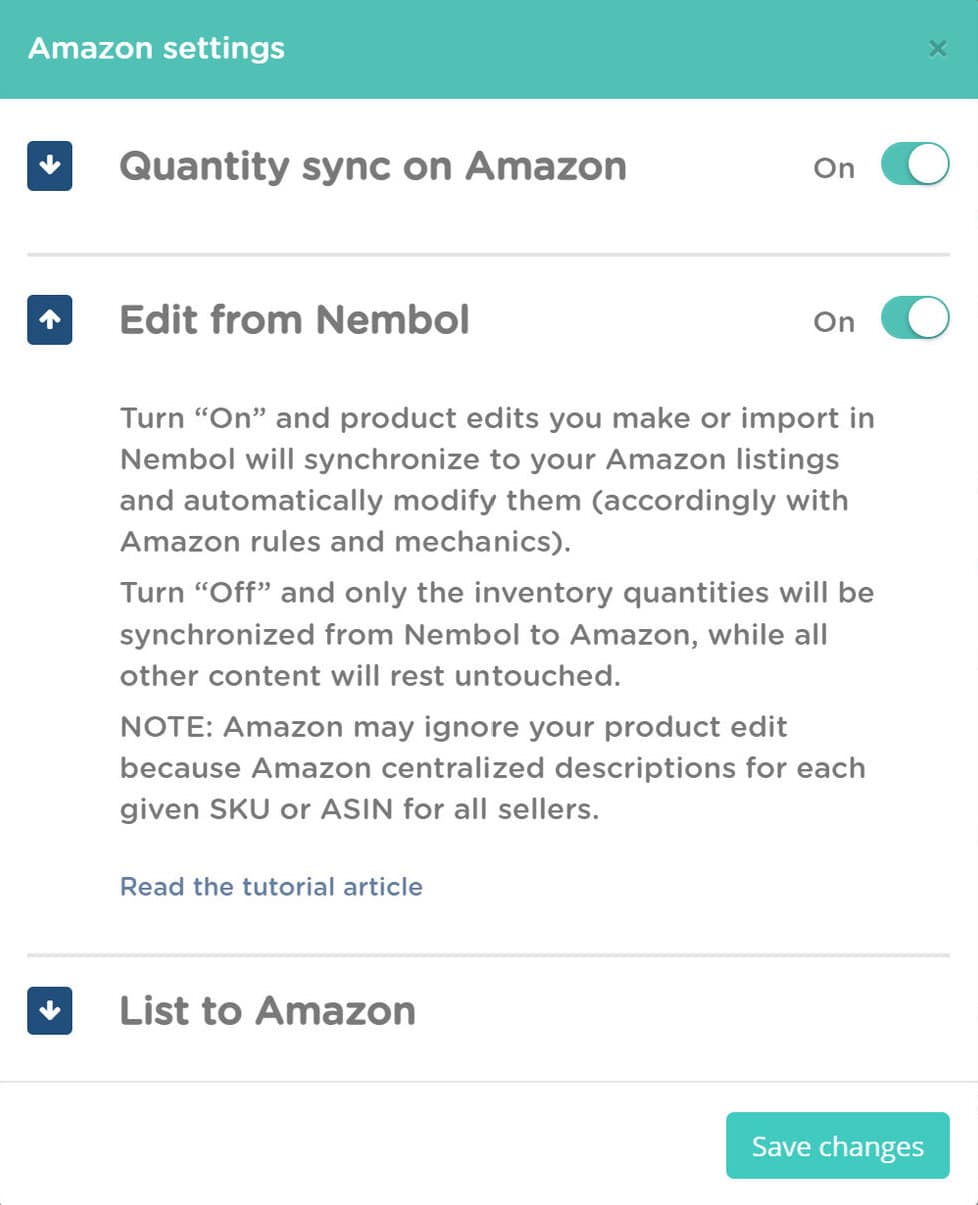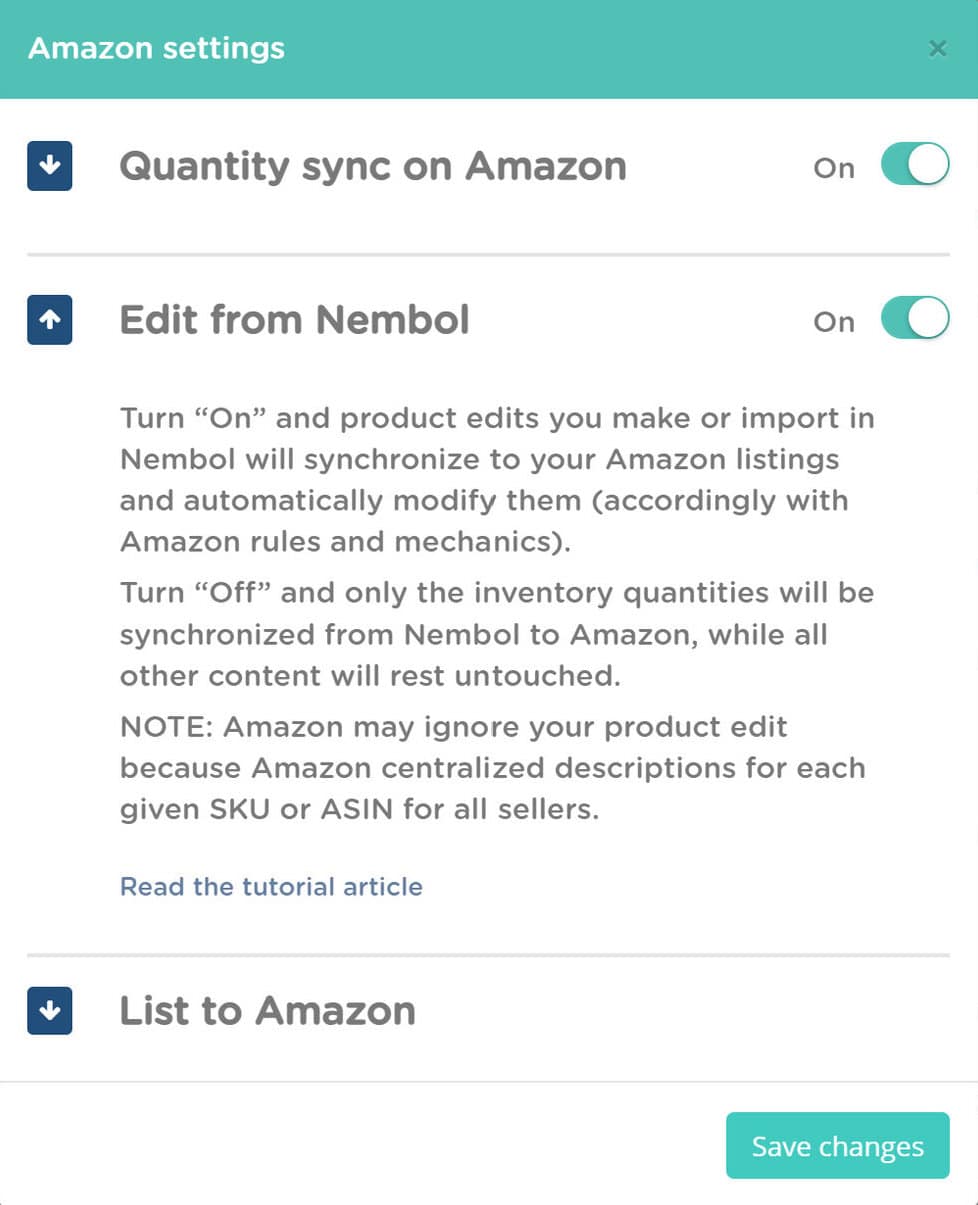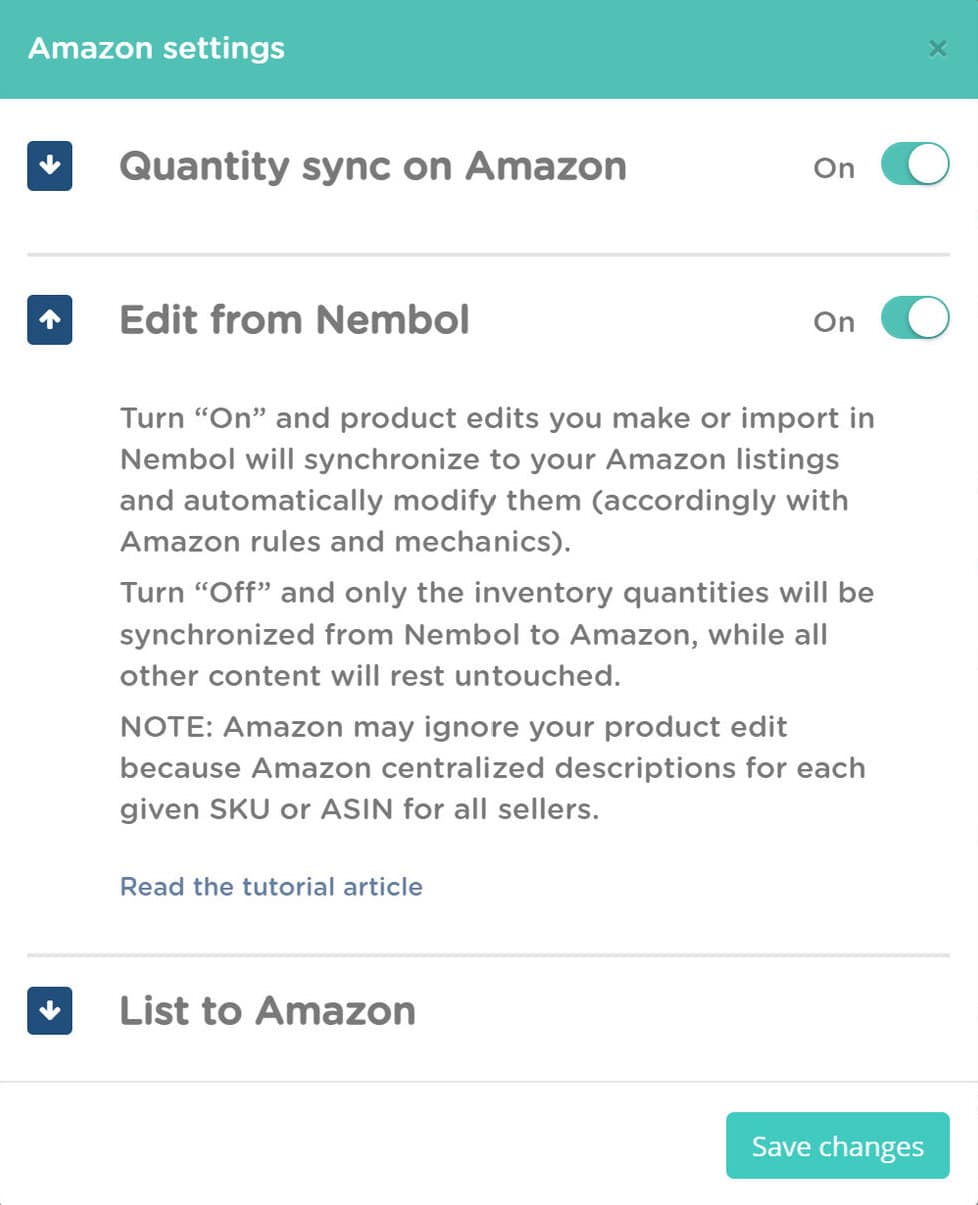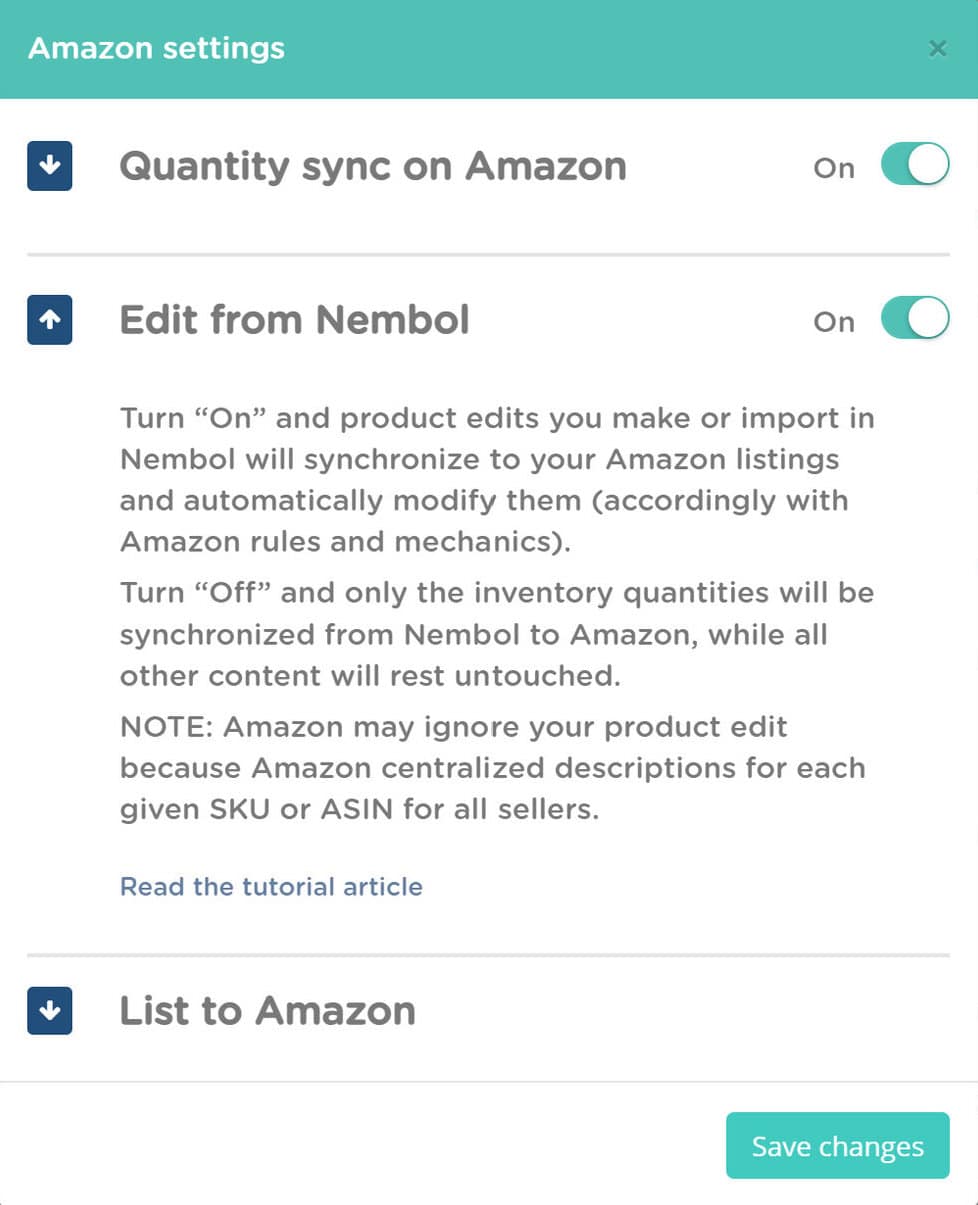 Amazon bulk-listing tools
Nembol has a series of tools and functions that help you when listing or bulk-listing to Amazon multiple products.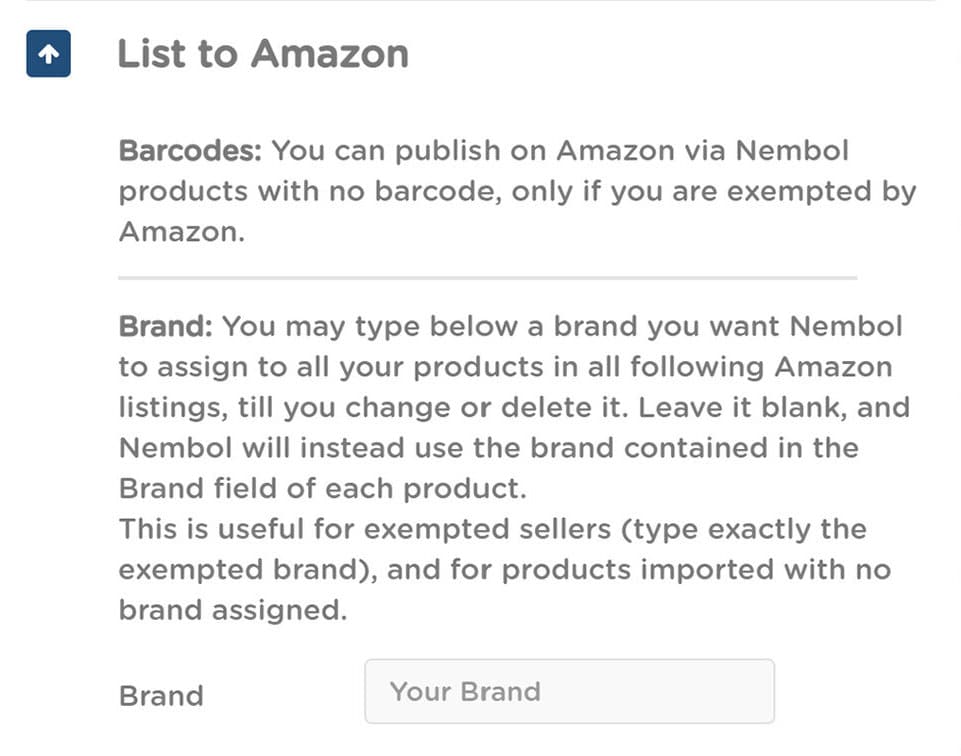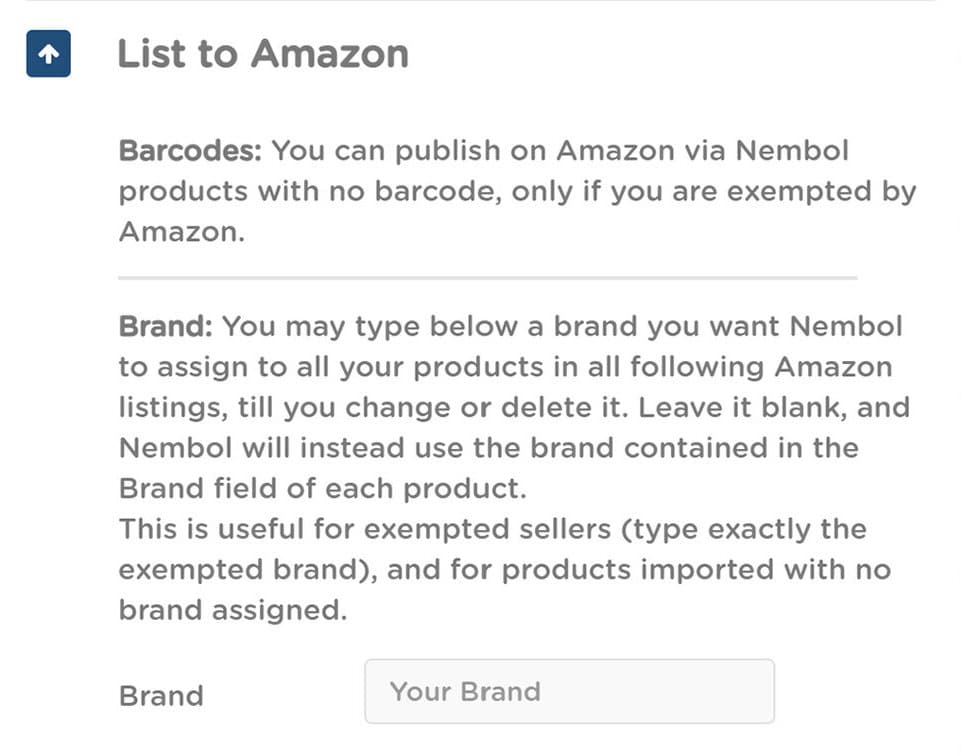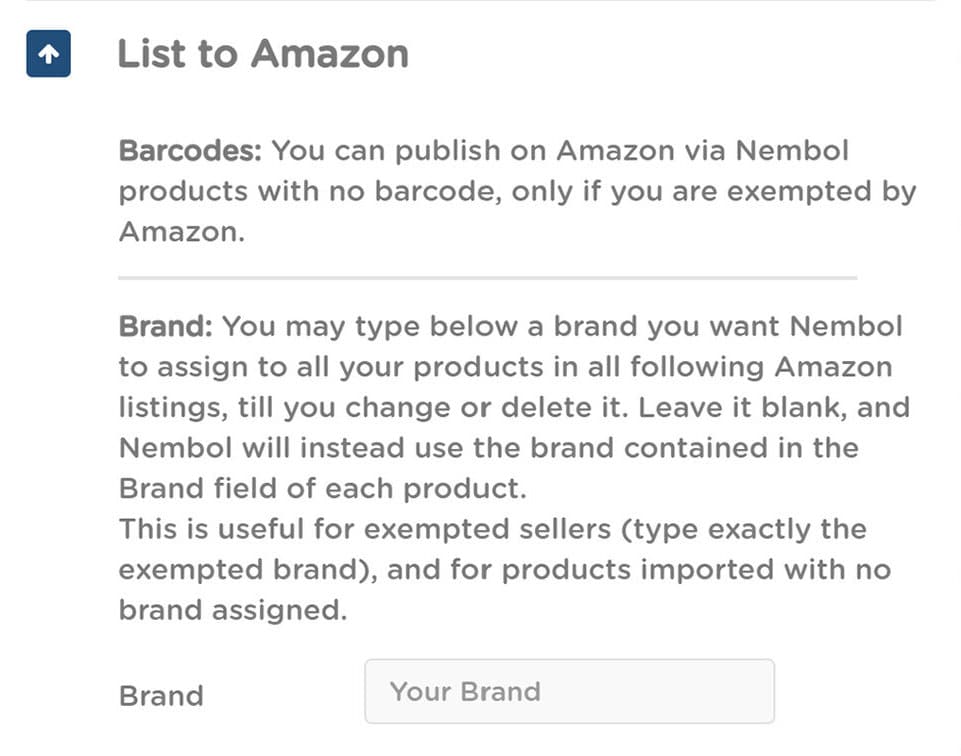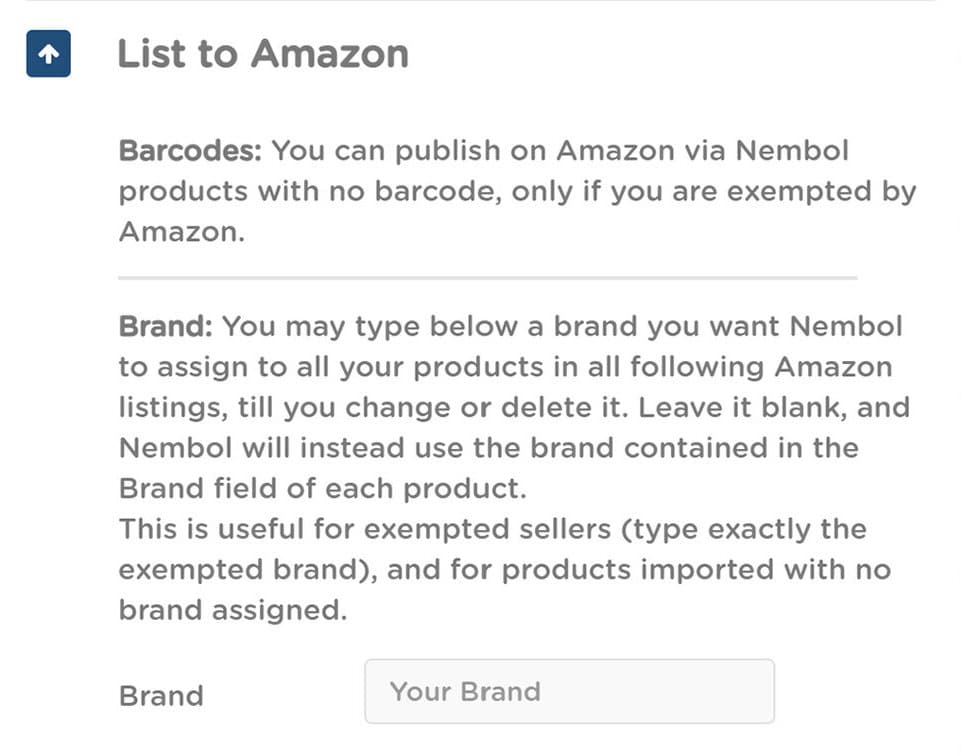 Barcodes and barcode-exemption
You can sell on Amazon as Barcode exempted with Nembol. Nevertheless, some users may experience problems when listing to Amazon in some categories with a lot of required fields (mostly, Clothing). Read above and see if this applies to you.
Read more: How to list as Barcode Exempted on Amazon
Assign brands in bulk to Amazon listings
One of the mandatory fields in Amazon is the brand field. You can bulk-list groups of items with the same brand by filling in one here.
This is extremely useful, for example, for barcode exempted sellers (you can just type once the correct brand), but also when you import your products from a channel that does not have a brand field.
Please note: Nembol will not overwrite the brand that you specified in a single Product Card.
Assign Amazon Node IDs in bulk
Exactly like above, you can assign in bulk your listings to a Node ID. The correct way to proceed, when you have multiple Node IDs to use, is to begin with one, first. Then list to Amazon the corresponding group of products that belong to that category.
Once you did that, you can proceed with the second group of products with a different Node ID, and so on.
Read more: Amazon node ID – What is it, how to find it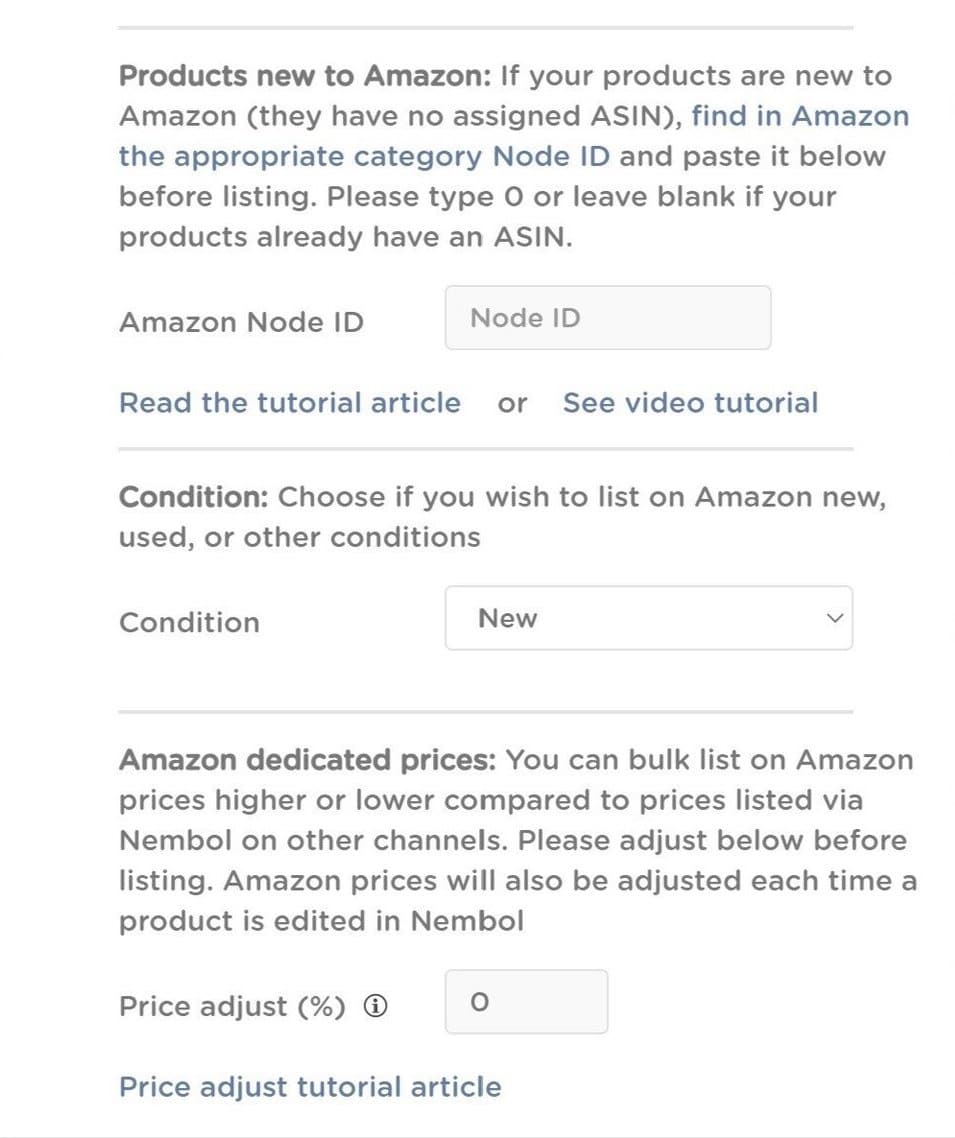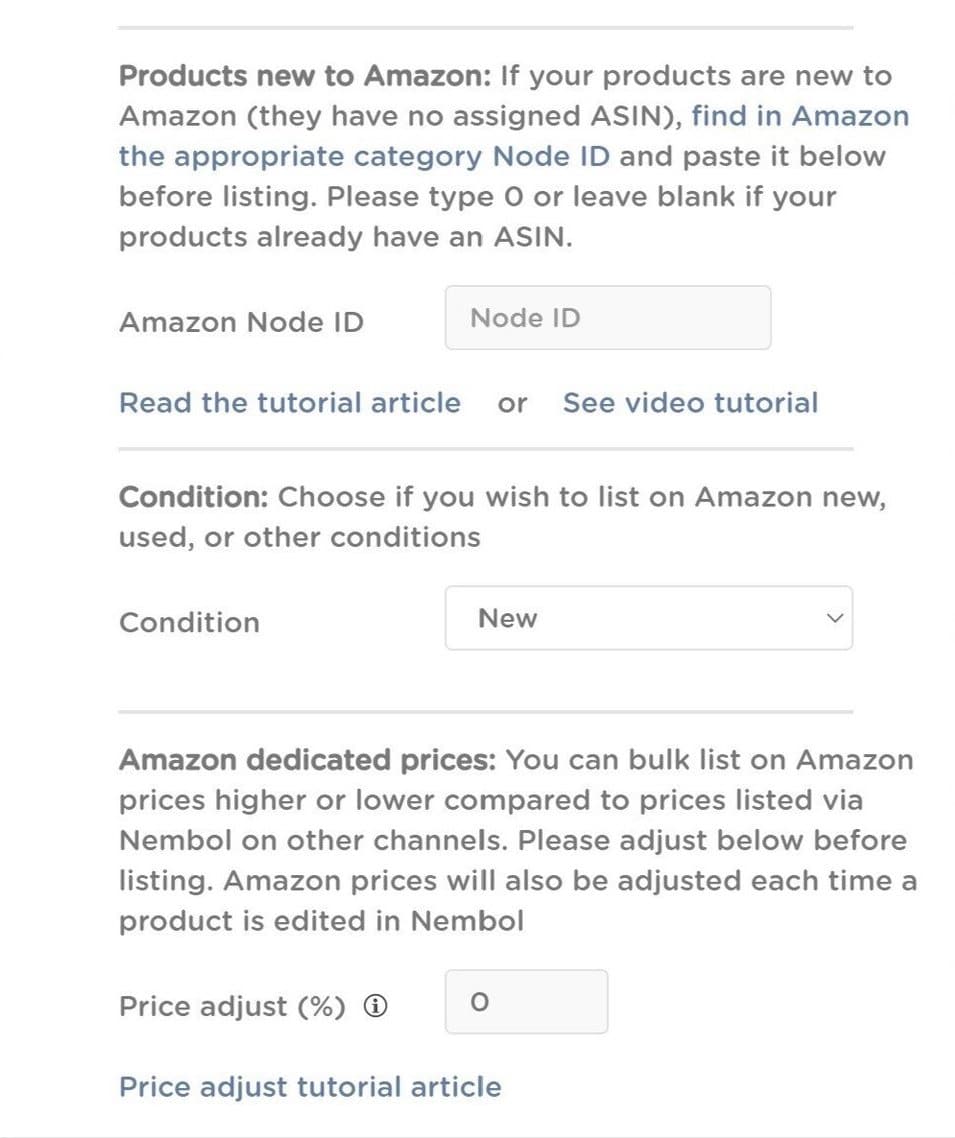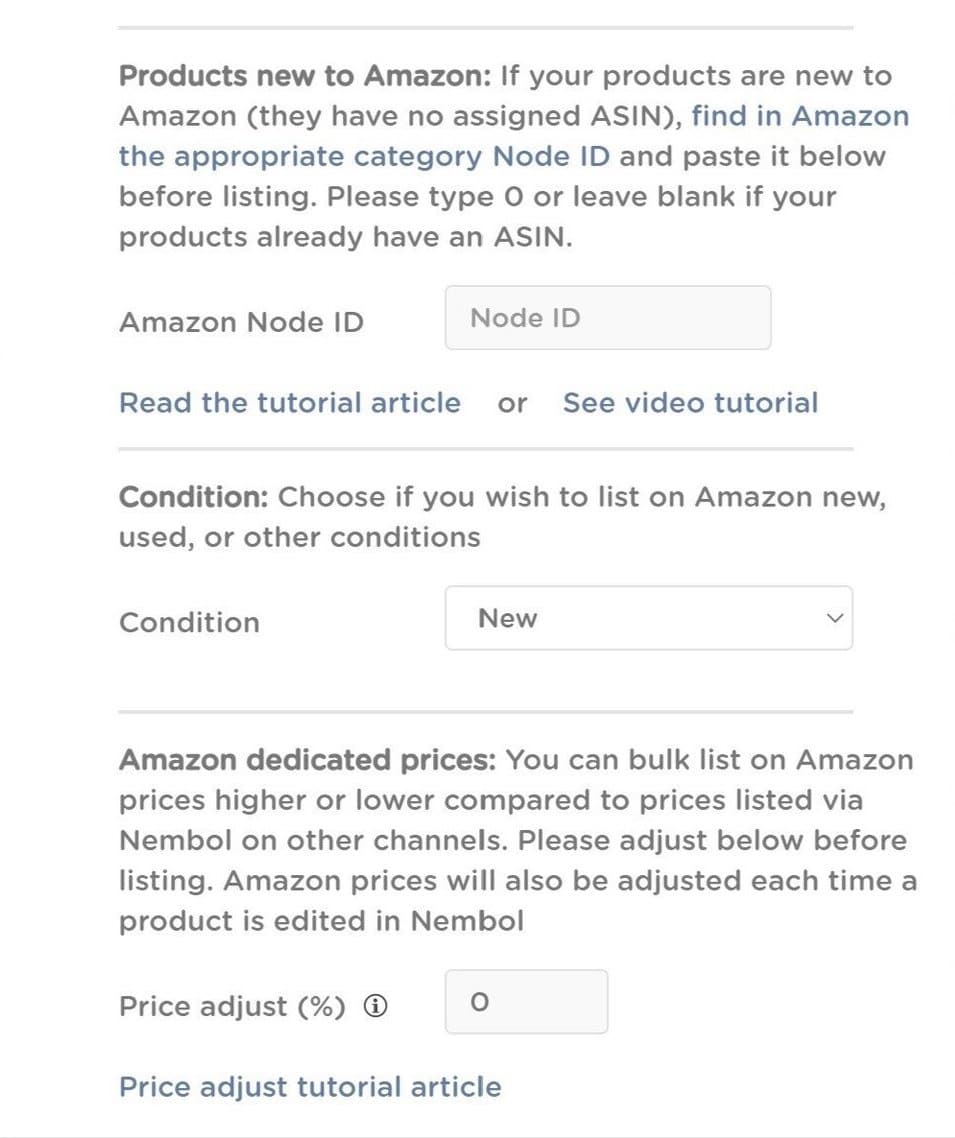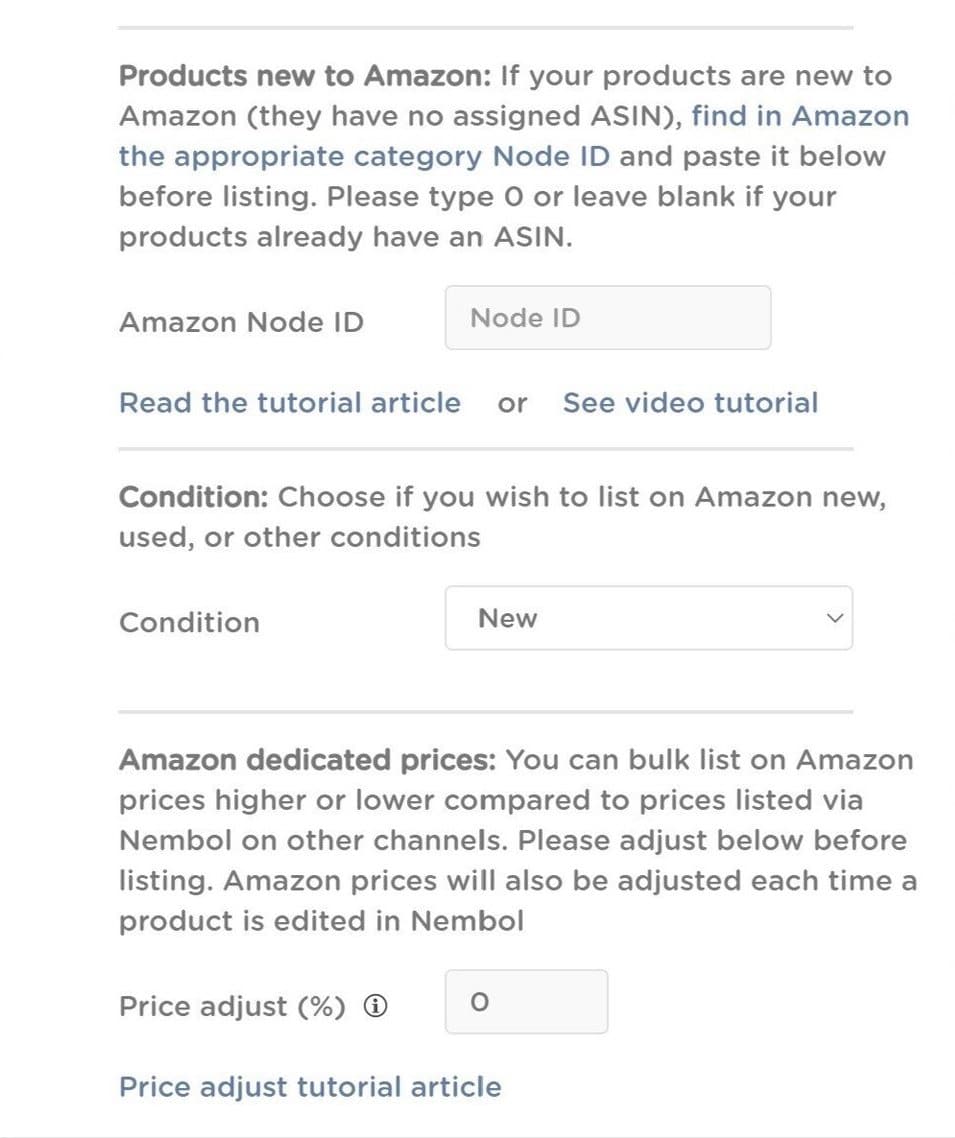 Assign a condition to Amazon listings
You can easily assign a product condition to your listings. You can choose between:
New
Used (Like new, Very Good, Good, or Acceptable)
Collectible (Like new, Very Good, Good, or Acceptable)
Refurbished
Set differentiated prices for Amazon only
In Nembol, you can set a pricing rule (percentage) for each channel. This allows you to publish with a differentiated price, and adjust for taxes, fees, and so on.
How does the price adjustment function work? Type in a number (e.g. 10) and Nembol will set a price increase (of 10%) for that given channel when listing. This means that you don't set a pricing rule for the import, but for the export.
You can also use negative numbers to set a price reduction (e.g. -10 -> -10%)
When will Nembol adjust the prices? Immediately, if you publish them with a pricing rule. Or, after an edit occurs (for example: a sale, or a manual edit), when you set or change the pricing rule after your items have already been listed to Amazon.
What is the price rounding function? When you use a pricing rule, Nembol automatically sets the adjusted price to the closest .99 price (e.g. 11.99).
This works only for prices larger than 10.
Read more: Price adjust: automatically raise or discount prices for Amazon only