How to connect Etsy to Nembol
Connecting your Etsy account to Nembol is a very simple procedure.
All you need to do is to:
Open Nembol and access the Channels Tab
Next to the Etsy logo, click on the Login Button to connect your Etsy account to Nembol
You will be redirected to Etsy's login page
Sign in using your Etsy credentials
Finally, "allow" access to Nembol
Please Note: if you have problems accessing, please make sure that you completed your Etsy account with all required information.
More on the login: Set up your Etsy account




Nembol does not work with digital products
Unfortunately, at this time, Nembol does not work with Etsy's digital products. If you are interested in using Nembol with this type of product, please let us know.
We will check and see how we can integrate better with this channel.
List and Sync features available with Etsy
Import products from Etsy
With Nembol, you can easily bulk-import your listings from Etsy into many different channels, such as: eBay, Amazon, Shopify, WooCommerce, PrestaShop, Facebook, Twitter, Tumblr, Pinterest, Google Merchant Center, and Instagram. See our integrations.
Import specific items
In Etsy's setting, under the "Import from Etsy" section, you can choose to add filters to the import. Choose which items should be imported by Nembol:
Status: active, draft, expired, inactive.
Section: import only from a specific section in Nembol.
Don't worry! You will be able to change your settings whenever you want.
Bulk-list products on Etsy
With Nembol you will be able to bulk-list your products on Etsy in just a few clicks.
The channels you can import your products from are:
In the "List to Etsy" section of the settings, you can easily select how your listings will be exported from Nembol into Etsy. See how to use available functions here below.
Sync inventory across channels
Nembol is provided with a smart function that automatically syncs the available quantities across multiple channels.
Switch "ON" the sync button to activate it, and every time you sell an item, Nembol will align the inventory across all your connected channels.
Watch this video to get started, or read more: The Quantity Sync function
Bulk edit on Etsy
Mass-edit your listings using a CSV file, or use the quantity bulk edit function to push quantity updates to all your channels at the same time.
Edits made on a single product will be share across connected channels, too.
By default, Nembol will publish your multi-quantity products with a quantity maximum of 999, to match Etsy's limits on inventory count. The products will be restocked as you sell them if you still have availability in Nembol. This will save you time when bulk publishing from other channels, like eBay or Shopify.
Link listings on different channels
Before your Nembol subscription, you may have already listed items on different channels. You can easily connect them with Nembol.
How to link products on different channels:
First, import your products from your preferred channel.
Then, import products from any additional channels. Nembol will automatically link all products that have matching SKUs.
From now on, the products will be in sync.
List your products using a CSV file on Etsy
Nembol allows you to bulk-publish your products using a CSV file, also on Etsy.
If you are an Etsy seller, you probably already know that this channel doesn't allow users to import products using a CSV file.
Nembol provides users with the opportunity to overcome this obstacle, allowing them to upload a CSV file on Nembol, and then bulk-list items to Etsy.
Read More: How to import products from a CSV file (on multiple channels)
Transfer orders into Shopify
Shopify users may prefer to use it as a central hub to manage their listings.
Nembol, connected to a Shopify account, allows you to automatically sync any edit you have done in Shopify on Etsy and on other channels. In addition to this function, Nembol can transfer the orders you get in Etsy into your Shopify backend.
Read more: Import orders into Shopify
Try Nembol for free: enjoy a 14-day trial
No credit card required
Automation tools for Etsy
In this section, we will go through the main settings available for your Etsy account on Nembol.
Opt-in your favorite settings, and let Nembol meet your needs.
To access the settings, go to your Channels Tab, and click on the settings icon next to the Etsy logo.




There are 4 different sections:
Quantity Sync from Etsy
Edit from Nembol
List to Etsy
Import from Etsy
Please note: you can expand each setting by clicking on the blue arrow on the left-hand side.
Always remember to save after you change your preferences!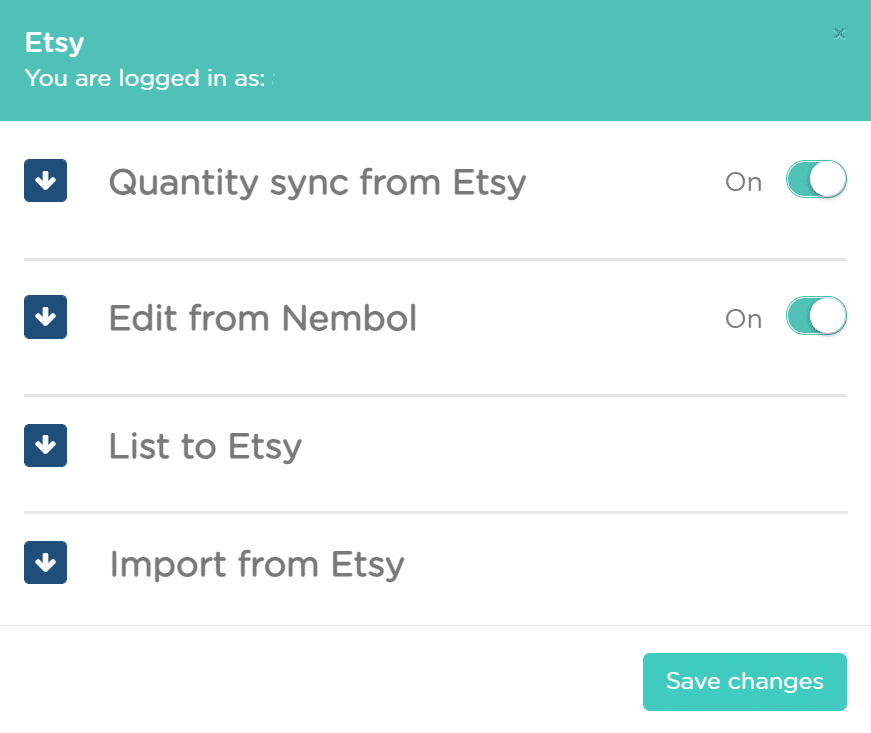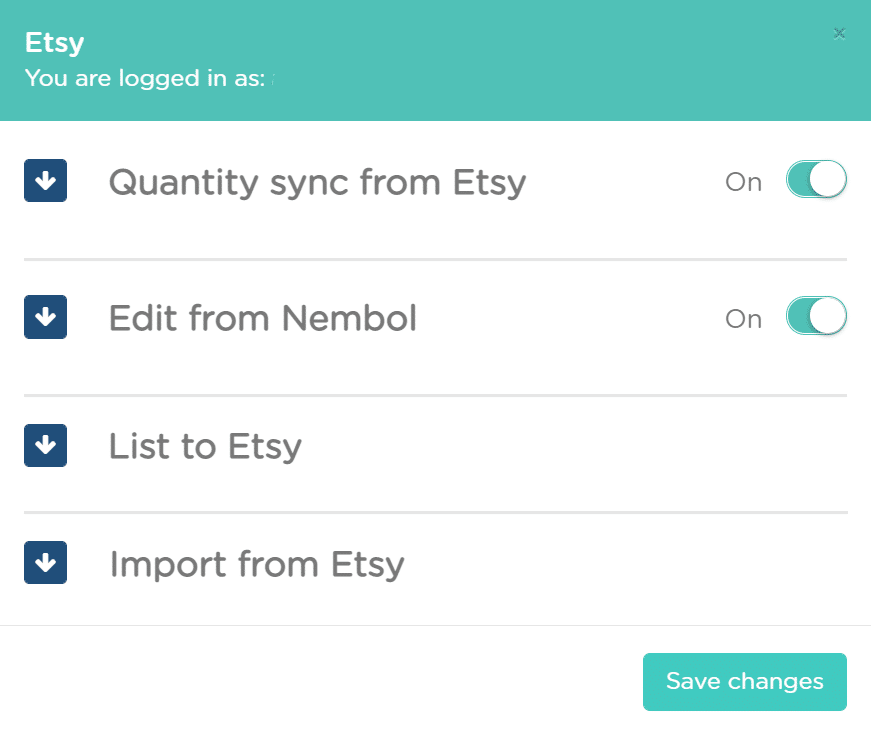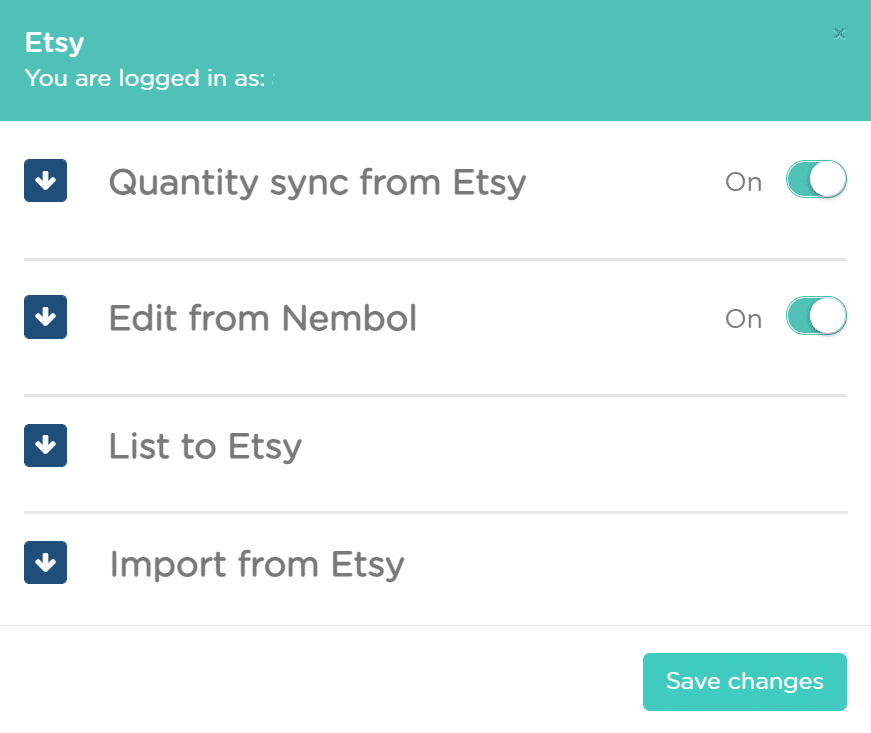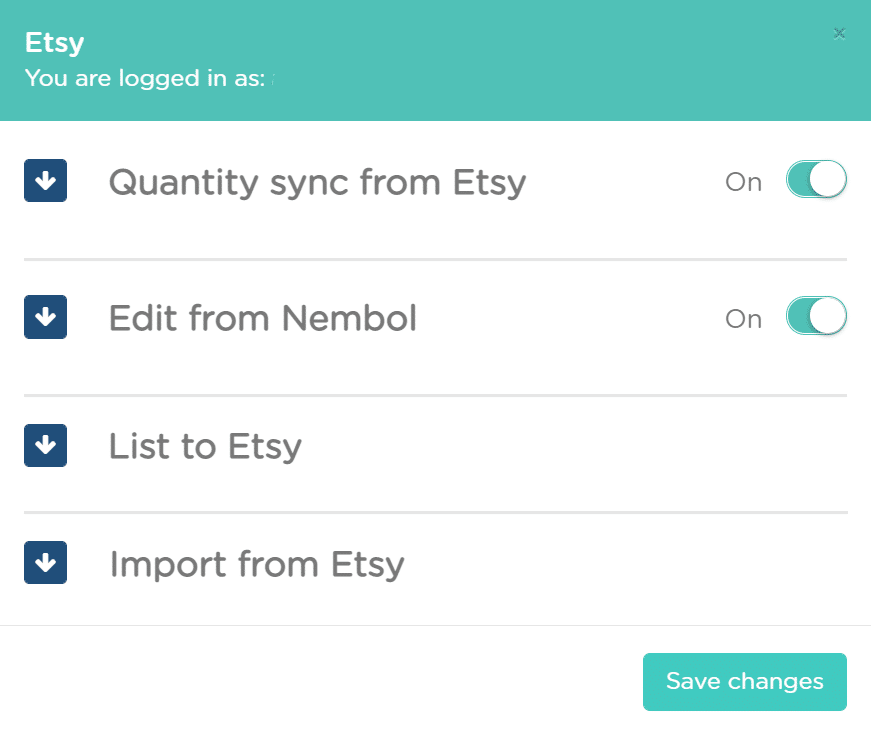 Quantity sync from Etsy
Turn "On" this function, and Nembol will synchronize inventory from Etsy to Shopify, eBay, WooCommerce, and Amazon, whenever you get an order in Etsy.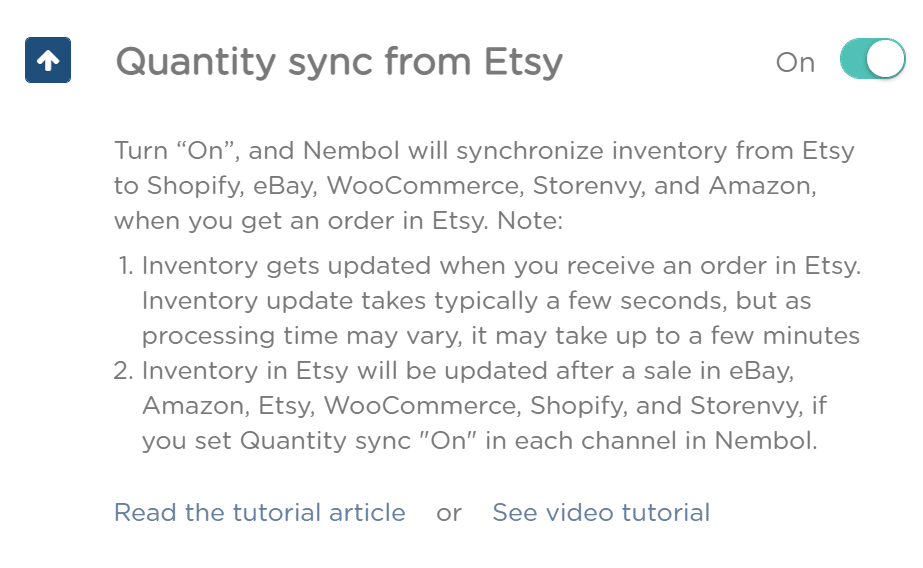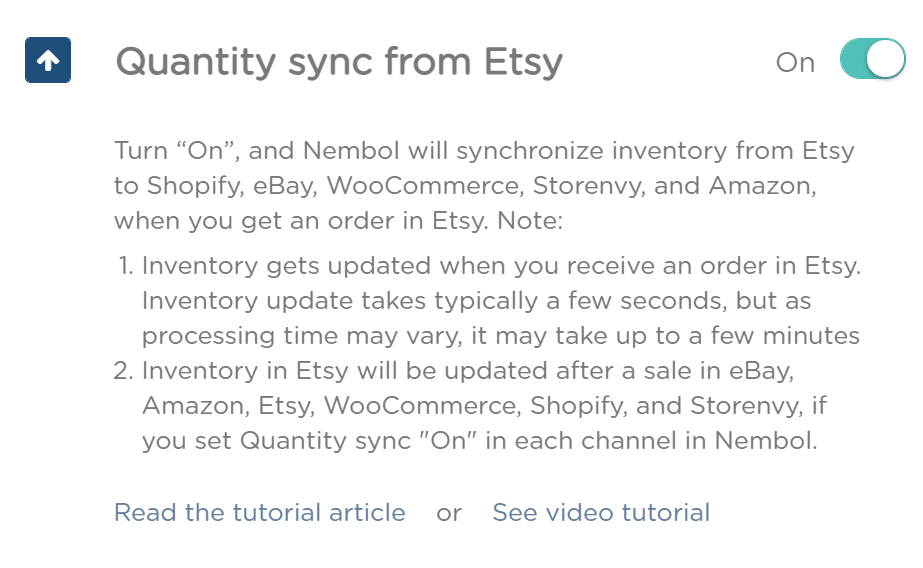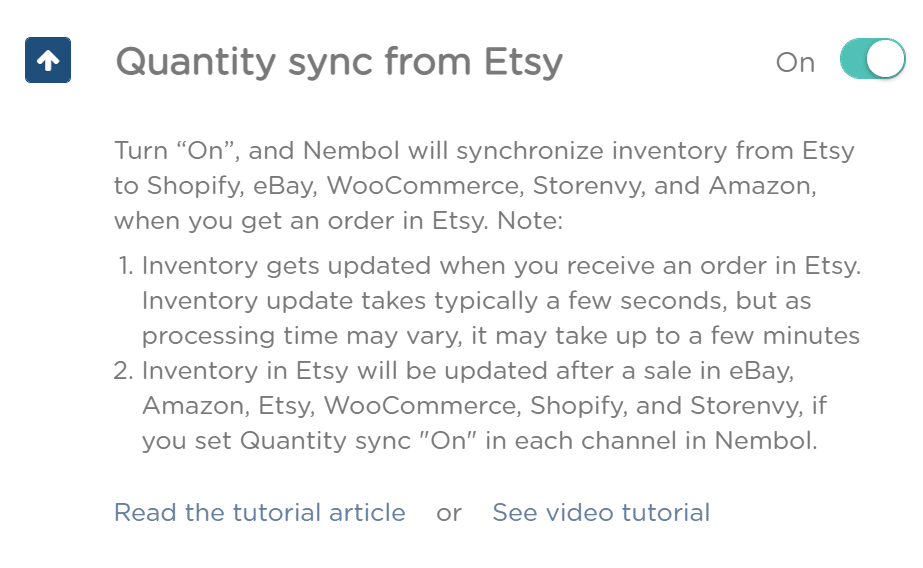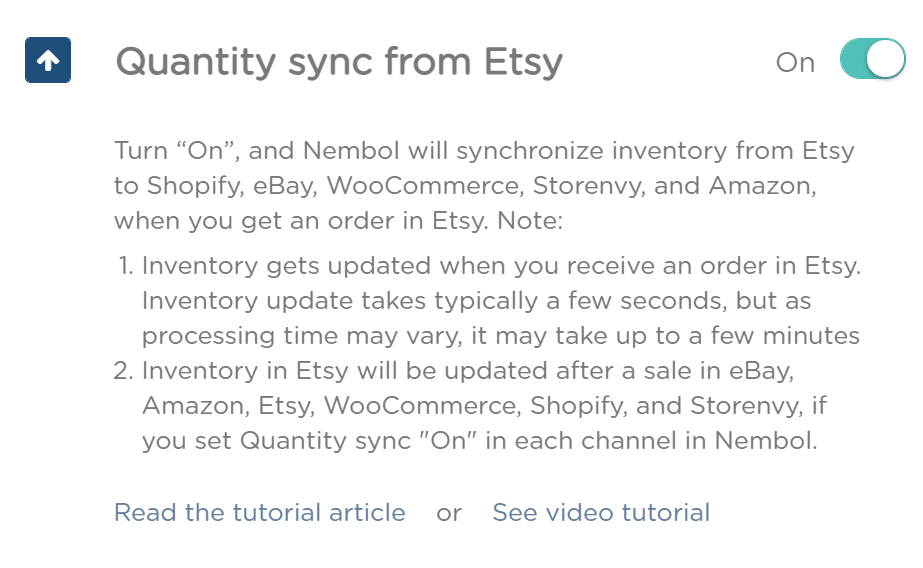 Edit from Nembol
Turn it "On" to allow Nembol to push listing updates and edits to Etsy
Turn it "Off" and Nembol will sync only the inventory quantity, price, and SKU code.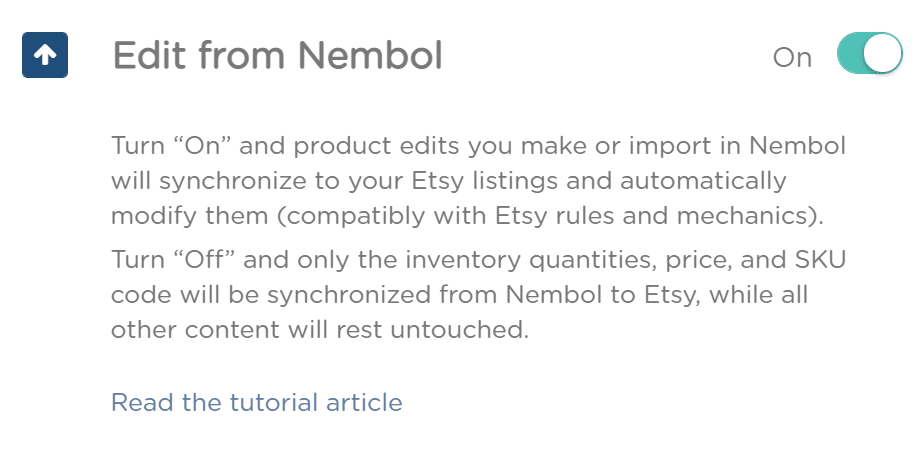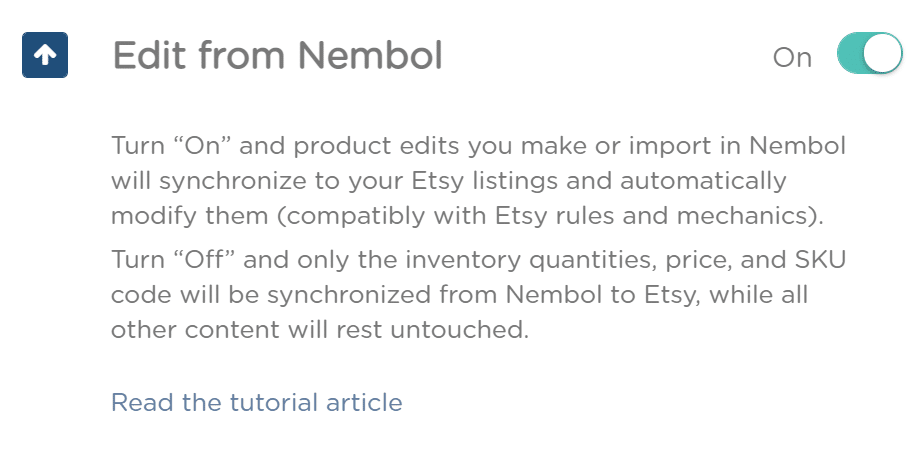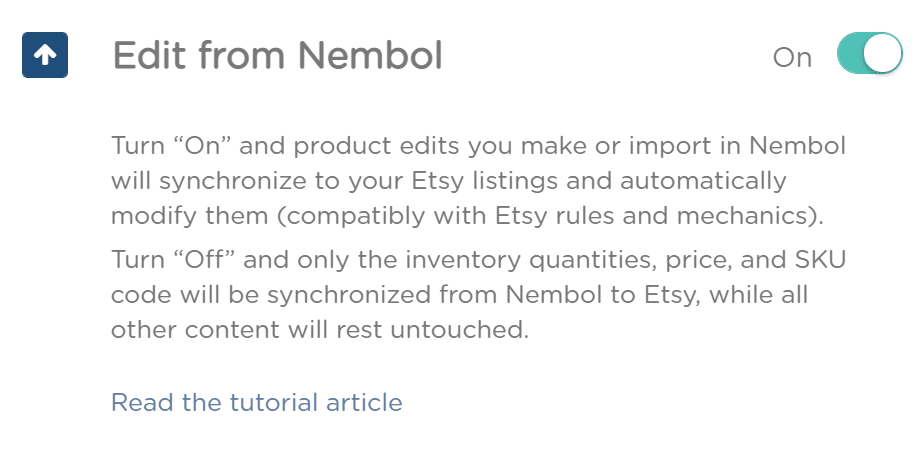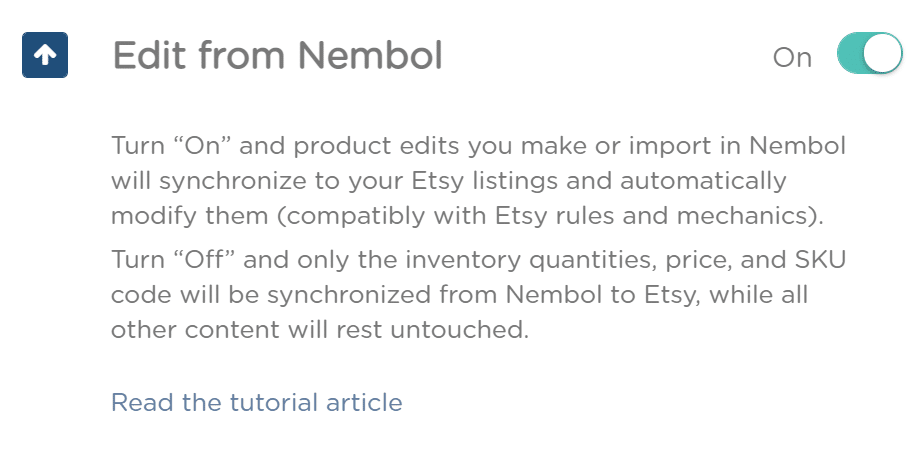 List to Etsy
Choose how your items should be published to Etsy.
Who made it: state who create your item. You, a collaborator or a different firm.
When was it made: state when the item was made: year or century (for older items)
Read more: Oh dear, you cannot sell this item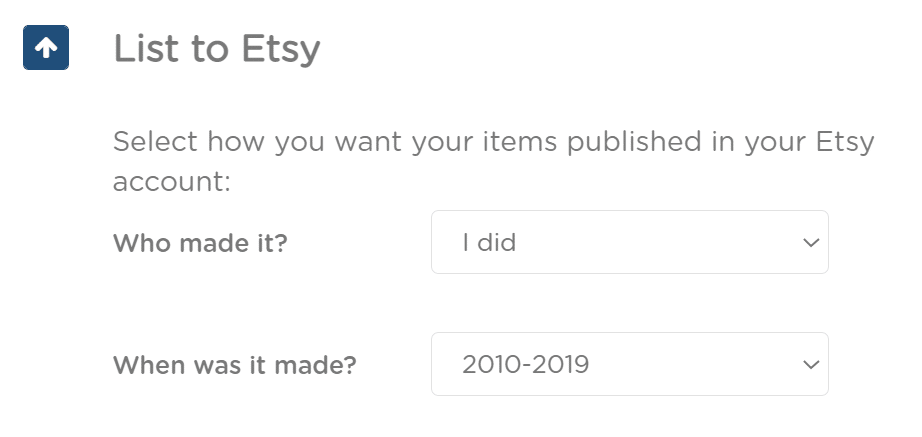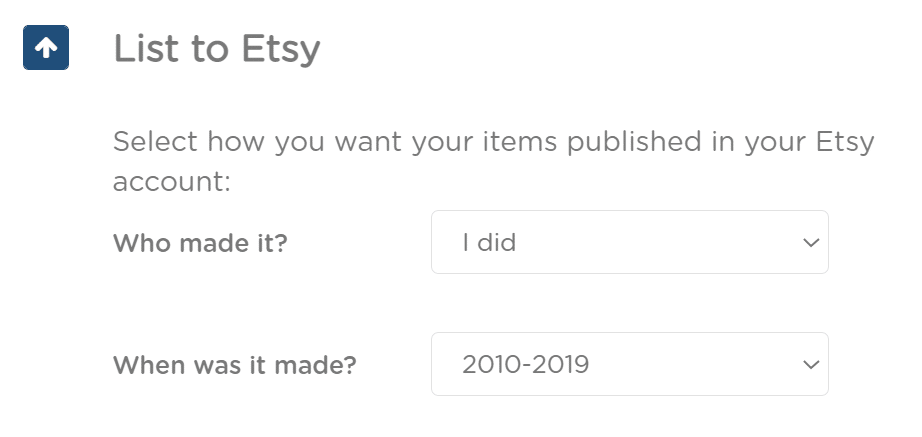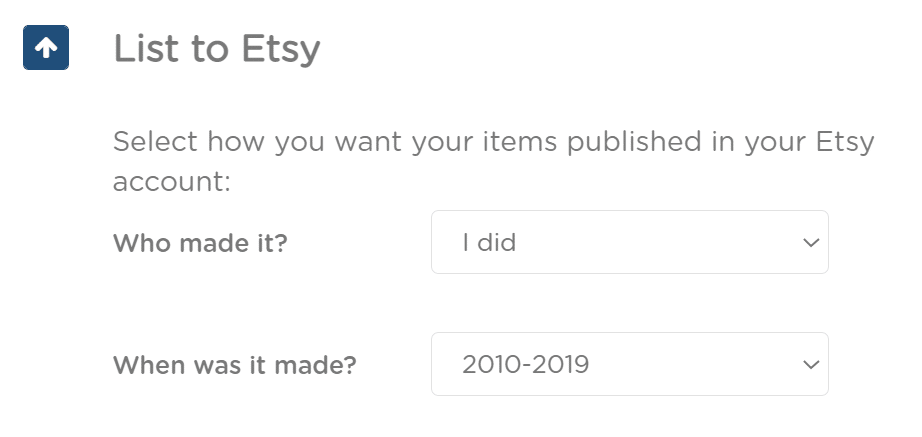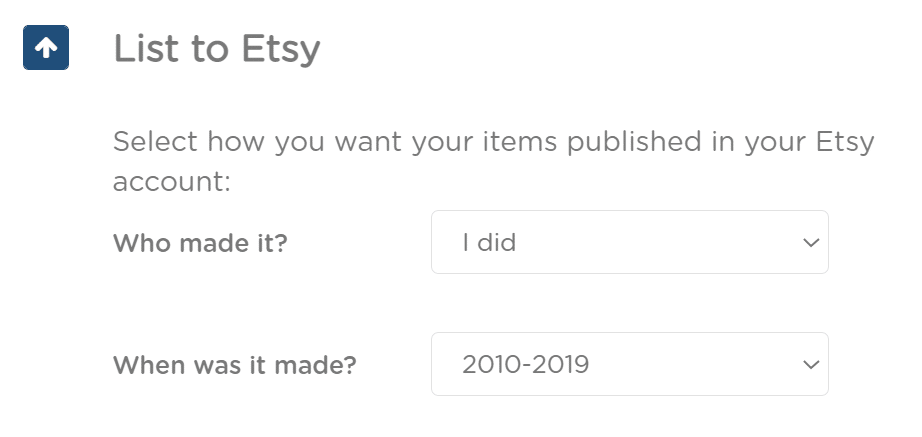 List as active or draft: this function allows you to list your products as active or draft.
By default, Nembol published all items in the draft section. This allows you to make your tests without having to pay Etsy's fees for active listings.
Craft supply setting: flag on this button if you are selling tools, materials, ingredients, parts, or any craft supply useful to create new items.
Title in lowercase: when this function is active, Nembol will automatically transform tiles with all uppercase letters into a format accepted by Etsy.
Price adjust: set up dedicated prices for each channel. Set a % discount or % price raise. Fill the box with the number of the % variation you want to apply, and from here on, all your Etsy listings prices will be adjusted accordingly.
Read more: Price adjust: automatic pricing rules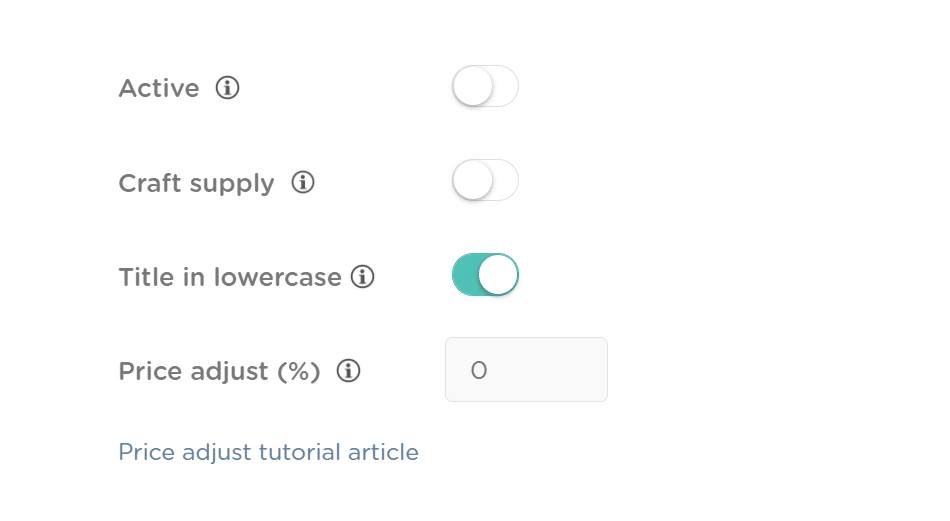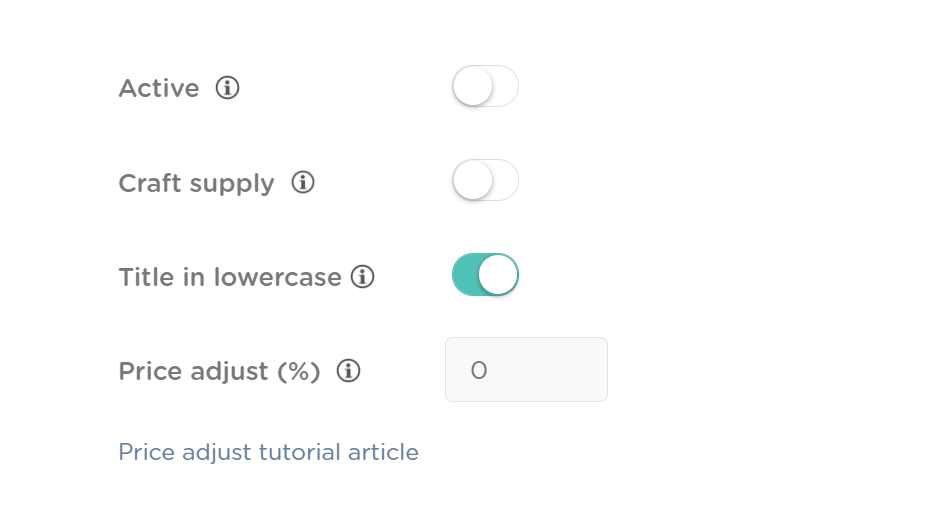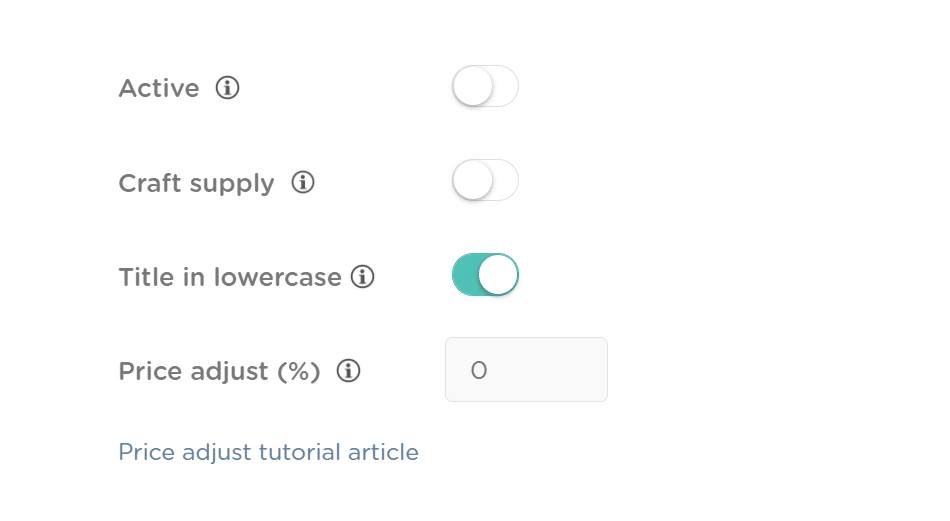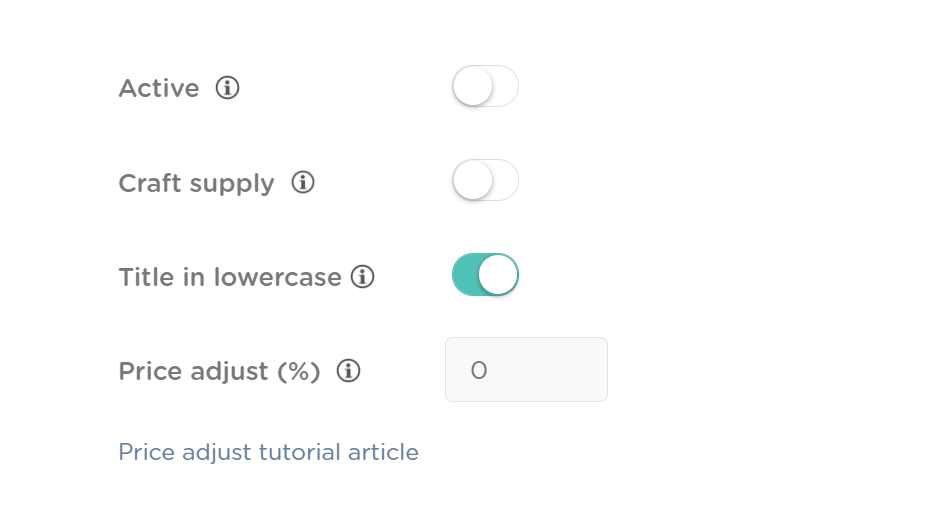 Automatic quantity-limit: publish your listings even if you have more than 999 inventory-quantity and sync with other platforms.
Delivery profile: choose which delivery profile you want to use. Nembol retrieves your delivery profiles from your Etsy account.
Please note: Nembol will upload only the "non calculated" shipping profiles.
Category: here, you can select which Etsy category you want to list your items to. Choose one of your most-used categories or select the *Automatic option. Nembol automatically assigns your product to the most frequent category among your latest 100 Etsy listings.
Shop section: Nembol lets you select an Etsy shop section to list in.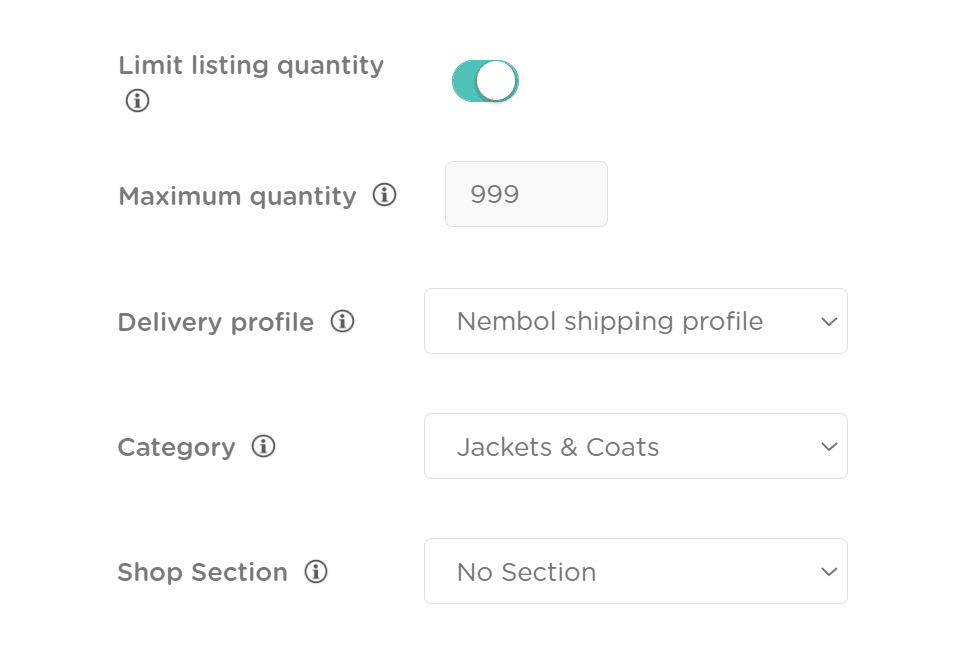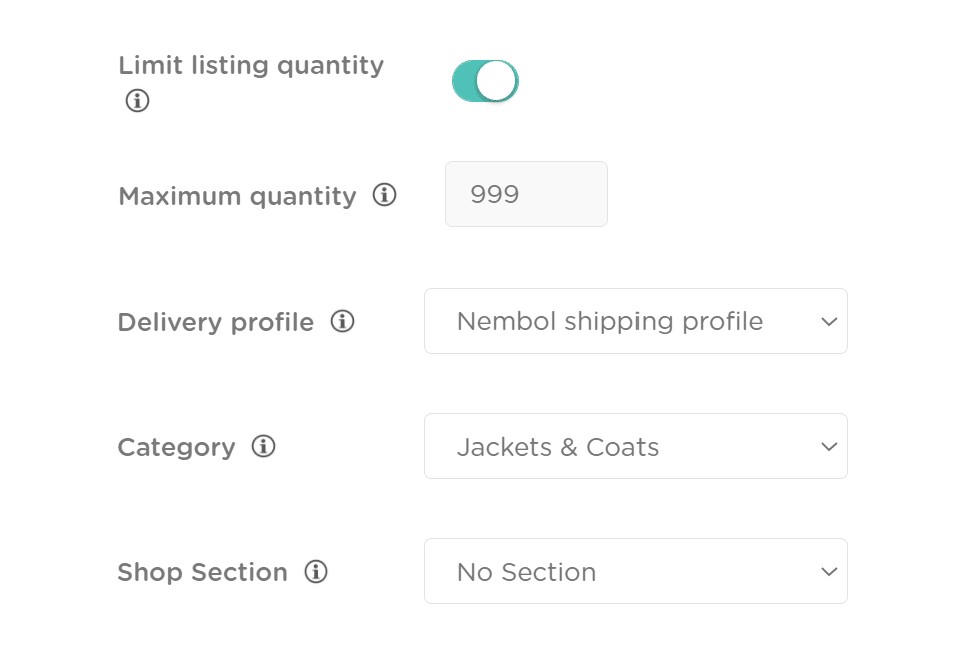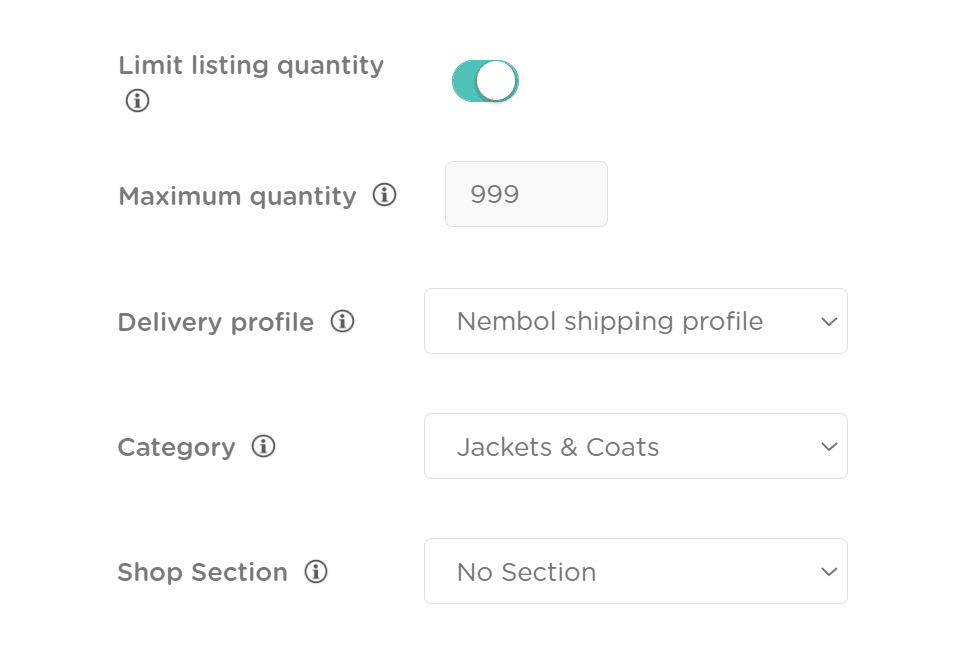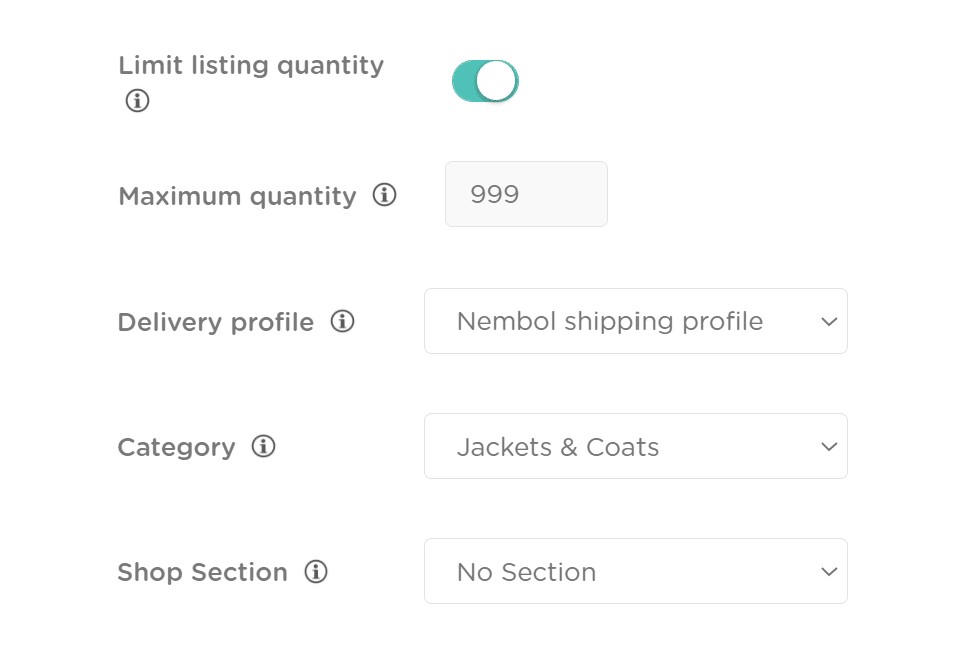 Import from Etsy
Here you can select which of your Etsy listings you want to import into Nembol.
Filter by Product Status or Shop Section.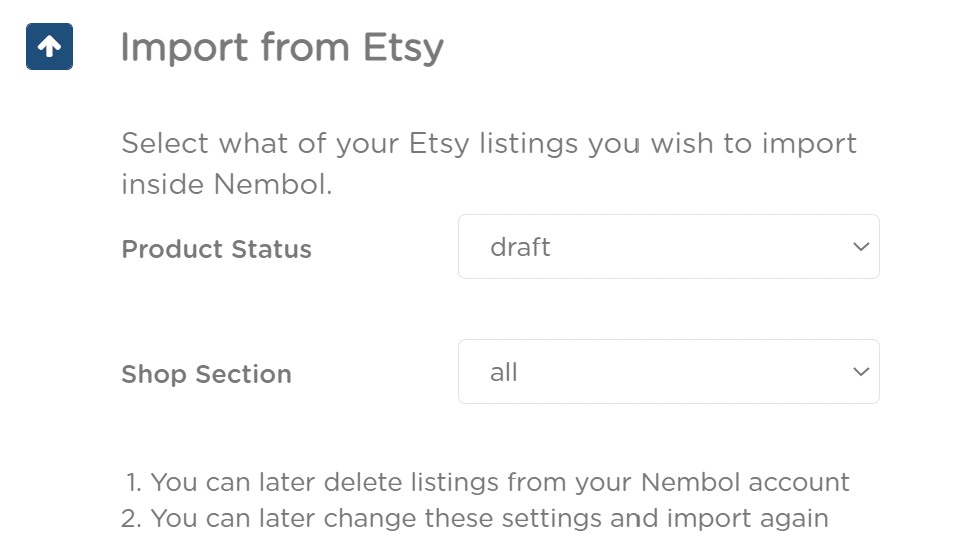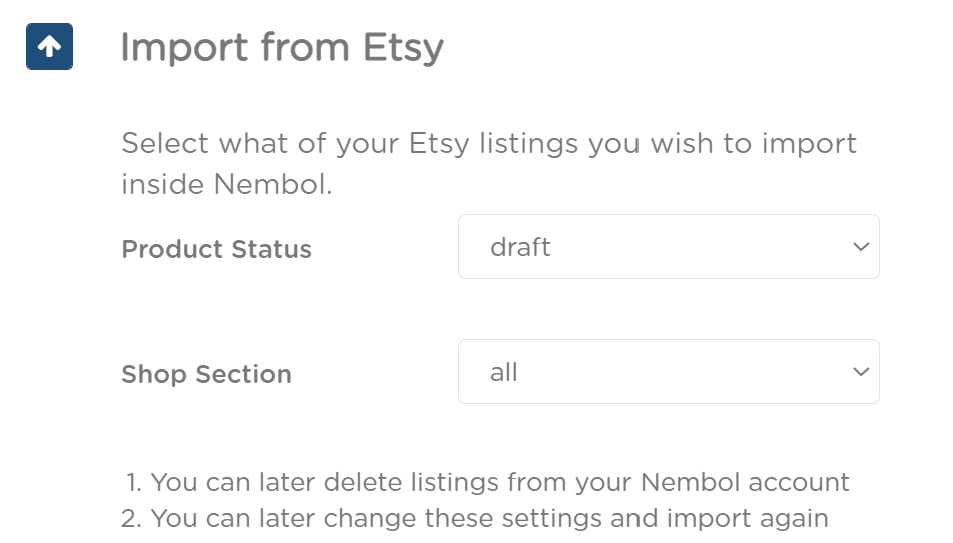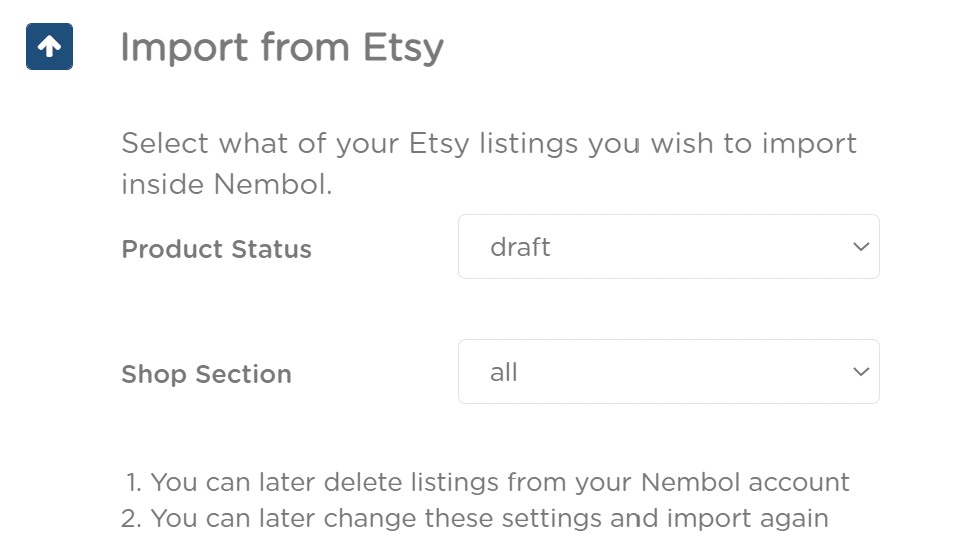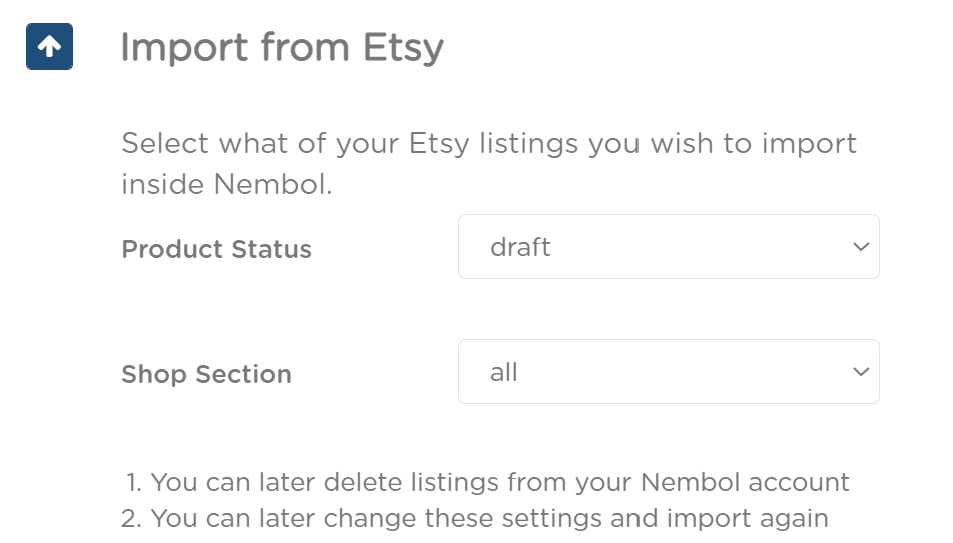 Don't miss out on the latest updates, exclusive content, and special offers! Subscribe to our newsletter.
By entering your email address, you accept our Privacy Policy and Terms of Use. Totally free. Unsubscribe at any time.
Issue with Etsy? Troubleshooting
If your Nembol account isn't working with Etsy as it should, most of the time it depends on small issues. Please, read our guide about Etsy's problems and solutions or contact us through the built-in chat.
Our team will be glad to help you!