Overview
Nowadays, many sellers have decided to launch their business online to take advantage of the broad customer base and leverage the many opportunities offered by the selling platforms.
Marketplaces, in particular, have also proved to be helpful to sellers in growing sales and product visibility, becoming the favorite starting point for online business. Nevertheless, you might want to consider expanding your business by opening your own branded online store, willing to increase your profits and brand recognition.
So, if you're still wavering whether to sell on eBay or Shopify, have a look at this article to understand which are the benefits you can take advantage of using both of them.
Important: Nembol allows you to migrate listings and sync inventory across eBay and Shopify. This applies as well to:
Shopify vs eBay
So, to fully comprehend the benefits and drawbacks of both those selling platforms, let's start by identifying the main differences and similarities between eBay and Shopify.
Selling on eBay: Pros and Cons
eBay is a good fit both for beginners, who are still learning the ropes of selling online, and experienced online sellers. From the first steps on, eBay proves to be extremely simple: creating a seller account takes just a few minutes, and the setup looks very intuitive. eBay is also provided with several built-in tools designed to help sellers grow their businesses.
eBay has become very popular both for the buy-it-now offers and the last-minute auctions sales. Thousands of people per day visit eBay looking for good deals, scrolling the listing page results to find the best offers. The auction selling method, in particular, is commonly used to catch clients' attention and engage them during the selling process. So, if you want to boost your sales and attract more customers, eBay is the best springboard for your business.
Despite its ease of use and popularity, like many other marketplaces, on eBay, there is stiffer competition in terms of prices and product offers. On marketplaces, attracting customers and selling products are challenging tasks. To outperform your competitors, you will need to spend a lot of time tweaking your listings and launching costly advertising campaigns. That could become really expensive, especially if you're not very familiar with eBay SEO optimization, which is crucial to rank up in the first pages of the searching results.
Why should you use an eCommerce platform
eCommerce platforms, like Shopify, allow retailers to create their own branded online stores, fully dedicated to their product offer. Here, you can sell your products without having to run into the competitors' pricing strategy. Personal websites, of course, enhance your brand awareness and reputation, encouraging long-term purchases and consumer loyalty.
Although the high degree of independence from competitors, you will gain when running your personal website. Having an eCommerce means you're in charge of:
driving traffic to your website
managing your customers
resolving technical issues or glitches
In a nutshell, eCommerce entails taking care of every aspect of a website: from marketing acquisition strategy to technical troubleshooting.
This may put you off thinking of opening an e-store, but luckily, Shopify comes to your rescue!
Consider that Shopify strikes a balance between the ease of use and the degree of customization and control you have access to. Hence, by relying on website automation for dropshipping and non-dropshipping purposes, and providing access to a collection of useful features and tools, Shopify enables sellers to create their own user-friendly e-commerce website (almost) effortlessly.
Shopify users can have also access to:
Technical support provided by a team of Shopify experts
Thousands of customizable templates
Growth tools & a growing community
Useful software extensions to take care of every aspect of your business.
Don't miss out on the latest updates, exclusive content, and special offers! Subscribe to our newsletter.
By entering your email address, you accept our Privacy Policy and Terms of Use. Totally free. Unsubscribe at any time.
Shopify and eBay: why should you sell on both
Reasons to sell on eBay and Shopify
As mentioned before, marketplaces enable sellers to tap into a large customer base.
Customers attracted by the wide variety of products and the reliability of the service search directly here for products they want. That makes it easier for sellers to get known for their product offer, improving their chances of sales. On the other hand, you may need to lower prices, reducing your profit margins.
eCommerce platforms help you create more awareness around your brand and product offer. Nevertheless, you will need to climb up to the top of Google searching results to gain visibility, and, with no website authority, building your customer base will take time.
So, evaluating whether to use a marketplace or eCommerce, think about running both to taking the best from a built-in audience and built-in website platforms.
But, how to do that?
Use eBay to get your brand out there, attracting customers and interest in your products.
Take advantage of the available eBay advertising campaigns and follow SEO best practices to stand out from the sellers' crowd.
Once that you start gaining visibility, drive this traffic to your Shopify store.
Integrate eBay and Shopify
How to manage a multichannel business on eBay and Shopify
Of course, to leverage this multichannel strategy, you will take care of both your sales channels.
You will need to:
Without using software and automation, this strategy is probably becoming burdensome really quickly. That's why you should consider using an eBay and Shopify inventory management app to manage and connect your different channels.
Nembol is an app designed to help retailers sell on multiple channels effortlessly, relying on several tools and features that help speed up and simplify every stage of seller business: from mass listing, to quantity syncing and restocking.
Moreover, with Nembol and Shopify integration, you'll be able to collect all the eBay orders directly into your Shopify backend: import eBay orders into Shopify.
Try Nembol for free: enjoy a 14-day trial
No credit card required
How to link eBay to Shopify using Nembol
Connecting eBay and Shopify using Nembol is super easy! All you need to do is:
Access the Channels Tab.
Click on the login button next to Shopify or eBay.
After a while, you will be redirected to the marketplace/ e-Commerce page to allows the connection of your accounts to Nembol and authorize the use of third-party apps.
You're done!
Read more on how to Set-up eBay
Read more on how to Set-up Shopify
How to import products from eBay to Shopify
After you have linked both channels to Nembol, you will be able to launch your first import.
Here are the steps to follow:
Go to the Channels Tab.
Have a look at the eBay settings, and adjust the import options (and import filters)
Don't forget to save!
Now, next to the eBay logo, click the import button.
Wait a few minutes and refresh the Product Page to see all of your eBay items.
Bulk-list eBay products on Shopify
Once your products have been imported, you can start publishing them in bulk with just a few clicks:
Check on your Shopify settings in Nembol and select the Shopify collection where to send the ebay products.
Open the Product Tab.
Select the products you want to publish on Shopify (up to 500 at the same time).
Click on "Actions" > "Publish".
Select the channels you want to direct your insertions (Shopify)
After a few minutes, refresh your Products Tab.
Listings that have been correctly published will show a colorized Shopify icon next to the eBay one
Have a look at our video tutorial and see how easy it is!
Sync eBay and Shopify
After your items have been correctly cross-listed, Nembol sync the inventories. There are different types of syncs:
Quantity sync: Nembol will keep the inventories aligned after every sale. Turn on the "Quantity sync" in both eBay's and Shopify's settings in Nembol.
Sync product edits: you can centrally edit your listings, in Nembol and in Shopify. Make sure the "Edit from Nembol" and "Edit from Shopify" settings are turned on for both channels.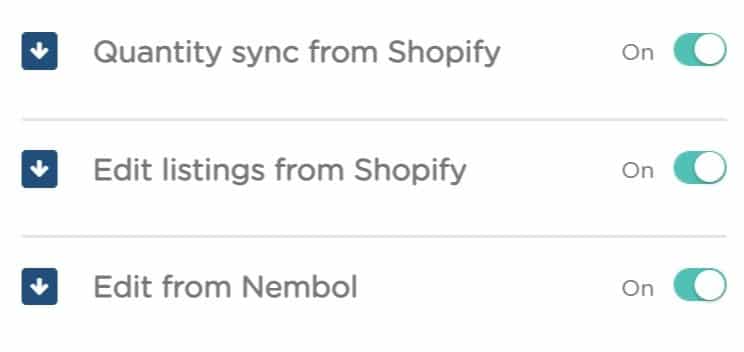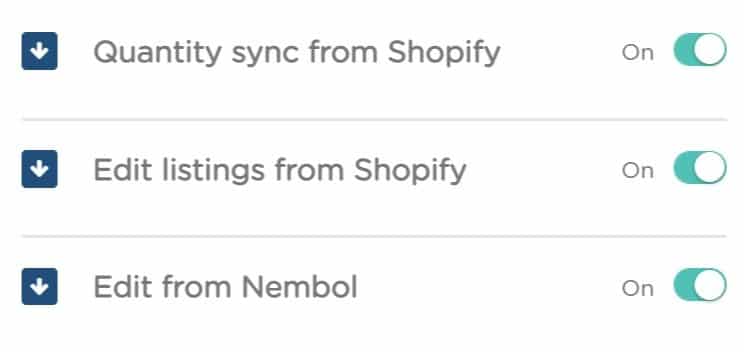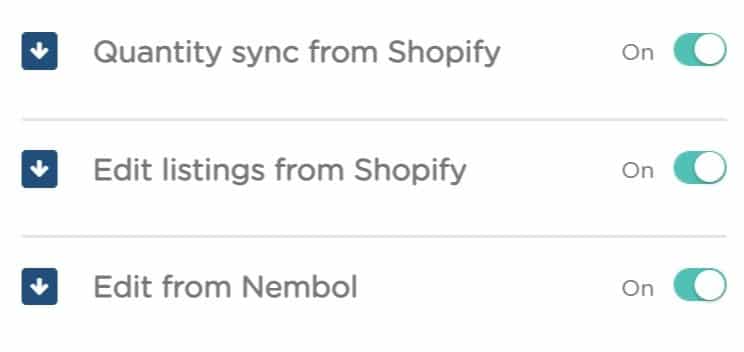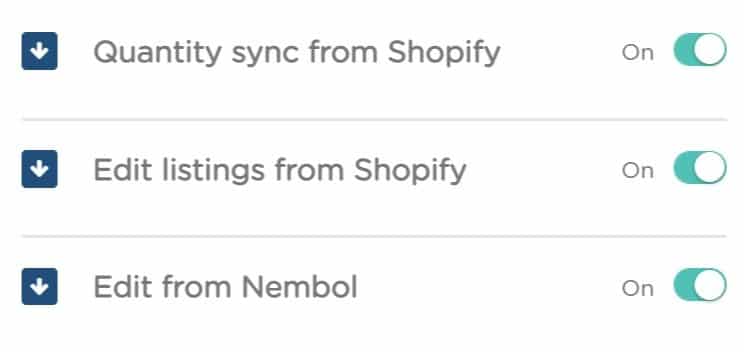 Import eBay orders into Shopify
When using the inventory sync, you can also have Nembol transfer your orders into your Shopify backend for a better order management. Learn more here: import eBay orders to Shopify