Overview
Nembol is a cloud-based software designed to ease sellers to successfully manage their multichannel business Nembol offers bulk-listing, inventory sync, and bulk-edit functions.
We integrate with multiple channels: marketplaces, e-commerce platforms, and social media. This page shows you all features and automation tools available with eBay. For a faster overview, please have a look at:
How to connect eBay to Nembol
Can you connect eBay to Nembol?
The answer is of course yes. Nembol integrates with:
Every regional eBay (ebay.com, ebay.co.uk, ebay.de, ebay.it, etc).
Up to two eBay accounts at the time
How to connect Nembol and eBay
Open Nembol and access the Channels Tab.
Click on the login button next to the eBay icon, on your left-hand side.
You will be automatically redirected to the eBay authorization page.
Sign in using your eBay account username and password.
Grant authorization to the Nembol app to integrate as a third-party app on your eBay account.
Click on "Agree".
Afterward, in just a few seconds, the system will bring you back to the Nembol app, and it will automatically open eBay's settings section.
Finally, set your preferences for this Channel and let Nembol suits your needs.
Read more on How to set up eBay. Or watch our video tutorial.




List and Sync features available with eBay
Import products from eBay
Nembol is cloud-based software, useful to bulk-import listings from eBay and to publish them on multiple channels, such as Etsy, Amazon, Shopify, WooCommerce, PrestaShop, Facebook, Twitter, Tumblr, Pinterest, Google Merchant Center, and Instagram. See our integrations.
Bulk-list products to eBay
Nembol helps you to easily bulk-list products on up to 2 eBay shops from a broad set of integrated channels, such as Amazon, Etsy, Shopify, WooCommerce, PrestaShop, and many more.
Save your time, and use a CVS file to list your products on eBay (and on more available channels).
Sync inventory across channels
Nembol is designed to help sellers with their multichannel business. For example, Nembol provides its users with a smart function that automatically syncs the available quantities across multiple channels.
To activate it, switch "ON" the sync button, and every time you sell an order, Nembol will automatically align the inventory across all connected channels.
Watch this video to get started, or read more about the Quantity Sync Function
Export products to eBay with reduced inventory-count
eBay has selling limits that restrict the number of listings you can publish on your account. Nembol can't overcome those limitations imposed by eBay, but it can help you publish your whole inventory.
With Nembol, you can use the Limit Inventory Quantity function to set an inventory-maximum to each of your SKUs. This way, you will be able to export a fraction of your inventory, and automatically restock as you sell (so that you never sell out early!).
Centrally bulk-edit products
With Nembol, you can centrally bulk-edit your products' content in just a few clicks: prices, inventory, SKUs, pictures, titles, and descriptions!
Thanks to this helpful automation, you will be able to edit product information and have it synced across multiple channels, automatically. Discover our CSV bulk editor.
On the other hand, you will also be able to differentiate product content and prices to suit your needs, if you want to.
Link listings on different channels
Before subscribing to Nembol, you may have already spent time listing your products across different channels. In this case, Nembol allows you to link your existing listings, associating products with the same SKUs.
That function turns out very useful, especially when you want to keep all the contents and product information and sync inventory across multiple channels without any additional effort due to the relisting process.
To link your listings, you need to:
Import in Nembol listings from one of your channels;
Import items also from your additional channels;
And that's all! From now on, your products are linked and synced across multiple channels.
Transfer orders into Shopify
Nembol integrates with Shopify and allows you to centrally manage all your listings in your Shopify backend, pushing all your product edits across multiple channels, such as Amazon, Etsy, Shopify, WooCommerce, PrestaShop, and many more.
Moreover, to ease your multichannel business management, Nembol provides its users with the chance to transfer orders received on the connected channels into Shopify's dashboard.
Optimize your business online, increase your leisure time!
Read more: Import orders into Shopify
Try Nembol for free: enjoy a 14-day trial
No credit card required
How to use Nembol with eBay
Nembol provides its users with many useful functions to support sellers during the listing procedure and stock management. In this section, we will show you all the available features suitable for your eBay account.
Let's see together how to set them correctly and ease your multichannel business.
First of all, open Nembol Channel Tab and click on the gear icon (next to the eBay logo) to display all the available settings.




Once it opens, you will be able to see 4 different sections, each one designed to accomplish different tasks, such as:
Quantity sync from eBay;
Edit from Nembol;
List to eBay;
Import from eBay.
Please note: you can display all the features by clicking on the blue arrow on the left-hand side.
After the set-up, always save all your edits to make them effective.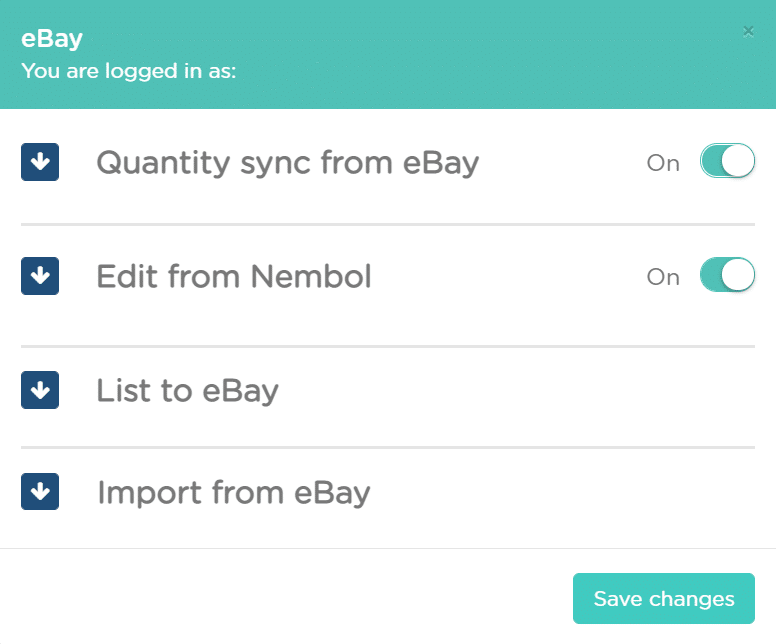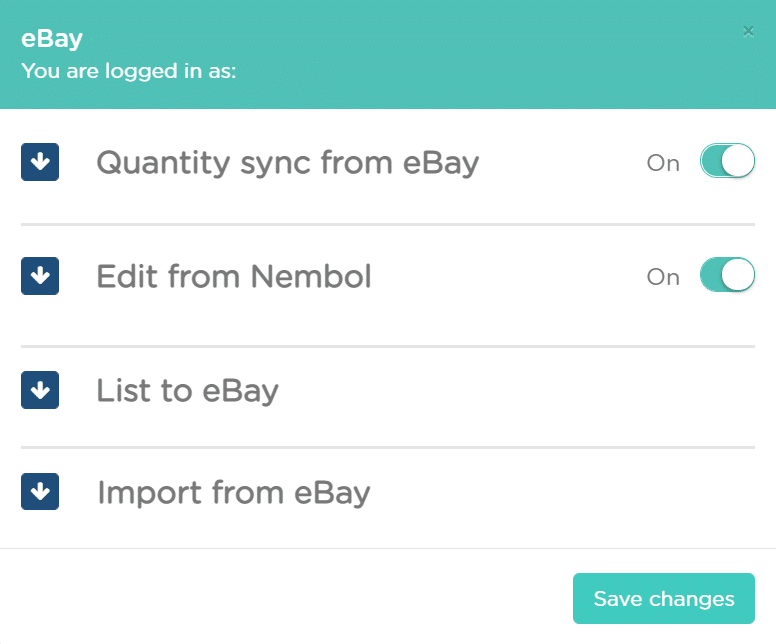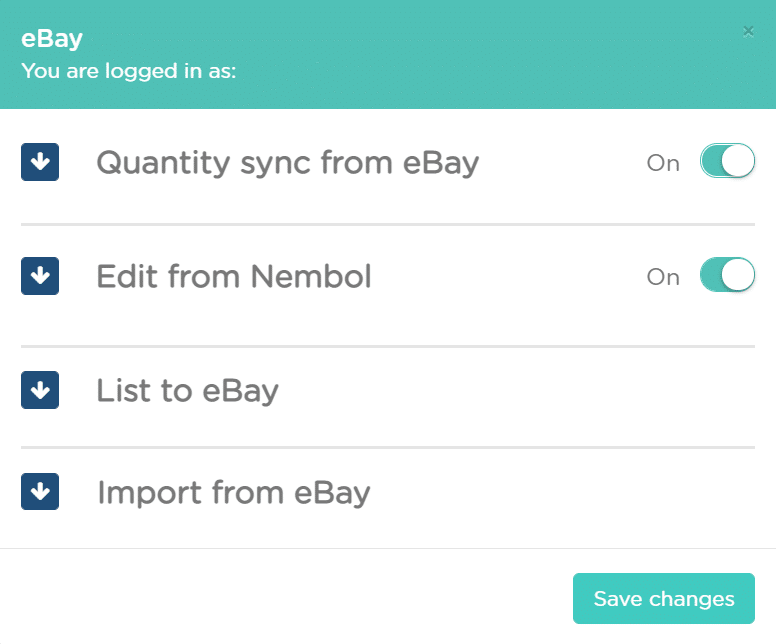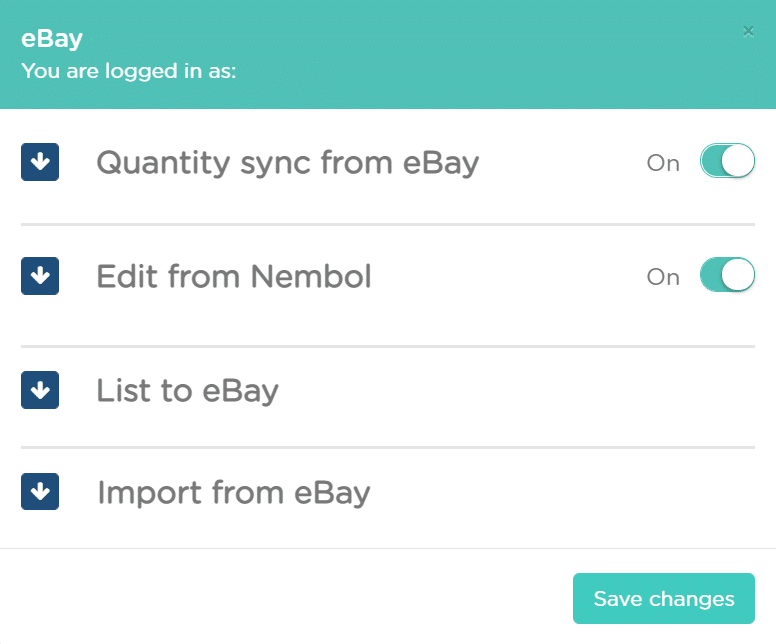 Quantity sync from eBay
Activate this function to let Nembol synchronize inventory quantities from eBay to your other channels.
Nembol will keep your inventory aligned across all the integrated channels, making it easy to manage your available stock, and avoid overselling.
Stop worrying about mistakes and oversights: rely on Nembol.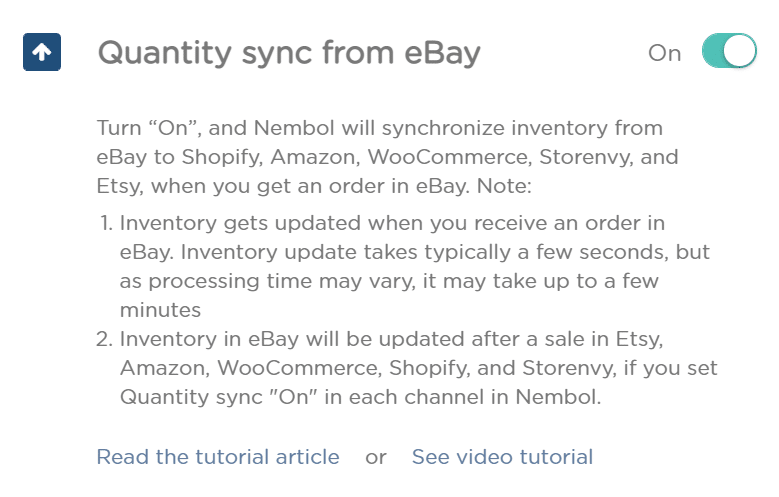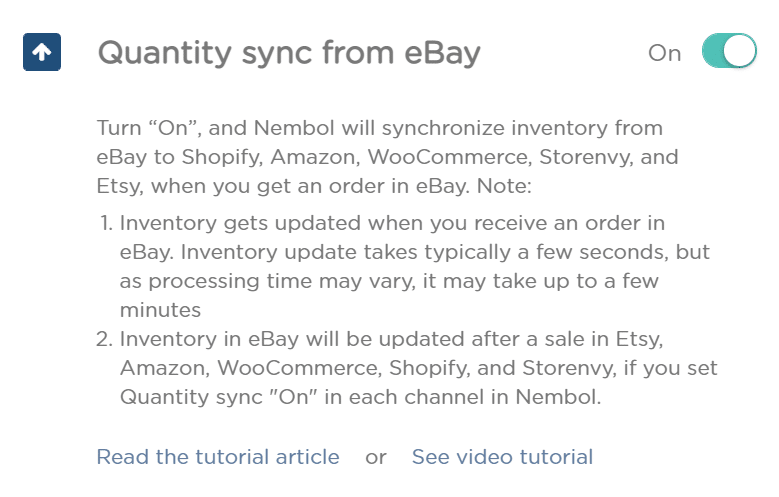 Edit from Nembol
Turn "ON" this function, and all the product edits you make in Nembol or Shopify will be applied to your eBay listings.
Turn it "OFF," and the eBay content won't be overwritten by Nembol.
This setting doesn't refer to your Quantity Sync preferences.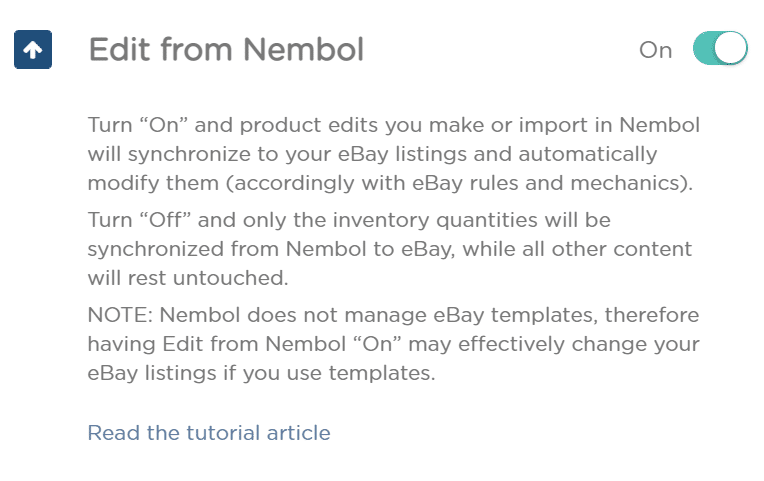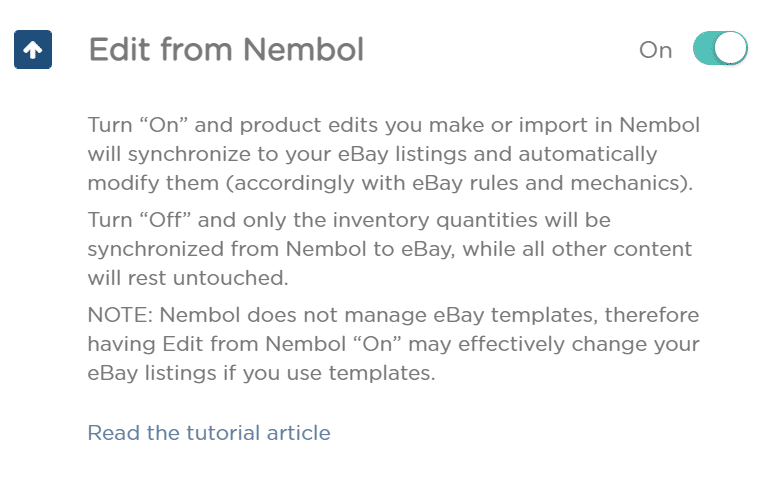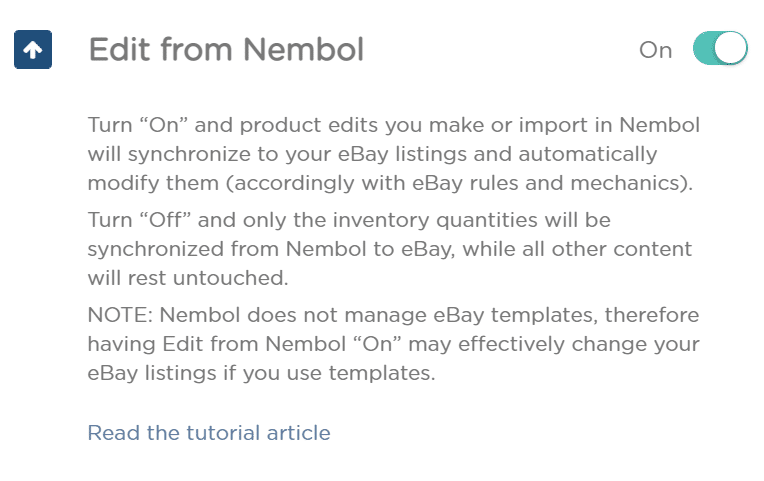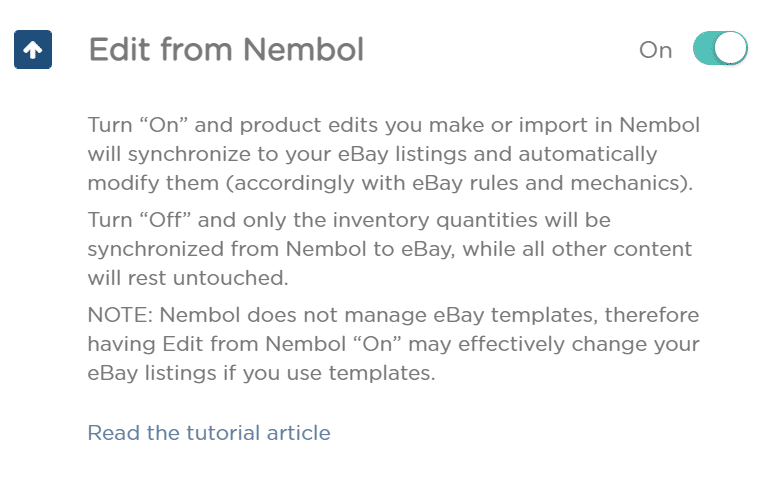 List to eBay
This section is rich in content and comprehends several features that – if set up properly – will help you to optimize your time and publish your cross-channel listings even on your eBay account.
These settings let you state how you want to publish your items.
You can centrally specify the:
Listing Type: Buy It Now or Auction
Condition: New or Pre-owned
Duration: 7 Days or Max possible (for auctions)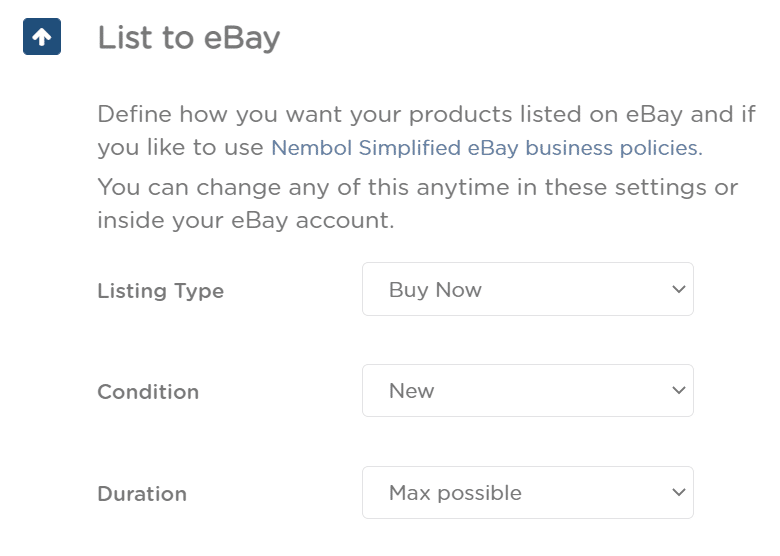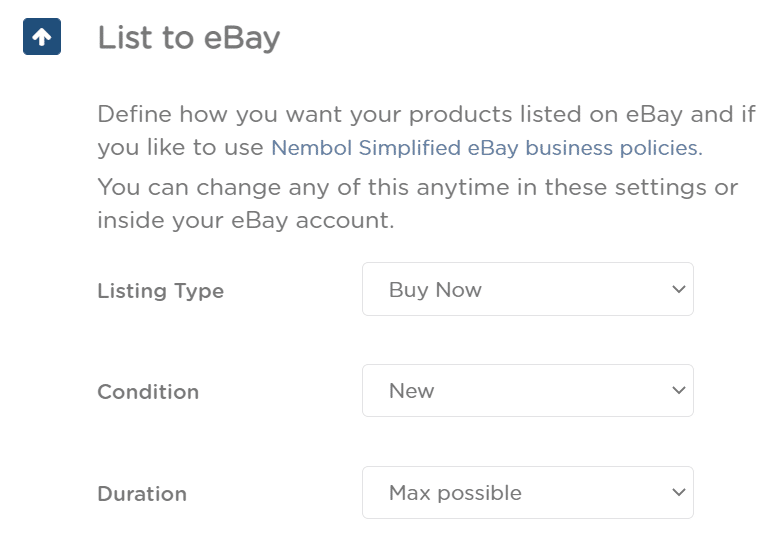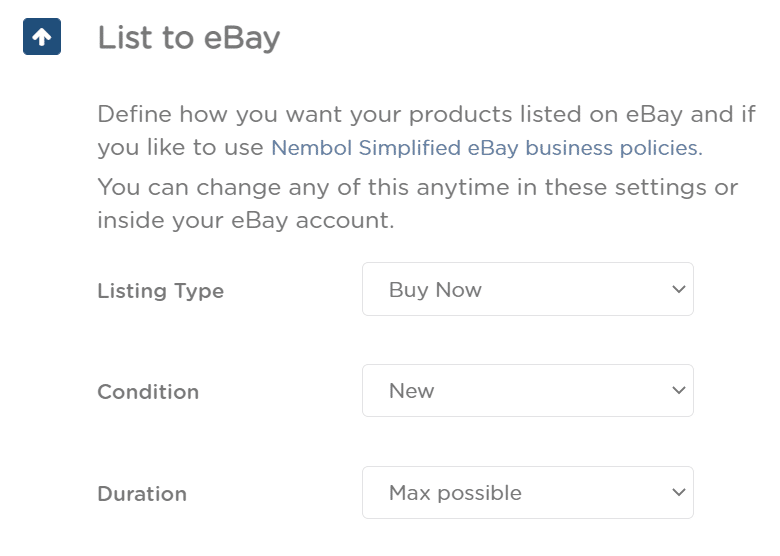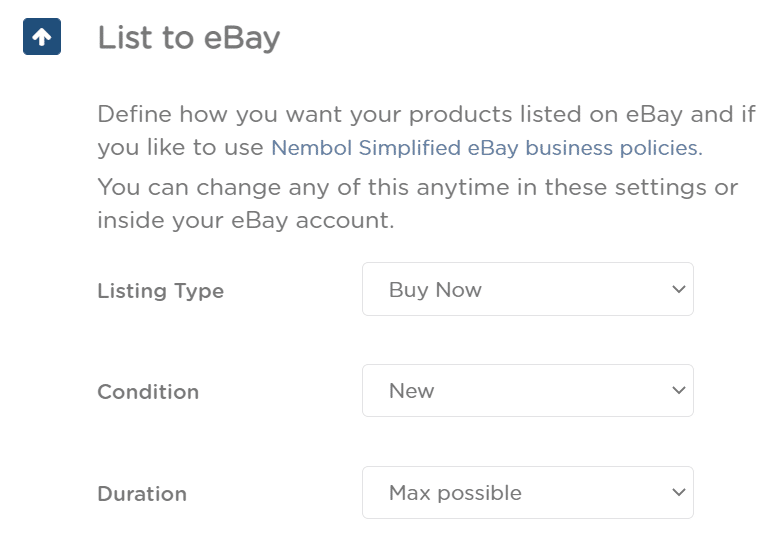 The Out-of-stock option is a smart function designed to keep your listings active even if your inventory count reaches zero.
This way, you will be able to re-stock your items without losing all their history and SEO authority, hard-earned during the entire period of the listing activity.
Switch it "ON" to maintain your listing active and be able to re-stock at a later time.
Read more: eBay's Out-of-Stock option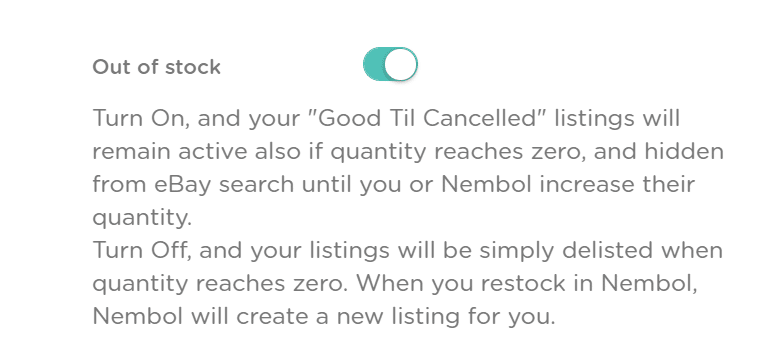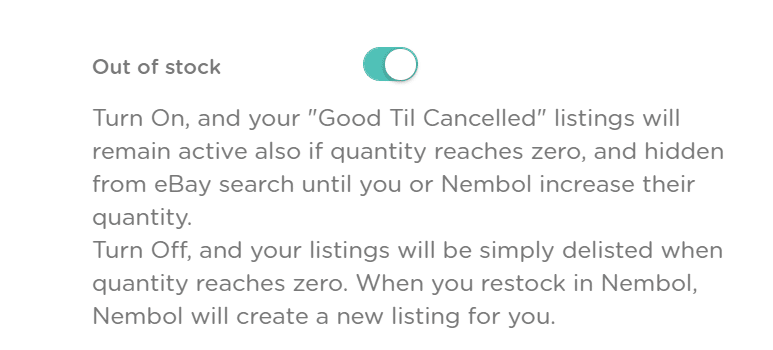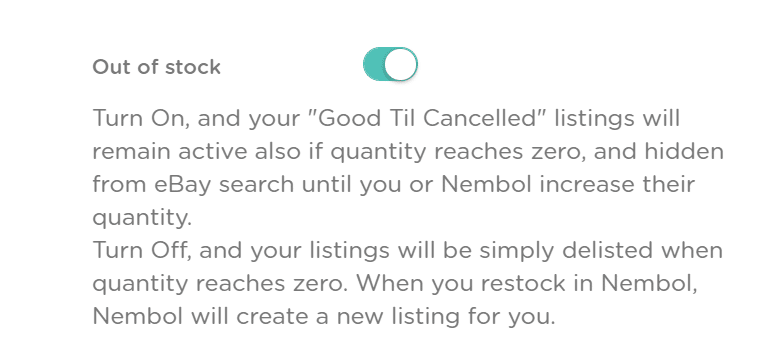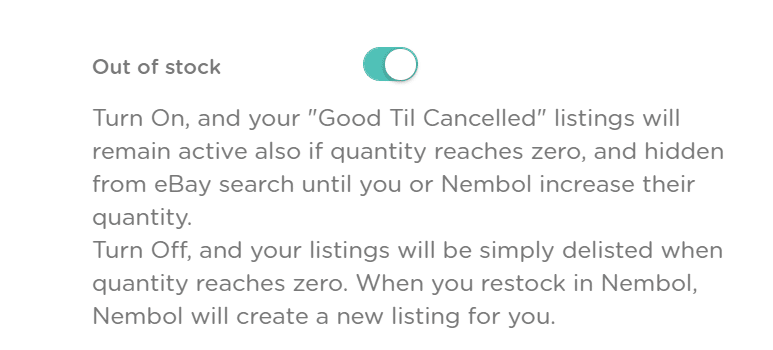 Choose a Title prefix: here, you can add a short sentence that will be used as a prefix at the beginning of your listings titles.
Price adjust: if you want to set a dedicated price to your eBay's listings, all you need to do is to fill the box with a positive number (if you want to raise the price), vice-versa, use "-" followed by a number to set a discount.
Read more: Price adjusts: automatic pricing rules
Shorten titles: This function (active by default) automatically cuts titles to the maximum allowed length on eBay (80 characters). Words will not be truncated.
Limit listing quantity: Activate this function to publish your products with a reduced inventory count.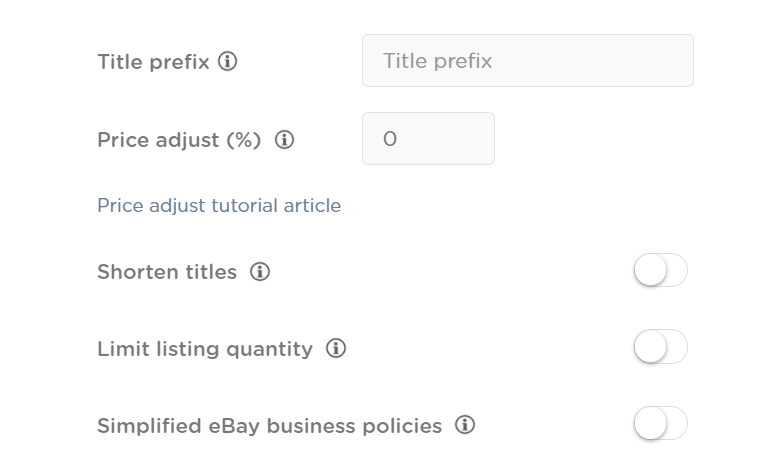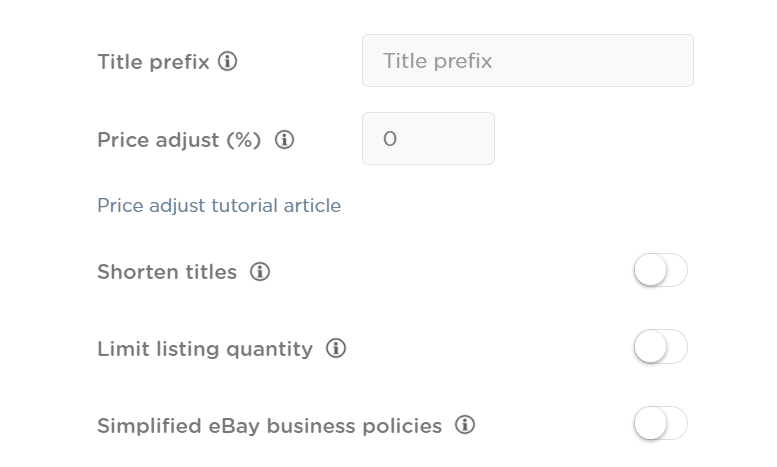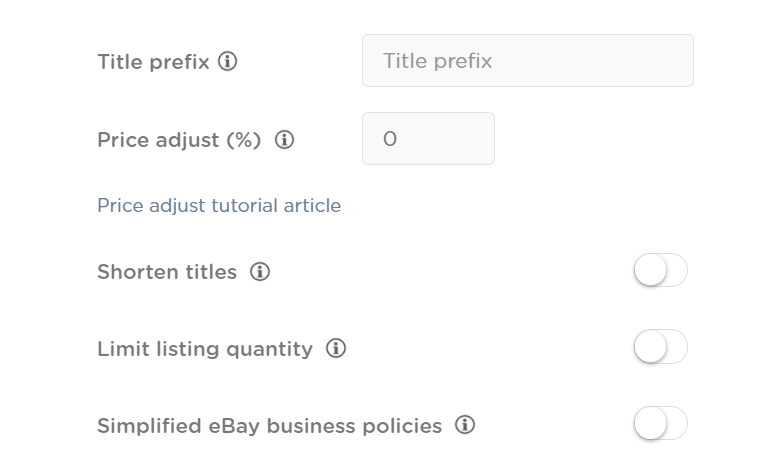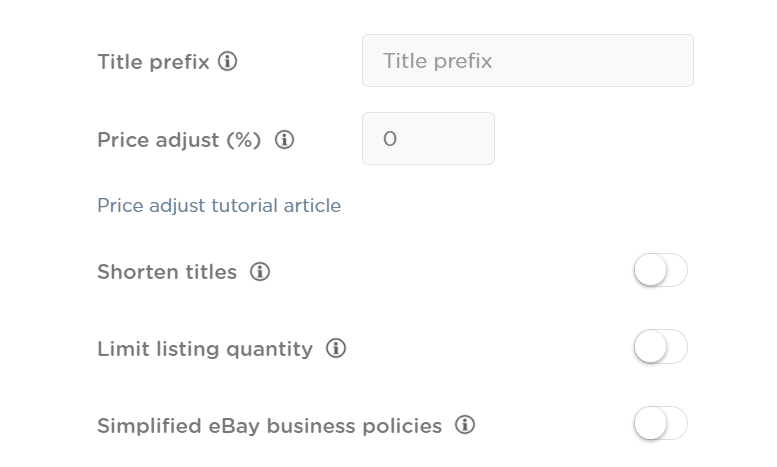 Nembol provides you simplified business policies, designed to automatically work on every account:
Payment Policy;
Returns Policy;
Postage Policy.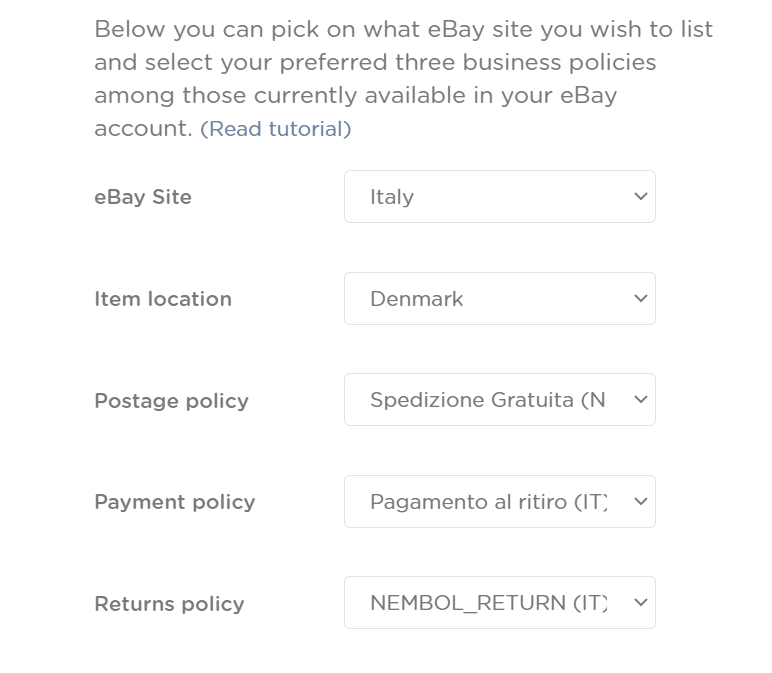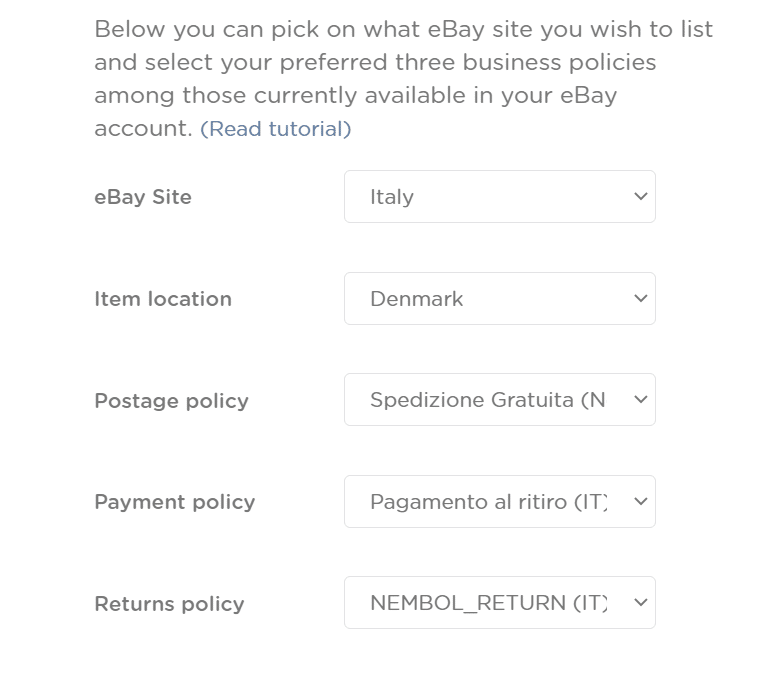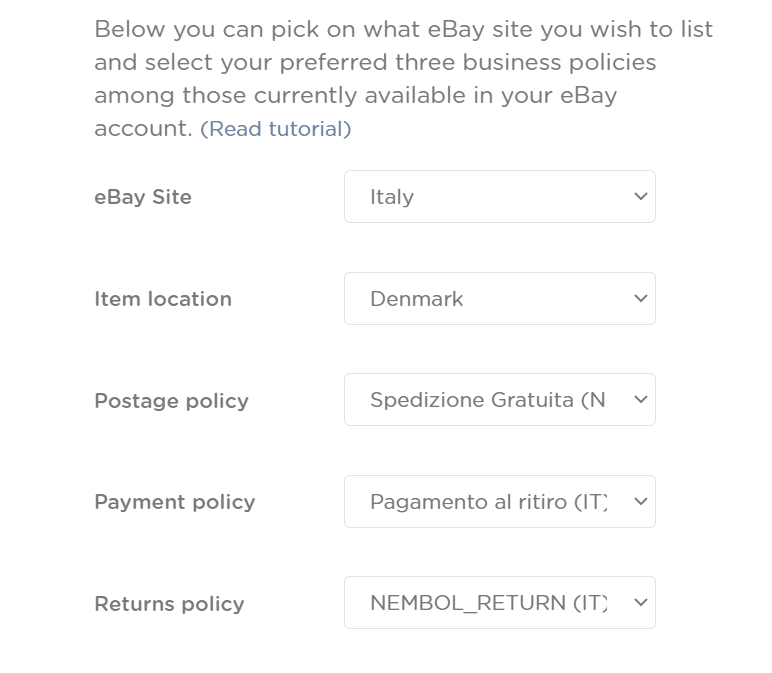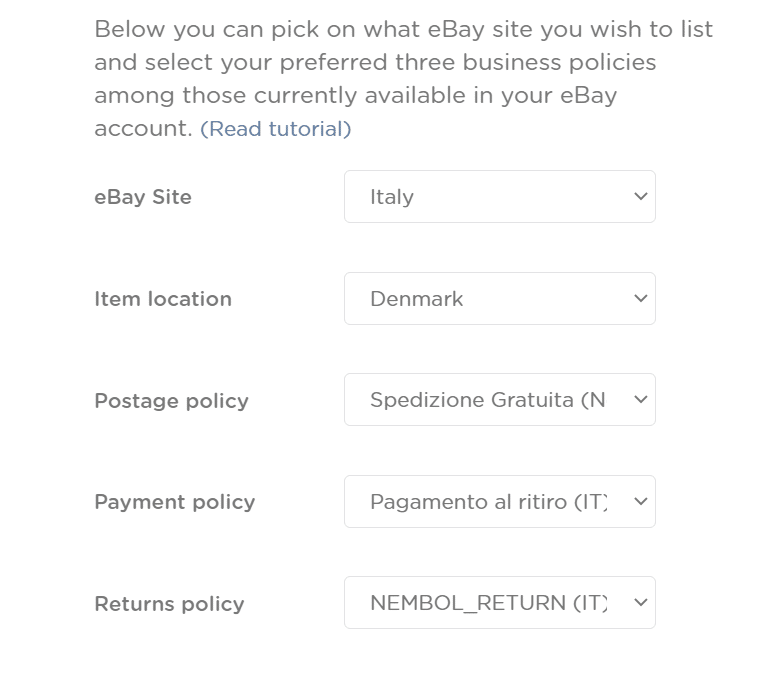 Import from eBay
Finally, in this section will be displayed Nembol "Import from eBay" functions.
These features allow you to extract listings from your eBay store and import them into Nembol. Once you import your products, you will be able to manage and publish them on several integrated channels.
Sort the listings you intended to import by:
Listing Status: Active or Sold and Unsold
Listing Type: All or Buy Now or Auction
Listing Site: US, or UK, or IT, and so on.
Import eBay description in HTM format: activate this function to import, along with your eBay products, their HTML descriptions and re-use them when you cross-list those items on multiple channels.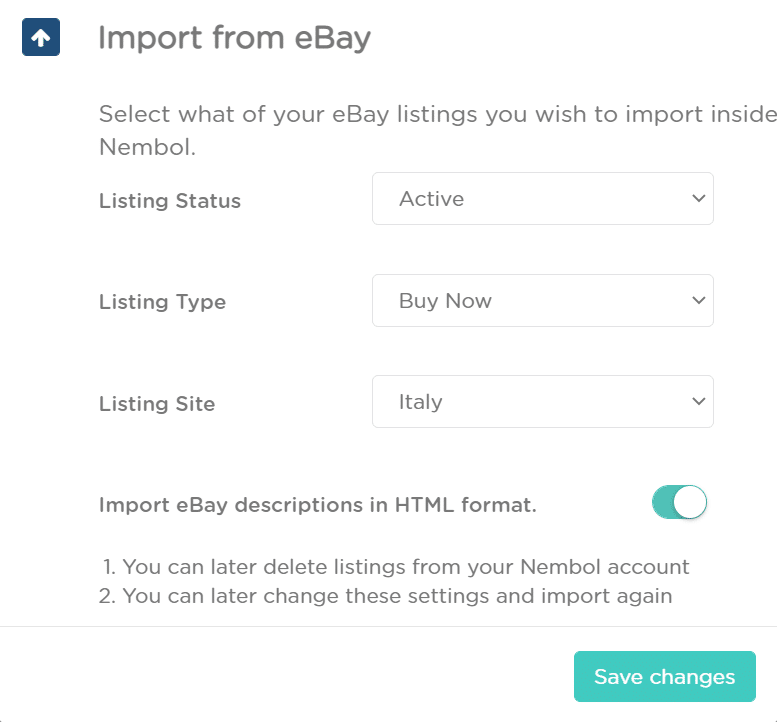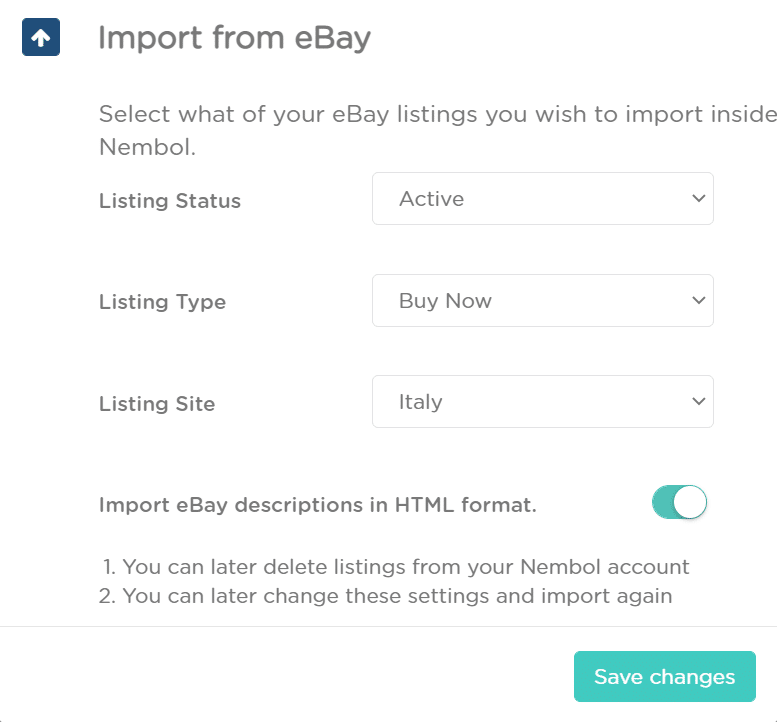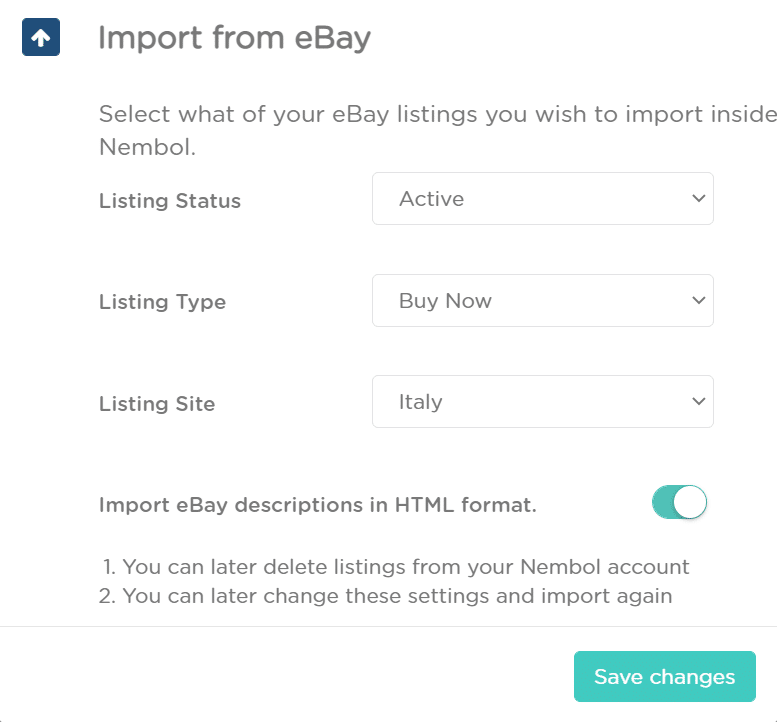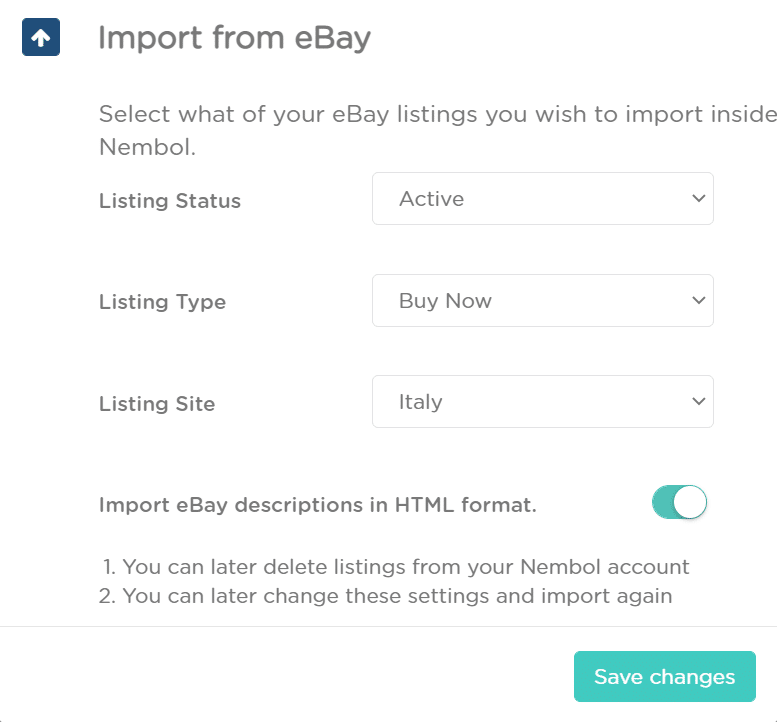 Don't miss out on the latest updates, exclusive content, and special offers! Subscribe to our newsletter.
By entering your email address, you accept our Privacy Policy and Terms of Use. Totally free. Unsubscribe at any time.
eBay: Troubleshooting
Sometimes, when listing with Nembol, you could get errors from eBay but, most of the time, it depends on small issues that are easy to fix. If you are facing some glitches or want to read more about their solutions, please take a look at our dedicated article (eBay Troubleshooting), or contact us through the built-in chat.
Our team will be glad to help you!