Overview
When it comes to choosing a platform for selling your products, it can be puzzling to have a clear overview of each platforms pros and cons.
Making the wrong choice can have a negative impact on your business: reduce your margins and profits.
If you're an artisan, crafter, vintage retailer, or small business owner, and you're trying to understand whether to sell on Amazon Handmade or Etsy, look no further!
In this article, you will learn which is the best between these two sales channels, and explore the pros and cons of each platform.
What is Amazon Handmade?
Amazon Handmade is an online marketplace created by Amazon that specifically focuses on the handmade products niche. Products sold here are crafted by independent artisans and small businesses that have the opportunity to show their unique pieces on a worldwide known marketplace like Amazon.
Some of the best selling handmade items on Amazon are:
Jewelry
Home Decor
Clothing
Accessories
Toys, and more
Unlike Amazon barcode exempted products, which allow retailers to sell products without providing a barcode only in specific circumstances and by a strict evaluation upon the sell request, Amazon handmade sellers do not need barcode or ASINs but have to provide:
Detailed and accurate product descriptions.
High-quality images.
Clear information about the craftsmanship and materials.
All this is to ensure the potential customer of the quality and authenticity of their products.
What is Etsy?
Etsy is one of the 3 biggest marketplaces. Besides handmade products, it also focuses on vintage items, craft supplies, and digital products. It serves as a global marketplace where independent artists, artisans, crafters, creators, and vintage retailers can connect with customers who're looking for unique and personalized products.
Unlike on Amazon Handmade, on Etsy, sellers can create their own online storefronts, which can be also customized using Etsy Pattern extension, improving brand awareness and identity. On Etsy, products can be divided into three macro categories:
Handmade items
Vintage goods (items that are at least 20 years old)
Craft supplies
Etsy platform (same as Amazon Handmade) offers a wide range of products.
Here is some of the best selling categories on Etsy:
Jewelry
Clothing
Home decor
Art
Toys
Accessories
Craft supply
Digital Products
And more
Is Amazon Handmade worth it?
Amazon Handmade requirements
Before understanding how much Amazon Handmade costs, or which steps to take in order to sell on the platform, it is necessary to start with the requirements for becoming an Amazon Handmade seller.
Amazon is very picky and allows only certain sellers to join the Handmade Program. After all, could the ecommerce giant have easy access to its platform?
To sell handmade on Amazon you need to submit a request and comply with specific rules.
To become a seller on Amazon Handmade, there are certain requirements you need to meet to ensure the authenticity and quality of your handmade products.
Find below the key points to consider to apply for Amazon Handmade.
Product requirements
Only handmade products are allowed for sale: Amazon Handmade is exclusively for handmade items. Your products must be created, designed, or significantly altered by you or your team. Mass-produced goods and retailing are not allowed, and infringers may result in Amazon account suspension.
Listings require high quality and valuable content: When listing your products, provide accurate and detailed product details to improve trustworthiness and eventually purchase.
Quality Standards: Besides top-quality content, your products need to meet high-quality standards for craftsmanship authenticity.
Product eligibility is restricted to specific categories: Only certain categories are eligible for Amazon Handmade. Make sure your products fall within the approved categories before applying to sell on Amazon Handmade.
Click to expand to read the Allowed Categories
Artwork

Baby

Beauty & Personal Care

Clothing, Shoes & Handbags

Home, Outdoor & Home Care

Jewelry & Watches

Kitchen & Dining

Pet Supplies, Sporting Goods

Stationery & Party Supplies

Toys & Games
Non-mentioned categories are not allowed to be listed in the Amazon Handmade venue.
Seller requirements
Artisan Verification is mandatory. Amazon Handmade requires artisans to go through a verification process to confirm their identity and ensure that they personally create the products on sale.
Intellectual Property Rights. It is crucial to respect intellectual property rights. Make sure your products do not infringe upon any copyrights, trademarks, or patents.
Business practices must comply with Amazon's ones. Ensure that your business practices align with Amazon Handmade policies. Some of the main areas to watch out are shipping, returns, customer service, and intellectual property protection.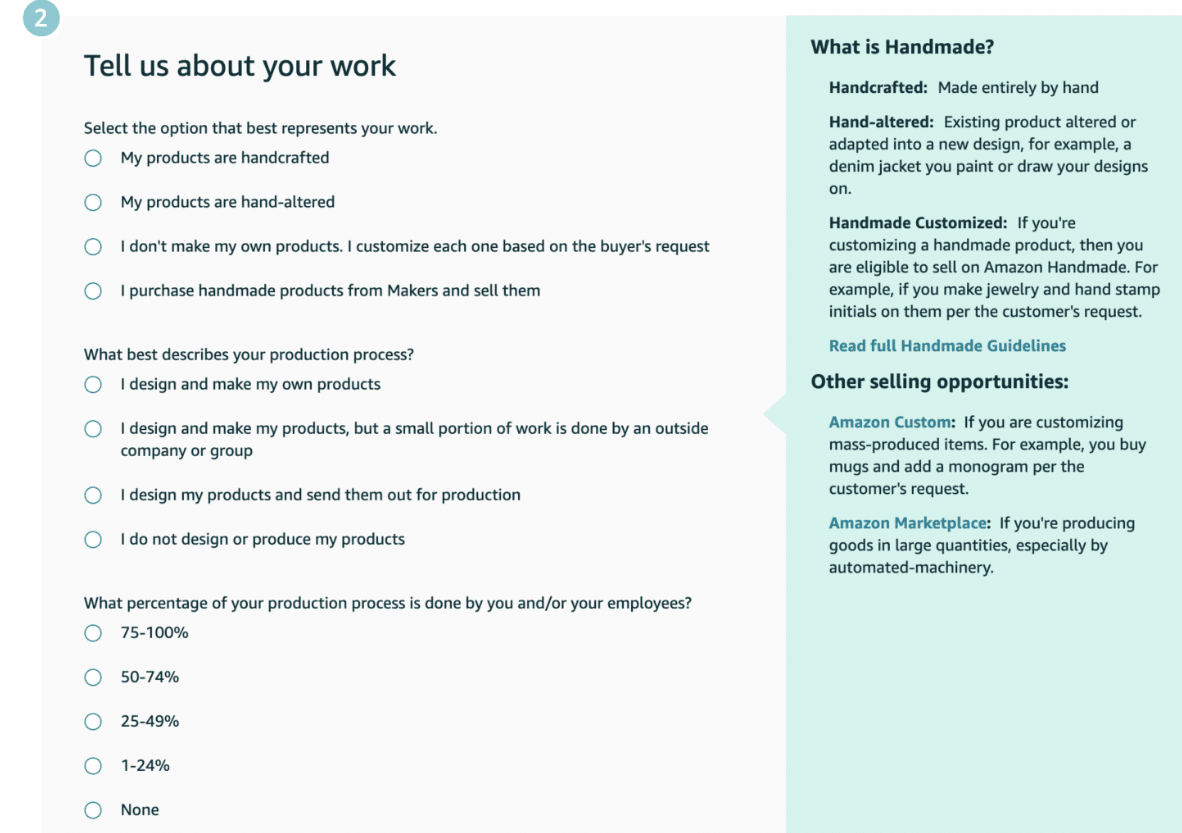 Amazon Handmade Fees
If you have found requirements to be a sensitive subject, get ready, because we're about to dive into the selling fees!
When selling on Amazon Handmade, it's essential to understand the fees associated with the platform. Here's an array of the fees involved:
Referral Fee: Amazon charges a referral fee on each item sold. The referral fee is 15% of the total sale price (the minimum referral deduction is $1)
Monthly Seller Central PRO subscription: To sell on Amazon Handmade you have to be an Amazon PRO seller for $39.99 per month.
Shipping and Fulfillment Fees: When it comes to shipping, you have two options: fulfill and ship on your own (FBM) or let Amazon take care of it by joining the FBA program. If you decide to use Fulfillment by Amazon, you will incur additional fees for storage, packing, and shipping.
Advertising Fees (optional): If you wish to promote your Amazon Handmade listings through advertising campaigns like Sponsored Products, you can set a budget and Pay Per Click advertising. Even if running an advertising campaign is an optional step to take, be aware that competition on Amazon is tough. Algorithms put in first-page results only users with high customer satisfaction or below-average listing prices. Therefore, if you don't already have a significant number of positive reviews and you don't want to compromise your earnings by lowering prices, advertising is the only solution… But, at what cost?
Sponsored product campaigns have a variable cost. It is determined by the level of competition for the keywords you wish to appear for and the desired position you aim to achieve in search results. The higher the position the higher the would be the bid for a certain keyword.
How to estimate the ideal bid for your business and avoid losing money?
Collect the following info: 
Your conversion rate (the number of clicks that result in a purchase)
Your average ticket (how much people spend on average when ordering from your Amazon store)
Your Advertising Cost of Sales (the ACoS represents the percentage of sales you're willing to invest in advertising)
Apply this formula:
(Conversion rate*Average ticket)*ACoS = Target CPC
Let's make an example having a 5% conversion rate on an average ticket of $30 and an ACos of 12%:
(0,05*30)*0,12 = $0.18 (Target CPC)
The display adv allows your products to appear for relevant customers' research both within and outside the Amazon platform. These image-based ads have the potential to capture attention effectively, although they're typically more expensive.
The cost is PPC based. Unlike the Sponsored product campaigns you don't need to pick and bid on a set of relevant keywords. The display ad automatically appear for users that are likely to have interest on your products.

For example:
A pet owner, who recently searched on Google "how to play with my puppy" is likely to find a toy display ad when reading an article blog.
Sponsored Brands ads on Amazon are a type of advertising used to enhance brand awarness. These ads are typically displayed at the top of the search results and feature the brand logo, a customized headline, and a selection of products from the brand. The cost if PPC based.
Pros and Cons of Selling on Amazon Handmade
Pros of selling on Amazon Handmade
Now that you have an overview of requirements and fees, we can summup all the benefits and disadvantages related to Amazon Handmade. Let's start with Pros!
Broad Customer Base: Being one of the most used marketplaces implies having a wide buyer base. By selling on Amazon you can reach many potential customers.
Trustworthiness: Amazon's popularity is due to its trustworthiness and high customer satisfaction level. For a seller, this means more customers willing to buy.
Efficient fulfillment options: by paying for FBA you can delegate the fulfillment to Amazon, and ship products more quickly.
Cons of selling on Amazon Handmade
Competition: As a popular marketplace, there can be high competition among sellers, making it challenging to stand out and gain visibility.
High selling fees: Amazon is one of the most expensive marketplaces. Moreover, due to the high competitiveness sellers are also pushed to run ad campaigns to get visibility and sales.
Branding and Customization Limitations: Amazon Handmade doesn't give you full access to customization options, reducing the chance to differentiate and enhance your brand strength.
Strict guidelines and requirements: both applying for and running a business on Amazon require the seller to follow the strict guidelines of the platform. Unlike other marketplaces, Amazon is very picky and requires sellers to keep up with tons of requirements.
Customer care can be overwhelming: on Amazon, you need to have excellent customer support if you want to be competitive. This means you have to be quick to reply to buyers' questions and ship your items as soon as possible. Keeping up with this can be burdensome especially if you sell on multiple channels.
Learn how to sell multichannel: get free education, tips, and inspiration. Start growing your successful multichannel business. 
By entering your email address, you accept our Privacy Policy and Terms of Use. Totally free. Unsubscribe at any time.
Is selling on Etsy worth it?
Etsy requirements
Like any sales channel, there are certain requirements that sellers must comply with in order to sell on Etsy. However, the requirements on Etsy are relatively few, and they are closely tied to the products being sold. These products must align with Etsy's vision, which emphasizes uniqueness rather than mass retailing.
Now, let's take a closer look at these requirements together.
Product requirements
Etsy focuses on three main categories of products. Your items must fall into one of these categories:
Handmade craftsmanship must be done or designed by you or your team.
Vintage items must be at least 20 years old.
Craft Supplies (materials, tools, and components) are accepted in the marketplace.
Additionally, Etsy recommends selling authentic products, respecting copyright and intellectual property, and being clear and informative in your listings.
Aside from these requirements, sellers are welcome to join Etsy.
Fees for selling on Etsy
When selling on Etsy, it's important to understand the fees involved to effectively manage your business finances. Here's a breakdown of the fees associated with selling on Etsy:
Listing Fee: Etsy charges a fee of $0.20 per item listed on the platform. This fee is charged when you create an active listing. The good news is that, with Nembol, you can get around this fee and bulk list on Etsy in a draft folder, activating only the listings you need.
Transaction Fee: Etsy charges a transaction fee on sales. The transaction fee is 6.5% of the item price, excluding any taxes or shipping upgrades.
Payment Processing Fee: When a sale is made, Etsy also charges a payment processing fee. This cost is variable and depends on the Country. On average is a 3%+ 0,25 cents per order. Check this Etsy Fees table to know more.
Shipping Label Fee: The fees vary depending on the carrier and shipping options you choose.
Comparing Amazon Handmade vs Etsy fees: let's do some maths
Let's say we want to know how you would be charged for selling an item priced at $30 on Amazon Handmade and Etsy. What marketplace would charge you less?
For Amazon Handmade:
Monthly Subscription Fee: Amazon Handmade charges a monthly subscription fee of $39.99 for professional sellers. However, in the total charge, we won't count it to avoid fee distortion.
Amazon Referral Fee: As mentioned above, for handmade products, the referral fee is generally 15%. Referral Fee on $30 item: $30 * 0.15 = $4.50.
Variable Closing Fee: This fee is applicable is typically $1.80 per item.
Therefore, the total fees for selling a $30 item on Amazon Handmade would be: 
Amazon Referral Fee + Variable Closing Fee = $4.50 + $1.80 = $6.30
For Etsy:
Listing Fee: Etsy charges a $0.20 fixed fee for listing each item.
Transaction Fee: Etsy charges a transaction fee of 6.5% on the item price, including shipping costs.
Payment Processing Fee: If you use Etsy's payment processing service, there will be an additional fee of 3% + $0.25 for each transaction
Therefore, the total fees for selling a $30 item on Etsy would be:
Listing Fee + Transaction Fee + Payment Processing Fee + Shipping fees = $0.20 + ($30 * 0.05) + (0.03 * $30) + $0.25 = $1.50 + $0.90 + $0.90 + $0.25 = $3.55
Comparing the costs:
Amazon Handmade fees: $6.30
Etsy fees: $3.55
In this case, selling an item priced at $30 on Etsy would result in lower selling fees compared to Amazon Handmade.
Pros and cons of selling on Etsy
Pros of selling on Etsy
Targeted audience. Etsy is a popular and well-known platform among buyers interested in personalized, unique, vintage, and handmade products. By joining Etsy you get the opportunity to tap into a wide audience of buyers that are actively looking for handmade and unique items.
Easy setup: Setting up a shop on Etsy is fast, and easy and it requires minimal technical skills. Moreover, requirements are few, making opening an Etsy shop a straightforward process.
Brand exposure: Etsy's marketplace has a significant amount of traffic, allowing your products to gain exposure to a wide customer base. Additionally, scaling your business on Etsy can be quite easy if you follow these Etsy marketing tips.
Low Fees: despite the wide variety of fees, Etsy is much cheaper than Amazon Handmade, making it the n°1 channel for sellers.
Etsy's community-driven approach: on Etsy sellers can be reached by customers. This encourages interaction and engagement between sellers and buyers. That helps customers to communicate with sellers, asking questions, request customizations, and all the info they may need to finalize the purchase.
Tap into different niches of buyers: one of the best strategies to devise is having multiple Etsy stores. This best practice is encouraged by Etsy itself and actually helps you to have multiple shops with consistent offers. With Nembol you can bulk transfer listings across two stores and centrally manage and sync your Etsy shops in a single place!
Cons of selling on Etsy:
Fees: Etsy charges various fees, including listing fees, transaction fees, and payment processing fees. Take into account allow of them sometimes can be confusing.
Limited customization: Unless you subscribe to Etsy Pattern, you have limited control over the overall design and layout. 
Shipping options: understanding what service use to ship your items can be challenging. Etsy has many many options for you. Also, at this stage, calculated shipping options are only avaiable for US and CA sellers.
Try Nembol for free: enjoy a 14-day trial
No credit card required
Which is better: Amazon Handmade vs Etsy
Now that we have analyzed the main benefits and drawbacks of both Amazon Handmade and Etsy, according to our analysis, we can affirm Etsy is a better-selling channel for artisans and crafters, considering its:
Seller-friendly environment.

Handmade niche market focus.

Cheaper selling fees.

Low entry requirements.
We hope that this article has helped you make an informed decision for your business.
Whatever option you go with, we have no doubt we know you'll nail it! Wish you all good luck with your business!